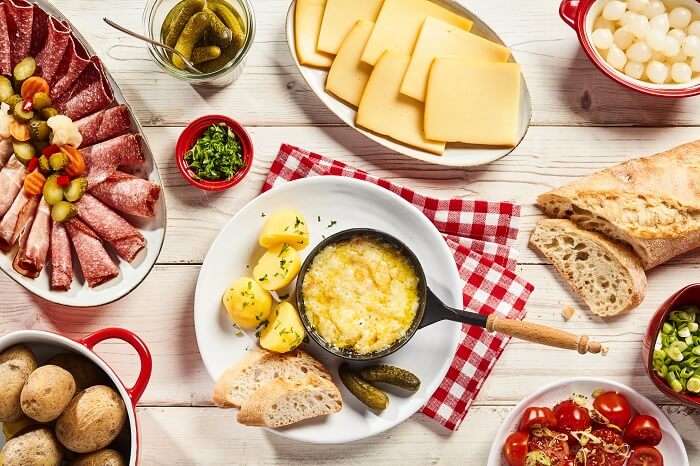 Switzerland is something that everyone will also know about, but its beauty has arguably overshadowed another exotic aspect of this land, which is its food culture. Whenever the thought about Switzerland begins to tickle us, our mind is filled with the images of green landscapes, snow-clad mountains, and sparkling ponds. The thought of its food does not even strike us.
But you will be surprised to know that Swiss food is one of the best in the world and just to add new dimensions to your travel experience here in the heaven of the earth. If you're planning a Swiss vacation anytime soon, then we are going to decode the taste of Switzerland cuisines just for you so that you can give new meanings to your journey.
7 Best Switzerland Cuisines
A heaven for any food lover, Switzerland is sure to leave you amazed with its mouth-watering, lip-smacking Switzerland cuisines. It has a lot to offer in terms of its authentic local dishes which have come a long way to become one of the most sought-after dishes on the planet. Take a look at some of the dishes that just can't be missed!
1. Swiss Cheese Fondue
One of the most popular dishes you will find in Switzerland is the cheese fondue. Although it is popular in other parts of Europe also, the goodness of Swiss cheese fondue is unparalleled. Cheese fondue is basically a dish with cheese gravy made of cheese, garlic, wine or brandy, and corn flour or starch. It is served in a ceramic pot with a small burner underneath to ensure it maintains a particular temperature to keep it warm. Cubes of sumptuous pieces of breads are dipped into this piping hot cheese gravy and then you are good to eat it. There are different types of fondue available in Switzerland nowadays, such as chocolate and meat fondue. If you are in Switzerland, do not miss a chance to gorge into these.
Must Read: A 2022 Guide To Switzerland In March Tailor Made For You
2. Rosti
Another famous dish in Switzerland is Rosti, which is also a staple here. It is basically made by grated raw or sometimes semi-boiled seasoned potatoes. They are fried and shaped into a round patty. It is crispy and soft from inside and usually eaten as a snack and side-dish, particularly with eggs and sausage. Swiss people love to make their Rostis with cheese and meat also. You will find this dish everywhere in the country.
Suggested Read: Engelberg In Switzerland: Everything You Need To Know About The Resort Village
3. Bircher Muesli
Muesli in breakfast is an age-old fitness fad, which you will be surprised to know was invented by Dr. Maximilian Bircher-Benner in Switzerland. He was of a belief that eating cereals, vegetables, and fruits is better for health than those dishes with meat as a key ingredient. Bircher Muesli that derives its name from its inventor is not just a breakfast meal, it is also an evening dish for many in Switzerland.
4. Raclette
This dish derives its name from the French word racler, which means 'to scrape'. There is this saying that in the old days a whole wheel of cheese was placed in front of the fire by the people of Switzerland and as the cheese started melting they scrapped it off onto a plate to eat it. It is still popular in Switzerland and you can find this dish on almost all the menus here. It is eaten with potatoes cooked in their skins, vegetables, onions, and bread.
Suggested Read: Indian Restaurants In Zurich: The Spicy, Tangy, And Sweet India Of Switzerland
5. Bündner Nusstorte
You cannot go away anywhere from pastries when you are in Europe. All the countries of Europe have their own iconic pastry dishes to their credit. Bundner Nusstorte is a Swiss pride and one of the famous Switzerland desserts. It is available in almost all bakeries here. It is a delicious pastry with nuts and other goodness stuffed inside. This pastry comes in different variants. So if you got a sweet tooth, you know where to dig in.
Suggested Read: 10 Interlaken Restaurants Serving The Most Delicious Food In Switzerland
6. Saffron Risotto
Whenever we hear about Risotto we think about Italy. However, Risotto is also very popular in Switzerland, particularly the saffron risotto. Saffron is grown in the Swiss canton of Valais. It gives a distinct colour and flavour to risotto dish.
Risotto is an easy dish that satisfies you without any fuss. But easy does not mean that it is bland. Cooked with rice, onions, cheese, chicken stock, and wine, it is full of flavours. And like other dishes, it too comes in different variants.
Suggested Read: Top 18 Places To Visit In Switzerland In Winter 2022 For A Memorable Vacay
7. Zopf
There are different types of loaves of breads all over Switzerland but the one that stands out is Zopf. This white bread loaf has a golden crust, similar to Challah also known as the Jewish bread. There are loads of old sayings that are associated with the birth of this white loaf. Swiss people generally eat it on Sundays. It is made simple just like any other bread. But what makes it extraordinary are the old stories that go with it. Have it with Swiss coffee to make your travel experience in Switzerland unforgettable.
Further Read: 13 Astounding Things To Do In Interlaken In 2022, The Adventure Capital Of Switzerland!
A wonderful climate, breathtaking landscape and a country of good food and wine, Switzerland is indeed the perfect combination any soul can ask for. And apart from this, if these delicious delicacies are making you drool, then don't sit ideal and book one of the customized Switzerland packages with TravelTriangle to spend a memorable vacation amidst the Swiss alps.
---
Looking To Book An International Holiday?
Book memorable holidays on TravelTriangle with 650+ verified travel agents for 65+ domestic and international destinations.
---