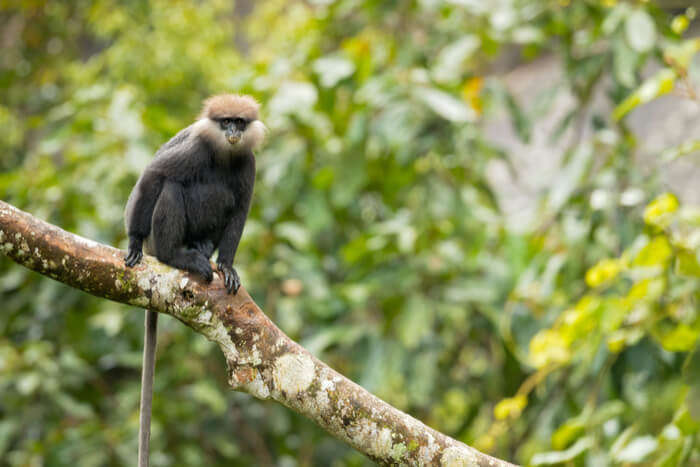 Eastern mythology or the Asian mythology from Indian sub-continent to the mainland to South East Asia all praise the king of forests. While lions are absent from some of these lands during the colonial hunting period or monarch times, it is still revered as king of the forests and occupies a significant stature in these Countries. The Sinharaja Forest Reserve which literally means lion king forest reserve is probably the king of forests amongst the national reserves inside borders of paradise like Island nation of Sri Lanka.
Best Time To Visit Sinharaja Forest Reserve

The best time to visit this Reserve is between January to May and then From August to December. Avoiding the monsoons is a good option. The monsoons are harsh in this region and can cause mudslides in this are. The tropical wetland forest may not have any lions, but flora and fauna found living in lush green aromatic soil of this landscape will keep a traveler's visions gazed on their surreal beauty. Indulge in an experience of a lifetime as you walk past famous purple-faced Langur (species of monkey) and rare wetland trees not found anywhere else on the planet. Walk beyond beautiful stretches of dense wetland trees spanning in a narrow band with a land area of 7,648 hectares only on the southern side of Sri Lanka. The inaccessibility until late times kept the forest alive for a long time from commercial scale logging. Thus, the forest remained safe from getting chopped down, and recognition as a Biosphere along with UNESCO World Heritage title has kept this untouched. Travel along the banks of pristine freshwater rivers like Gin Ganga and Maha Dola as you witness picturesque waterfalls beautifully raining down on its fertile soil.
Suggested Read: 10 Villas In Galle To Enjoy Sheer Luxury On Your Sri Lankan Vacay
---
Sri Lanka Holiday Packages On TravelTriangle
Book your Sri Lanka trip from TravelTriangle: Inclusive of Hotels, Sightseeing, Transfers, & Meals. Best Prices Guaranteed. Get Customizable Package & Free Guidance From Destination Experts. Book Now!
---
History of Sinharaja Rain Forest

The History of Sinharaja forest goes around millions of years ago as it is evident in its rare and native species of animals which you will come across your hike in this trip. The name Sinharaja suggests it was a royal forest since the period of the monarchical reign of various kings of this land. The unique ecological diversity blazing on this land has bestowed it numerous titles from the national and international organization because of the rare autochthone species existing in its landscape. Witness the towering trees, colourful birds and mesmerizing animals inside the evergreen forest accessible from a number of entry points in the northern, southern and western region.
Sinharaja Forest Reserve Information

Wait, before you scan the Map of Sinharaja forest for your jungle tour, keep these small but relevant information in your travel itinerary for your ease.
Hours open: 06:30 in the morning to 06:00 in evening
Entrance Fee: LKR 575
Location: Sri Lanka
Forest Area: 7,648 in hectares
Flora Genus: uniquely native Liana and woody trees
Wildlife: Elephant, Langur with Purple Face, Leopard, Golden Palm Civet, Small flying squirrel and Fishing cat, Wood Pigeon, Green-billed Coucal, white-headed starling, Red-faced Malkoha, Spurfowl, Blue Magpie, and Ashy-headed Babbler and much more.
Things To Do In Sinharaja Forest Reserve
People miss out on a lot of things in their life as it's not possible to fulfill each and every wish people dream of in their lives. However, you must not miss out on these things on your trip to the beautiful wet backdrops of the amazing rainforest of Shinraja. Make sure you get the best out of your trip with these things on your travel itinerary.
1. Bird watching

Get a top of a rock or the hilly peaks of Moulawella and Singahella for some exciting bird watching on your gallery to Singaraja forest reserve. The forest reserve is home to various species not found anywhere else except Sri Lanka. The rich and diversely dense forest setting is home to over 280 species of birds. Across your trip to the fertile vegetation home to some rare trees, you will also come across these autochthonal and endangered species of birds like wood pigeon, Green-billed Coucal, white-headed starling, blue magpie, Ashy-headed babbler, and broad-billed roller all of Sri Lankan origin rare to the whole globe.
Must Read: 10 Places To Visit In Batticaloa For A True Sri Lankan Experience
2. Hiking

The park only accessible for visitor through a hiking trail along all its entrance centers. Walk through the century-old walking trails of this amazing forest reserve on embarking on adventurous trips amidst old and new trees of this forest which remain green throughout the year. Breathe fresh oxygen breezing with the winds of the forest as you hike across the peaks and wet lowlands as you witness flowers of the shrubs and herbs spanning across the regions in Sinharaja Forest Reserve. Come across marshy damp trail ways full of green grass and muddy walkways on your short vacation to a mesmerizing destination of this beautiful forest.
Suggested Read: Arugam Bay In Sri Lanka: A Guide To The Mesmerizing Beach On The Coast Of Sri Lanka
3. Animal Sightseeing

The landscape may not be home to big five animals you would witness in the African wilderness but forest reserve tour in these Sri Lankan plains are full of surprises. The animals present inside the rainy landscape of this forest will make you want to take a return trip because these swampy animals are only indigenous to this place. This economic trip with reasonable Sinharaja forest reserve entrance fee is home to wild Leopard of Sri Lankan genus. Likewise, ask your guide to get up close view of Rare Langur monkeys with purple face. The wetback drop is also home to a different size of Elephant available only in Asian region. Even if you are not lucky enough to catch a glimpse of these animals, you will definitely witness the foot and paw marks left behind by these animals. The Sinharaja forest reserve animals is a treat you do not want to miss on this trip.
Suggested Read: 8 Things To Do In Negombo That A Traveler Must Experience On Their Sri Lankan Vacay
4. Vivid Waterfalls

The Sinharaja Forest Reserve hosts incredible waterfalls you will want to take your pictures for memories. The reserve boasts 8 amazing waterfall location you will come across your tour inside this small but grand reserve. Dive foot deep in these waterfalls feeding the lush vegetation of this reserve as you walk past these Waterfalls one after another in your trip of Wonderful Sri Lanka. Gal Orewa, Nuga Deka, Kekuna, Brahmana, Thattu, Doowli, and Urana Wetuna are some wonderful milky white waterfalls you will see falling a top from the hills of this amazing forest place. Grab yourself some waterproof boots to walk across the trails of the wetland forest reserve while venturing out for this trip.
Suggested Read: 6 Best Restaurants In Dambulla Where You Must Dine On Your Next Sri Lankan Trip!
5. Short Ratnapura Trip

If you end up your hiking trip through the forest quickly, head out to the city of Gems, Ratnapura for a short excursion. Visit the century-old town and its traditional buildings to come up close to the booming gem trade of this place. Bag yourself some pearls, corals and much more for yourself as you take a trip to this city close to the Sinharaja Forest Reserve.
Further Read: 12 Alluring Things To Do In Nuwara Eliya, The Heart Of Sri Lanka!
So, if you are looking to visit Sinharaja Forest Reserve, keep this guide handy. You will definitely have a great time visiting this place on your trip to Sri Lanka with both friends and family.
---
Looking To Book An International Holiday?
Book memorable holidays on TravelTriangle with 650+ verified travel agents for 65+ domestic and international destinations.
---