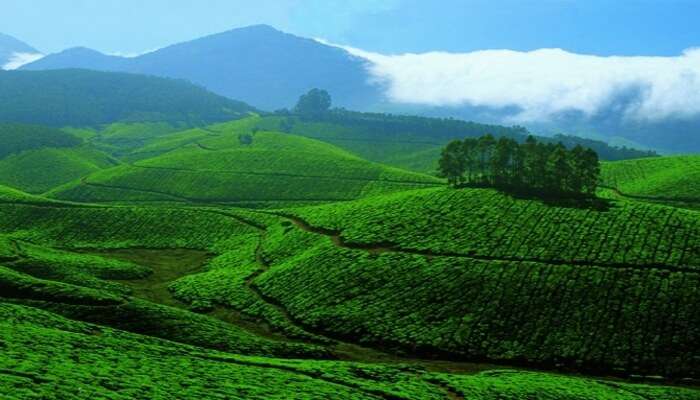 Cover Image: Wikimedia
Replete with majestic historical caves, luxurious homestays and resorts, eye-soothing waterfalls, Wayanad in Kerala is a hill station, famous for its wildlife sanctuaries, natural beauty, and spice plantations. It is a picturesque hill station located at an elevation ranging from 800 to 2100 meters, amidst the hills of western ghats on the borders of Karnataka and Tamil Nadu. Trekking to the mysterious prehistoric caves, walking through the lush spice plantations and enjoying a resort holiday are some of the best things to do to enjoy the scenic beauty that Wayanad offers. The hills of Wayanad provide evidence of the new stone age civilization. There are many hills stations near Wayanad which one can visit and want to have a great vacation.
7 Best Hill Stations Near Wayanad
Here are some of the best hill stations near Wayanad which one must visit to enjoy a great time away from the chaos of the citylife.
1. Munnar

In the Idukki district of Kerala, Munnar is an enchanting hill resort, which has emerged to be a popular destination for couples. This place also serves to be a famous weekend getaway from cities like Coimbatore, Madurai, and Kochi. The hill station is situated at an evaluation of about 7500 feet on the Kannan devan hills in Eravikulam. Munnar, also called the swiss of south India, is the largest town in the Idukki district spanning across 557 sq. Km. Munnar, meaning three rivers, is located at the confluence of three South Indian rivers- Kundala, Nallathanni, and Madurapuzha. The highest peak in South India, Anamudi is also in Munnar. The tea plantations spanning across Munnar hills feels like seeing a vast green carpet. Munnar attracts honeymooners especially because of its mesmerising mountains, greenery, lakes, waterfalls, and tranquillity.
Distance from Wayanad: 344.9 km
Best time to visit: September to March
How to reach: one can hire a taxi from the Cochin International Airport
Things to do In Munnar: trekking, wildlife safaris, rock climbing, zip-lining, rappelling, and camping.
Special attractions: Mattupetty Dam, Echo point, Kundala Lake, Top Station, Anamudi peak, Devikulam.
Places To Stay: The lake view munnar, Wyte Mist Mountain Club , Le Celestium, Moselberg Riverside Cottages
Ideal Duration: 2-3 days
Packages Starting From: ₹ 6,999/-
Must Read: 34 Wayanad Tourist Places For An Extended Vacation In God's Own Country In 2022
2. Ponmudi

In the Thiruvananthapuram district of Kerala, lies the picturesque, quaint hill station of Ponmudi, at an elevation of about 1000 meters. It is a popular spot for trekking among travellers, especially in the summers and is one among the famous weekend getaways from the city of Trivandrum. Ponmudi is a portion of the western ghats that run parallel to the Arabian sea. The word Ponmudi means a golden city. Scenic, eye smoothing hills, tea and spice plantations, natural springs and streams surround this hill station, making it a paradise on earth. This hill station is popular for its natural beauty and scenic splendour. Thick tropical forests cover the foot of the hills. Various wild animals inhabit this region. The valley offers magnificent views of the Kallar river. One of the highest peaks of the western ghats, Agasthyarkoodam peak is located here, at an altitude of 1868 meters. The peak is said to have rare medicinal herbs and plants.
Distance from Wayanad: 495. 4 km
Best time to visit: November to March
How to reach: one can take buses or private vehicles from the Trivandrum railway station
Things to do: mountain climbing, paragliding, trekking, hiking, and rafting.
Special attractions: Ponmudi Waterfalls, Deer Park, River Kallar, Meenmutty Falls.
Places To Stay: Gowry Art Residency, Hill View Stay Inn, Hotel Rohini International
Ideal Duration: 1 day
Suggested Read: 7 Most Beautiful Homestays In Wayanad That Will Amaze You In 2022
3. Nelliyampathy

Another Charming hill station near Wayanad lies in Palakkad district in Kerala, the famous Nelliyampathy hill station. The Nelliyampathy hill ranges are a part of the Sahyadri hills in the western ghats of southern India. The Nelliyampathy hills are located on the borders of Palakkad district in Kerala and Coimbatore district in Tamil Nadu. This hill station is one of the unexplored hill stations of Kerala. It lies at an altitude of about 1572 meters and is home to the sprawling Nellikota mountain range, which is about 1572 meters high and is the highest peak in this region. The mountain range remains covered with lush green forests and valleys and coffee, tea and cardamom plantations. The Nelliampathy mountain ranges are famous for their wild variety of flora and fauna which is filled with wild animals like deer, porcupines, monkeys, and elephants.
Distance from Wayanad: 237. 3 km
Best time to visit: September to February
How to reach: Palakkad station is the nearest to this hill station. One can take a taxi to reach this place.
Things to do: Flying Fox, Burma Bridge, river crossing, rock climbing, trekking and mountain biking.
Special attractions: Parambikulam Wildlife Sanctuary, Nelliyampathy Hill, Shimmering Pothundi Reservoir.
Places To Stay: Nelliyampathy Resort & Tent Camp, Mango Village Farm House, Nelliyampathy Whistling Thrush Bungalow , Mango Village
Ideal Duration: 1-2 days
Suggested Read: 7 Thrilling Adventure Sports In Wayanad To Make Your Vacation Even More Exciting!
4. Vythiri

Vythiri, located at an elevation between 3750 to 4300 feet, happens to be one of the most visited hill stations in Wayanad district of Kerala. It is an amazing summer resort that has a unique blend of modern amenities and old-world charm and provides a tranquil and peaceful environment. The place is mostly visited for its evergreen rain forests and coffee, rubber, tea, and pepper plantations. The evergreen forests of Vythiri are home to a wide variety of wildlife. The place provides amazing opportunities for bird watching, especially the migratory ones. Vythiri is the best place for visitors to soak themselves in the thick green forests of nature and discover the breathtaking surroundings.
Distance from Wayanad: 34. 5 km
Best time to visit: October to May
How to reach: On reaching Kozhikode railway station one can board a bus or hire a private taxi to reach Vythiri.
Things to do: trekking, Boating, camping, and hiking.
Special attractions: Pookot lake, The Chembra Peak, Soochipara & Meenmutty Falls, Edakkal Caves.
Places To Stay: Morickap Resort, Vythiri Resort, Wayanad Silver Greens Hotel, Vythiri Holiday Resort
Ideal Duration: 1 day
Suggested Read: Monsoon In Wayanad 2022: A Guide For Getting Closer To Nature Like Never Before
---
Planning your holiday in Kerala but confused about what to do? These Kerala travel stories help you find your best trip ever!
---
5. Idukki

Idukki, the second largest hill station in Kerala is one of the most beautiful hill stations and most visited places in Kerala. Idukki has diverse attractions like hill stations and mountains, scenic beauty, wildlife sanctuaries and plantations of a variety of spices. The Idukki valley is encircled by three rivers, Thalayar, Periyar and the Thodupuzha Year and their respective tributaries. River Pamba origins from the confluence of these three rivers. The Periyar River flows through Idukki, forming a gorge between two hills named Karathi and Kuravan, forming the site of the gigantic Idukki dam, the biggest arch dam in Asia. Idukki is rightly termed as the powerhouse of Kerala as it meets about 66% of Kerala's hydroelectric power consumption. The sanctuaries in Idukki are habitat for several endangered species of animals.
Distance from Wayanad: 337. 8km
Best time to visit: March to May
How to reach: to reach Idukki, one can hire a taxi or take a bus from the Cochin railway station
Things to do In Idukki: Bird watching, wildlife trekking, camping, jungle safaris, canoeing, hiking and biking, paragliding.
Special attractions: idukki dam, kalvari mount, eravikulam national park.
Places To Stay: Memories Inn, Trivers Munnar, The Woodside, Nutmeg valley, Best Mist
Ideal Duration: 1-2 days
Suggested Read: 12 Fascinating And Dreamy Wayanad Honeymoon Places Which Every Honeymooner Must Consider!
6. Peermedu

Peermedu is a hill station, located at an elevation of 915 meters, between Thekkady and Kuttikkanam in the Western ghats of Idukki district in Kerala. This hill station is slowly gaining popularity among other hill stations of Kerala due to its rubber plants, spectacular waterfalls, vast open grasslands, pine forests and plantations of pepper, tea, coffee, and cardamom. The lush green grasslands with clear blue skies covering the hilltops make this place ideal for a weekend trip. Peermedu provides ideal destinations for cycling, trekking, and horse riding. Popular trekking trails are Kalthotti, Peeru hills, Memala, etc. Also, Peermedu has picturesque waterfalls like Panchalimedu, Nallathanni, etc that are worthy of everyone's visit.
Distance from Wayanad: 373.6 km
Best time to visit: December to April
How to reach: Buses or taxis can be hired from the Cochin International Airport (COK)
Things to do: trekking, paragliding, cycling
Special attractions: Connemara tea factory, Vandanmedu, Chelarkonil, Thrissanku hills, Panchalimedu, Madammakkulam, Amritha Medu, Parunthupara, Kuttikkanam, Summer Palace.
Ideal Duration: 1 day
Suggested Read: Wayanad In Summer: Here Are The Details Of What Must Be Done And Seen During The Trip
7. Devikulam

Another beautiful hill station and a resort lying at an altitude of about 1800 meters in Munnar, is the Devikulam hill station. According to a legendary story, Sita Devi bathed in the Devikulam lake, also known as the Sita Devi lake. This lake draws thousands of pilgrims not only for its sacredness, but also for its curative powers. The lake is ideal for trout fishing. The Sita Devi Lake has emerged to be a major tourist destination because of its scenic beauty, religious importance, and adventure sports. The rugged cliffs and lush green fields provide ideal opportunities for hiking and mountaineering. Around the valleys of Devikulam, several tea plantations are grown.
Distance from Wayanad: 354.7 km
Best time to visit: November to March
How to reach: Kottayam railway station is the nearest one. One can hire a cab or buses to reach this place.
Things to do: trekking
Special attractions: Power House Waterfall, Lock Heart Gap, and Anayirankal Dam
Places To Stay: Pine Tree Munnar, Munnar Hotel Club NiNe, Homes Forest View Devikulam, Munnar valley view 
Ideal Duration: 1 day
Further Read: 7 Fantastic Parks In Wayanad That You Must Visit On Your Vacay!
Throughout the year, Wayanad experiences a pleasant climate. Besides being famous for the popular Wayanad wildlife sanctuary, which is home to a large variety of exquisite flora and fauna, Wayanad also has mesmerising waterfalls as the Meenmutty falls, Kanthampara falls, lakes like the Pookot lake and thrilling trekking spots like Brahma Giri, Chembra peak, etc. Located amidst the tranquil hills of the western ghats, the Wayanad wildlife sanctuary forms an important part of the Nilgiri biosphere reserve. Sheltering wild animals like leopards, elephants, and bears Wayanad vacation makes a perfect getaway from the cities of South India.
Frequently Asked Questions About Hill Stations Near Wayanad
Which is the best time to visit Wayanad?
The ideal time for Wayanad to visit is between October and May. During these months the weather remains cool, comfortable and pleasant, allowing tourists to enjoy their journey.
Why is Wayanad famous?
Wayanad is mostly visited for its quaint hills and mountain ranges and lush green valley and adventurous trekking trails. However, the Wayanad wildlife sanctuary remains to be its best attraction.
Which are the most beautiful places in Wayanad?
The Chembra peak, Chethalayam falls, Tirunelveli falls, Edakkal caves are some of the most enchanting places that Wayanad offers.
What adventure activities can be enjoyed in Wayanad?
Adventure activities like trekking, hiking, rappelling, boating and wildlife safaris can be enjoyed in Wayanad.
What is the climate in Wayanad?
The climate that Wayanad experiences are a tropical monsoonal one. The average maximum and minimum temperatures are 29°C and 18°C respectively. The seasons that Wayanad experiences are summers, retreating monsoons, winters and Southwest monsoon.
Which are the best areas to stay in Wayanad?
Windflower Resort and Spa in Vythiri, Lake rose and Wayanad Silverwoods in Kalpetta, Vythiri Village, Wayanad Village Resort in Thondernad are some of the ideal places to stay to enjoy the ambiance of Wayanad.
What things can be bought in Wayanad?
People generally shop crafts, spices, coffee, tea, bamboo articles, coconut shell crafts, Chinese mirrors, Aranmula mirrors, herbal plants, etc. Handloom and handicraft items are Popular here.
Which is the nearest hill station to Wayanad?
Lakkidi and Vythiri hill station is the closest to Wayanad.
People Also Read
Hill Stations Near Pathankot Hill Stations Near Alleppey Hill Stations Near Pune
---
Looking To Book A Holiday Package?
---