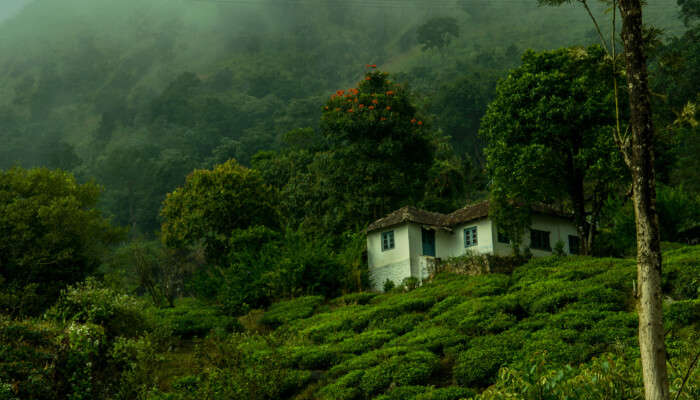 Wayanad is the sought after destination for nature and wildlife enthusiasts. It is a popular holiday destination in Kerala and is visited by people from all over the world. The charismatic valleys, breathtaking views, the aroma of coffee and tea plantations, and the local cuisine make it a wonderful place to spend your holidays. The surroundings are pleasing to the eyes, and for those who are looking to take some time of their urban life, you should plan out a holiday in Wayanad where you will find yourself surrounded by green patches of land and magnificent hills.
Weather In Wayanad In Summer
The summer months in Wayanad start from October and end up in May, after which the region receives heavy rainfall. These months remain warm and sunny with less humidity and rainfall. During this time, you can easily explore the place, trek, go for picnics, and boating at the popular sites as the rains would restrict you from doing so. The region is also famous for its beautiful landscapes, lakes and has abundant wildlife.
Places To Visit In Wayanad In Summer
Here are a few things that you can try out if you are looking for the best things to do in Wayanad in summer:
1. Wayanad Wildlife Sanctuary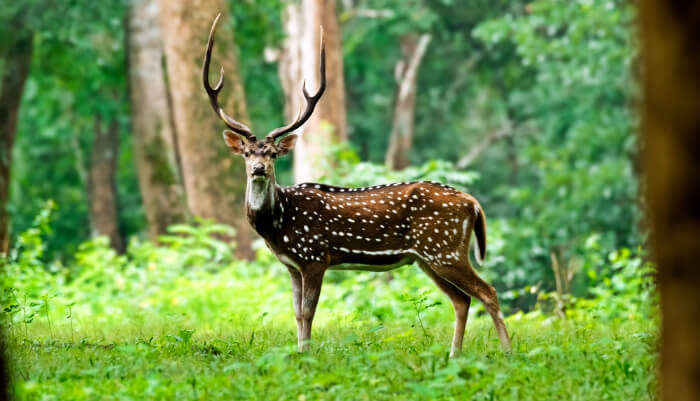 This is one of the best things to do in Wayanad and one of the top attractions for tourists when they are traveling to this place. This sanctuary is spread over an area of 344 sq km, is referred to as Muthanga Wildlife Sanctuary. This place is an important part of the Nilgiri Biosphere Reserve, which connects Bandipur and Nagarhole parks located in Karnataka and Mudumalai in Tamil Nadu. If you are a wildlife enthusiast, then you should definitely keep this place on your bucket list. You can also choose elephant sighting in the park after traveling in a gypsy for sighting tigers, panthers, wild boar, etc.which are found in these jungles.
Must Read: Wayanad In January: Your Handbook For A Vacation That Will Soothe Your Senses
2. Banasura Sagar Dam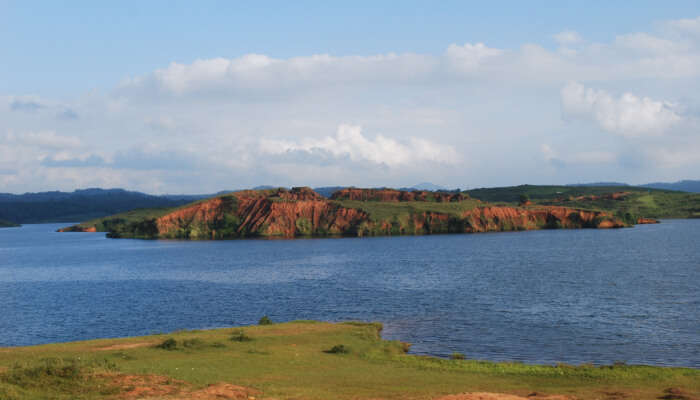 This particular dam is a prominent earthen dam in India and happens to be the second-largest in entire Asia as well. The place is famous for trekking trails, boating experiences, picnicking near the crystal clear water of Banasura, and observing the beauty around. You can also spot migratory birds around the dam, and if you are a bird watcher, then this place is a golden opportunity for fulfilling the enthusiasm in you. Another fun thing that you can do is to visit the Hydel Project, which is located near Banasura and check out how they are carrying out the operations.
Suggested Read: Experience Wayanad In December By Visiting These 6 Best Places
3. The Edakkal Caves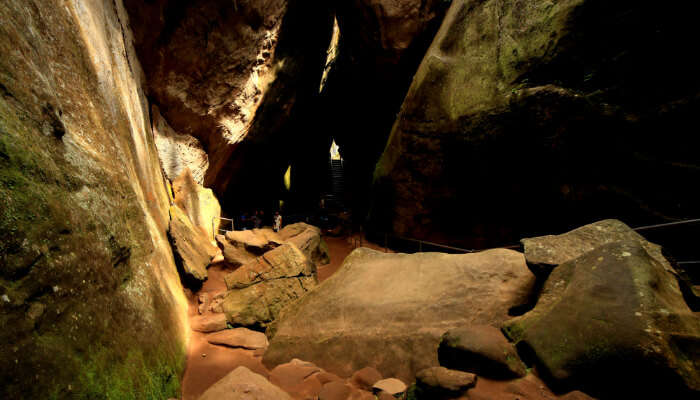 Located on the Ambukuthi Hill at a height of 1,200 meters, visiting the Edakkal Caves is one of the top things to do in Wayanad. These caves are popular for the prehistoric inscriptions on their walls and can be found between two massive stones that give it the shape of a cave. These caves happen to be, and 96 ft long and 22 ft wide, and every part of them is covered with paintings and inscriptions which belong to ancient India. If you love history, then you are definitely going to love this place a lot.
Suggested Read: Monsoon In Wayanad: A Guide For Getting Closer To Nature Like Never Before
4. The Chembra Peak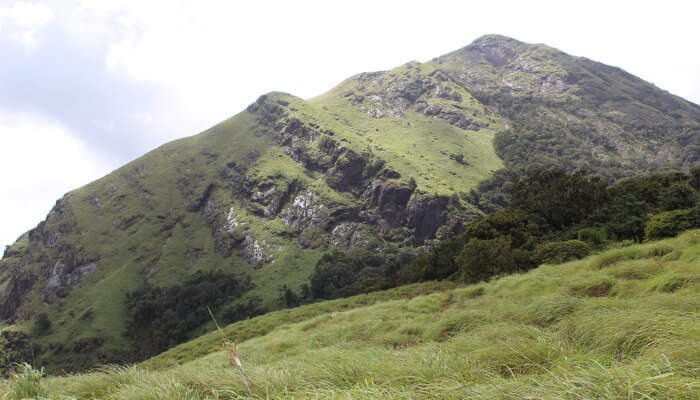 Chembra Peak is located at 6900 ft and is one of the sought after destinations for people who love to trek. Before you start with the trek, you will need to take the authorization passes from the Meppadi Forest Department. It takes around three hours to trek at the peak, but the views that you get of Nilgiri, Kozhikode, and Malappuram are simply breathtaking. Another prominent point at this place is the heart-shaped lake, which does not dry in any of the seasons.
Suggested Read: 7 Fantastic Parks In Wayanad That You Must Visit On Your Vacay!
Things To Do In Wayanad In Summer
Here are a few things to do in Wayanad for an awesome vacation:
1. Bamboo Rafting In Kuruva Island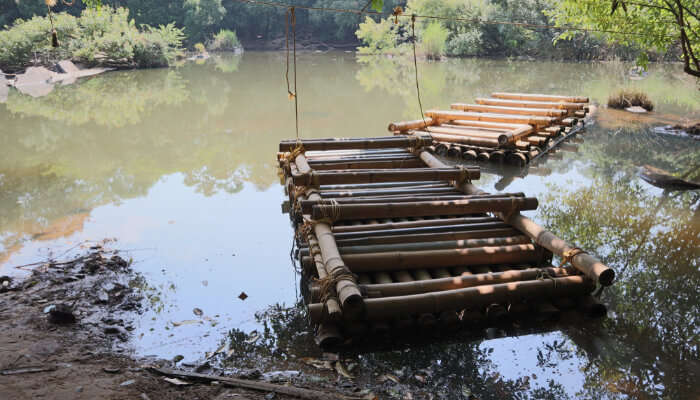 Kuruva Island is spread over 950 acres of land and is a group of three small islands that are present in the middle of the Kabini river that flows in Wayanad. Tourists come here to enjoy bamboo rafting amidst the scenic beauty and breathtaking surroundings. It is a completely unique opportunity, and you will get to see the bamboo bridges, spot rare birds, discover rare species of trees, and explore the paradise that this Island is. You will hardly find bamboo rafting rides in any other parts of India, so you should definitely try this experience on your next trip to Wayanad.
Suggested Read: 34 Wayanad Tourist Places For An Extended Vacation In God's Own Country
---
Planning your holiday in Kerala but confused about what to do? These Kerala travel stories help you find your best trip ever!
---
2. The Neelimala View Point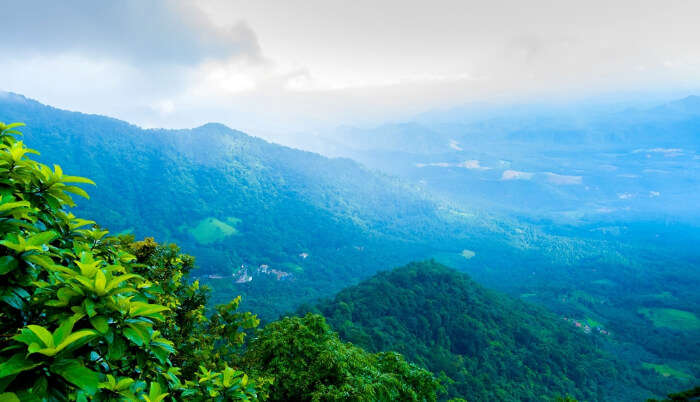 Neelimala hills offer mystic views of the lush green mountains with clouds flowing all over during the morning hours, which make it a perfect place to shoot for photographers. You will be delighted with the stunning landscapes and wonder about the beauty of the place. So, if you have time and are up for a quick stroll, then you need to visit this place on your trip to Wayanad.
Suggested Read: Wayanad Honeymoon: A Dream-like Getaway Amidst Stunning Landscapes
3. Boating At The Pookode Lake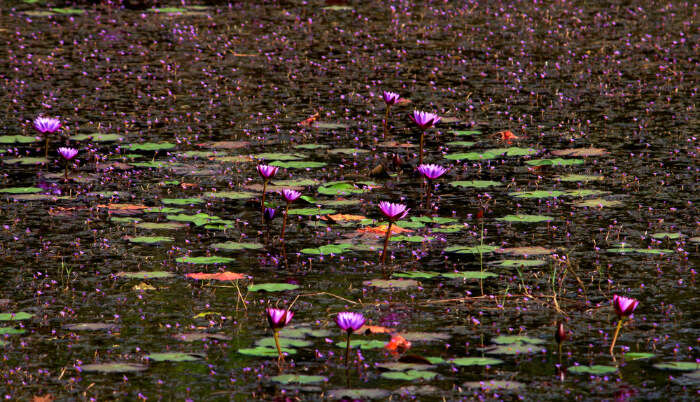 If you have time for some quick fun activity during your trip, then you can head out to Pookode Lake, which is popular for the same. This is a freshwater lake, which is a home a variety of fishes, has stretches of blue lotuses and attracts birds as they feed on the fish. You can do bird watching and boat together at this lake. You can hire pedal boats if you are interested and can also visit the nearby aquarium, shops for spices and handicrafts, or the Children's park.
Suggested Read: 8 Best Places To Visit Near Wayanad, Hidden In The Ghats Of Kerala
4. Camping On The Hills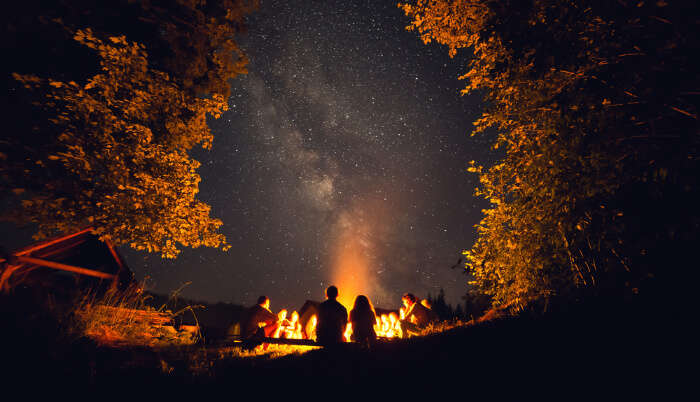 For those interested in camping, there are several sites at which you can stay. Book your spots before you reach so that you do not find the places been taken. Apart from camping, you can also try out fishing, trekking, spend the night around a bonfire, and do much more to make the trip more adventurous.
Suggested Read: 20 Best Resorts In Wayanad For That Perfect Relaxed Getaway On A Trip
5. Thirunelli Temple Visit 

This particular temple is dedicated to Lord Vishnu and is an ancient religious site present on the Brahmagiri hills in Wayanad. The old structure is known to be 3000 years old and has figurines of Lord Vishnu, Ganesh, Hanuman, and Nagam. As the temple is located at a marvelous height, you get to witness some amazing views of the hills. So, if you are looking for religious travel, then this is the place to be.
Suggested Read: 18 Best Honeymoon Resorts In Wayanad For An Exemplary Stay
6. Ziplining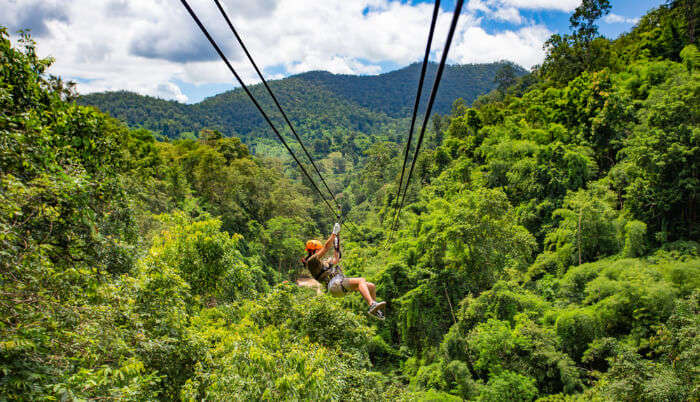 For those seeking out adventure sports, ziplining is sure that you need to try in Wayanad. The lines run from the rolling tea estates of Wayanad and happen to be the longest route in this area. Another option is to take the route of the Karlad lake. Both of these places offer scenic views, but the experience would be completely different in both cases. You might need to contact the services operators who run the ziplining adventure before you can actually take the ride.
Suggested Read: Do Not Miss Out On These 30 Best Things To Do In Wayanad For A Delightful Stay
7. Cycling Around The Hills

Cycling enthusiasts all have a plethora of things in store for them at Wayanad. You can hire a cycle and explore the town on pedals. Wayanad is a beautiful place to cycle around, and you will experience the freshness when you go sailing through the fields and the hills. You can always stop near a tea plantation for a break and soak the beauty of the place for a few minutes. Also, with cycles, you tend to travel on your own terms as you can always stop whenever you want, take photographs, and keep a slow pace on your trip.
Suggested Read: Kerala New Year Celebration: 8 Exotic Places To Bring
8. Treehouse Stay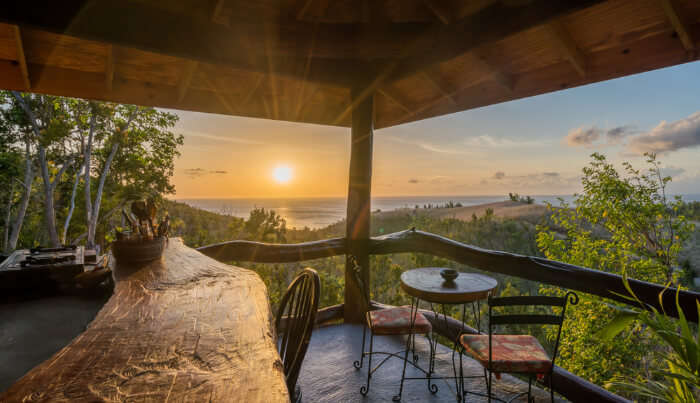 For a unique experience, you can choose to stay at a tree house rather than a hotel. The tree houses are located at a height and will bring you close to nature. Imagine your day starting with overlooking the coffee and tea plantations in Wayanad, won't that be great? Well, if you want to have a similar stunning experience, you can search out the tree house properties in Wayanad. These are often available at different price ranges depending on the facilities and the location. If you are feeling a little adventurous and want to make you stay a memorable one, then you need to try staying in the tree house.
Suggested Read: 10 Cottages In Wayanad For Every Budget
9.  Living Like A Villager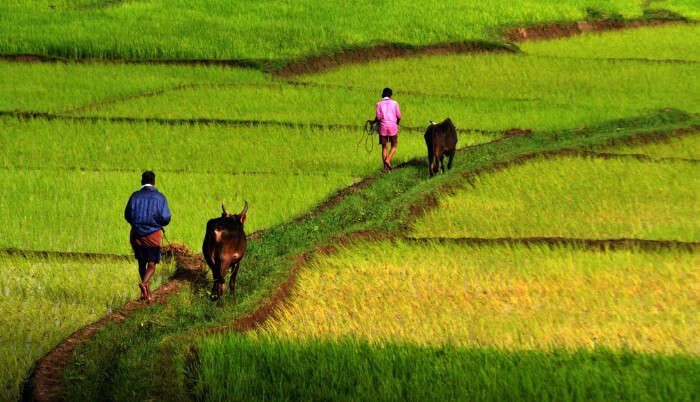 For rural tours, you can try experiencing the village life of Wayanad. There are several service operators who offer such opportunities for people who want to take some time out of urban life and learn about the people and their lives in rural India. You can book your place with one of the service providers, and enjoy the stay with local people, try out authentic cuisines, get acquainted with the crops and spices that are grown in South India. You will also learn how bamboos and rice is grown on the hilly terrains. It would surely be a great experience exploring the village life of Wayanad.
Suggested Read: 37 Amazing Things To Do In Kerala For An Incredible Holiday
Places To Stay In Wayanad In Summer
1. Hotel Wilton
Located near the Ancient Jain Temple, this hotel is quite close to the Edakkal Caves. As such, it is a travel-friendly hotel for those who are looking forward to having a good time in Wayand during Summer.
Address: Dhottappankulam, NH766, Sultan Bathery, Kerala 673592
Price: 3000 INR per night
Suggested Read: Winter In Kerala: 11 Best Places To Visit For A Blissful Vacation
2. The Sanihara
Situated in Vythiri, this hotel is located just 13 km from the famous Lakkidi Viewpoint in the city.
Address: SH29, Lakkidi, Kunnathidavaka, Kerala 673576
Price: 2000 INR per night
Suggested Read: Kerala In November: Places And Events
3. Vythiri Village Resort
For those looking for a luxury stay in Wayanad, you can choose to book their rooms at the Vythiri Village Resort, which is prominent for its services and location. The resort is located in the lap of nature, which makes its ambiance peaceful, scenic, and pleasing to the eyes. It has everything that a five-star hotel has to offer and has spacious rooms. The resort has three restaurants and also offers facilities for Ayurveda massages. Overall, it is a perfect place to make you stay memorable. Make it a point to book rooms at this place if you have a luxury budget.
Address: NH-212, Near Vythiri Town, Vythiri P.O, Kerala
Price: INR 8500 onwards
Suggested Read: 5 Amazing Zoos In Kerala To Witness The Captivating Wildlife In God's Own Country!
Tips For Visiting Wayanad In Summer
Keep yourself informed about the weather conditions if you are going on trekking to avoid getting trapped due to the weather, especially rain, and carry the necessary protective measures.
Carry a route map while you are trekking or take the help of a guide.
Pre-book camping and adventure sports to avoid any last minute hassle for accommodation.
Take the necessary equipment and sleeping accommodation for staying in the camps so that you can spend your night comfortably.
Always carry hiking boots at the terrain in Wayanad can prove to be challenging. Comfortable shoes will take you a long way.
Keep yourself hydrated during the warm weather.
Further Read: Kerala Cuisine: What Makes The State The King Of Culinary Art
Wayanad is one of the best places to head to when planning a vacation to the hills. Wayanad in summer is magical and is a great escape from the scorching heat and sun. One can enjoy the days in complete bliss amidst the lush green surroundings. Tempted? Just plan your trip to Wayanad with TravelTriangle and enjoy the season of summer in the best way possible.
Frequently Asked Questions About Wayanad In Summer
What is the temperature in Wayanad in Summer?
The weather in Wayanad in Summer remains less humid, with less rainfall. The nights are somewhat cool, but the average temperature can rise up to 31 degrees. You should keep yourself hydrated on a sunny day. Otherwise, the climate will remain pleasant.
What are some of the top things to do in Wayanad in Summer?
Well, there are many things to do when you are visiting Wayanad in Summer. Some of these include: exploring the beautiful green hills and fields, witnessing the beauty of wildlife, experiencing the village life, and go camping or trekking. You can also try out the local cuisines and spa facilities available in the region.
What is the best time to visit Wayanad?
Wayanad can be visited throughout the year. It is one of the best destinations to head during the peak summers as one can enjoy lovely weather a get relief here.
What kind of amenities can one expect in hotels?
One will find hotels depending on your budget in Wayanad. For instance, one can either stay at luxury hotels, tree houses, or even budget-friendly hotels for that matter.
What are the activities that one can indulge in Wayanad?
Head out for trekking, picnics, and boating in the lakes. One can also relax at the multiple therapeutic spas and massages that are offered here.
Should one pre-book the campsite?
Yes, it is highly recommended that one books the campsites in advance to avoid the last-minute hustle.
What are some luxury hotels in Wayanad?
Vythiri Village resort, Wayanad Silverwood resorts, Arayal Resorts, are the prominent luxury hotels in this region where you are bound to get scenic views of the surroundings and a comfortable stay.
---
Looking To Book A Holiday Package?
---
People Also Read