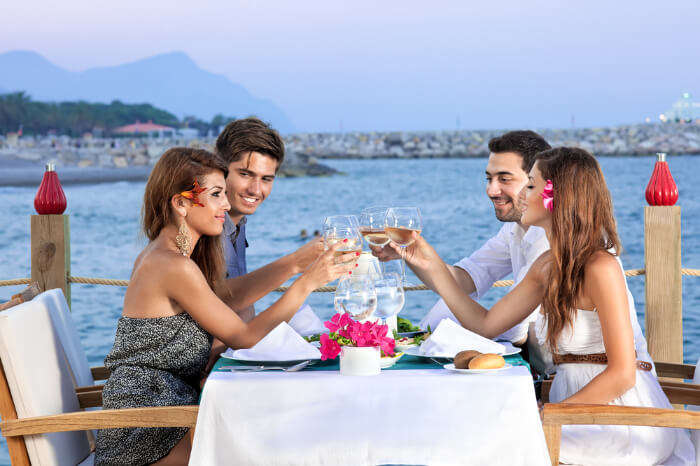 Most populous city of the Tasmania state of Australia, Hobart is famous for multiple things. Its cultural amalgamation has turned Hobart into a fastest growing tourist destination over the decades. The island is equally famous for facilitating the best of Australian cuisine varieties to its visitors from around the world. Many popular restaurants in the city cater to the diverse tourist population that gather here throughout the year. As all of them seek variety of dishes from the intercontinental cuisines, the Hobart restaurants have mastered the art of fine dining.
10 Best Hobart Restaurants
Once upon a time Hobart used to be treated the little sibling of mainland Australia but today it has attained recognition of famous tourist destination. As it has thriving social life and so is its cultural consolidation remains an inviting experience for the visitors, it has turned into Australia's famous culinary prowess. Below is the list of some of the finest Hobart restaurants which you can't miss out during a visit.
1. Solo Pasta and Pizza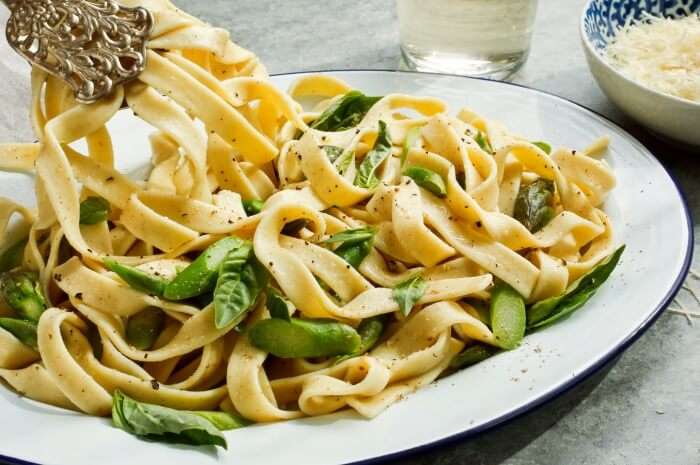 Popular restaurant Solo Pasta and Pizza had been established in Hobart in 1983. Since its establishment until now, it has been offering best of the Italian, European and also Street Food to locals and visitors. With its great contribution in the dining culture of the Hobart city, it is one of the most popular Hobart restaurants in Hobart and thus boasts with its identity of a long-standing leader in the region's dining culture. It is famous for offering best authentic Italian recipes. It couldn't retain such fame and position of a most successful eatery without maintaining its highest standards. This restaurant garnered respectable position for serving the finest food varieties that make it a popular name.
Must Try: Pasta, Wine, Sea Food, Margherita Pizza
Location: 50B Kings Street, Sandy Bay, Hobart, Tasmania, Australia, +610362349898
Cuisine: Italian, Pizza
Cost for Two: ₹ 270 – ₹ 2000
Zomato Rating: 4.⅗
Must Read: 7 Best Indian Restaurants In Hobart: Taste A Little Bit Of India In Tasmania
2. Preachers

Usually referred to as casual bar-restaurant, Preachers is much more than what is being perceived. It is one of the popular eateries in Hobart whose best eats options seek the attention of many locals and visitors. Its select few salads and burgers are famous for being the yummiest and mouth-watering options. Furthermore, its recipes are popular in the city for being ultimate fries to taste. Open till late nights, this restaurant is a fun place with a nightlife glimpse. It is an ultimate option for a date spot to dine and or to go for a causal meal.
Must Try: Burgers, Wine
Location: 5 Knopwood St, Hobart, Tasmania, Australia
Cuisine: American, Burger, Bar Food, Pub, Australian
Cost for Two: ₹ 700 – ₹ 1500
Zomato Rating: 4.0/5
3. Frank

This waterside restaurant seeks the attention of Hobart visitors willing to enjoy its South American-influenced cuisine in Australia. The restaurant is a popular name before all tourists who find in it perfect option to have great fine dining experience in Hobart area. Well maintained and highly stylish, this restaurant requires you to make prior reservations to enjoy great dining experience here. The recipes served are wonderfully curated with the Argentinian flavor for maximum appeal.
Must Try: Cocktails, Wine, Beer, Lamb, Salad, Steak, Oysters
Location: 1 Franklin Wharf, Hobart TAS 7000, Tasmania, Australia, +610362315005
Cuisine: South American, Australian, Argentinean, Contemporary, Vegetarian Friendly
Cost for Two: ₹ 700 – ₹ 1500
Zomato Rating: 4.⅖
Suggested Read: 5 Airports In Australia That Make Air Travel Both Luxuriant And Efficient
4. Peacock and Jones

Peacock and Jones is one of the select few Hobart based waterfront restaurants that prepare recipes from only locally sourced ingredients. It is known for its quality and sustainable food varieties. A great restaurant for the visitors of the city of Tasmania in Australia, aromatic taste of its multi-cuisine besides Tassie wines always seek the attention of guests who find changing menus as seasonal complements. As this restaurant has been offering best services, it has already received many prestigious awards as well for offering fine dining experience.
Must Try: Cocktails, Wine, Burrata, Charcuterie, Aioli, Grilled Bread, Hiramasa, Kingfish, Shima Wasabi, Ocean Trout Crudo, Buba Ganoush, Chickpea Crisps
Location: 33 Hunter St, Hobart TAS 7000, Tasmania, 7000, Australia, +611800375692
Cuisine: European, Bar Food, Australian,
Cost for Two: ₹ 450 – ₹ 1900
Zomato Rating: 4.0/5
5. Urban Greek

As the name suggests, Urban Greek is a restaurant in Hobart, Tasmani which offers best of the delicacies from the Greece cuisine. This restaurant is popular for serving the unique recipe varieties that represent complete authentic Greek food option. It welcomes visitors to enjoy fine dine of most authentic ingredients used in recipes served. This restaurant is popular amongst the families and group diners who enjoy dining and appreciating its fine décor and cool environment.
Must Try: Lamb Cutlets, Filo Pastry
Location: 103 Murray St, Hobart, Tasmania, Australia, +610361094712
Cuisine: Greek, Grill
Cost for Two: ₹ 2500 – ₹ 5000
Zomato Rating: 4.0/5
Suggested Read: New Year Party In Australia 2022: For Slaying The New Beginnings In Aussie Way!
6. Landscape Restaurant & Grill

Location of Landscape Restaurant & Grill on the spectacular Hobart waterfront makes it sought after by the locals as well as visitors. This restaurant offers best of fine dining experience to its visitors through stylish outlook of artful environment to tasty and yummy food varieties represented by the finest of cuisines. Artistically decorated walls of this restaurant from the John Glover's work, who also happens to be the inspiration behind the establishment of this culinary endeavor, it remains a popular restaurant in the region for classic recipes being twisted creatively. Also popular is its wine options.
Must Try: Dips, Salads & Sides Orektika – Entrees Vintage Plates – Charcoal Grill Banquets, Tzatziki, Taramas, Tirokafteri, Cretan Hommus
Location: 23 Hunter St, Hobart, Tasmania, Australia, +611800436797
Cuisine: Grill, Seafood, Steak
Cost for Two: ₹ 2000 – ₹ 3000
Zomato Rating: 3.9/5
7. Templo

Although Templo is a tiny restaurant in the Hobart neighbourhood, it is rushed by the locals as well as tourists seeking to dine in the relaxant atmosphere. Due to its location which facilitates charming environment for the guests to have the cozy and scintillating feel, it always remains filled. It is considered a best kept secret where foodies enjoy great time dinning.
Must Try: Wine, Pasta, Prosciutto
Location: 98 Patrick St, Hobart, Tasmania, Australia, +610362347659
Cuisine: Italian, Australian, European, Mediterranean
Cost for Two: ₹ 2500 – ₹ 5000
Zomato Rating: 4.4/5
Suggested Read: 10 Major Rivers In Australia: The Lifeline Of The Land Down Under
8. Drunken Admiral

With its typical name, Drunken Admiral restaurant is an eye-catching restaurant in Hobart. This restaurant is famous for fun and fancy environment with great dining option to taste best quality recipes from its multi-cuisine. It brings solace for the visitors seeking some rustic seafood and get that in alluring varieties. In operation since its establishment in 1979, this restaurant is a best destination for families to enjoy fine dining. It is considered one of the best locations in Hobart to enjoy the meals in the beautiful environment.
Must Try: Wine, Pasta, Prosciutto
Location: 17/19 Hunter St, Hobart, Tasmania, Australia, +610362341903
Cuisine: Italian, Australian, European, Mediterranean
Cost for Two: ₹ 2500 – ₹ 5000
Zomato Rating: 4.4/5
9. Dier Makr

One of the recent additions of highly impressive and appealing little bistro and wine bar in the Hobart area, Dier Makr serves the locals and tourists since establishment in December 2016. Cozy ambience of this restaurant makes it an ultimate place for a memorable dinner, and so is it great date spot for romantic couples. With great variety in its menu, recipes are prepared from locally sourced seasonal ingredients. Equally is popular its wide range of creative cocktails and wines.
Must Try: Le Fruit Du Hasard and Other Wines, Bistro and Local Dishes
Location: 123 Collins St, Hobart, Tasmania, Australia, +610362888910
Cuisine: Contemporary, Australian, Vegetarian Friendly & Gluten Free Options
Cost for Two: ₹ 1000 – ₹ 3500
Zomato Rating: 3.5/5
Suggested Read: New Year In Australia: Welcome The Upcoming Year Before Anyone Else Only Here!
10. Franklin

Famous as on-trend eatery in Hobart, this restaurant is popular amongst both locals and travelers. As the restaurant hardly has any design elements and its setting is more of contemporary one that showcases the concretes, it seeks visitor attention for being unique one. Open kitchen and highly creative menu keeps this bar-cum-restaurant into limelight. This restaurant is one of the modern one whose stylish environment makes the dining experience truly memorable.
Must Try: Wine, Oysters, Lamb, Potato Galette, Duck Liver Parfait
Location: 30 Argyle St, Hobart, Tasmania, Australia, +610362343375
Cuisine: Tapas, Modern Australian
Cost for Two: ₹ 4500 – ₹ 6000
Zomato Rating: 4.3/5
Further Read: 14 Ways To Celebrate And Enjoy Christmas In Australia
The list of restaurants in Hobart is long. Being a place where tourists keep flocking throughout the year, these restaurants bring great feeling of hospitality in their cozy environment. Guests always enjoy best time dining in these restaurants. So, you can be rest assured about your dining scenes and peacefully plan your trip to Australia.
---
Looking To Book An International Honeymoon?
Book memorable honeymoon on TravelTriangle with 650+ verified travel agents for 65+ domestic and international destinations.
---