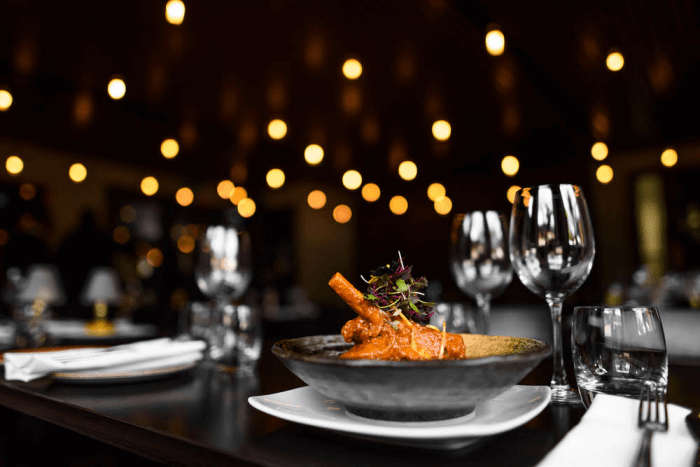 Hobart, the most densely populated capital of Tasmania (an Australian island) is emerging as a cultural hub of sorts. Hobart is home to some amazing restaurants and Australia's famous art gallery called Mona. The Salamanca Place in Hobart has rows of sandstone buildings which were previously used as warehouses that are now converted into artsy galleries, craft shops and fancy eateries. When you are in Hobart, looking around at all the rich art pieces but suddenly begin to miss home, here's something that you can do, grab a table at one of the Indian restaurants in Hobart and enjoy the food.
7 Best Indian Restaurants in Hobart
There are a plenty of Indian restaurants in Hobart (Tasmania) that serve delightful North Indian and South Indian food that will make you feel better when you're feeling home-sick.
1) Mother India
Mother India in Hobart is known for dishing up modern-Indian food that is prepared by an Indian origin food connoisseur, Chef Devi Sharma. A qualified chef from India and Australia, Chef Sharma has been in whipping up magic in commercial kitchens for the past twenty-two years. The food at Mother India is a mix of vegetarian and non-vegetarian dishes with gluten-free options as well as vegan options available for patrons who have specific dietary requirements. For non-vegetarian diners, we recommend you to order the Chicken Tikka Masala, Chicken Mughlai, Chicken Vindaloo and Butter Chicken while vegetarian diners can opt for some Paneer Tikka for starters, Paneer Makhani and Dal Makhani. The naans (Indian flatbread) at Mother India are warm and soft which make them the best accompaniments with the Indian sabzis.
Opening hours: The restaurant remains open from 12pm to 2pm for lunch on Wednesdays, Thursdays, Fridays and all through the week for dinner from 5pm to 10pm.
Where: 213 Elizabeth St, Hobart TAS 7000, Australia.
Must Read: New Year Party In Australia: For Slaying The New Beginnings In An Aussie Way!
2) Annapurna Indian Restaurant
The Annapurna restaurant has a total of three restaurant outlets in Tasmania but the Annapurna Indian Restaurant outlet located in North Hobart is the best one from all the three. Named after the Indian Goddess Annapurna, the Goddess of food and of cooks, this restaurant serves some really divine food. The chefs at Annapurna Indian Restaurant in Hobart have carefully selected the items on the restaurant menu according to the tastes of the local Tasmanian crowds. You'll literally feel the difference in the Indian food when you eat at Annapurna Indian Restaurant because their masalas and herbs are freshly ground in a stone pestle-mortar which brings out the natural oils and flavours of the spices. For non-vegetarian diners, the Beef Korma, Lamb Korma, Goat Curry, Mango Chicken, Goan Prawn Curry are the hot-sellers at Annapurna. For vegetarians, there are some dishes like the Tandoori Mushrooms, Baingan Bharta, Mutter Paneer and the Eggplant salan. Pair your main course sabzis with the spinach and cheese naans that will make you fall in love with Indian food if you aren't already in love with it! Wash this heavy meal down with a chilled Mango Lassi from Annapurna Indian Restaurant, you'll remember your meal at this restaurant for many years to come.
Opening hours: The restaurant is open on all days of the week from 5pm to 10pm.
Where: 305 Elizabeth Street, North Hobart, Tasmania, Australia.
Suggested Read: New Year In Australia: Welcome The Upcoming Year Before Anyone Else Only Here!
3) Tandoor and Curry House
Tandoor and Curry House in Hobart has a set buffet system where they have a lavish Indian spread of starters inclusive of Samosas, Beef Vindaloo, Chicken Tikka Masala, Mutter Paneer, Dal Tadka, Garlic naan followed by ice-cream for dessert. If you're going in for a la carte, order the Makhan Chicken, Chicken Korma, Tandoori Chicken, Tandoori Lamb. If you're ordering Tandoors, expect to wait a little while before you get your food on the table as the restaurant is known to make fresh tandoori dishes when they are ordered. Overall, Tandoor and Curry is the best place to go to if you're looking for a dinner place whether it is with business colleagues or with family. And, according to the tourists who have visited this place, the service of this restaurant is very good!
Opening hours: The restaurant is open on all days of the week from 5pm to 10pm.
Where: 101 Harrington St, Hobart TAS 7000, Australia.
Suggested Read: Scuba Diving In Australia: 10 Best Spots For Indulging In Diving Activities
4) Maharaja Restaurant
Maharaja restaurant offers a great dining experience coupled with some super tasty food that you can choose from their extensive menu. If you're a little wary of Indian food but want to still go in for something lighter, consider ordering some comforting South Indian food at Maharaja authentic Indian restaurant in Hobart. The restaurant is famous for bringing in fresh spices and ingredients all the way from India which are then used to make the delectable North Indian and South Indian food at the restaurant. You can order the non-vegetarian food that reflects the rich Lucknowi culture or the vegetarian food consisting of creamy and well-spiced curries. Dine like a Maharaja (King) at this Indian restaurant in Hobart and without worrying about any adulterated food as the restaurant promises pure food without any added MSG or artificial colours/ flavours. You will get exactly what the chef makes, on your table without the taste being tweaked by added preservatives. The restaurant also has an outside sitting area where you can enjoy your drink with Indian starters while you enjoy the company of loved ones! The owner of the restaurant also happens to be the head chef at Maharaja, Chef Barinder has had quite a history with food that has now turned him into the proud owner of the restaurant. For non-vegetarian starters, we recommend you go in for the Akbari Prawns, Maharaja Champ Masala, Noorjahani Tikka (Malai Kebab) followed by Mughlai Chicken Korma, Murg Musallam and Murg Nihara for the main course. The restaurant also serves some tasty beef dishes, ask the server for recommendations according to your taste. For vegetarians too, the restaurant has lots of variety, we suggest you order the Kofta Shamsavera, Dhingri Dulma (Mushroom sabzi), Mileejulie Sabziya (Mixed Vegetables) and of course, the Dal Makhani. For dessert, order the perfectly rolled out Gulab Jamuns that are plopped in a cinnamon and cardamom flavoured sugar syrup to complete your meal.
Opening hours: The restaurant remains open from 12pm to 2:30pm from Mondays to Fridays and for dinner from 5pm to 10:30pm on all days of the week.
Where: 81 Bathurst St, Hobart TAS 7000, Australia.
5) Chillies Indian Restaurant
Chillies restaurant lives up to its name in every sense and makes diners break into a sweet sweat because of all the well-spiced food that the chefs at the restaurant prepare. You can order the Lamb Kadhai, Malai Kofta, Chicken Curry, Beef Bombay, Paneer Makhani, Lamb Saag, Butter Chicken paired with some soft and light butter garlic naans. If you're at the restaurant just to grab a quick bite, order the Aloo Chick Pea Masala, Samosas and Vegetable Pakoras (fritters). Chillies Indian Restaurant is overall a well-priced restaurant serving authentic Indian food with efficient service. It is also known for its fantastic service!
Opening hours: The restaurant remains open on all days of the week from 5pm to 10pm.
Where? 5 Gregory St, Sandy Bay TAS 7005, Australia.
Suggested Read: Snorkeling in Australia: 10 Best Spots For Enjoying The Aussie Snorkeling
6) The Saffron Indian Restaurant
Saffron is a moderately priced Indian restaurant in Hobart that makes some yummy Indian food. We recommend the Spinach and Cheese curry, Kashmir Rice and the gooey Cheese Naans. For spice lovers, you have to taste the Hyderabadi Biryani at Saffron which is one of the spiciest dishes on their menu. Also, if you like food that has more spice or something that's very mildly spicy, let your server know so that they can make it exactly according to your taste. Saffron also has gluten-free, vegan and halal food options, let them know in case you have any specific dietary requirements. The restaurant is famed for its tandoor and curry dishes along with some North Indian dishes that reflect Kashmir's food culture.
Opening hours: The restaurant remains open for lunch from 12pm to 2pm and for dinner from 5pm to 10pm on Thursdays, Fridays and Saturdays. On other days of the week, the restaurant stays open from 5pm to 9:30pm.
Where? 15 Hunter St, Hobart TAS 7000, Australia.
Suggested Read: Drop Everything And Head To These 9 Islands Near Australia Now
7) Cinnamon Indian Gourmet
Cinnamon Indian Gourmet is a restaurant tucked away in a luxury boutique hotel and has a completely different vibe from other Indian restaurants. As soon as you walk in, you'll enter the lounge area with an elegantly laid out table setting, royal chandeliers and ethnic Indian artwork that adorns the walls of the restaurant. The restaurant also serves wine by the glass so you can enjoy some sumptuous Indian food with your glass of wine, beer or any other beverage. Start off by ordering the Palak Papdi Kebabs, Onion Bhaji (onion fritters), Paneer Tikka, followed by Mysore Chilli, a chicken dish that is mildly flavored with crushed ginger, garlic, and some chilies. Next up, order the Bihari Dum Gosht (goat meat marinated in a seasoned yogurt dressing), to go with this, order the lemon flavored rice or coconut rice (has coconut shavings and is topped with coriander). When your food arrives, you'll see that the food is plated beautifully using modern-Indian cutlery that adds to the overall feel of the restaurant. Don't forget to taste the Dried Fruit and Nuts Peshawari Naan which goes just well with all the spicy Indian curries at the restaurant. To beat the spice at the end of your meal, bite into the soft Gulab Jamuns doused in a sweet syrup at Cinnamon Indian Restaurant. If you want to go in for something cold, order the pistachio kulfi which is made of thick sweetened and flavored milk which has an icy texture. The service might get a little slow as the crowds at the restaurant increase but Cinnamon is definitely worth a visit if you're in Hobart.
Opening hours: The restaurant remains open from 12pm to 2:30pm for lunch from Thursdays to Sundays and for dinner from 5pm to 10pm. From Monday to Wednesday, the restaurant remains open from 5pm to 10pm in the evening.
Where: 18 Hunter St, Hobart TAS 7000, Australia.
Further Read: 10 Major Rivers In Australia: The Lifeline Of The Land Down Under
Tanzania is the adventure hub of Australia. Its rugged wilderness and vastness lure adventures from all over the world. If you are planning a trip to Australia, make sure to put this thrilling Aussie state on the list.
---
Looking To Book An International Honeymoon?
Book memorable honeymoon on TravelTriangle with 650+ verified travel agents for 65+ domestic and international destinations.
---