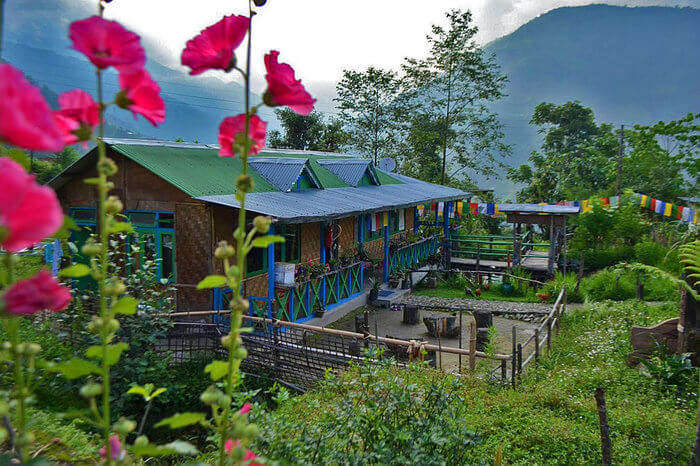 "Atithi Devo Bhava," which means "The guest is equivalent to God," is a philosophy and a practice Indians have been following for years. To understand this philosophy and be a part of the nation's diverse cultures, you must go for a family-run accommodation while traveling. If you're planning to travel to Northeast anytime soon, it is suggested that you stay with the incredibly warm and welcoming people who run some gorgeous homestays in North east.
Here's a list of homestays in Northeast you'll never want to leave…
Why choose a homestay over a hotel?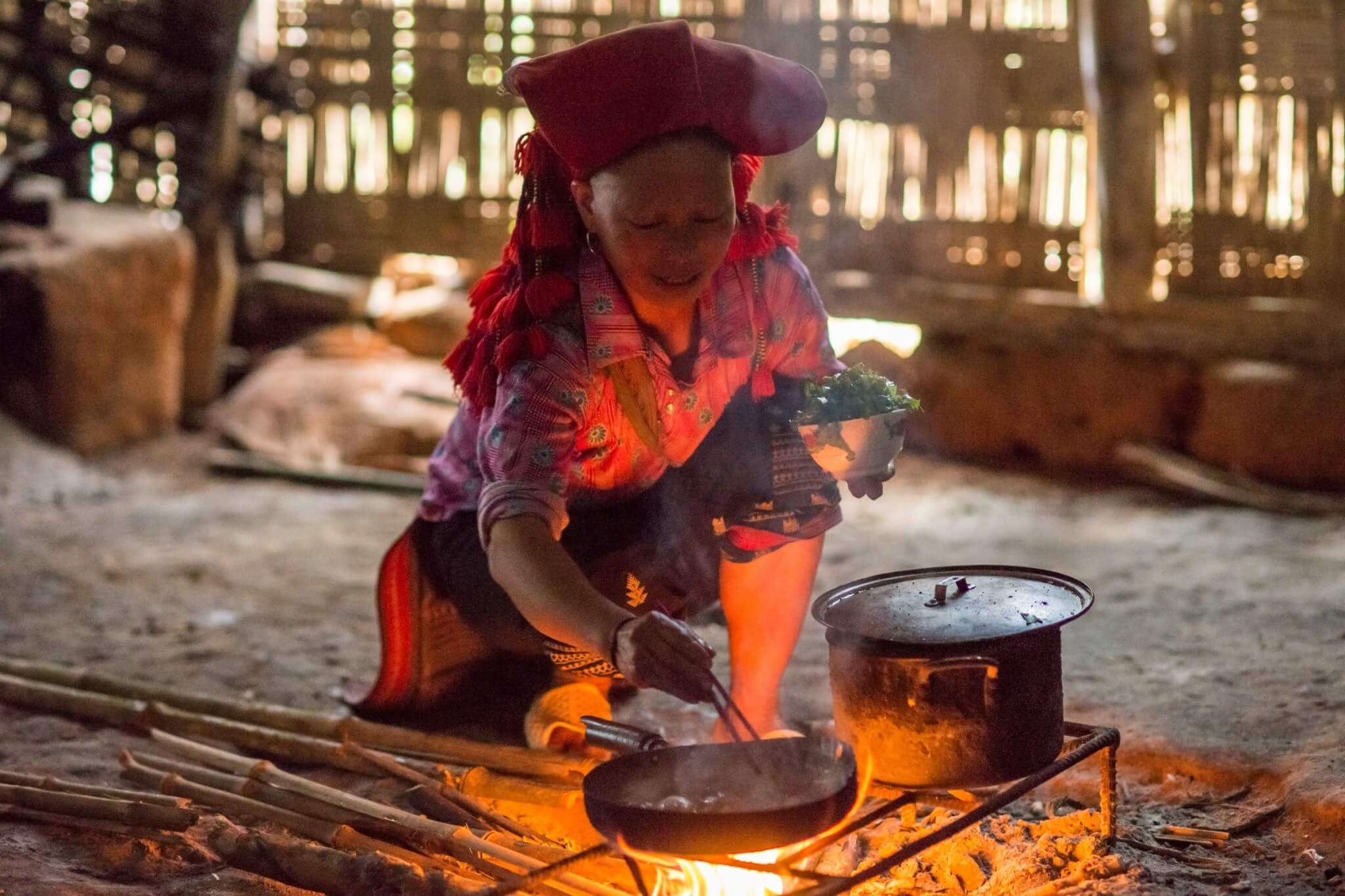 The idea of staying in a homestay is wonderful for travelers who want to experience the culture and lifestyle of a particular place. Homestay is a community-based concept that gives you a great chance to mingle with locals and live the way they live.
Plus, a hotel staff won't know a place better than a homestay-host. Your host can take you to places that aren't commercialized and extremely gorgeous. Your host can also cook delectable and authentic cuisine you hardly get in a hotel. By staying in a family-run accommodation, you're also supporting Eco-tourism, which eventually improves local livelihoods.
Homestays in Sikkim
1. Limboo Homestay, Yuksom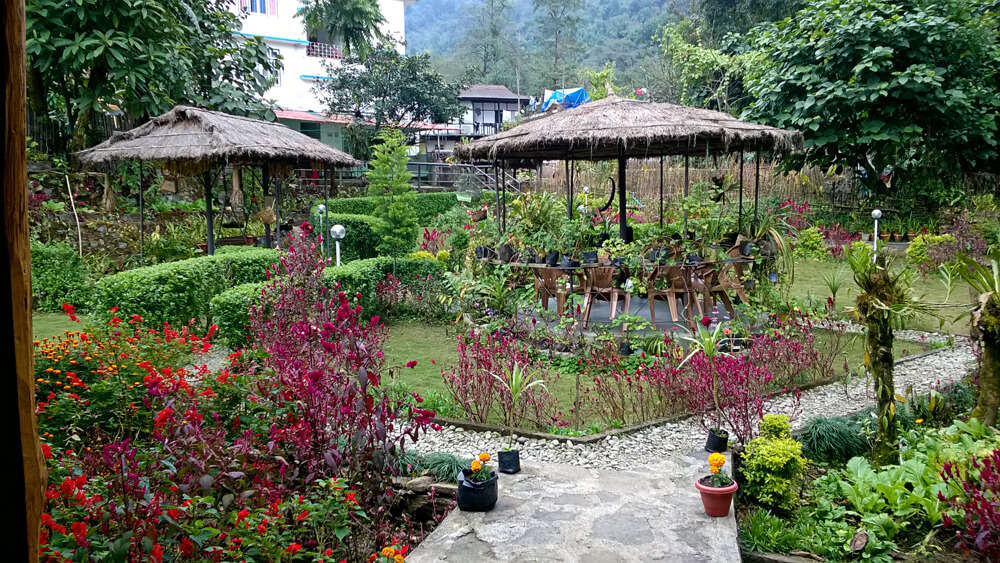 Image Source
Run by Rani Limboo and her family, Limboo Homestay offers a loving and warm atmosphere to nature-loving travelers. The rooms are absolutely cozy and clean, and it has everything you could possibly need. The family's wealth of knowledge about the local culture and wonderful secret attractions help travelers understand and explore the place in a better way. While Mr. Limboo organizes treks and hikes for travelers, Limboo aunty cooks and packs delicious food for your adventures. This is also a fine place to witness a gorgeous sunrise, so don't miss that.
Charleston from London says "Rani and her family are the most wonderful hosts. Their evening meals are the best we have tasted anywhere (the fern shoot curry in particular!) and the cottage in the garden is gorgeous." Read more
2. Homestay Lake View Nest, Pelling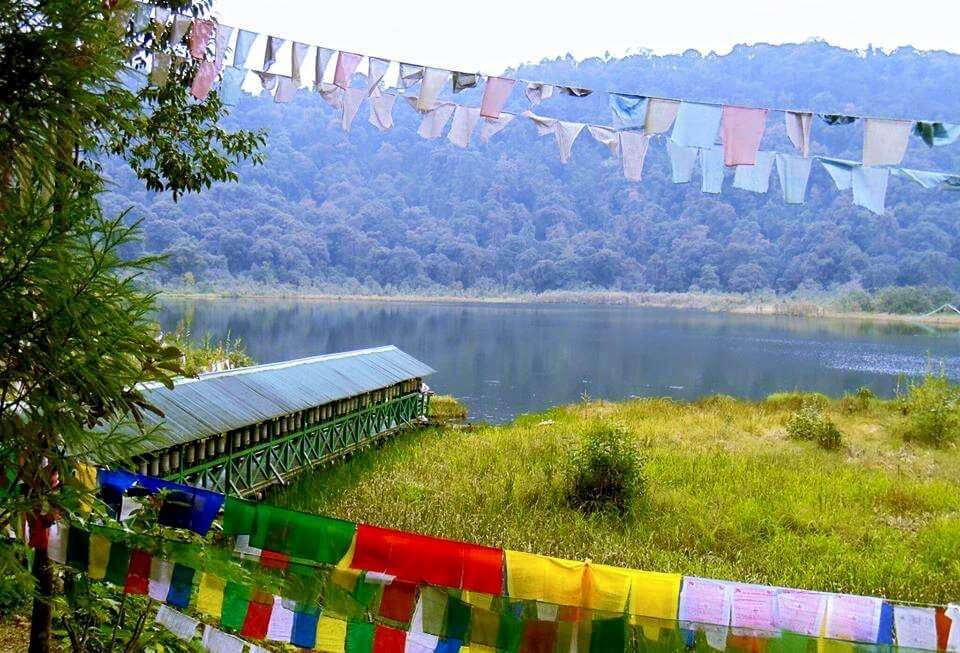 Staying in Homestay Lake View Nest can turn out to be the best experience for travelers traveling to Northeast. You may not get an attached bathroom and the quiet road leading to the homestay may not be so well-lit, but what blows your mind is the location and cleanliness of the homestay.
It's a two-story building with 4 rooms on the first floor and 2 on the ground. The top rooms share a balcony offering mesmerizing views of the valley and the rooms on the ground floor open to the courtyard. You get comfortable beds and tasty food cooked by Chumden (the generous host). Just like any other kind host in Northeast, Chumden won't let you leave the homestay without carrying a dabba she prepares for her guests.
Thalia from Germany says "Lake View Nest is located near a small, picturesque village and ideally situated for day hikes. It is incredibly peaceful and quiet, and you can while away the hours sitting in the garden with a book, listen to birds chirping." Read more
3. Dechen Dzong Homestay, Gangtok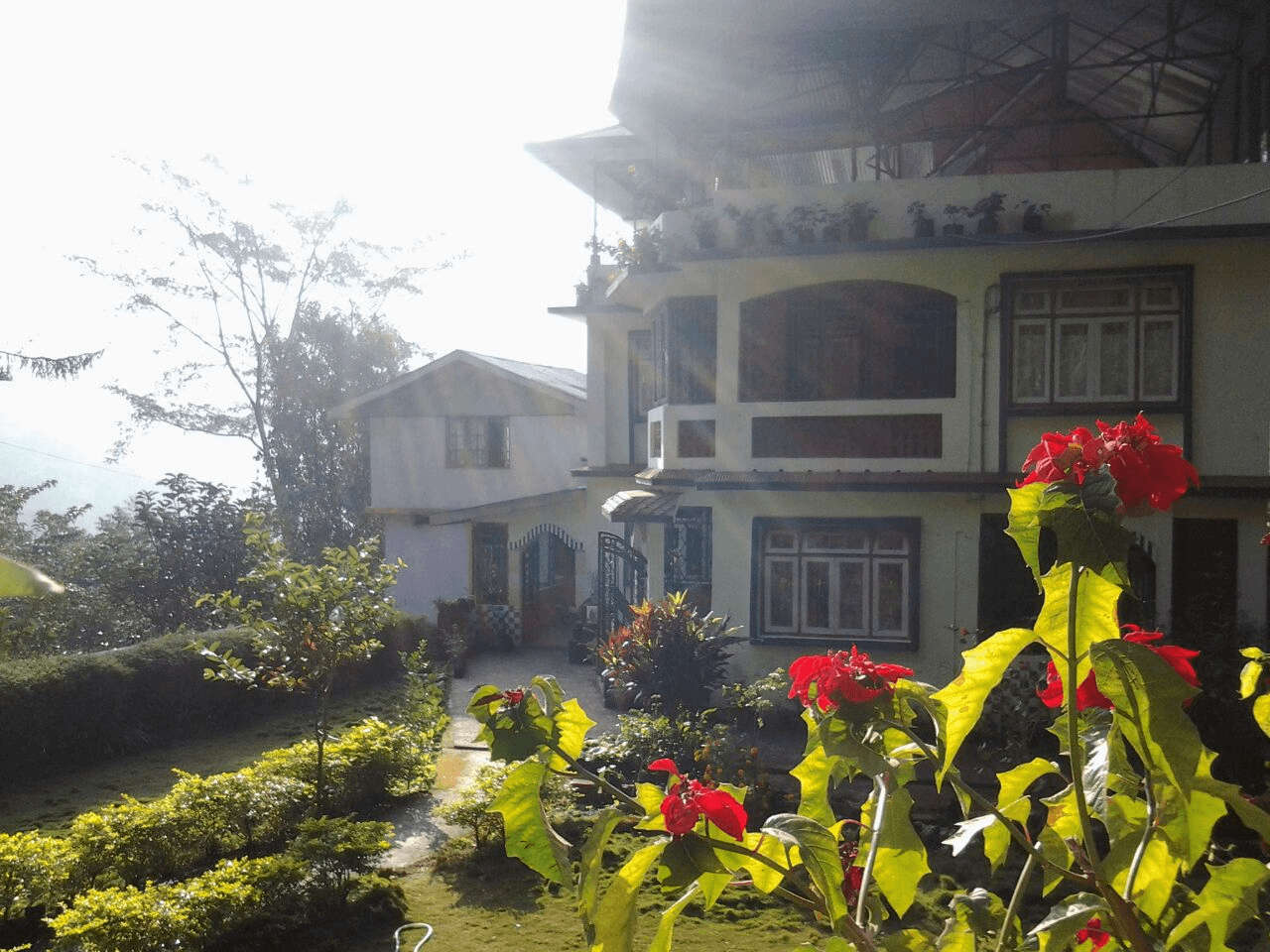 Dechen Dzong Homestay is a wonderful place to stay in Gangtok for travelers who love to experience different cultures, places, and people on their journey. This may not be the place for those who want to try different cuisines of Sikkim, but the warm and friendly welcome, the comfortable stay, the beauty and the peace of this place will make you stay longer. The rooms are clean, cozy, well-lit, and offer beautiful views of the mountains. The main bazaar is just 5 minutes away from the homestay.
Suggested Read: 22 Cozy Budget Hotels In Gangtok For Your Exhilarating Trip To Sikkim
4. Darap Village Homestay, Darap Village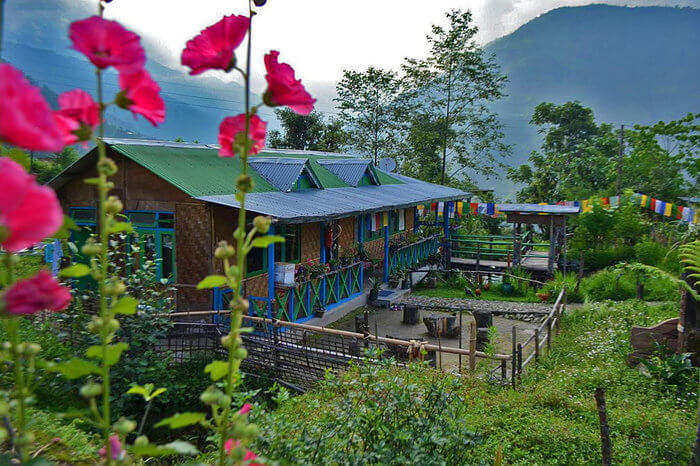 Image Source
The owners of Darap Village Homestay—Shiva Gurung and his wife Radha are the best and the happiest folks you'll find in Darap Village. Radha is a sweet lady who'll make you feel at home and involve you in fun activities like making momos or preparing Tongba (a millet-based alcoholic drink).
Travelers will love the home-like aura, a little library for book lovers in the homestay, and the soothing sound of the forest. If you are a morning person, you can walk up to Limbo Village to see the rising sun behind Kanchenjunga mountain.
Brad from London says "The family is extremely welcoming and caring. Shiva showed us around the village and was great at giving us recommendations of where to visit and how to get there. "Read more
Suggested Read: My 8 Days Trip To North East In 2019 With My Friends Was A Blissful Escape From Mumbai's Heat
5. Chalamthang Homestay, Singtam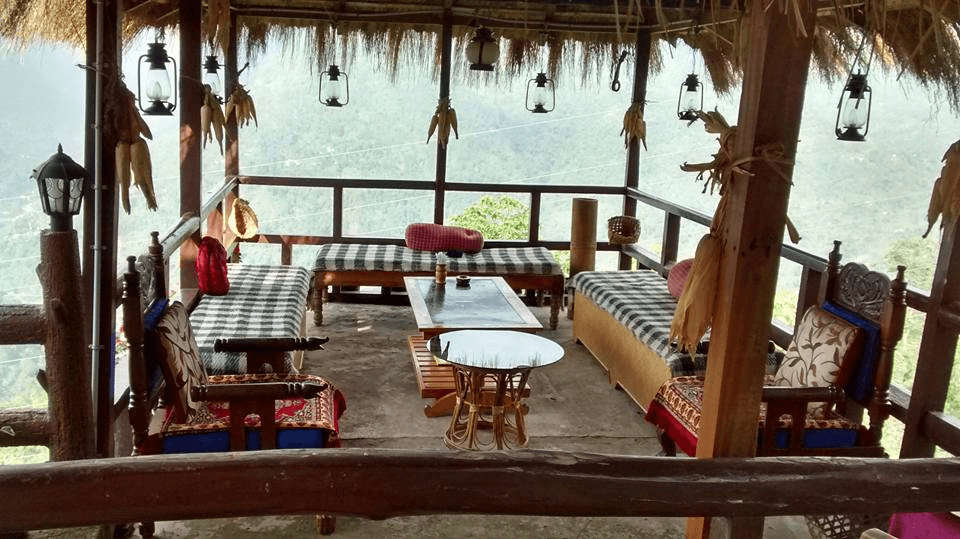 A 20-minute scenic drive from Singtam Bazar takes you to Chalamthang Homestay. Other than the friendly staff, yummylicious food, clean and spacious rooms, there's something very special about this place. It's the "machan" area that suddenly makes you fall in love with the homestay. At night, you can sit on the comfortable seats of the machan and enjoy the views of the valleys with a steaming cup of coffee.
Homestays in Arunachal Pradesh
6. Abasa Homestay, Siro Village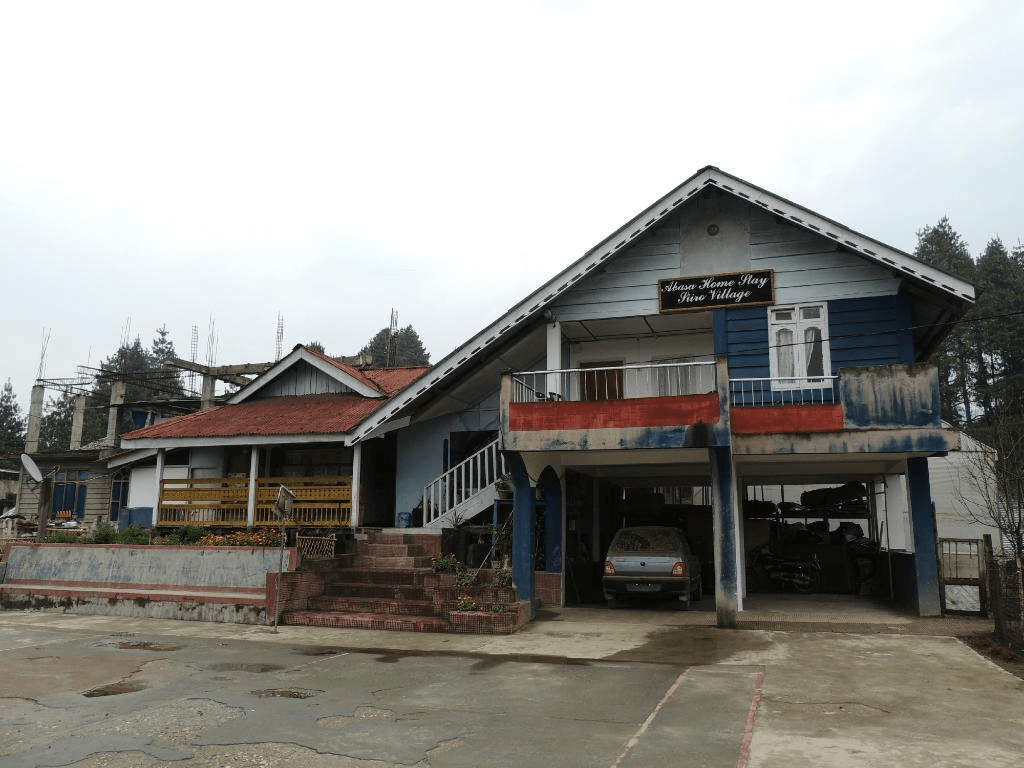 In the most imposing valleys of Siro village lies a little place called Abasa Homestay. It's a lovely place with friendly hosts, authentic & delicious food, and clean & comfortable rooms. At night, you can sit around the wood-burning fire pit with the family and have dinner under the open sky. The unscatched landscapes, the mighty mountains, and healing serenity of this little village will make you go weak in the knees. This homestay is a little expensive, so it may be a little heavy for a solo backpacker's pocket.
Paul from Texas says "During a recent tour of Arunachal Pradesh, my traveling companion and I spent 3 nights at Abasa Homestay in Siiro Village near Ziro. It was a truly unique experience." Read more
7. Tenzin Homestay, Tawang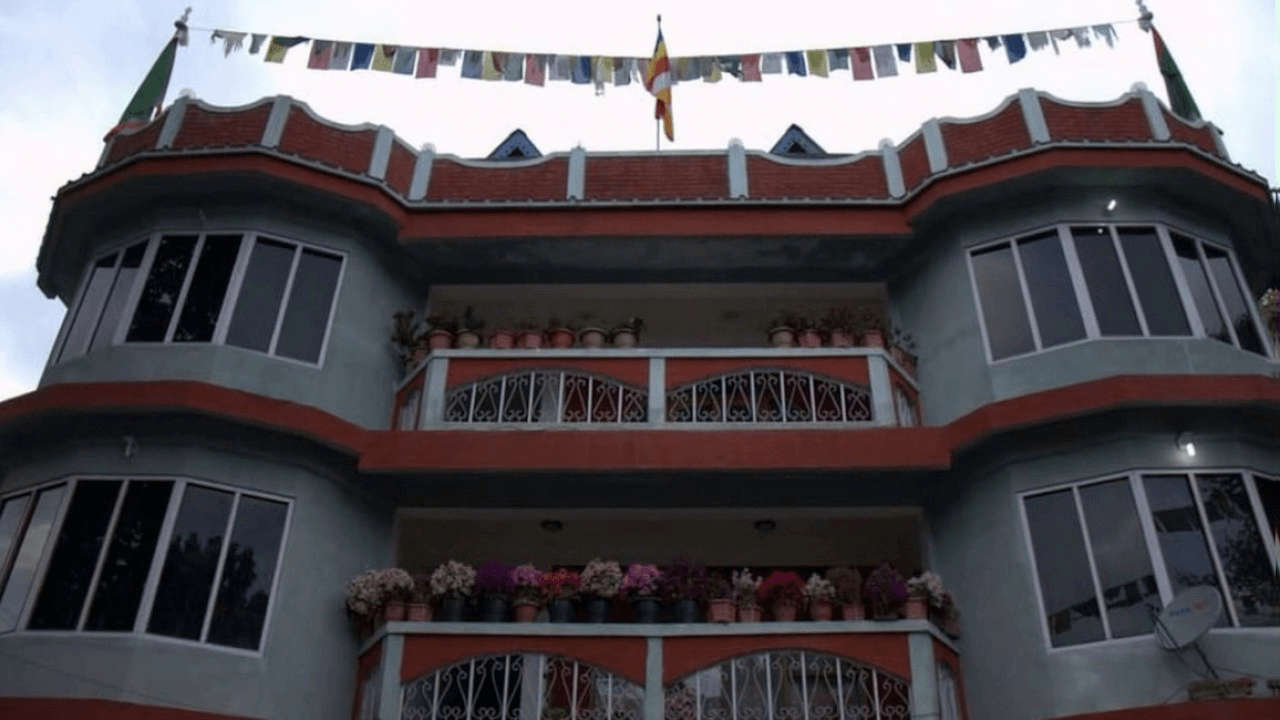 Thupten Tenzin and Pi Pi—the owners of Tenzin Homestay—are one of the most generous and loving people you'll ever meet. Mr. Tenzin is a teacher in the monastery of Tawang and he can introduce you to local culture and the beautiful people of Tawang. The rooms at the homestay are well-lit, clean, and the wooden walls make them look like a chalet found in the Swiss Alps. The place is a little far from the main town, so it'll be a little difficult (not impossible) for you to locate it.
Suggested Read: 43 Places To Visit When Travelling To North East In 2022
Homestays in Meghalaya
8. NG Eco Homestay, Cherrapunjee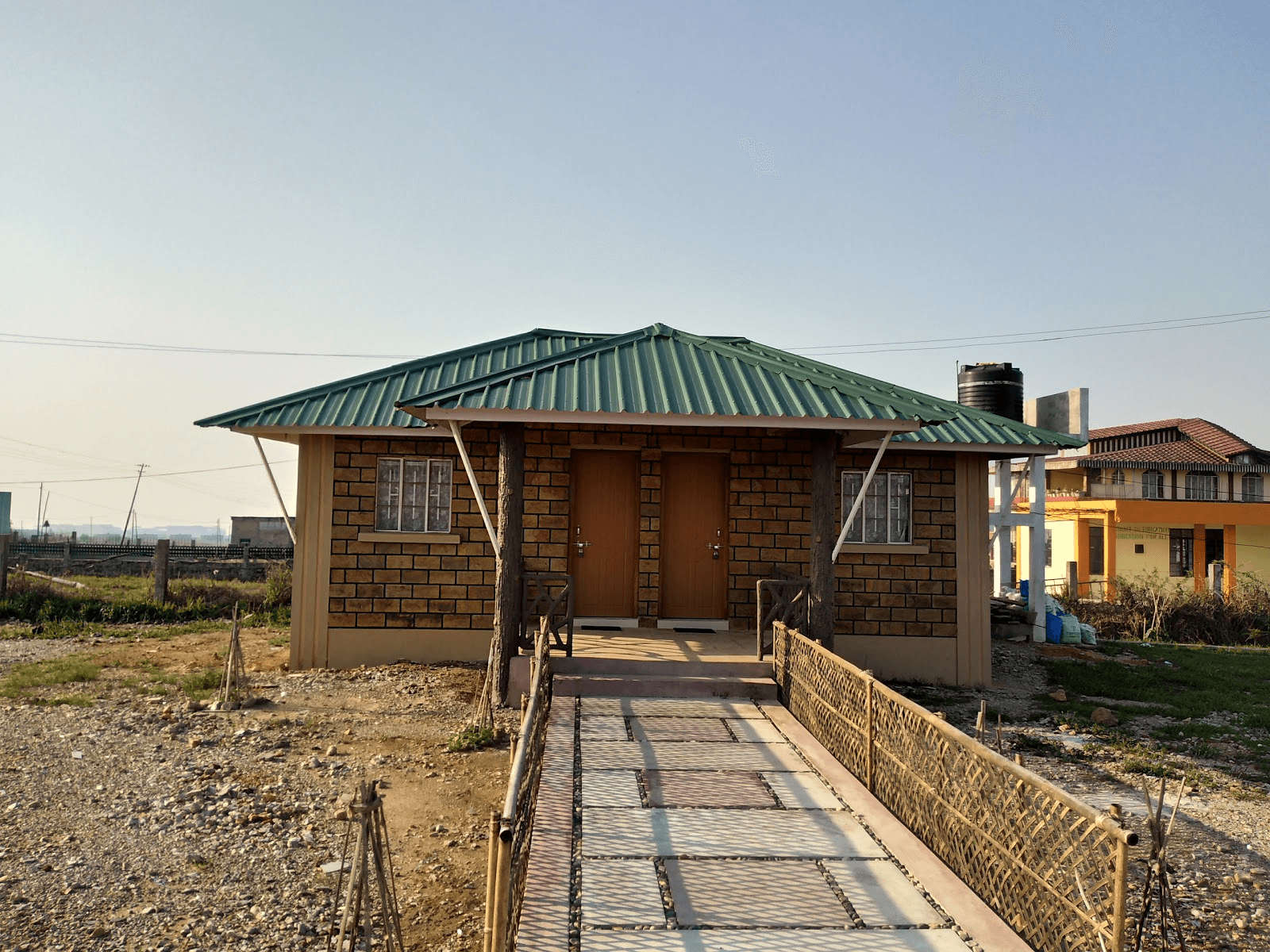 Image Source
Cherrapunjee has very few homestays, NGO Eco Homestay is one of those welcoming places. Run by Mr. Sunshine, this little homestay has rooms that offer views of wonderful hillocks right from the windows. The host helps you plan an itinerary for your Cherrapunjee journey and can also arrange a car for you to explore the town, which is very generous of him.
Abhay from New Delhi says "Awesome fresh food prepared just on time as per demand. Mr. Sunshine will get all the stuffs and offered you fresh food. Bone fire as per your convenient in Pleasant weather was awesome till late night." Read more
9. Pine Hill Homestay, Shillong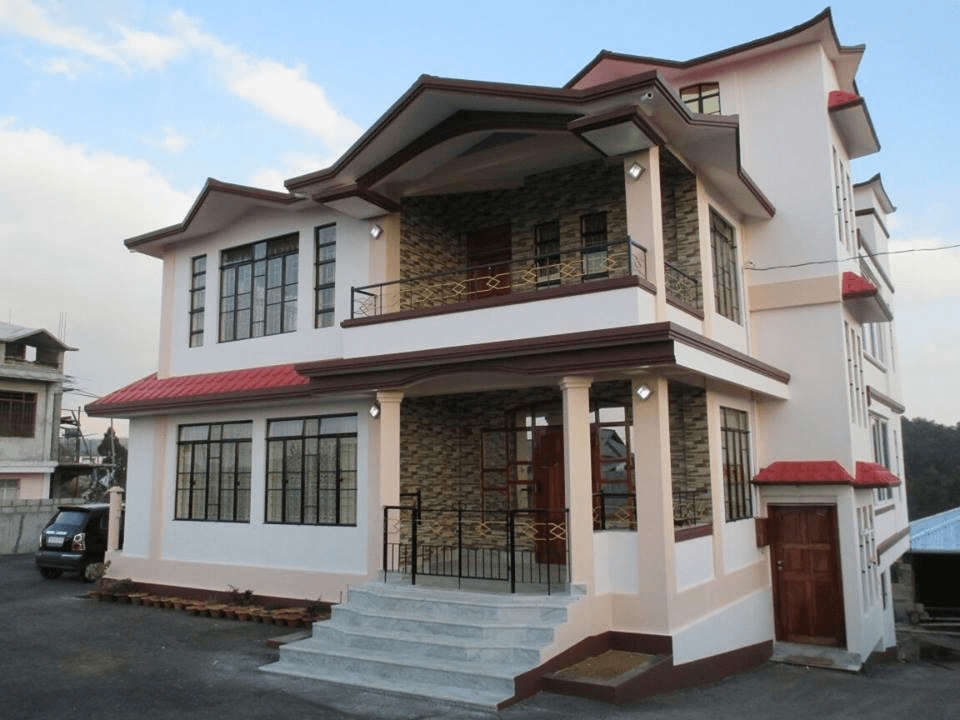 Image Source
If you want to be far far away from the crowd of main Shillong bazaar, then Pine Hill Homestay is the place for you. Caring hosts, hygienic food, well-ventilated rooms, clean washrooms, scenic beauty, and tranquility, there's everything you need. Guests can enjoy a scenic drive to Elephant Falls, that are about 15 km away from the homestay.
Panchi says "I will recommend this place to everyone visiting Shillong. Me and my husband recently stayed here and we were really impressed by the cleanliness." Read more
Suggested Read: 15 Secrets Of North East India Locals Have Been Keeping To Themselves
Homestays in Assam
10. Prabhakar Homestay, Guwahati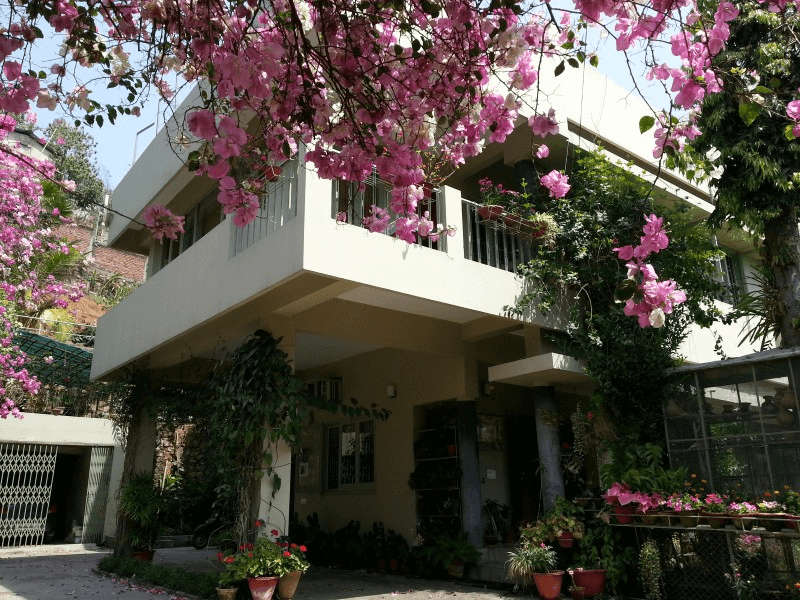 Image Source
Set amidst the valley above, Prabhakar Homestay is a charming and luxurious homestay for travelers. Shiela Bora and Mahesh Bora, who are the owners of this gorgeous and humble abode are incredibly helpful and friendly people. Mrs Bora was a history professor and her knowledge about the history of Northeast will impress you a lot. The rooms here are spacious and tastefully decorated and the balconies overlook the colorful garden. The wi-fi is quite fast and the food is delightful.
Ea Gould from Seattle says "Our host and hostess were wonderful, they took us to a wildlife art exhibit when they heard we were into nature, and then took us to a weaving exposition." Read more
11. Ashirwad Heritage Homestay, Guwahati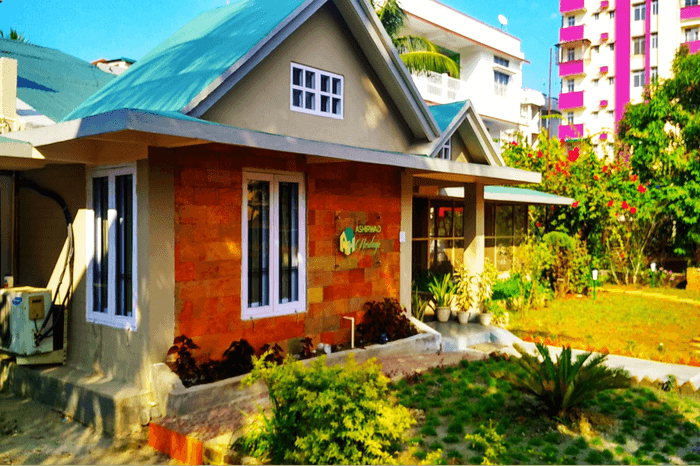 Image Source
About 30 km away from Paltan Bazaar, Ashirwad Heritage Homestay is a serene and homely place. The rooms of the homestay are beautifully decorated and the washrooms are clean as a whistle. Mr Basab, a kind-hearted and funny man is the owner of this homestay and his presence adds a sense of warmth to this property. You'll surely enjoy the peace and beauty of the place.
Jose Manuel from Spain says "You will enjoy the house and Basab's hospitality. House is very quiet and clean. Also has a very nice garden." Read more
Homestays in Nagaland
12. Longchen Homestay, Dimapur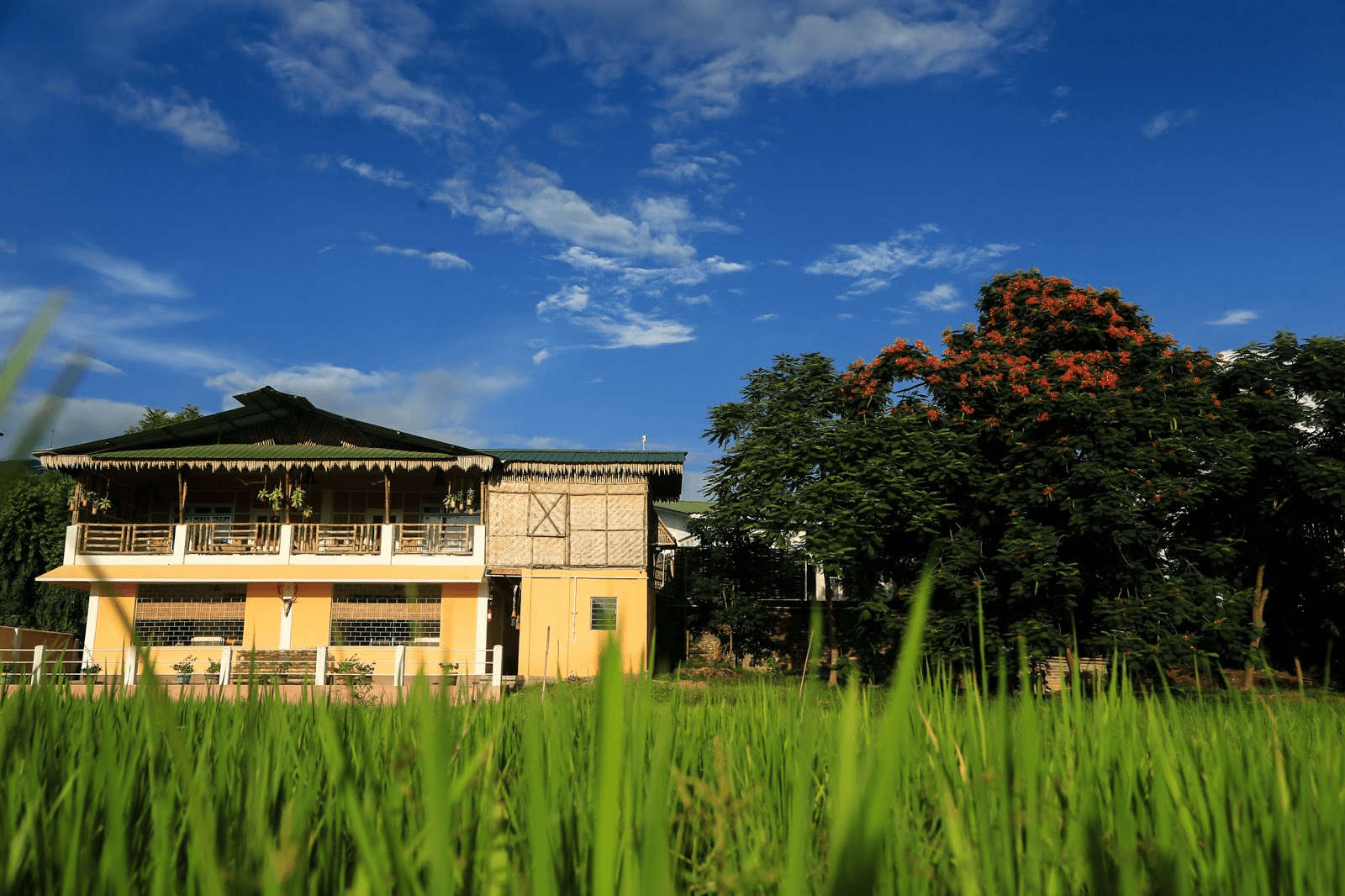 Image Source
Located near Dimapur Airport, Longchen Homestay is a peaceful accommodation. The hostess, Annie, is a wonderful lady who takes care of all your needs. If you ask her, she'll share her food recipes with you and cook some delectable cuisines for you. The homestay looks like a traditional Nagaland home with private balconies overlooking the paddy fields. And my, my, the mornings are just incredible here!
Bastinga say "Was worth the money and time spent and the homely atmosphere.Highly recommended for tourist from all over the country as well as abroad." Read more
13. Greenwood Villa, Kohima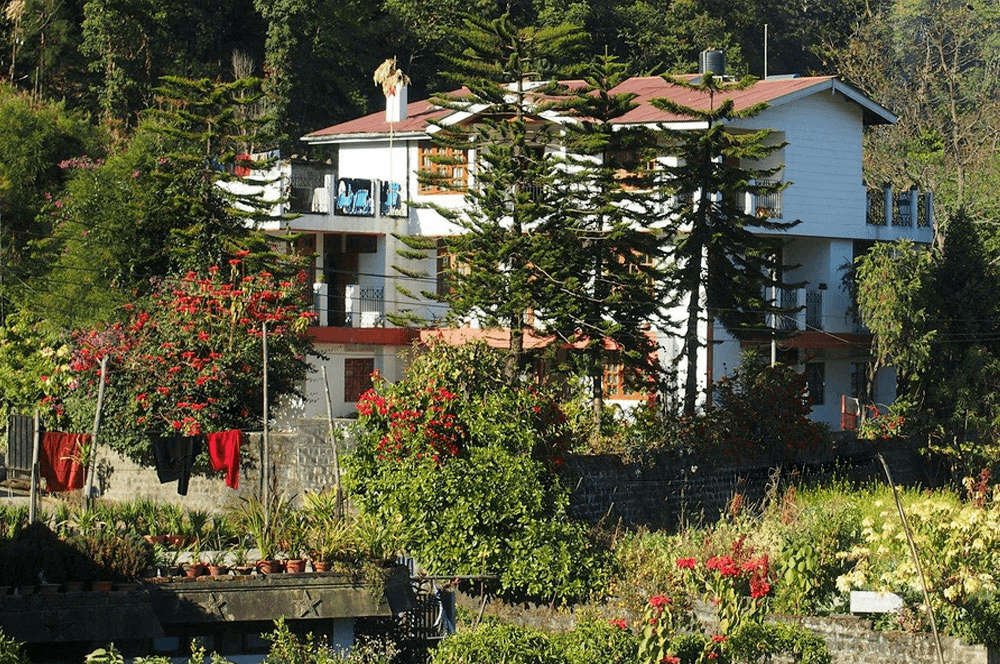 Situated in the beautiful valleys near the historic town of Kigwema village, Greenwood Villa is a pretty, little homestay run by Nino Zhasa. She's a knowledgeable person and her abilities as a guide are impeccable. All the rooms of the homestay are clean and well-ventilated and some of them also have a balcony overlooking the valley down. There's a communal seating area where you meet other members of the family and talk about things. Nino encourages you to mingle and feel at home.

Stay in the lovely homestays and interacting with your friendly host who'll let you taste the flavors of the local culture and community of this beautiful region of India. You can also book a Northeast tour package to experience the unique and interesting culture of Northeast.
Further Read: 15 Captivating Honeymoon Destinations In North East India To Cover In 2022!
---
Looking To Book A Holiday Package?
Book memorable holidays on TravelTriangle with 650+ verified travel agents for 65+ domestic and international destinations.
---
Comments
comments