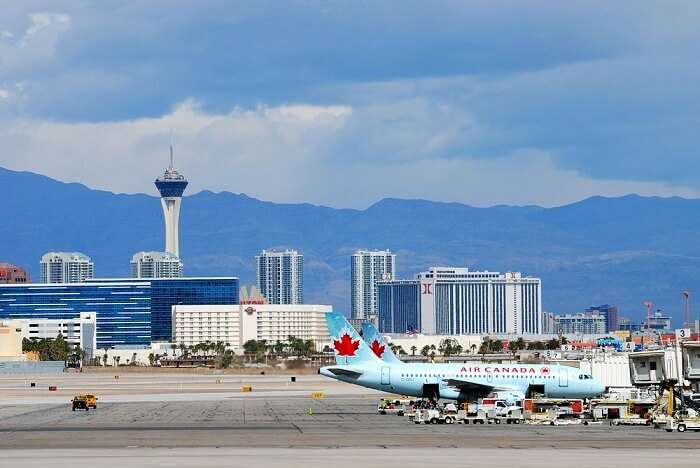 An entire country is loaded with bucket-list worthy experiences, you know you have to take that once in a lifetime trip to explore its abundant bounties. Canada is the land of majestically soaring Rockies, picture perfect glacial lakes, dramatic coastlines, pretty fall colours and the spectacular Northern Lights. While each of its culturally rich cosmopolitan cities offers distinct experiences, the country is also a foodie heaven with world-class restaurants, wines, seafood and natural produce. Whether you're enjoying the exciting outdoors or witnessing some of the best cultural, literary, music, art and food festivals in the world, Canada always lives up to your expectations. With the country's focussed efforts on encouraging tourism, airports in Canada have been spruced up to ensure a pleasant pre- and post-flight experience for all travellers. These Canada airports simply makes the whole journey feel relaxing and adds to the excitement. Get your airport looks ready! 
18 Best Airports In Canada
Airports are that essential component of every traveller's life that can greatly enhance your travel experience if they offer a relaxing and comfortable environment to rest your weary bones and indulge in some great shopping & entertainment in between flights. With an enviable list of international airports in Canada and whopping 500-plus airports in Canada airports map, the government has gone to great lengths to make them efficient, convenient and user-friendly. Let's check out the list of airports in Canada along with the world-class features that set them apart.
1. Vancouver International Airport (YVR)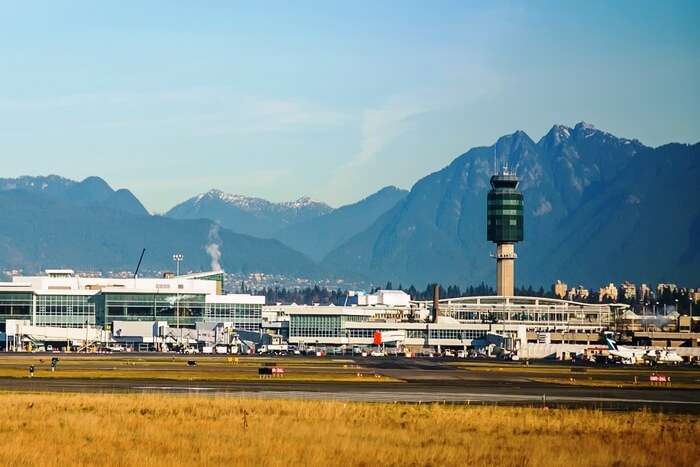 Image Source
Located on Sea Island in Richmond, British Columbia, Vancouver international is amongst the top-rated airports in Canada for its superior decor features and unmatched facilities. This Canada International Airport is a well-laid and easy to navigate airport and has won numerous awards for its world-class services. The glass walls show off the beautiful landscapes of British Columbia, while some amazing aboriginal art and totem poles add to its superb decor. With a focus on sustainability, this Skytrax awarded airport features the world's largest living wall with thousands of green plants along with a solar-powered water heating system. The friendly and professional staff and high-tech systems ensure a smooth and hassle-free experience for all passengers.
Distance to downtown: 12Km
Special features: Huge aquarium with more than 5000 marine creatures and a special aquarium dedicated to jellyfish.
Feel On Top Of The World At This Suspension Bridge On Whistler Mountain In Canada
2. Toronto Pearson International Airport (YYZ)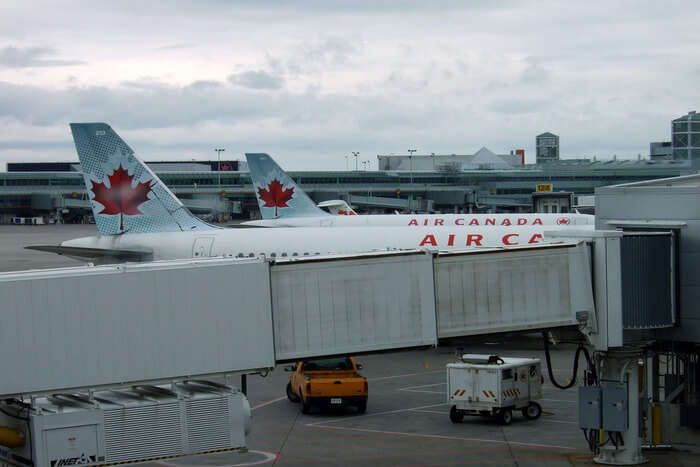 Image Source
The busiest and largest airport in Canada serves the entire Toronto metropolitan region and the Golden Horseshoe area around it. Not only it is the biggest airports in Canada but it is aesthetically beautiful, very spacious & well-managed, with plenty of options for food and shopping to keep you engaged while you're waiting to board your next flight. The world-class, modern and clean airport is not just a gateway to North America but also a cultural hub with its permanent art collection and rotating art exhibits. The permanent collection includes eight exhibits created by artists from across the world and must not be missed. Besides the YYZ, there are five more international airports in Ontario, Canada to serve the high tourist traffic in the region.
Distance to downtown: 27Km
Special features: Stylish, well-equipped and comfortable Premium Plaza Lounges, the two dinosaur models of Allosaurus and Othnielia Rex, 24×7 elevated skyline train.
3. Halifax Stanfield International Airport (YHZ)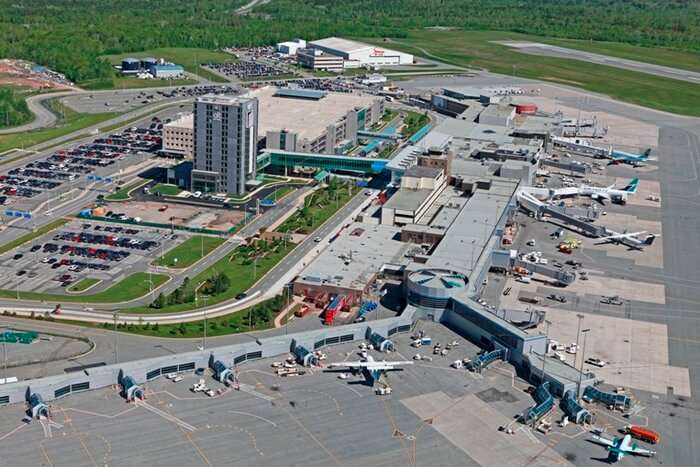 Image Source
Serving not just Halifax and mainland Nova Scotia, this frequently awarded airport also serves as an important hub for passengers flying in and out of the nearby Maritime provinces. The super friendly and helpful staff is the biggest reason for the exceptional passenger service here that has earned it numerous accolades. While welcoming volunteers greet and assist you at this lovely airport, the clean and modern bathrooms also offer free feminine products. There are decent food options and nice shops to pick reasonably priced souvenirs.
Distance to downtown: 36Km
Special features: Airport tours on specific days of the week, superb seafood store for picking up local seafood for your travel.
Canada Nightlife: A Traveler's Guide To How Canadians Like To Party
4. Montreal Pierre Elliott Trudeau International Airport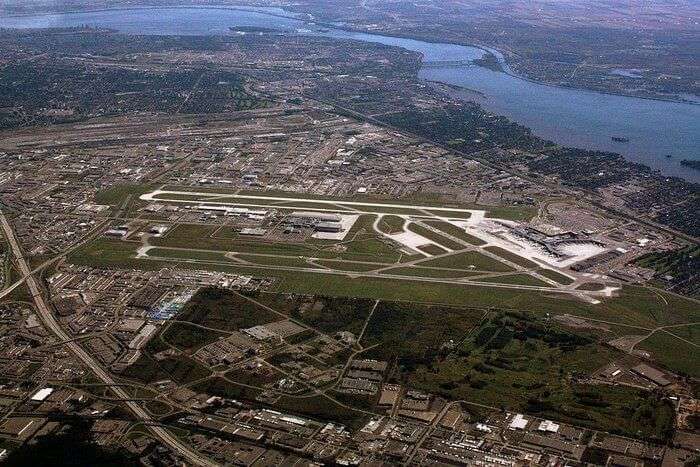 Image Source
Counted amongst the busiest airports in Canada, this spacious and modern place is dotted with wonderful restaurants, food joints, bars and duty-free shops to keep you occupied while you wait here. The employees are helpful, the security check is hassle-free and the self-service kiosks work pretty well, saving a lot of time. Modern, clean and easy to navigate, Montreal airport offers a pleasant experience to passengers. There are 2 Tim Horton's, along with numerous French cafes for some great coffee and quick bites.
Distance to downtown: 20Km
Special features: BALNEA Spa Voyage offering de-stressing massages, facials and pedicures for a rejuvenating experience in between your hectic travelling. Brulerie St-Denis is great for imported coffee beans and a variety of Arabica coffee.
5. Ottawa McDonald-Cartier International Airport (YOW)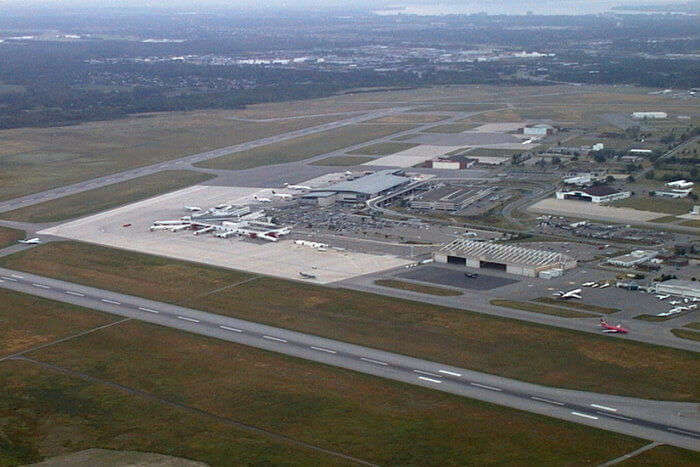 Image Source
Named after the two founding fathers of Canada, this small but efficient airport serving the Ottawa region is well-serviced and easy to navigate. The check-in and security is usually hassle-free and quick thanks to one of the most efficient staff across various airports in Canada. The bright, airy and convenient Ottawa Canada airport has clean washrooms and plenty of comfortable seating for those spending a long time between flights. There a numerous options for shopping & food along with a play area for kids.
Distance to downtown: 10Km
Special features: Very impressive fountain across Gate 17, reflexology and manicure treatments available.
Hanging Hotel In Canada: Free Spirit Spheres Are Here To Satiate The Wanderlust Of Free Souls!
6. Calgary International Airport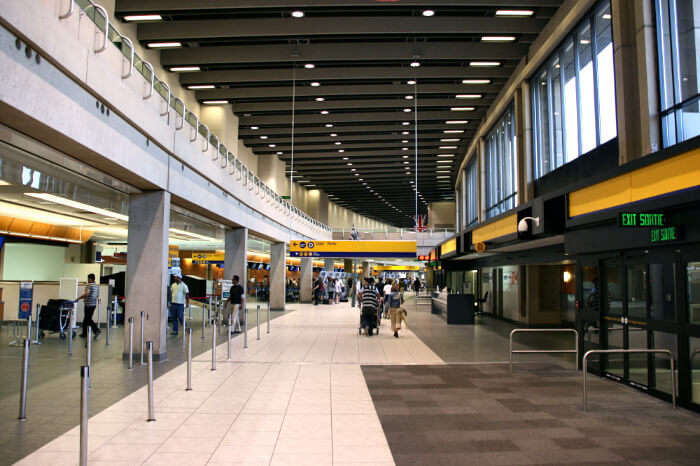 Image Source
With its awesome new international terminal and many more recently added facilities, this one has definitely secured its place amongst the best five airports in Canada. The high-tech baggage carousel updates passenger about the exact location and arrival time of baggage, adding immense value to anxious travellers. There are great dining and shopping options including the usual suspects like Starbucks and Tim Horton's. The Cococo Chocolaterie is a nice place to pick up gourmet chocolates manufactured locally. The friendly and accommodating staff makes customs and security check a breeze at this Calgary Airport.
Distance to downtown: 17Km
Special features: SpacePort, the unique educational and entertainment facility focusing on aeronautics and space. The interesting exhibits and displays attract adults and kids alike.
---
Planning your holiday but confused about where to go? These travel stories help you find your best trip ever!
---
7. Winnipeg James Armstrong Richardson International Airport (YWG)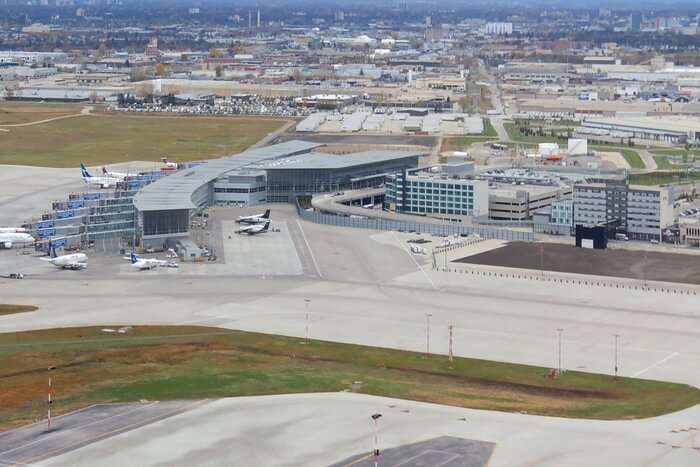 Image Source
The stalwart amongst all international airports in Canada, this one dates back to 1928 making it the oldest in the country. The importance of this small but modern and effectively planned airport lies in the fact that it acts as the gateway to many of the remote northern Canadian communities. The airport has sufficient comfortable, convenient and private seats for sleeping/resting as well a fantastic supply of freshly brewed natural juices to perk up your energy levels.
Distance to downtown: 10Km
Special features: Western Canadian Aviation Museum located in an actual hangar, showcasing an eclectic collection of planes including Canada's first helicopter.
Ottawa In January: How To Make The Best Of Your Canada Trip
8. Victoria International Airport (YYJ)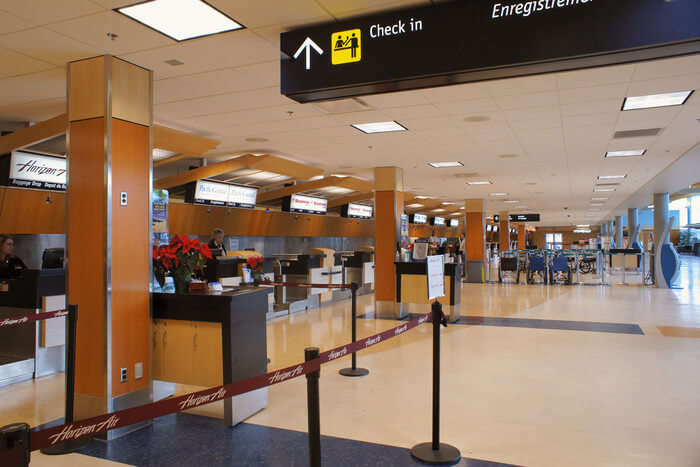 Image Source
This well-designed modern airport is the 10th busiest amongst Canada airports and fairly busy due to the popularity of Vancouver Island with tourists. Located in a beautiful setting, the small & efficient airport also has the famous White Spot outlet serving some delicious old-fashioned burgers. The quiet room on the second floor provides a nice spot for rest and rejuvenation post the smooth check-in, while Spinnaker is a nice dining option after the security check is done. The airport has many passenger-friendly facilities including a walkway around the perimeter of the building.
Distance to downtown: 25Km
Special features: A state-f-the-art Bicycle Assembly Station as well as storage space for cycling enthusiasts.
9. St. John's International Airport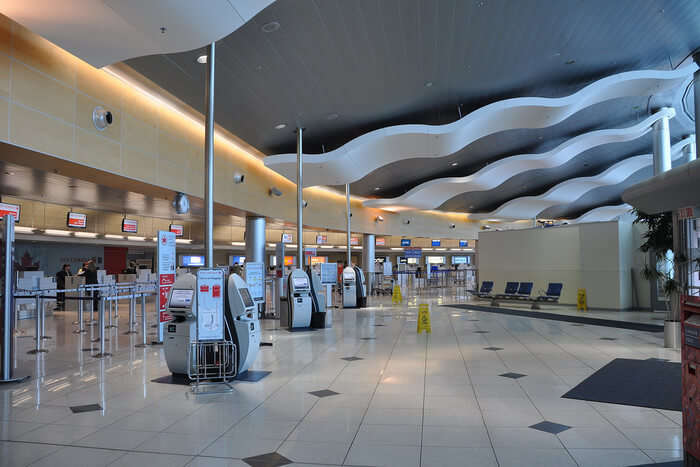 Image Source
This modern and shiny small international airport in Canada served by 5 flight carriers is the premier transportation gateway to Newfoundland and Labrador region, making it an important one for tourists looking to explore this area. Equipped with wi-fi zones, charging stations and play areas for kids, the airport has a friendly staff managing all operations with a smile. When you have some time on hand, Jellybean Harbour is a good place to pick up unique souvenirs and YellowBelly brewery serves yummy from-scratch food and craft beer.
Distance to downtown: 6Km
Special features: The Visitor Information Centre provides to-the-minute updates about whale and iceberg sightings to keep visitors updated. Coyote Jack's Grill is a great place to try the special char-broiled burgers with corn-dusted buns!
9 Best Hotels In Toronto To Taste The Luxury On Your Canada Trip
10. Edmonton International Airport (YEG)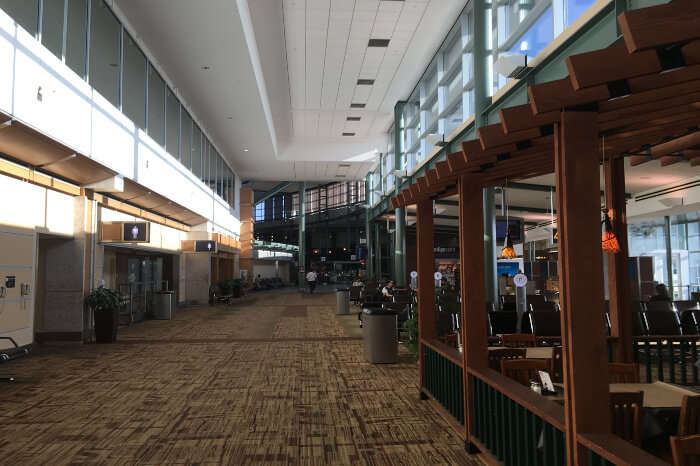 Image Source
Another one of the famous Canada international airports on our list is Edmonton International Airport. This beautiful & cosy mid-sized airport offers a relaxed ambience to help you unwind while you wait here for your next flight. The signature art collection is well worth admiring as you stroll along the well-designed and convenient airport equipped with all modern facilities for passenger comfort. Good signage, efficient security and extremely friendly staff add to the overall experience of travellers from across the world. A good selection of restaurants, shops and nice play areas for kids complete the happy picture.
Distance to downtown: 26Km
Special features: The Skywall, a fascinating 360-degree panorama of the stunning Alberta landscape and the Living Wall that stands witness to YEG's commitment to sustainable growth.
11. Montreal Saint-Hubert Airport (YHU)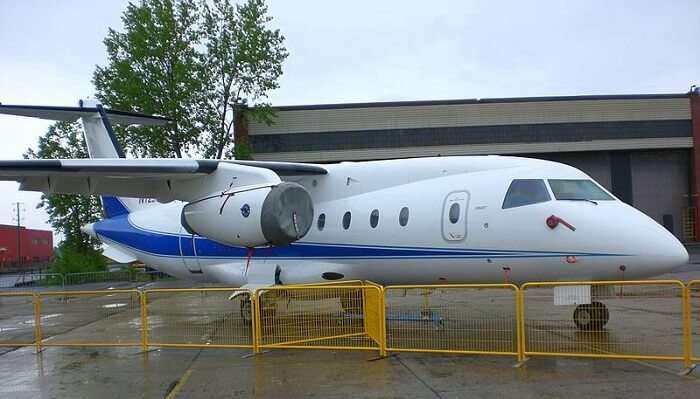 Image Source
Another one of the major airports in Canada is Montreal Saint-Hubert Airport. It is also ranked as the 15th busiest airport in Canada in the year 2017, Montreal Saint-Hubert Airport boasts of its infrastructure and three runways. From flight schools and aircraft parking to aero technical training, there is a lot that happens at this airport. There are two parts of the airport – military and civilian sides. The usage of military base ceases to exist, rather it is used as a garrison. 
Distance to downtown: 14.5 km
Special features: Upgraded runways and a new runway to support Airbus A220 aircraft and Boeing 737.
Ring With A Bang At These 14 Best Places For New Year Parties In Canada!
12. Boundary Bay Airport (YDT)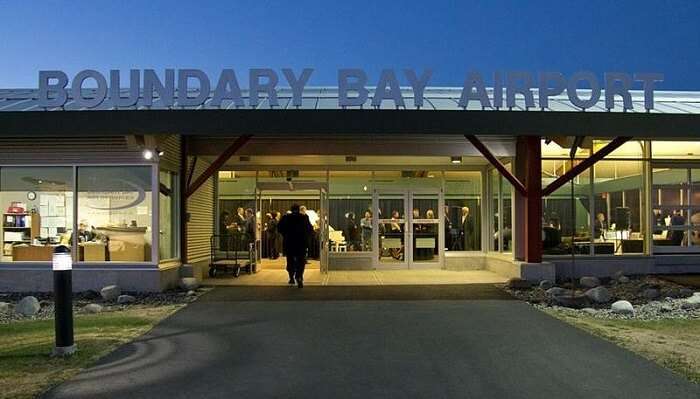 Image Source
Established in the year 1983, Boundary Bay Airport is situated close to the Canada-US border. The airport offers several services and facilities for aircraft maintenance, parking, air traffic control training, and flight training. It is tagged as the fifth busiest airport in Canada as it receives a lot of traffic. The airport was acquired by Alpha Aviation in the year 2004.
Distance to downtown: 29.3 km
Special features: There are many organizations for flight training like Sea Land Air, International Flight Center, and Pacific Flying Club.
13. Quebec City Jean Lesage International Airport (YQB)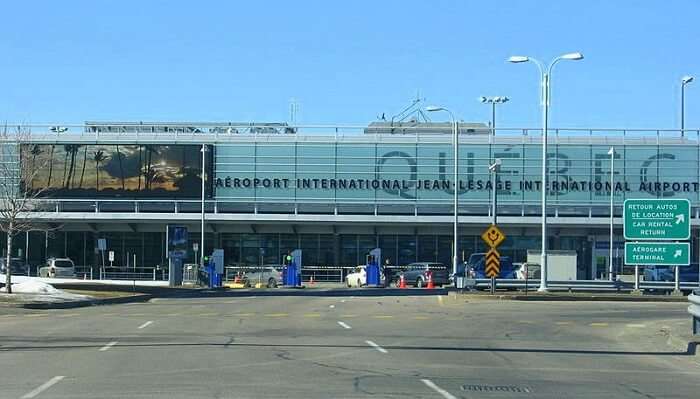 Image Source
It is the eleventh-busiest Canada airports and the main one serving Quebec city. The airport is recorded to receive and deliver 360 flights every week by more than 10 airlines. The flights mostly ply between the United States, Europe, Central America, the Caribbean, and across Canada. The airport was first established as a training facility in the year 1939. The airport is equipped with two runways and six taxiways.
Distance to downtown: 15 km
Special features: There are money exchange services, ATMs, a VIP lounge, restaurants, bars, cafes, and a gift shop.
Skydiving In Canada: A Must-Have Experience On Your Canadian Holiday
14. Billy Bishop Toronto City Airport (YTZ)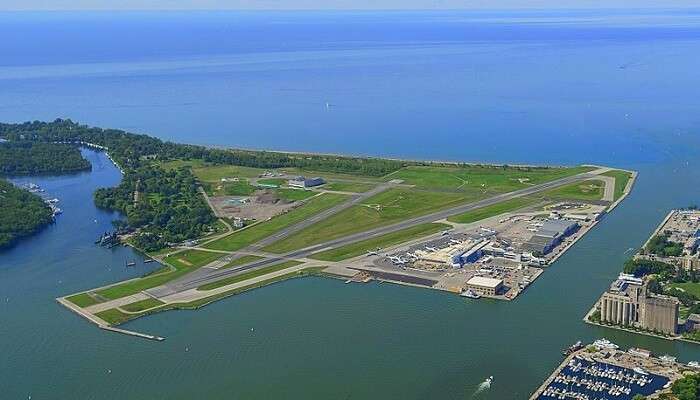 Image Source
Tagged as the ninth-busiest airport, Billy Bishop Toronto City Airport welcomes around 2.8 million travellers, both business and leisure. It has been awarded a lot of times due to its excellent services and facilities. This is why it is counted among the top airports in the whole of North America. There cannot be doubt in the fact that it is a key factor for Toronto's economy as it supports about 5,000 jobs in total.
Distance to downtown: 3.5 km
Special features: Ferry, pick-up & drop-off, and other facilities
15. Gander International Airport (YQX)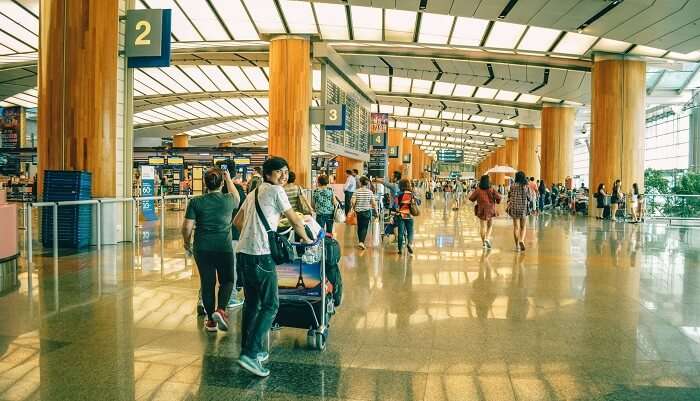 Image Source Sitting in Newfoundland and Labrador, Gander International Airport shares its field with Canadian Forces Base Gender but as an airport, it is a separate entity altogether. The airport was constructed in the year 1936 and opened in 1938. Officially named Newfoundland Airport, this airport was once the world's largest. Although its location might seem a little unlikely to some, this is still one of the most important international airports in Canada located on the northeastern tip of a rugged isle.
Distance to downtown: 4 Km
Special features: The airport is home to an extremely glamorous mid-century terminal and possesses an incredible history.
Canada In July That Is A Trip Of A Lifetime
16. Greater Moncton Romeo LeBlanc International Airport (YQM)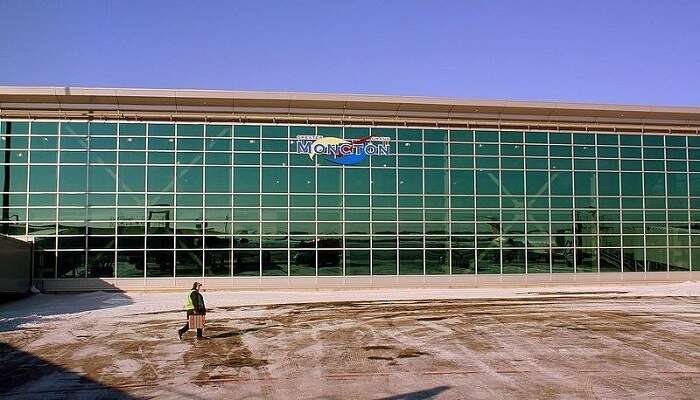 Image Source
Tagged as one of the major Canadian airports, Greater Moncton Romeo LeBlanc International Airport was originally called Greater Moncton International Airport. The name was, however, changed to honour the former Governor-General Romeo LeBlanc. Serving Moncton since the year 1928, Greater Moncton Romeo LeBlanc International Airport caters to some of the most comfortable airlines including Air Canada Express, Air Transat, Porter Airlines, Air Canada Rouge, and Swoop. To add to its charm, this airport is also home to one of the largest and finest flight colleges in Canada named Moncton Flight College.
Distance to downtown: 8 Km
Special features: This airport is home to the largest flight college and is also classified by Nav Canada (Air Navigation System) as an airport of entry.
17. Regina International Airport (YQR)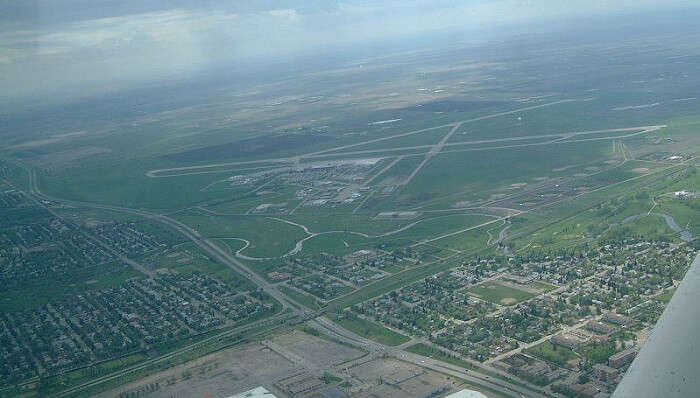 Image Source
Once the second busiest Canadian airports of Nav Canada, Regina International Airport can be seen in Saskatchewan Canada. Right from the local to the major international destinations, services by Regina International Airport cater to whoever is in need. One can witness an extensive number of retail and food services offered to travellers at this airport. Be it Tim Hortons Express or a Rumor Handcrafts shop, one can find many retail even pre-security.
Distance to downtown: 4.3 Km
Special features: Post-security, the airport takes care of many needs of travellers by offering them various services such as children's play area, vending machines, free Wi-Fi, and more.
5 Best Spots For Scuba Diving In Canada That You Must Visit
18. London International Airport (YXU)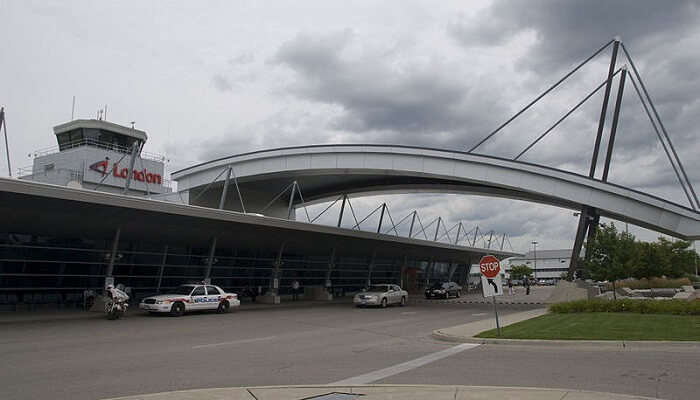 Image Source
One of the Canadian airports sitting in Ontario, London International Airport opened its main terminal building for civilians in the year 1942. There are numerous Canadian airlines that land and take off from the runways of this airport including Air Canada Express, Air Canada Rouge, Sunwing Airlines, WestJet, and many more. There are many services with special arrangements offered to travellers. Clean washrooms, ample parking spaces, retail stores, and numerous restaurants are a few examples.
Distance to downtown: NA
Special features: For those who are not a fan of airplane food can indulge in the dishes from any of the many restaurants located onsite.
Planning your trip to Canada with TravelTriangle? Make sure you don't forget to stop by at these airports in Canada for a refreshing break before you finally hit the roads for your holiday. Or even if you have a halt here, make sure you utilize this time completely and make the most of it by exploring the top-notch amenities at the port.
For our editorial codes of conduct and copyright disclaimer, please click here
Frequently Asked Questions About Airports In Canada
How many airports are there in Canada?
There are over 500 airports in Canada offering comfortable and relaxing service to all travelers. The government has also taken steps to make them convenient and user-friendly.
How many international airports are in Ontario Canada?
There are 4 international airports namely Thunder Bay International, Toronto Pearson, London International and Ottawa International in Ontario Canadian National Airports System.
Which is the best airport to fly into Vancouver?
Vancouver International Airport is the best to fly into Vancouver. It is situated just 25 minutes from Downtown and is one of the best airports in North America.
What are the major airports in Canada?
Major airports in Canada offering world-class features are Toronto Pearson International Airport (YYZ), Montreal Pierre Elliott Trudeau International Airport (YUL), Ottawa McDonald-Cartier International Airport (YOW) and Calgary International Airport (YYC). Fly to this beautiful place and visit several adventure places in Canada.
Which is the biggest airport in Canada?
Toronto Pearson International Airport is the major airport in Canada that serves around half a million passengers every year.
Are there two airports in Toronto?
Yes, there are two airports in Toronto namely, Toronto Pearson International Airport (busiest airport) and Billy Bishop Toronto City Airport (regional airport).
What is the closest airport to Niagara Falls in Canada?
The closest international airport to Niagara Falls is located in Hamilton, Ontario. It is around 90 kilometers away from the falls and can be reached easily by taking a cab ride.
---
Looking To Book A Holiday Package?
---
People Also Read: