Paris – a romantic city that makes you fall head over heels again for your special someone or a city that makes for the most gorgeous backdrop for the heartfelt confessions? Irrespective of how we describe it, you know that when it's honeymoon, it's Paris! Thanks to the famous Eiffel Tower, The Louvre, the city's charming culture, and more, that it stays to be an eternal haven of romance. And so, having a honeymoon in Paris is always a good idea!
From when to embark on your new journey to the most romantic things to do, we've got everything covered here so that you can put your mind at ease, and not over-stress about planning your trip to Europe. Have a look at this Paris honeymoon itinerary and make notes!
Table Of Content
Weather In Paris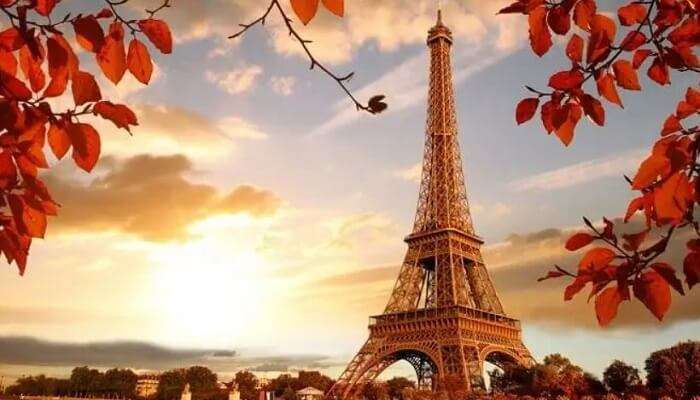 Be it the sunshine months or the breezy ones, every season brings out a unique color of Paris that only makes you love the city more. These four types of season are equally great to witness the most talked about charm during your honeymoon in Paris.
Spring
Starting from March to June, this is the best season for you to venture out and enjoy biking, skating, or strolling. The average minimum temperature stays from 4°C to a maximum of 20°C.
Summer
The summer season hits the city from the end of June and stays till September. The city experiences not only long days of sunshine but is also thrilled with concerts and films. The temperature ranges from 13°C to 24°C.
Autumn
The beauty of the city is enhanced the moment there are fallen leaves all around. From September end to December, the temperature ranges from 5°C to 21°C.
Winter
The temperature during this season ranges from 1°C to 7°C, making it a perfect time to enjoy hot coffee or chocolate. Also, since this is the off-season, you can wander out and around freely.p
20 Kickass Romantic Honeymoon Ideas For A Bewitching Getaway
Best Time To Plan Your Honeymoon In Paris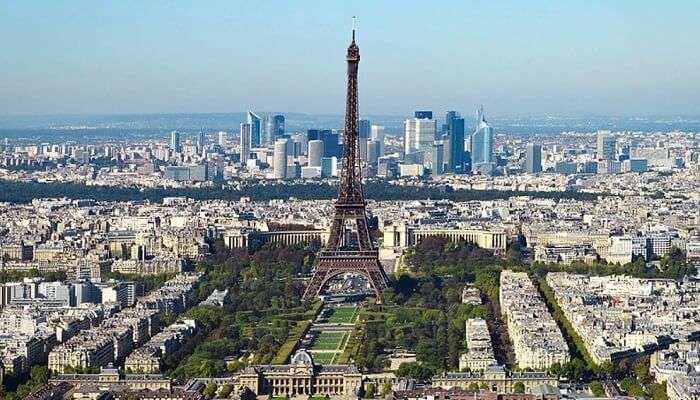 While nothing changes the romantic aura of the city and it stays beautiful throughout the year, the best time to visit Paris for honeymoon is between June to August. The weather is perfect and there are long days of sunshine, making it ideally a great time for you to head out and explore the city. The only downside is that this also happens to be the peak season, so the tourist crowd is something you can't escape.
However, if you're getting married sometime in the mid-year or at the end of it, and are ready to brave the chilly winds, fall and winter are equally the best seasons to have your Paris honeymoon. With no tourists around, there is a significant drop in the prices as well.
Ideal Duration For Your Honeymoon In Paris
While the duration of your Paris honeymoon completely depends on for how long you want your rejuvenating romantic holiday to be, the ideal duration to discover the city and enjoy the most engrossing things to do is three to four days.
Budget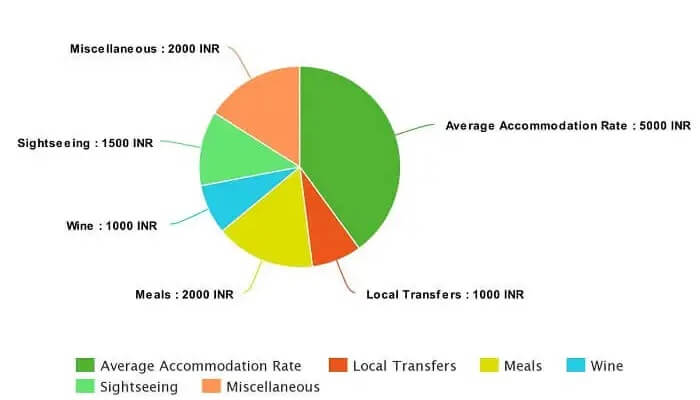 Average Accommodation Rate: INR 5,000
Local Transfers: INR 1,000
Meals (including taxes): INR 2,000
Wine: INR 1,000
Sightseeing: INR 1,500
Miscellaneous: INR 2,000
Average Spend Per Day: INR 12,500 per person
Please note:
Flight rates have been excluded and an average accommodation rate has been included keeping in mind the fact that accommodation budget can vary for every traveler.
The cost of the meals includes lunch and dinner, and not breakfast as many hotels offer breakfast.
Also, a lower limit has been considered to calculate the average budget per person per day. So, if you're planning a trip to this amazing land anytime soon, and thinking, 'how much will a Paris honeymoon packages from India price will be', you now have the answer!
7 Amazing Travel Hacks For Visiting Paris On A Budget Vacation
What To Pack For Your Honeymoon In Paris?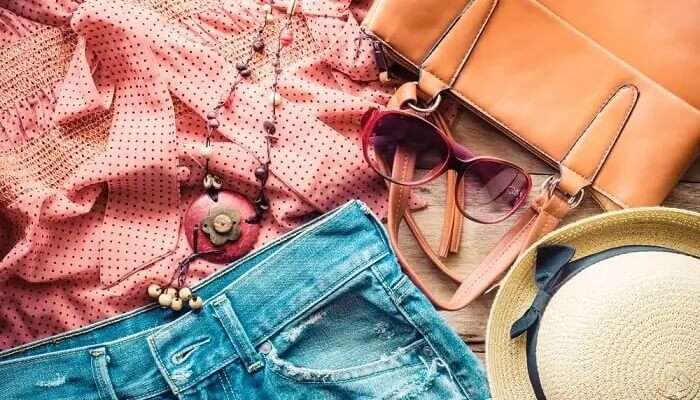 Being one of the 'Big Four' fashion capitals of the world, all that Paris asks of you is a bag full of stylish clothes and accessories. While the kind of clothes to carry would completely depend on the season during which you're planning to go for your honeymoon to Paris, here's a list of some essentials for your travel baggage:
Since most of the flights to Paris are overnight, make sure you pack a travel kit in your cabin bag, which has earplugs, an eye mask, a pair of sweat socks, and a toothbrush.
Get copies of your important documents like tickets, itinerary, passport and visa both handy and in your baggage to avoid any last minute hustle.
Don't forget to pack a pair of comfy shoes, which let you walk around freely for the whole day long. And only one pair of stylish heels, to flaunt your admirable look on a dinner date evening.
Pack a European universal adapter to conveniently charge your mobile phone, laptop, camera, or any other electronics.
Pack a detailed street map in our cabin baggage to stay abreast with the nook and corner of the city.
A pair of sunglasses, an umbrella, your travel hat, and a power bank are a must to carry along.
How To Reach Paris

By Air
You can reach Paris by reaching the Charles de Gaulle Airport, the main airport of the city, which is also known as Roissy. The airport is located 23 km northeast of the city and has three terminals with great facilities for the travelers. The other two airports which serve the city are the Orly International Airport, 18 km away from the city, and the Beauvais Airport.
By Sea
Commuting to Paris via the sea is a great option for anyone who's coming from the United Kingdom. The Ferry and the Hydrofoil services are available 24X7 in all seasons, and at least four trips happen every day from Folkestone to Calais.
By Bus
Most international buses come to Paris and then go into Gare Routiere Internationale du Paris-Gallieni. The international bus passes are cheaper than the rail passes, and offers unlimited travel, letting you board a bus whenever and wherever.
By Train
The five international stations in Paris make sure that there is no dearth of entry points into the city. But, there is no central station in the city, and the stations are not connected to each other. One of Europe's most efficient rail systems is France's Societe Nationale de Chemins de Fer, also known as the SNCF. You can reserve seats for any destination from any station.
Day Trips From Paris: Head Out To These 8 Places For Invigorating Excursions
Getting Around Paris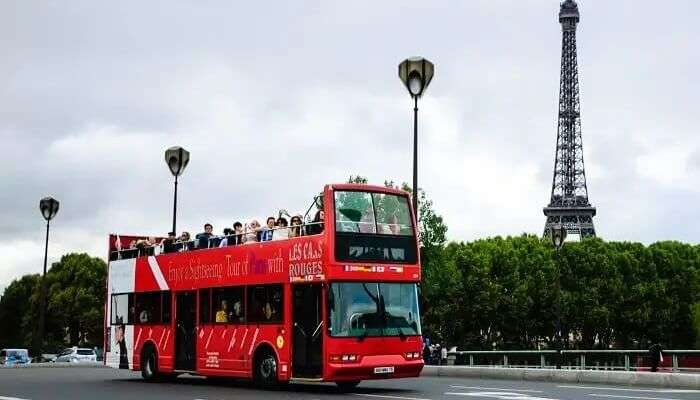 Public Transport
Be it the metro, the bus or the RER suburban trains, the whole city is very well covered, and traveling to and fro here is as easy as a cakewalk. If you want to plan a Paris honeymoon on a budget, use public transport.
A single metro ticket costs €1.90 or INR 130, and can be used for one journey, including all connections. Keep your ticket safe as you may be asked to show it upon inspection. While the cost of the RER train journey is the same as that of the metro (as long as you're in the city), you can use the same ticket to commute by bus as well.
Hire
You can hire a local taxi for €1,06/km (INR 70) to €1,58/km (INR 100) (waiting charges extra) to commute within the city. Or any vehicle with a driver. Their services are personalized and a fixed price is decided in advance. Out of the variety of vehicles, you are offered cars, minivans, and limousines.
Rentals
You can rent a car for a day or more from the airport or the train stations. The cost for the same varies from company to company and their terms and conditions.
Apart from these, you can also rent limousines, convertibles, electric bicycle, or scooters.
Get Your Paris Passlib'
A Paris pass is a must have item for your honeymoon in Paris. The Paris Convention and Visitors Bureau distributes the Paris Passlib', a smart item that simplifies your stay in Paris. It is available for varying durations and ages so that you can choose the one that suits your schedule and taste the most.
Being the official pass of Paris, this lets you make the most out of your stay by giving you admission to all the leading museums and monuments in Paris, as well as sightseeing tours. You also get unlimited transport throughout your stay in zone 1, 2, and 3.
The pass is available for 1, 2, 3, or 5 days, for adults, young people and children, and can be chosen as per the length of your stay and the things that you want to see and do! It is undoubtedly the best key for travelers who are short of time and helps them skip the queue.
Romantic Places To Visit On Your Honeymoon In Paris
Check out the list of romantic places you should definitely visit with your lover on your honeymoon. Keep scrolling down and read all about these places to visit in Paris for honeymoon.
1. The Louvre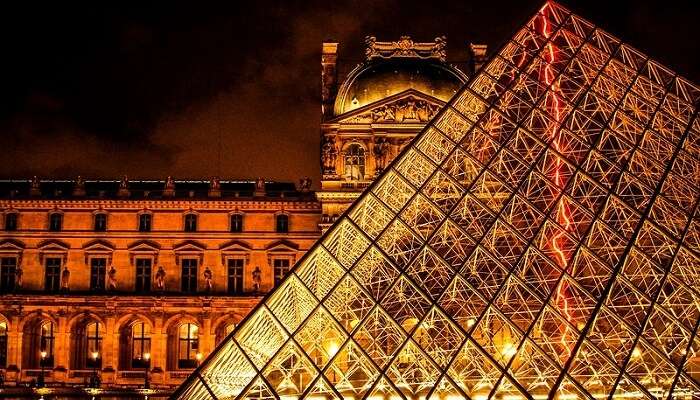 Irrespective of whether you both are art lovers or not, The Louvre is a place you must visit on your honeymoon to Paris. It's not only one of the largest museums in the world, but also one of the best places to visit in Paris. Its beauty lies in its architecture and the variety of artwork displayed in every nook and corner. Some of the famous works include Greek sculpture Venus de Milo, Antonio de Correggio's Venus and Cupid With a Satyr, Leonardo da Vinci's Mona Lisa etc. It is the most romantic of all Paris honeymoon destinations.
Time: The Louvre is open every day (except Tuesday) from 9 AM to 6 PM.
Cost: The entry ticket costs around €9 or INR 620.
How To Reach: You can take the RER C train from the Orly Airport, and get down at the Saint-Michel-Notre-Dame. From there, walk till the Saint-Michel and take bus no. 27.
The Most Romantic Honeymoon Suites In The World
2. Temple Of Love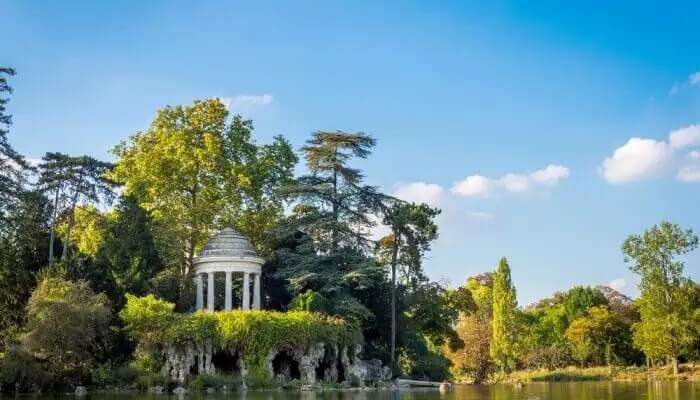 This famous temple stands on a little island made of two branches of a river, in the middle of the irresistible beauty of the Versailles field. Out of the many honeymoon destinations in Paris, this is one of the most romantic places in Paris, and a must visit for couples. Right from its spectacular neo-classical structure to its peaceful locale, everything here is a treat to the eyes. What makes this place more special is the famous belief that kissing your loved one at the centre of the temple strengthens your love and relationship. And there isn't any better time to experience this than your first honeymoon in Paris.
Time: While you can visit the temple at anytime of the day, visiting it in the evening will only make your experience more romantic.
Cost: There are no entry charges to visit this temple.
How To Reach: The temple can be reached by taking a romantic boat ride from Lac Daumesnil, the lake on which the temple is situated.
3. Notre-Dame Cathedral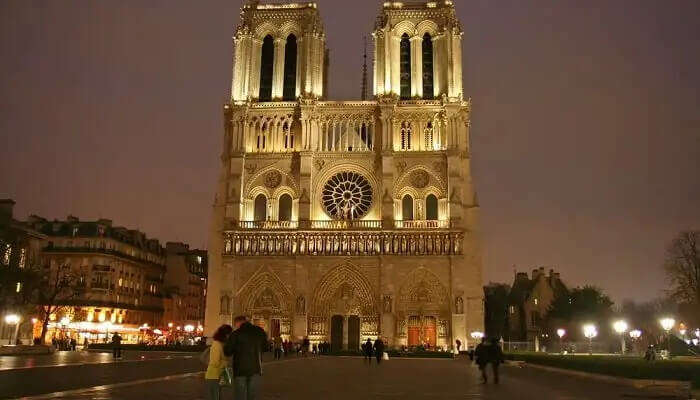 While Paris does have some really beautiful cathedrals, there's nothing that matches the charm of Notre-Dame. Being one of the first Gothic cathedrals, the sculptures and the stained glass windows speak volumes about its beauty. Climbing up 140 steps to witness the bells that chime for the city everyday makes your Parisian experience and a visit here totally worth it!
Time: The cathedral is open from 7:00 AM to 9 PM during the summer and from 7:30 AM to 7:30 PM during the winter.
Cost: The entry charges of towers of Notre-Dame cost around €10 or INR 690.
How To Reach: The cathedral can be reached via metro by getting down at either St-Michel Notre Dame – RER B Train Line (blue) or St-Michel Notre Dame – RER C Train Line (yellow).
15 Most Romantic Cities In The World
4. Luxembourg Garden

Surrounding the Luxembourg Palace, this garden has been a hotspot for romance for centuries. From famous couples like Napoleon and Josephine to Jean-Paul Sarte and Simone de Beauvior, everyone has been here. The beautiful statues, fountains and the flower beds only add to the beauty of this place and create the perfect atmosphere for you to romanticize on your visit here. Also, this is one of the biggest gardens in Paris.
Time: The garden opens in the morning around 7:30 AM and closes in the evening between 5 PM to 9 PM.
Cost: The entry to tour the garden is absolutely free.
How To Reach: One can get here by taking the metro and getting down at one of the nearest stations like Odeon, Mabillon, Saint-Michel, or Cluny.
5. Disneyland

Thanks to the magic of this place, a visit here is one of the best ways to ignite a spark in your relationship. And trust us, it's not just for kids! You can watch sparkly shows, indulge in romantic dinner date, and even stay at the hotels to experience a fairytale honeymoon in Paris.
Time: The park stays open from 10 AM to 10 PM.
Cost: The cost for the ticket varies as per the tour you take. The minimum charges start from €49 or INR 3,380.
How To Reach: Take a RER A train from the city to reach here in 35 minutes.
World's Best Glamping Resorts For Honeymoon Are So Good, You Won't Mind Ditching 5 Star Stays Even Once
6. Wall of 'I Love Yous'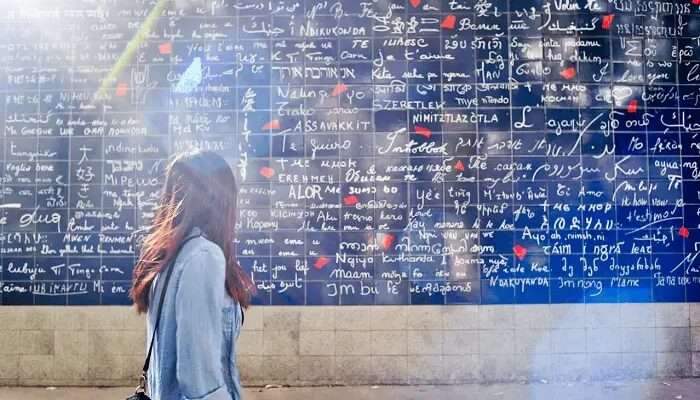 What could be a more romantic place in the 'City of Love' than the wall of 'I Love You's'. Known as Le Mur Des Je T'aime, this wall in Paris has 'i love you' written in more than 250 languages. Though love has no language, the wall will give you 250 different ideas to proclaim your love to your boo. It was created by Frederic Baron and Claire Kito and has become a famous meeting place for lovers. You have got to check this place out on your honeymoon in Paris in February.
Timings: 8 AM – 9:30 PM
Cost: Admission is free
How to reach: Get down at Abbesses metro station to reach here. The wall is located in Square Jehan Rictus which is just a minute away from the station.
7. Île Saint Louis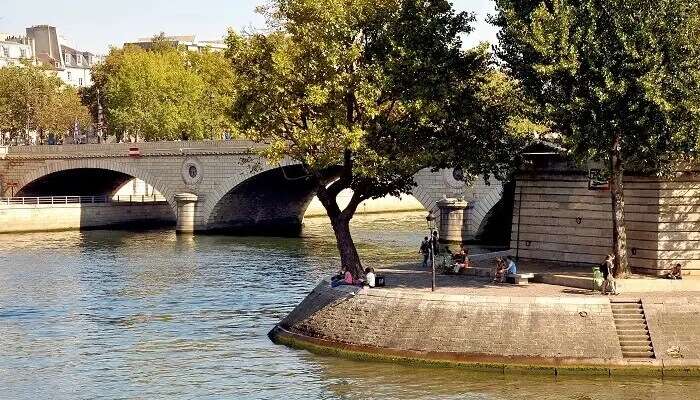 One of the two natural islands on Seine River, Ile Saint Louis is one of the romantic places that you should visit on your honeymoon in Paris. Nothing can beat the experience of wandering in the city of love with your hands clasped with your bae. This is exactly what you should do at Ile Saint Louis. Do not forget to bring a bottle of wine, some cheese, and a blanket to lay out with your sweetheart and watch the boats go by. You ought to include this in your Paris honeymoon ideas.
Timings: Open all hours
Cost: None
How to reach: The nearest metro station to the street is Pont Marie metro station. Get down and get to the other side of the bridge.
31 Best Places To Visit In Paris For A Dreamy Vacation
Romantic Things To Do On Your Honeymoon In Paris
Here is the list of romantic things to do on your honeymoon in Paris with your beloved. Keep scrolling down and read along!
1. Eiffel Tower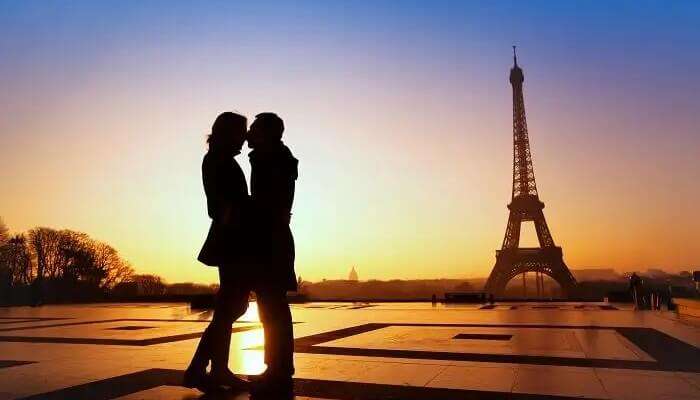 There are no doubts about the beauty of the Eiffel Tower and how just a glance at it can make you fall head over heels for it. And while it's worth visiting and admiring, it is also the best spot to confess your heartfelt feelings to your loved one. Make sure you visit here once it's dark, so that the beautifully lit tower and the stars above you can make the perfect atmosphere for you two to romanticize.
Location: Champ de Mars, 5 Avenue Anatole France, 75007 Paris, France
Cost: 16 to 25 Euros for adults and 4 to 12 Euros for kids
2. River Seine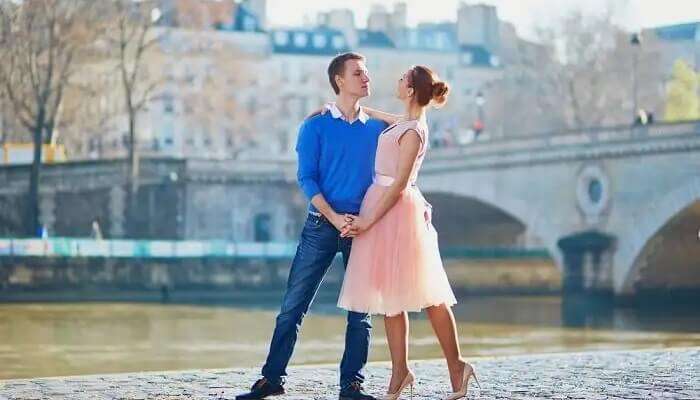 Irrespective of whether you both love grooving together or not, dancing at Seine is one of the most engrossing things to do in Paris. Visit here in the afternoon or the evening, enjoy a bottle of french wine, and hold each other closer while you share some romantic steps together. You can also sit near the steps and admire other couples who have been dancing here for years, because there is nothing more romantic than witnessing passionate moves in one of the most romantic cities in the world.
Location: Paris, France
Trip To Paris – My Solo Experience In The City Of Love
3. Moulin Rouge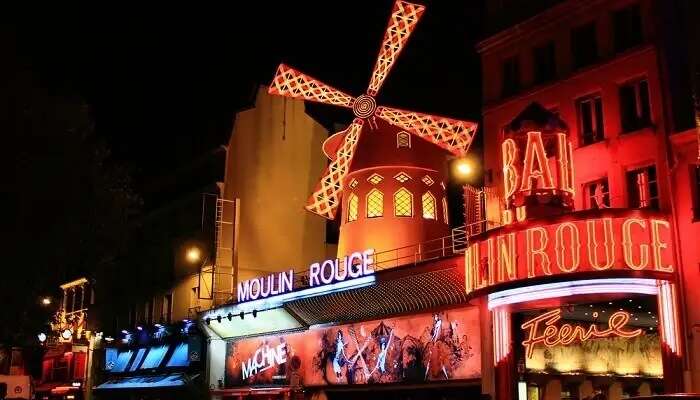 If dazzling beats and romantic decor is what gets you excited, then you definitely have to experience the cabaret shows at the famous Moulin Rouge. It's one of the great things to do in Paris for couples. Situated at the foot of the Montmartre Highland, it speaks volumes about the rich culture and the social tales of France. The place stays open from 9 PM to 1 AM and costs around € 9 or INR 620 per person. This is surely one of the most romantic things to do in Paris in winter!
Location: 82 Boulevard de Clichy, 75018 Paris, France
Cost: Starting from 98 Euros onwards (package deals for a tour etc)
4. Wine Tours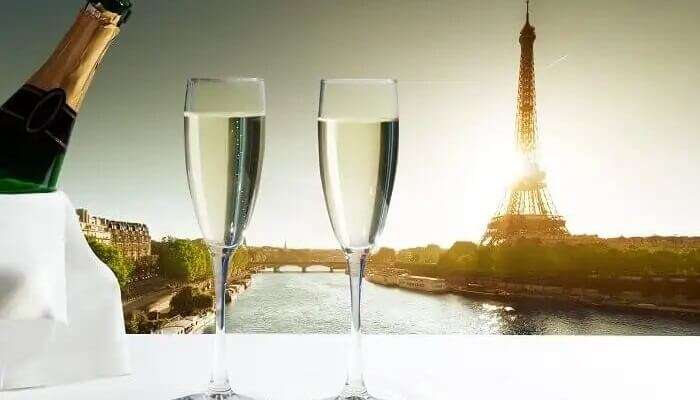 While staying in your suite with a view of the Eiffel Tower is a great romantic way to make the most of your Paris Honeymoon, getting out to explore the scenic vineyards is too! The city has a lot of wine and champagne tasting excursions which cost around € 58 (INR 4,000) and above per person for a day. And just in case you are visiting Paris in winters, don't forget to try the famous Vin Chaud (hot mulled wine).
Cost: Starting from 43 Euros onwards
10 Restaurants Near Eiffel Tower In Paris To Enjoy A Luxurious Dine-In Experience
5. Vintage Citröen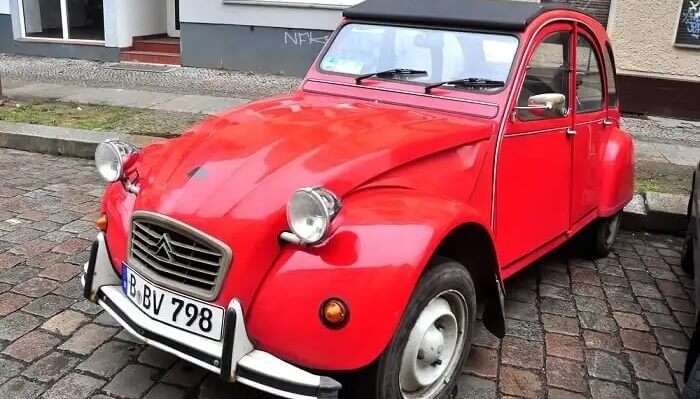 The list of romantic things to do in Paris is surely endless, and while a boat ride sounds romantic, getting around the city in a vintage car is no less! You not only get to spend some quality time together when your Parisian chauffeur drives you to the most secret spots or anywhere you desire, but also get to explore the city from a different vantage point. You can book an afternoon or evening drive by via 4 Rues sous 1 Paraplui, which charges € 120 or INR 8,300 for a one hour ride.
You can also rent a red ruby Vespa and tour the city like a local with your special one. The charges start from €45 or INR 3,110 a day on weekdays and €110 or INR 7,600 for the entire weekend.
Cost: Starting from 45 Euros
Shopping In Paris

Shopping in the fashion capital of the world is surely a dream for many. And no occasion can be more special than your honeymoon in Paris. This romantic city has got a brilliant mix of fancy big stores, markets, and boutiques, which specialise in everything from perfumed candles and haute couture hats. The stores generally stay open from 10 AM to 7 PM, and remain closed on Sundays.
Each locale has its own style to offer, and be it the fancy flagship stores or the flea markets, you will surely have an endless list of things to buy in Paris. La Marais for casual designer and street wear, Canal St. Martin for peppermint and perfumed mug candles, design and art bookshops, and St. Germain for furniture and antique pieces are some of the best shopping spots to spend your euros.
You can also visit the Gab & Jo for exclusive French made items like candles, soaps, lingerie, etc. And Le Chocolat Alain Ducaisse and La Maison du Chocola if you're a die-hard chocolate lover.
20 Kickass Romantic Honeymoon Ideas For A Bewitching Getaway
Romantic Places To Stay For Honeymoon In Paris
Check out the list of most romantic places where you can have a comfortanble stay and enjoy the remarkable facilities provided by them. Take a look!
1. Four Seasons Hotel George V Paris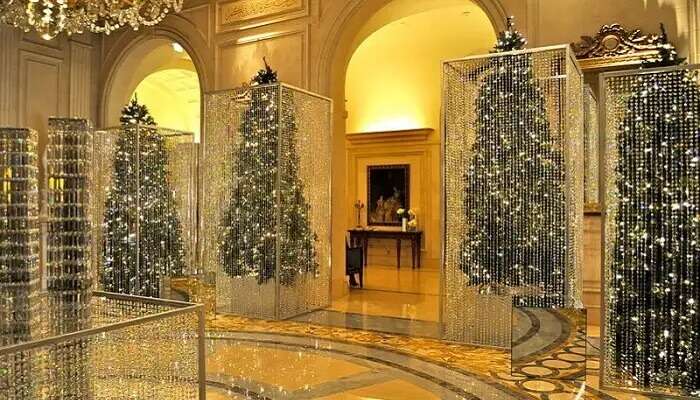 This hotel undoubtedly stays on the top if we begin to talk about the list of honeymoon hotels in Paris. The rooms come with private terraces that offer a magnificent view of the Eiffel Tower and the whole city. There's nothing more captivating than staying at this luxurious hotel with your partner! Th hotel has the best honeymoon suites in Paris.
What's Special: Overlooking the Eiffel Tower, the honeymoon suites at this hotel are bigger
in size than most of the suites in Paris.
Location: 31 Avenue George V, Paris, France
Price: INR 1,80,000 and above
TripAdvisor Rating: 5/5
2. Hotel Plaza Athenee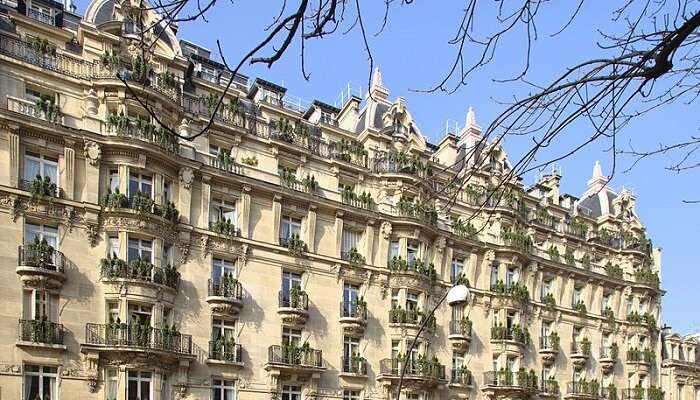 Located in the heart of Haute Couture, this gorgeous hotel has frequently been a stay for royalty, celebrities, and politicians. It offers mesmerizing views of the Eiffel Tower and lets you experience luxury like never before. This hotel has established itself as one of the best hotels in Paris, and there are no doubts about it.
What's Special: Thanks to its ideal location, you can experience the finest shopping in Paris and beautiful views of the Eiffel Tower if you're staying here.
Location: 5 Avenue Montaigne, Paris, France
Price: INR 1,15,000 to INR 2,45, 000
TripAdvisor Rating: 5/5
Website | Reviews
10 Indian Restaurants In Paris That'll Transfer You To The Desi Land
3. Shangri-La Hotel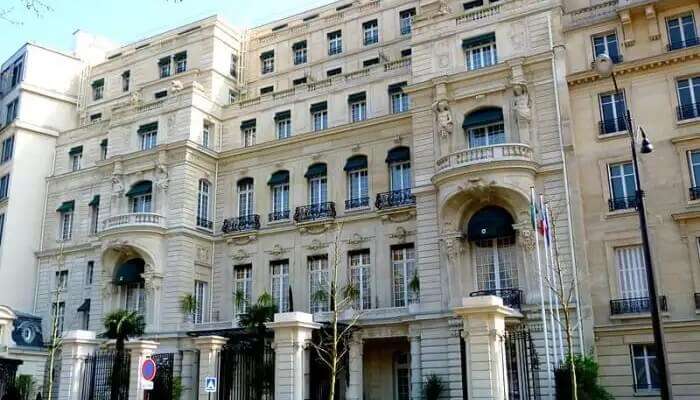 This hotel redefines royalty and elegance with its finely crafted architecture and decor. The rooms and suites are super comfy, and give you a taste of luxury the moment you step in. Also, the location of this hotel makes it one of the best honeymoon hotels in Paris.
What's Special: Set up in the former palace of Prince Roland Bonaparte, the grand nephew of Bonaparte, the hotel welcomes guests with a hot cup of jasmine tea. The room offers a clear view of the Eiffel Tower, without the need for you to come out of the bed.
Location: 10 Avenue d'Iéna, Paris, France
Price: INR 70,000 to INR 1,30,000
TripAdvisor Rating: 4.5/5
Website | Reviews
Romantic Restaurants To Visit On Your Honeymoon In Paris
Are you and bae food lovers? Head to these restaurants in Paris for relishing scrumptious food and drinks. Take a look!
1. Le Jules Verne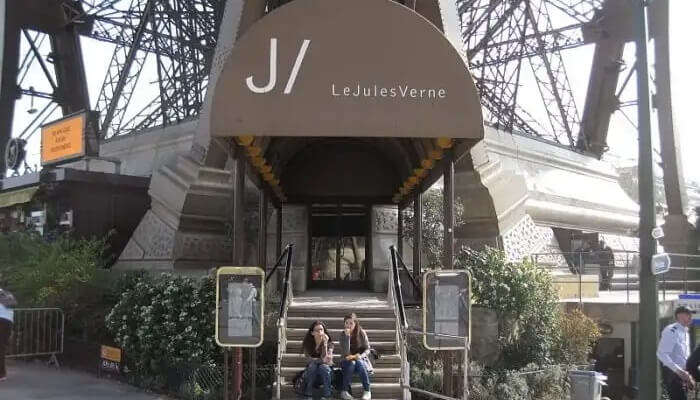 This is one of the best out of all the romantic restaurants in Paris near Eiffel Tower. Situated on the second floor of the tower, the restaurant offers a complete fine dining experience. The decor of this place, which is classic, luxurious french and the excellent wine collection makes sure you have an unforgettable dinner date!
Must Try: The 'Chef special dinner' experience by the window seat overlooking the city along with the finest French wine is a must try here!
Cuisine: This is a fine dining restaurant that offers the best french cuisine.
Price: Upto INR 7500 during weekdays and upto INR 16250 on the weekend.
TripAdvisor Rating: 4/5
Time: 12 PM to 1:30 PM and 7 PM to 9:30 PM
Location: Eiffel Tower, Avenue Gustave Eiffel, Paris, France
Website | Reviews
21 Best Places To Visit In France In Winter For A Blissful Holiday Experience!
2. L'Abeille at Shangri-La Hotel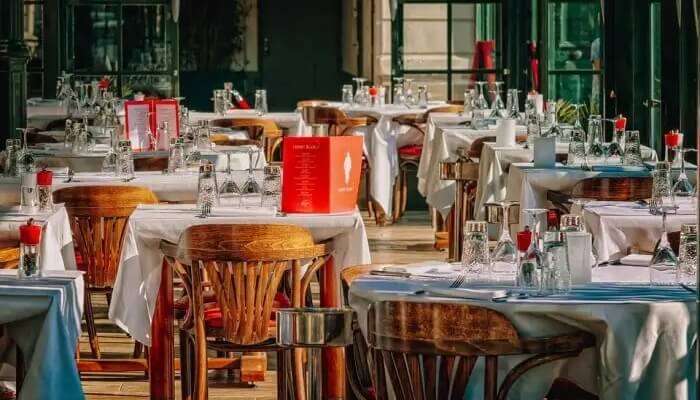 This restaurant brings you the best of romantic atmosphere, gorgeous ambience, and friendly hospitality, which makes it an idyllic place for the romantic dinner date of your dreams. Everything from the food to the service and the time you spend here will make you have the best experience, and make your honeymoon trip more memorable!
Must Try: Make sure you order from the Chef selected dinner menu and wines!
Cuisine: L'Abeille offers delectable French cuisine.
Price: INR 15,000 for a la carte.
TripAdvisor Rating: 4.5/5
Time: 7:30 PM to 10:30 PM (Closed on Sunday and Monday).
Location: 10 Avenue d'Iéna, Paris, France
Website | Reviews
3. Le 58 tour Eiffel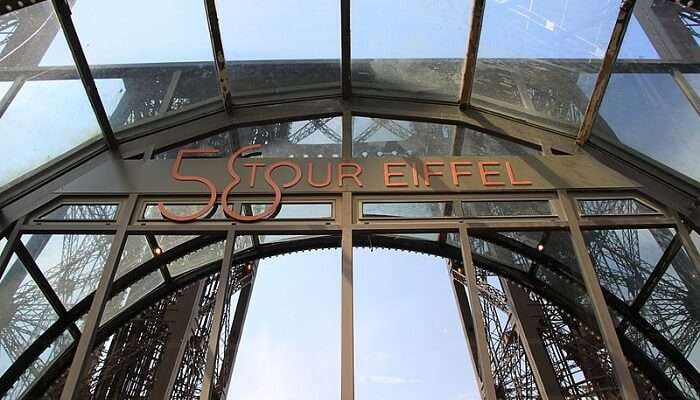 Le 58 tour Eiffel is not just another classic place for lunch or dinner. Situated on the first floor of the tower at the Eiffel Tower, the restaurant maintains a minimal and elegant decor so that one can feel the beauty and the architecture of the tower in all its glory. This is undoubtedly one of the best romantic restaurants in Paris with a view to die for!
Must Try: Everything on the menu is worth trying, even the wines!
Cuisine: This restaurant specializes in French cusine.
Price: INR 3000 and above
TripAdvisor Rating: 4/5
Time: 11:30 AM to 4:30 PM. You can also make special booking for a dinner date here.
Location: Eiffel Tower, Tour Eiffel, Champ de Mars, Paris, France
Website | Reviews
Temple Of Love In Paris: A Must Visit For Die-hard Romantics
Tips For Your Honeymoon In Paris
Do check the weather in advance before you plan your honeymoon and book your tickets.
Pack the right kind of clothes along with all the travel essentials. Most importantly, a map to keep track of the city and the routes.
Don't forget to carry a universal charger with you.
Buy a Paris Passlib' either online or as soon as you reach the city to minimize your expenses.
Prefer commuting by the local transport, as it not only saves your money but also gives you a taste of the local lifestyle.
Keep your bags and purses closed and close to you whenever you're on the way as pick pocketing is an issue in the whole of Europe.
Keep your bucket list of 'things to do' ready, so that you don't miss out on anything while you're here.
Are you ready for your romantic escapade? There could not be a more romantic place to spend a lovey-dovey holiday with your significant other. Make sure everything's on point, and don't forget to customize your honeymoon trip to Europe with TravelTriangle to make it an even impeccable experience!
Where else is more romantic? That's right, nowhere. Watch our Paris travel video to get an up-close look at some of the most alluring attractions you must visit when planning your honeymoon in Paris.
For our editorial codes of conduct and copyright disclaimer please click here.
Frequently Asked Questions About Honeymoon In Paris
Is Paris good for couples?
Yes, the city of Paris is one of the best tourist destinations for the couples. From awe-striking romantic attractions to splendid fashion culture, the city will definitely take the two of you by surprise.
When should you start planning your honeymoon?
In order to get the best deals, it is suggested that you plan your honeymoon well before time. Moreover, if you want to visit a place like Paris for your honeymoon, you must hurry. The amazing places in Paris will steal your heart.
Is Paris the most romantic city?
Paris is actually considered to be one of the most romantic cities in the world that will keep you enchanted by its charm.
How much does a trip to Paris cost?
Cost of honeymoon in Paris depends upon the kind of experiences you want from your holiday. Europe is an already expensive place. So, don't expect Paris to be a budget destination. The whole 5N 6 D trip will come across INR 90,000-100,000 per person.
How much should I budget for food in Paris?
The food in Paris should not cost you around INR 2,000 per person per day. This includes breakfast, lunch, dinner, and even wine.
How much does a meal in Paris cost?
If you are having a 3-course meal it will cost you as much as 35 Euros. A main dish in a good restaurant comes around 15-18 Euros.
People Also Read
Honeymoon In Singapore Honeymoon In Vietnam Honeymoon In Malaysia