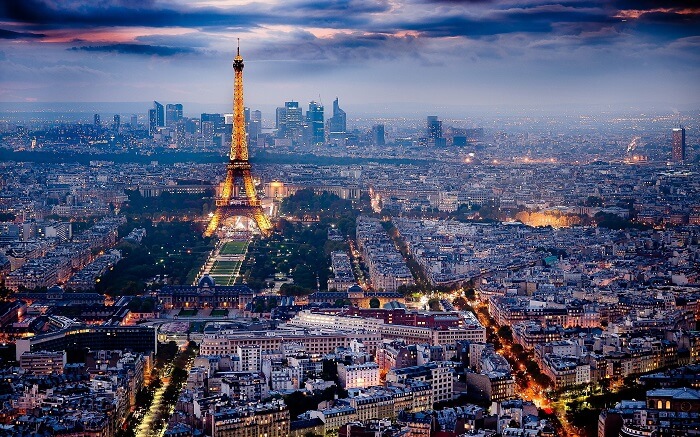 Paris is a picturesque dream destination. Spread over the banks of Seine River in Northern France, it stands out for being one of those glitzy metropolises of the world. Its cityscape sparkles with iconic architecture of historical monuments and vintage palaces, art museums, cathedrals, expansive landscaped gardens, and stylish shopping hubs. The fascinating points of interests, defining the timeless beauty of Paris, dazzle a frequent visitor as much as they amaze a first-timer.
The iconic Eiffel Tower, the Louvre Art Museum, Notre-Dame Cathedral, the Paris Fashion Week, French Open Grand Slam and Tour de France are some of the extremely popular and exciting attractions that attract couples, families, historians and photographers to visit Paris from all over the world.
Of all these sites and events, here is a list of 15 picture-perfect places to visit in Paris, France. Tourist spots, as you may call them, that will take your breath away and will stay etched in your memory till you visit them again!
15 Picture Perfect Places To Visit In Paris
1. Eiffel Tower – For that on-top-of-the-world feeling!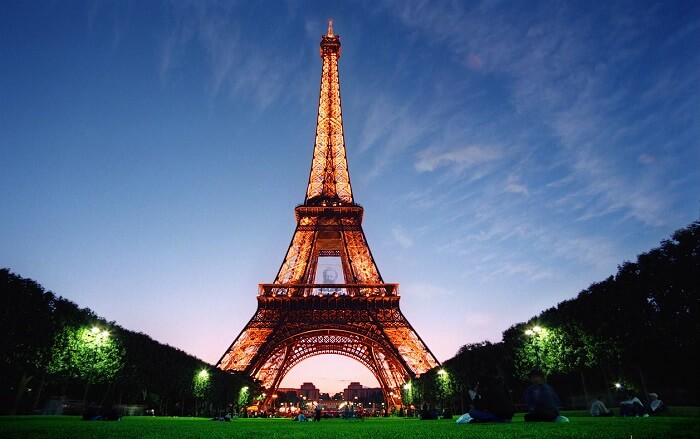 Suggested Read: 10 Restaurants Near Eiffel Tower In Paris To Enjoy A Luxurious Dine-In Experience
Named after engineer Gustave Eiffel, Eiffel Tower is a lattice tower made of wrought iron and is considered to be the most important places to see in Paris. Built in 1889 as the main doorway to World Fair, it is now a cultural icon of not only Paris but entire France. The tallest structure in Paris – 1063 feet tall with 3 levels open for visitors – tops the list of must see tourist attractions in Paris. The first two floors have restaurants and shops while the top level boasts of the most magnificent and best bird's eye view of Paris.
Don't miss: A fabulous view of Paris from the transparent new first floor and second floor, Eiffel Tower Shops for souvenirs, and exotic dine and wine at Le 58 tour Eiffel and Le Jules Verne
Opening hours: Mid June to early September: 9 am to 12 midnight and Rest of the year: 9:30 am to 11:30 pm
Entry fee: Entry Fee to Eiffel tower for kids below 4 years is free. Rest of rates are as follows:
Lift Entrance upto 2nd Floor – €11,00 for adults, €8,50 for children (12-24) years, €4,00 for children ( 4-11) years, differently abled and French job seekers
Lift Entrance upto Top Floor – €17,00 for adults, €14,50 for children (12-24) years, €8,00 for children ( 4-11) years, differently abled and French job seekers
Stair Entrance upto 2nd Floor – €7,00 for adults, €50 for children (12-24) years, €3,00 for children ( 4-11) years, differently abled and French job seekers
---
Europe Holiday Packages On TravelTriangle
Explore the most beautiful places to visit in Europe, from Paris to the Venice canals and from the Greek islands to the Swiss alps. Book customized packages by expert agents on TravelTriangle. Inclusive of airport transfers, cab, resort, sightseeing and meals. Best holiday experience Guaranteed. Book Now
---
2. The Louvre – Art in the heart of the city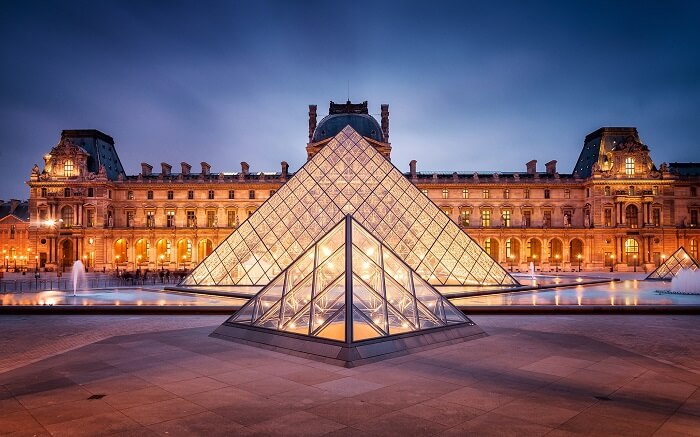 Suggested Read: 10 Incredibly Romantic Places In Paris For Couples On A Honeymoon
Situated in the heart of the city, Louvre is the most visited and most popular art museum and gallery in the entire world. Spread over sprawling 21,000 hectares, this museum is located in a royal fort, also called the Louvre. The relics of the same are still visible in the basement area.
As one of the most crowded tourist places in Paris, this lavish and exotic museum is divided into several sections – Egyptian antiquities, oriental antiquities, Islamic art, Greek and Roman art, paintings, objects of art, sculptures of medieval period, and graphic art to name a few.
Don't miss: Leonardo da Vinci's Mona Lisa, Winged Victory of Samothrace, Michelangelo's Dying Slave, Lamassus, and Great Sphinx of Tanis
Opening hours: 9 am to 10: 30 pm on Wednesday and Friday and rest of the days from 9 am to 6 pm. It is closed on Tuesday.
Entry fee: €12
3. Notre Dame Cathedral – Another fascinating wonder for history buffs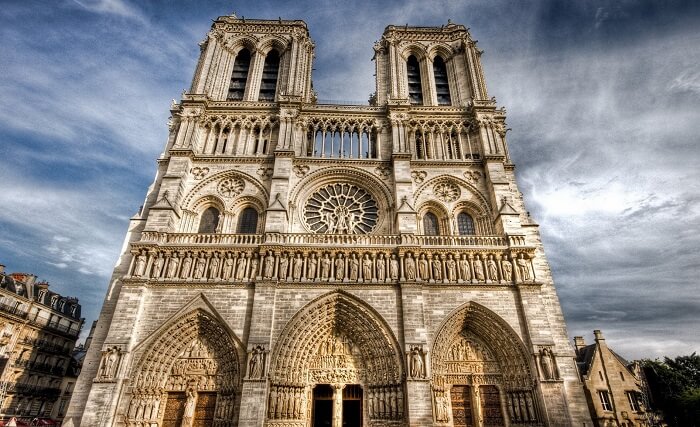 Suggested Read: 7 Amazing Travel Hacks For Visiting Paris On A Budget
Notre Dame is a famous and beautiful Roman Catholic cathedral – one of the top places to visit in Paris. The Gothic style architecture, the amazing sculptures and gargoyles fascinate every traveler. Its beauty lies in its ruins and domed roof.
Local guides reminisce and impart tales about different points of interests. Small shops and eateries in the neighborhood see heavy inflow of tourists, just because of traveler's piqued interest in the Cathedral.
Don't miss: Superb architecture and wood carvings of internal décor, 'Parvis de Notre Dame'- the front court and statute of Bas Relief and Jeanne D'Arc (Joan of Arc)
Opening hours: 8 am to 6:45 pm
Entry fee: None
4. Arc de Triomphe – For a panoramic view of the city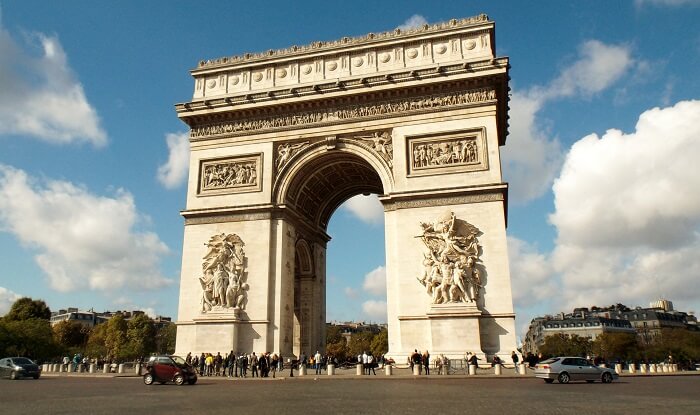 Suggested Read: 10 Indian Restaurants In Paris That'll Transfer You To The Desi Land
Built in the honor of imperial army in the 19th century, Arch of Triumph is an excellent structure and one of the famous places in Paris. The amazing sculptures, pillar carvings and engraved victory tales on the arc are the elements of beauty here.
Don't miss: Tomb of Unknown Soldier of France and breath-taking view of Paris city from the panoramic terrace
Opening hours: April to September: 10 am to 11 pm and October to March: 10 am to 10:30 pm. It is closed on Monday.
Entry fee: € 8
5. Montmartre – Inspiring artists since forever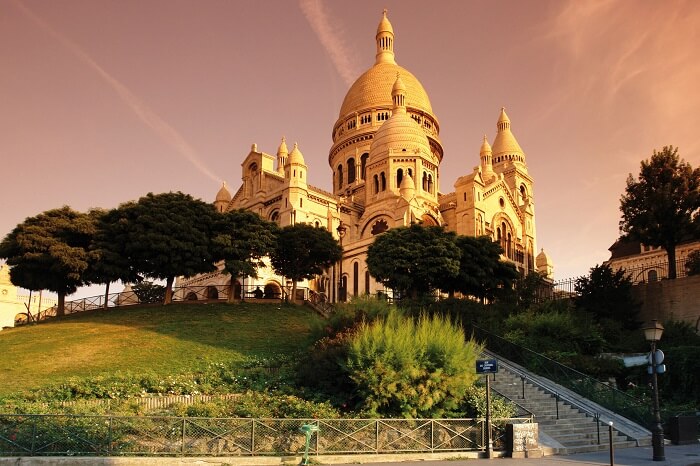 Suggested Read: 10 Most Romantic Hotels In Paris To Kindle The Spark In The City Of Love
Montmartre is a hillock located north of Paris. Known for white-domed Basilica and the bustling Square of Tertre, this highland attracts plethora of tourists, thus qualifying as one of the best places to visit in Paris. This cross road always has painters and sculptors creating fascinating creations inspired by their surroundings. In fact, Montmartre has been an inspiration to many eminent artists like Claude Monet, Pablo Picasso, Vincent van Gogh and Amedeo Modigliani in the past.
Don't miss: Basilique du Sacré-Coeur, Musée du Montmartre, Place des Abbesses, Espace Dalí and Bateau-Lavoir: A Famous Artists' Atelier
Opening hours: May to September – 8:30 am to 8 pm and October to April – 9 am to 5:30 pm
Entry fee: None. Charges needs to be paid for audio and video guide.
6. Palace of Versailles – A heritage delight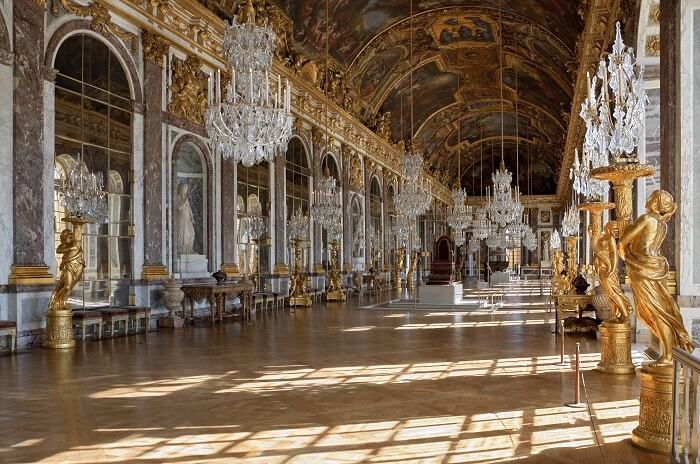 Built as an emblem of French Supremacy, Palace of Versailles is one of the most popular world heritage places to visit in Paris. This gigantic and awesome structure boasts of landscaped gardens, exotic décor, amazing terrace and charming display of artwork of the Renaissance era.
Don't miss: Hall of Mirrors, Museum of the History of France, Garden, Queen's Chamber, Chapelle, Royale, The Grand Trianon and Musical Fountain Shows
Opening hours: 9 am to 6:30 pm
Entry fee: €18 or €25 on the days of the Musical Fountains and Garden shows
7. Palais Garnier – Remembering opera times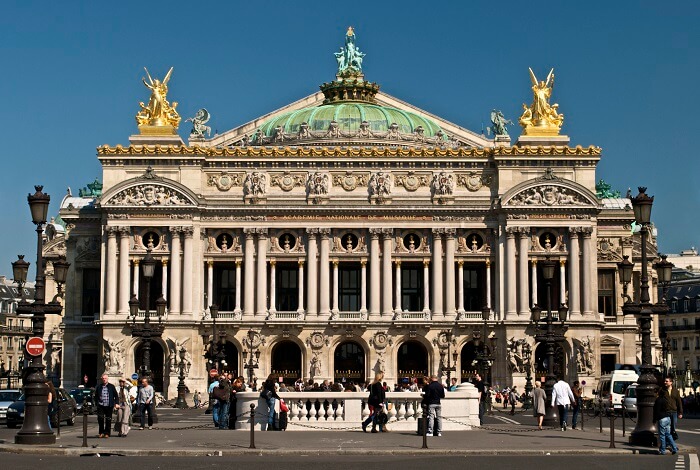 Suggested Read: Temple Of Love In Paris: A Must Visit For Die-hard Romantics
Palais Garnier is an age old opera house in Paris, formerly known as Salle des Capucines. Often referred to as Opéra Garnier, this was the chief centre of Paris Opera – a famous group of opera artists in the city. Presently it mainly stages mesmerising ballet shows. The mesmerising and pretty wooden carvings, paintings and artwork displayed in main façade, stairway, stage fly tower, grand foyer and pavilions make it major Paris points of interest.
Don't miss: Salon du glacier, Foyers, Bassin de la Pythie, and Grand Escalier, The Auditorium, the library and any one of the magnificent ballet performances.
Opening hours: 10 am to 4.30 pm from September to June and 10 am to 5:30 pm from July to August
Entry fee: €9
8. Quartier Latin – Luxembourg Park – A beautiful place to unwind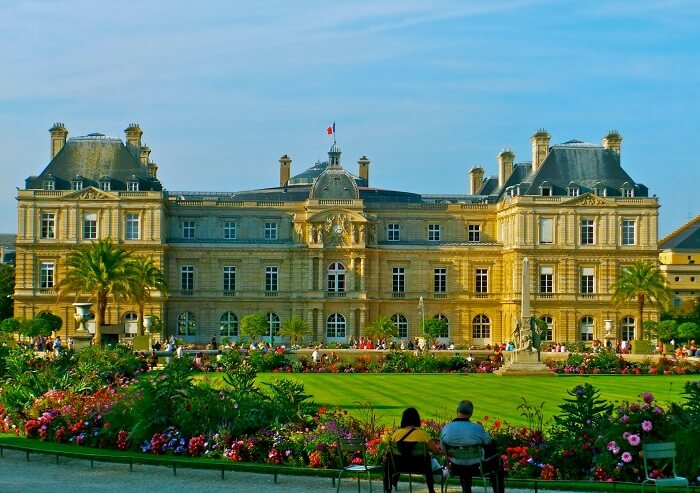 Located on the bank of Seine, Quartier Latin tops the list of must see tourist attractions in Paris. It houses many renowned educational institutions like Ecole des Mines de Paris, Schola Cantorum, Ecole Polytechnique and Ecole Normale Superieure. Luxembourg Park is the private landscape garden surrounding the Senate House known as Palais du Luxembourg, known for picturesque fountains. The garden also hosts many sports championships including championship of France Tennis.
Don't miss: The beautifully landscaped garden, apple orchards, Medici fountain, the Orangerie and the Pavillon Davioud and bronze made miniature of Statue of Liberty
Opening hours: 7 am to 1 hour prior to sunset in summer and 8 am to 1 hour before sunset in winter.
Entry fee: None
9. Moulin Rouge – The original cabaret house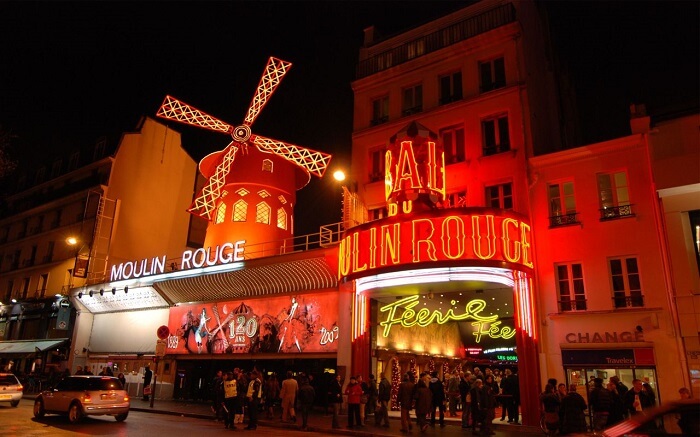 Suggested Read: Honeymoon In Paris: Your Personal Guide For The Most Incredibly Romantic Experience Ever!
As the birthplace of French Cancan, Moulin Rouge is a vintage and classic cabaret venue, located at the base of Montmartre highland. Formerly a seat for courtship dance, Moulin Rouge now is a nicely decorated and extravagant cabaret house. And of course, one of the most fascinating Paris tourist places. The well illuminated building, sizzling music and romantic décor makes it one of the best places to go in Paris at night.
Don't miss: A superb and exhilarating cabaret performance.
Opening hours: 9 pm to 1 am
Entry fee: €9
10. Disneyland – The most amazing amusement park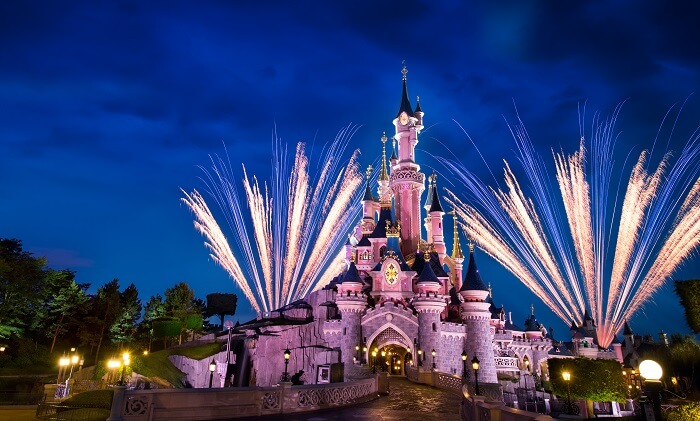 A vibrant, colourful, cheerful and always bustling amusement park – Disneyland is one of the immensely popular tourist destinations and best places to visit in Paris. Disneyland in Paris is not only popular among kids but also among adults.
Originally known as Euro Disney Resort, this one of the most famous places to visit in Paris is known for super fun rides, shows, animation movies, rallies and exciting moments of meeting your favourite characters. From exploring the Disney arcade, roaming in horse drawn street vehicles, discovering 'the little word' to visiting the princess pavilion or clicking with favourite characters like mickey or pooh- the list has it all.
Don't miss: The galore of thrilling and super fun rides like Crush's Coaster, Buzz Lightyear Laser Blast, Autopia, Arcade Beat'em Disney Animation, Mad Hatter's Tea Cups, Dumbo the Flying Elephant and Orbitron , Disney parade and fireworks and crazy selfies with your favourite Disney character.
Opening hours: 10 am to 11 pm
Entry fee: Ticket for one day costs £36.00 for adults and £30.00 for kids. Besides daily tickets, there are annual passes and holiday packages. To know more click here.
11. Place de la Concorde – The largest square in France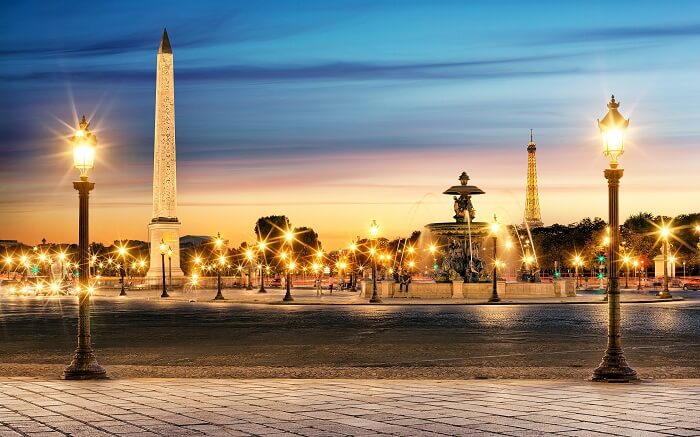 Suggested Read: Paris Nightlife Guide: Best Restaurants, Nightclubs & More For Witnessing The City In All Of Its Lights
Place de la Concorde is the largest square in France built in honour of King Louis XV's recovery. This is considered as one of popular points of interest in Paris. Initially there was a statue of the king. But later the statute was replaced by a statute of freedom known as Liberté. Presently the square surrounding the statue of the king is a busy and bustling one decorated with fountains and other figures.
Don't miss: Luxor Obelisk, Fontaine des Mers and Fontaine des Fleuves
Opening hours: Throughout the day
Entry fee: None
12. Sainte-Chapelle – The grand Gothic architecture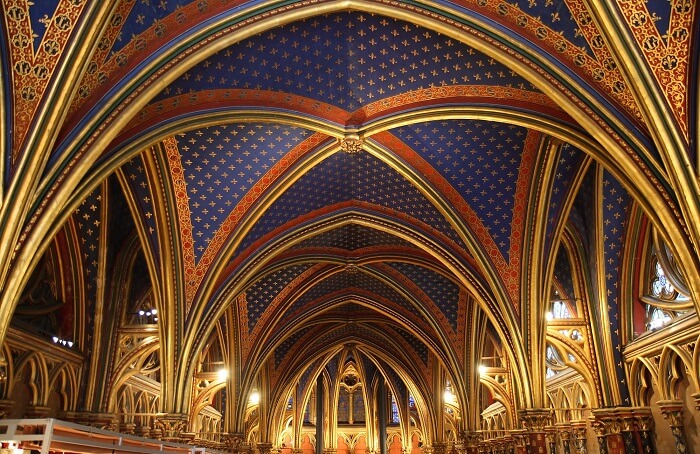 As a perfect and glorious example of Gothic style architecture, Sainte-Chapelle was the former residence of king of France. It is now a beautiful Chappelle with marvellous décor and display. A restored national historic monument, it is mostly visited by history enthusiasts and photographers, and is considered as one of the most charming places to visit in Paris.
Don't miss: Christ's Crown of Thorns, Fragments of the Cross and the mind blowing décor of the Chappelle with colourful stained glass and wood carvings.
Opening hours: 9:30 am to 6 pm
Entry fee: €10
13. Centre Pompidou – Another must visit art hub in Paris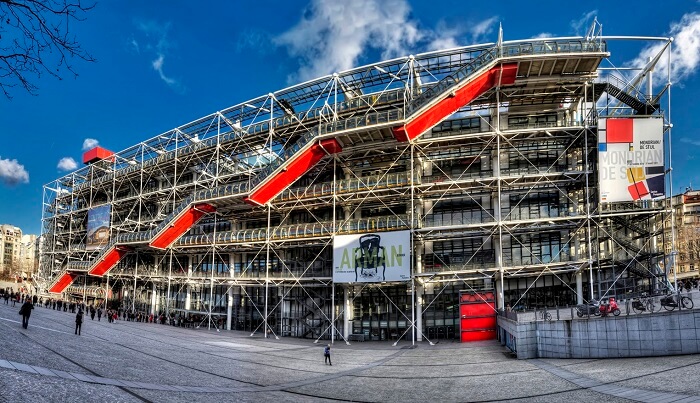 Suggested Read: 10 Bakeries In Paris Where Art Meets Dessert
Located at the Beaubourg area, Centre Georges Pompidou is a fascinating and complex structure designed with superb intelligence and expertise. Also known as Pompidou Centre, this building houses a library, a museum and centre for music and acoustic research. It is also the venue for several renowned exhibitions of France, organised every year. The collection of vintage as well as contemporary art here is truly amazing.
Don't miss: Public information library and museum of modern art. Do not miss the enthralling sunrise and dusk at Georges- the rooftop bar and restaurant.
Opening hours: 11 am to 10 pm
Entry fee: €10
14. Musee d'Orsay – Home to magnificent French art
Musee d'Orsay is one of the most popular museums of Paris, displaying some magnificent artwork and sculptures. Paintings of eminent artists like Berthe Morisot, Jean Auguste Dominique Ingres, Eugène Carrière and Johan Barthold Jongkind etc are put up here for visitors. The place is a hot favourite amongst art enthusiasts, culture followers and history buffs. And truly one among the most famous tourist places in Paris.
Don't miss: Georges Seurat, The Circus, Auguste Renoir, Bal du Moulin de la Galette, Edgar Degas, Edouard Manet and Auguste Renoir.
Opening hours: 9:30 am to 6 pm on all days and till 9 pm on Thursday. The place is called on Mondays.
Entry fee: None
15. Sacre-Coeur – Catch up on some quietude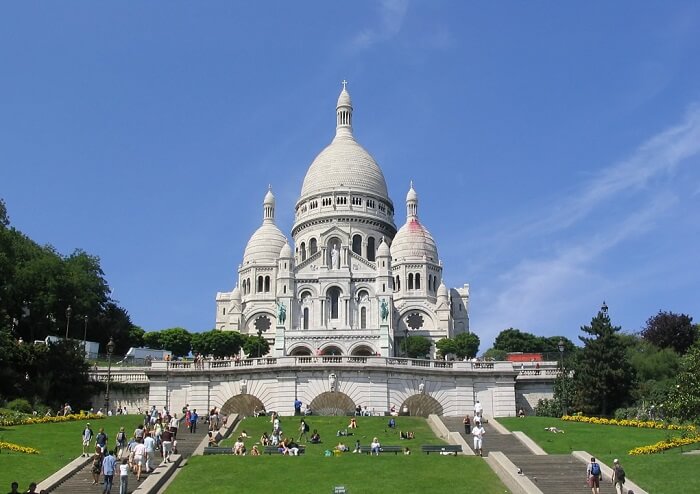 Suggested Read: Shopping In Paris: 10 Best Places To Buy Everything From High-End Fashion To Classic Souvenirs!
Popularly known as Sacré-Coeur Basilica, this is located on the upland of Montmartre and is one of the most gorgeous tourist places in Paris. Reflecting Romano-Byzantine features, this Basilica has immense spiritual significance. The portico, arches and walls show off nationalist themes while the garden area for meditation and fountain are perfect for solemn serenity and mental peace. Use of camera is strictly banned inside the basilica.
Don't miss: Roman-Byzantine style architecture, mosaic (read largest mosaic in France) designed ceiling and 360 degree view of France from the top of the dome.
Opening hours: 6 am to 10:30 pm
Entry fee: €5
With this detailed list of famous tourist places in Paris, one can easily pick their favourites and look forward for a fabulous vacation.
---
Looking To Book An International Holiday?
Book memorable holidays on TravelTriangle with 650+ verified travel agents for 65+ domestic and international destinations.
---
Comments
comments