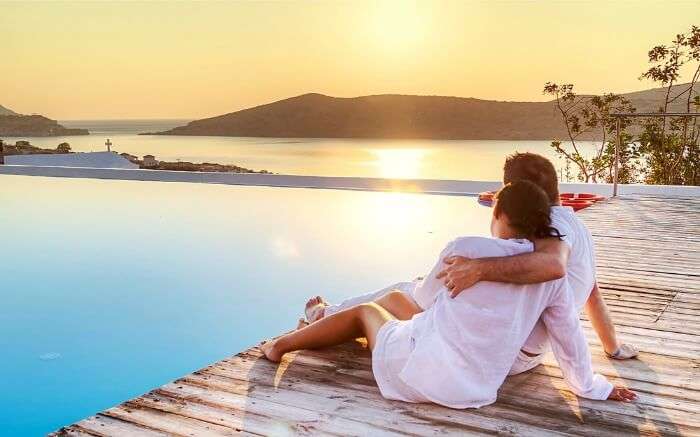 Romantic ideas and notions are fed to us over the years through novels and movies. They settle in our minds like images and dreams that we wish to live with our special one. For most couples, the best time to live these dreams is their honeymoon. But the best of romantic honeymoon ideas might not come popping at a time when you are busy preparing for the wedding. To get you thinking on the right lines, here's a list of 10 romantic ideas for your honeymoon vacay as well as themes around which you can plan a memorable getaway with your better half! Star scrolling and noting them down!
20 Romantic Honeymoon Ideas For Your Vacation
See which ones of these amazing honeymoon ideas would you and bae fancy indulging in on your honeymoon in 2022. You can try out a few of these ultra-romantic and inexpensive experiences instead of just settling for one.
Find Romance In Lush Wilderness
Enjoy An Exclusive Honeymoon On A Private Heart-shaped Island
Plan A Cruise Honeymoon
Drive On The World's Most Beautiful Roads
Escape To A Heart-warming Winter Wonderland
Relish The Beauty Of Stunning White Beaches
Stay In A Castle In Europe
Try Adventures You Never Thought You Would
Witness The Magical Northern Lights And Southern Lights
Camp In Your Private Tent Wherever You Please
Light A Lantern Into The Sky
Stay In A Homestay
Relax WIth A Couple's Spa
Ride A Train Across Beautiful Landscapes
Play With Baby Elephants
Enjoy A Stargazing Experience
Go Scuba Diving
Have A Candlelight Dinner
Stay In A Tree-house Overlooking The Forest
Row A Houseboat Over The Backwaters
1. Find Romance In Lush Wilderness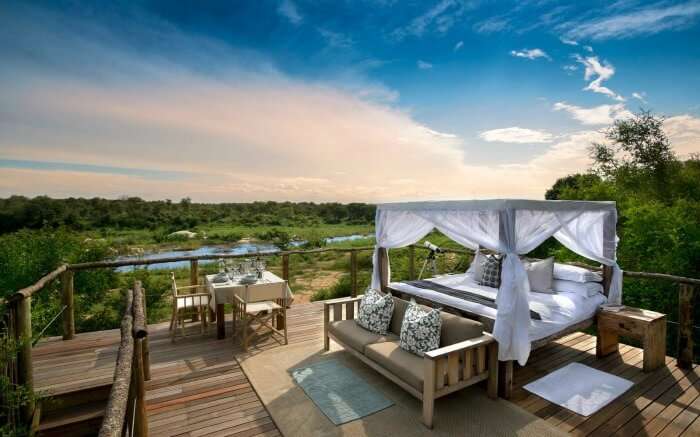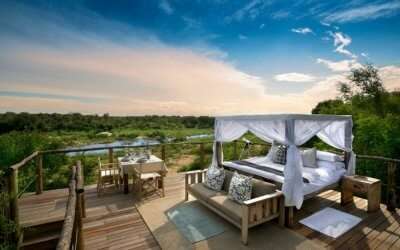 If you love wildlife, there's immense room for romance in the wilderness. As the ruggedness of the forest merges with exotic romantic resorts, it makes for the perfect setting to share special moments with your loved one. Candle-lit dinner – an important part of all romantic honeymoon ideas – feels much more thrilling in the open wilderness. Live the adventure as this is going to the best most memorable dinner of your life, and you'll find it indeed was one of the best honeymoon trip ideas.
The most common attraction of planning a honeymoon near a sanctuary or a national park is the animal or bird safari. If you are planning a safari honeymoon in Africa, game-viewing is the biggest highlight.
Best wildlife resorts in the world for couples: Lion Sands Reserve (Kruger) in Africa, Aman-i-Khas (Ranthambore) in India, and Abu Camp (Moremi) in Botswana
Must Read: Safari Honeymoon In South Africa Is About Kindling Love In The Wilderness! Are You Game?
2. Enjoy An Exclusive Honeymoon On A Private Heart-shaped Island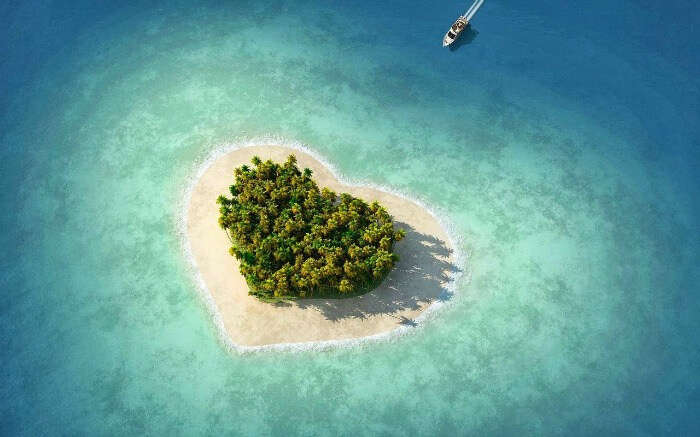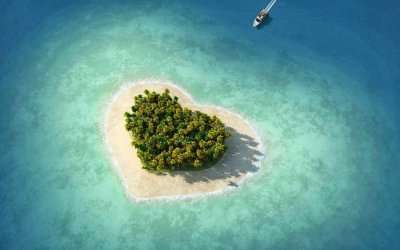 Planning a honeymoon at one of the best honeymoon destinations in the world might seem fancy but compared to this list, the idea is pretty mainstream. Surprise your spouse by booking a stay at one of the most romantic islands – one that is naturally shaped like a heart. As if carved by the Gods themselves, these are surely the best and most romantic honeymoon spots.
Let your love grow fonder on a heart-shaped island amid deep sea as you spend your honeymoon romancing by the beach, enjoying meals by the shore, and trying various water activities. There are about 15-20 heart-shaped islands around the world that offer state-of-the-art amenities, nonpareil comfort, and absolute privacy.
Best private heart-shaped islands in the world for couples: Tavarua Island in Fiji and Makepeace Island in Australia
Suggested Read: In Pictures: Get Lovestruck With These 35 Most Romantic Hotels In The World
3. Plan A Cruise Honeymoon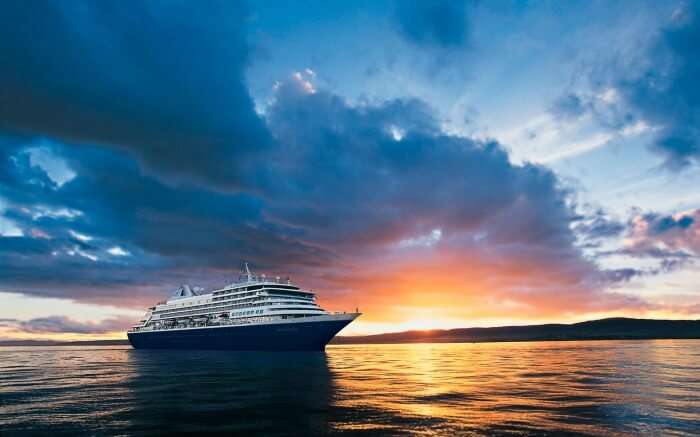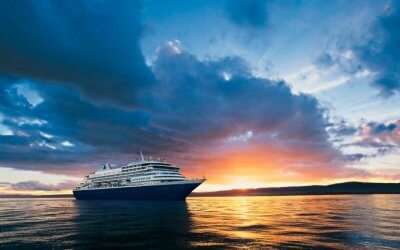 A cruise honeymoon might seem like a cliche among this list of rather unique romantic honeymoon ideas, but it is exhilarating to say the least. The experience is simply magical – the unending ocean, gorgeous sunsets, surreal mornings, romantic dinner on the deck, the breeze, a honeymoon on a cruise is full of romantic experiences. Lengthy cruise vacations are in fact a great experience for those who aren't looking for any short honeymoon ideas.
You have all kinds of luxuries and entertaining activities that will keep you two hooked throughout the journey.
Best cruise lines in the world for couples: Paul Gauguin Cruises, Norwegian Cruise Line, and Princess Cruises
4. Drive On The World's Most Beautiful Roads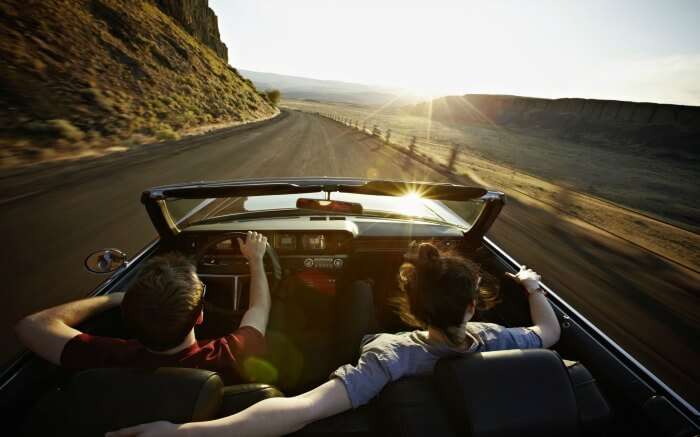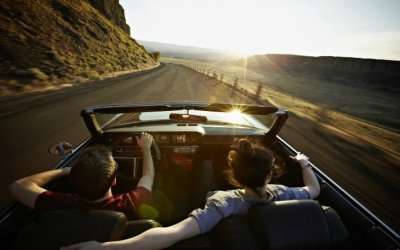 Long drives are amazing even though you cannot pinpoint what is so romantic about them! Take another chance to figure out what makes every couple's favorite by picking a destination that has some of the most beautiful roads in the world.
Ride on these stretches with the love of your life by your side and your favorite music playing in the background. Let vistas – stunning coastlines, verdant woods, hamlets, and landmarks – on the way be the only distraction.
Best long drive routes in the world for couples: Great Ocean Road in Australia, Amalfi Coast in Italy, Garden Route in South Africa, and East Coast Road in India
Suggested Read: 25 Road Trips In India For Couples That Will Reshape Their Future Together In 2022!
5. Escape To A Heart-warming Winter Wonderland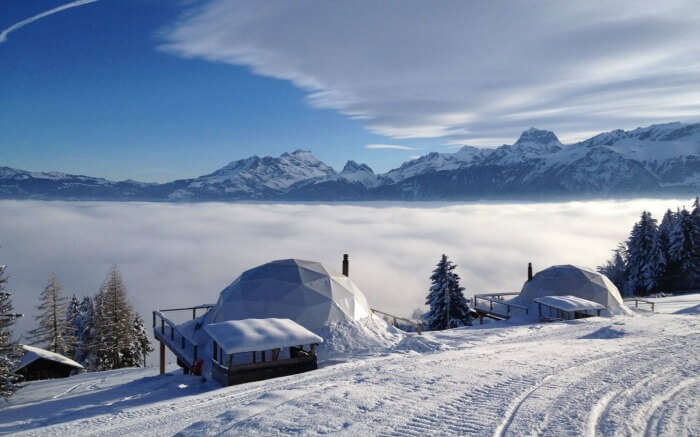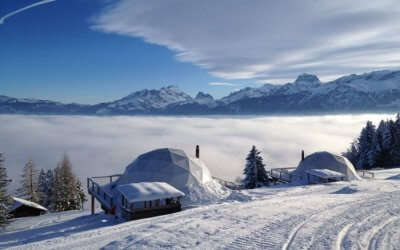 Snowy escapes are most loved among lists of romantic honeymoon ideas world over. As a white sheet covers miles of roads, trees and houses, and everything in town – it makes for a surreal spectacle. The charm of such honeymoon destinations grows manifold as the kiss of sunlight brightens the day that you are spending with your love!
Best winter destinations in the world for couples: Lapland in Finland, Jungfrau in Switzerland, Kashmir in India, and Newfoundland in Canada
---
Planning your honeymoon but confused about where to go? These honeymoon stories help you find your best honeymoon trip ever!
Real honeymooners. Real stays. Real opinions to help you make the right choice.
---
6. Relish The Beauty Of Stunning White Beaches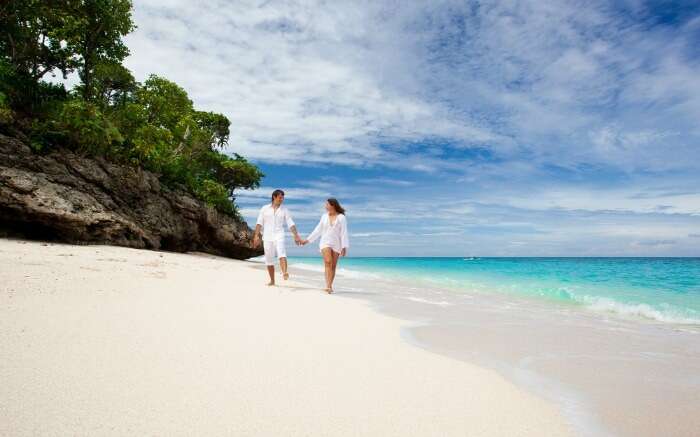 Digging your toes in white sand and walking hand in hand while turquoise waves lurch around is the most romantic thing to do on a beach at sunset. Choose from the destinations that are home to the best white beaches in the world and pick one that matches your choice and budget.
Try to book resorts on less-crowded beaches so that you get more privacy along with better deals and services.
Best white beach destinations in the world for couples: Fiji, Australia, Maldives, and Mauritius
Suggested Read: 20 Superb Summer Honeymoon Ideas: Romance The Unusual Way
7. Stay In A Castle In Europe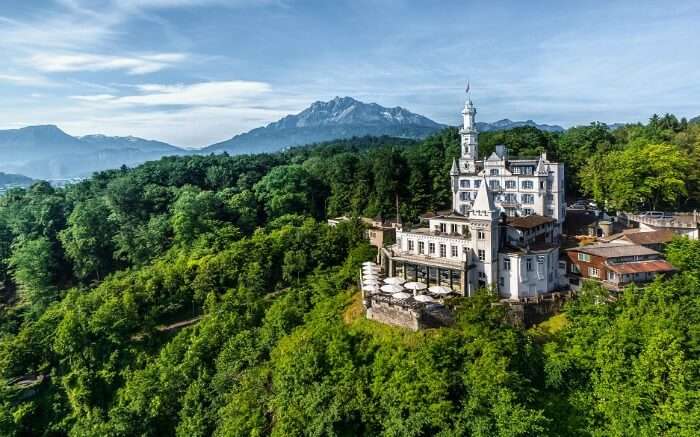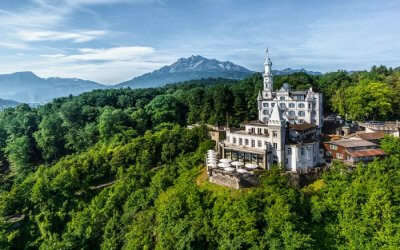 One of the ultimate luxury honeymoon ideas is planning a castle-stay. Acknowledging the interest of tourists, a few of the European castles have been renovated from inside. With a lot of effort, they have managed to create rooms of world-class standards without letting the old-world charm fade.
A stay in these European castles with your better half will spoil you in with its sheer opulence, unmatched comfort, panoramic views, special arrangements for honeymoon couples, and delightful food.
Best castle-stays in the world for couples: Ashford Castle in Ireland, Castello di Pavone in Italy, Skibo Castle in Scotland, and Chateau Gutsch in Switzerland
8. Try Adventures You Never Thought You Would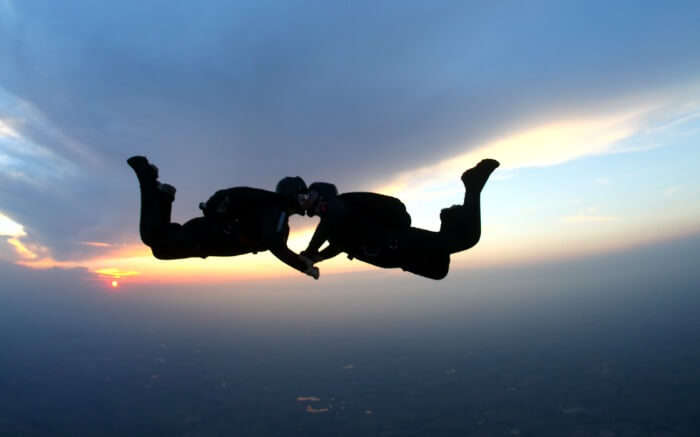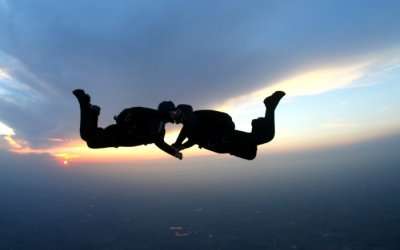 If you are the kind of couple to ditch the most romantic honeymoon ideas for the most adventurous ones – this is for you. 'Cause this might be your idea of fun and romance.
We are talking of crazy extreme adventures, and it is clearly not going to be within your comfort zone. Do the things you'd never do – stay in a sky-lodge at 1,200 feet and go ice-diving or storm chasing in the Antarctic Peninsula, take the most difficult treks!
Best adventure destinations in the world for couples: Auckland, Peru, Angel's Landing, and Antarctica
9. Witness The Magical Northern Lights And Southern Lights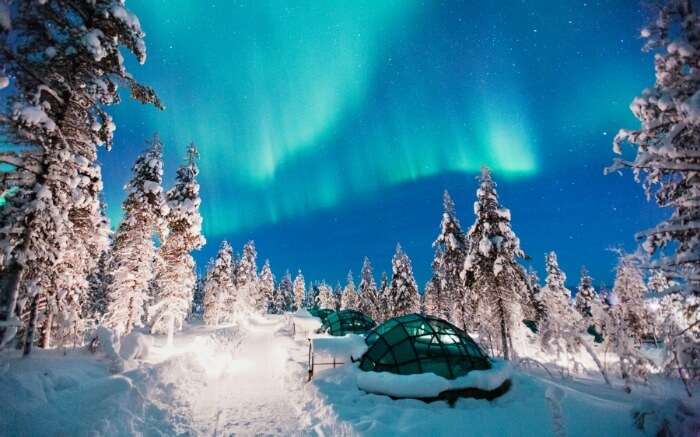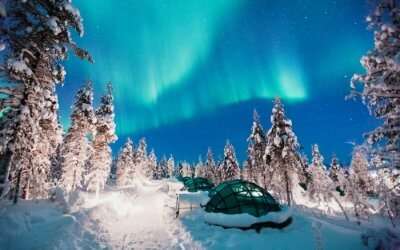 Ever thought of romancing under Aurora Borealis (Northern Lights) or Aurora Australis (Southern Lights). Both these phenomenon fill the sky with green tinges making it a sight to behold. The fact that these lights are rare sightings makes them even more exclusive. They can be seen in a handful of countries, which have various romantic resorts offering special suites and surprises for honeymooning couples.
Best places to see Northern Lights: Norway, Finland, Canada, Scotland, and Iceland
Best places to see Southern Lights: Antarctica, Ushuaia, New Zealand, and Argentina
Suggested Read: Glass Igloo In Finland: A Dream Stay That Must Be In Your 2022 Bucketlist
10. Camp In Your Private Tent Wherever You Please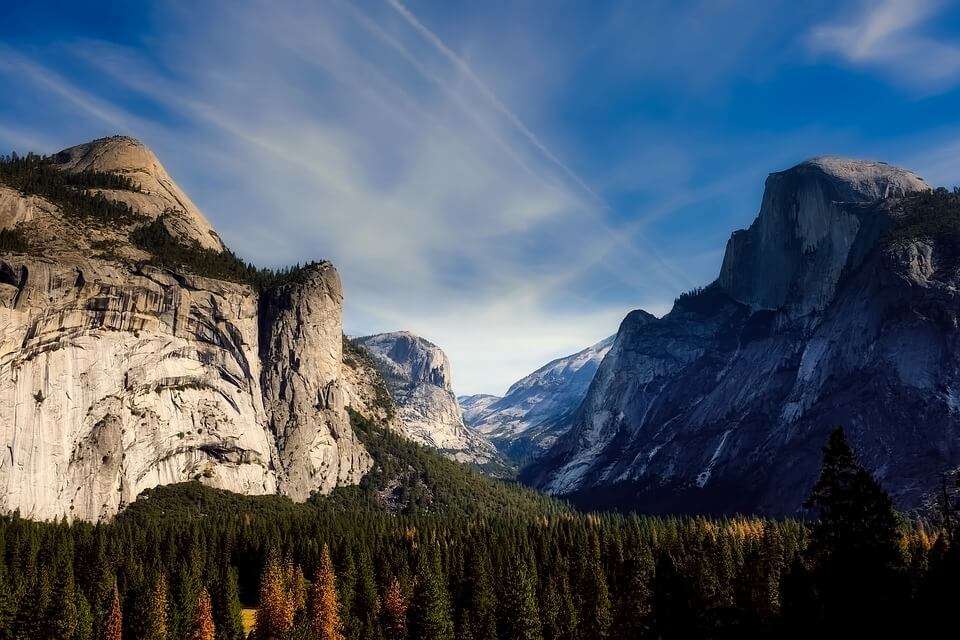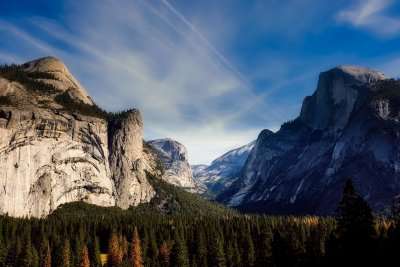 If you are looking for exclusive honeymoon ideas on a budget, camping is an exciting one. The flexibility of pitching your own tent wherever you feel like is not as easy as it sounds. It needs a lot of homework – if you don't mind that, live your backpacking dream with your soulmate.
You need a thorough knowledge of the destination you are visiting, a good-quality camping gear, and an exhaustive list of camping safety tips. Once they are in place, go roaming like nomads and pitch your tent anywhere – amid acres of wood, beside an isolated seashore, or a high-cliff that touches the clouds. It's among the best local honeymoon ideas since you can literally set up camp in any destination you visit!
Best places for camping in the world for couples: Yosemite National Park (USA), Miyajima (Japan), The Isle of Arran (Scotland), Sahara Desert (Morocco), and Sardinia (Italy)
11. Light A Lantern Into The Sky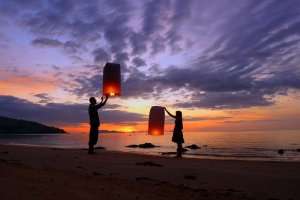 Night skies filled with flickering floating lanterns flying harmoniously is among the most beautiful things in the world. But little do people know that it is also believed to bring good luck! And what better time to seek good luck and blessings than your new beginning? All you got to do it go to an isolated spot on a beach or a hill and (carefully) light a floating lantern that you both can wish upon and then watch it carry away that wish to the Heavens!
Best places in the world for lighting floating lanterns: Thailand, Bali, Goa
Suggested Read: 12 Best Islands In Europe For 2022 Honeymoon Packed With Romance & Passion
12. Stay In A Homestay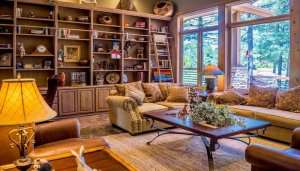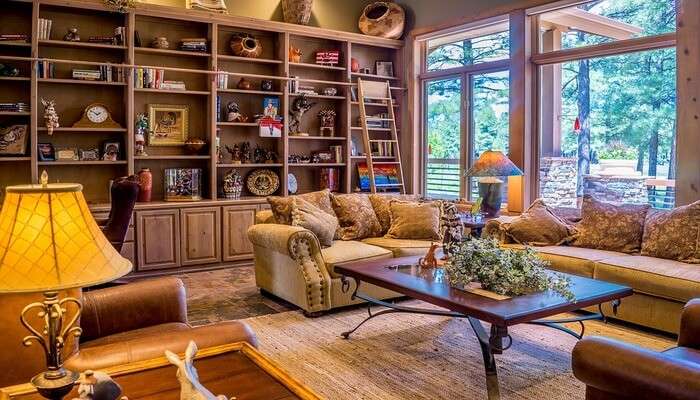 Trust us when we say this – a hotel would not provide you half as much comfort and homely facilities as a homestay. A homestay is essentially your home away from home, with the only difference that it is set is utterly beautiful locations, has someone else take care of your daily needs like laundry and cooking, and allows you all the time in the world to relax and rejuvenate. Some great homestays around the world also organize special tours and treks to make the guests' experience all the more fun and engaging.
Best homestays in the world for a romantic stay: Sunnymead Bed and Breakfast (Shimla), The Bangala Chettinad (Tamil Nadu), Tangier (Morocco), Pura Vida (Costa Rica), An Bang Beach Homestay (Vietnam)
13. Relax WIth A Couple's Spa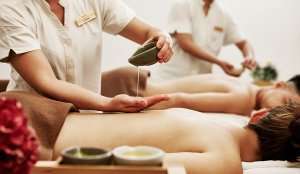 Weddings can be tedious and exhausting. So, what better way to start your honeymoon tour than with a relaxing spa therapy. Book yourselves and your partner a spa session where experienced hands massage your muscles that have been running around for months with wedding preparations. It's the best way to kill your fatigue and give a refreshing start to your honeymoon tour that follows. For lovebirds seeking utter relaxation and peace, there's couldn't be better romantic honeymoon ideas than spa therapies and massages.
Best places in the world for a relaxing couples' spa: Thermal Spa (Grand Resort Bad Ragaz Switzerland), Wellness Spa at COMO Shambhala Estate (Bali), The Spa at Canyon Ranch (Las Vegas), Four Seasons Resort Bora Bora Spa, Carnoustie Ayurveda & Wellness Resort (Kerala)
Suggested Read: 20 Offbeat Honeymoon Destinations In India For A Romantic Getaway In 2022!
14. Ride A Train Across Beautiful Landscapes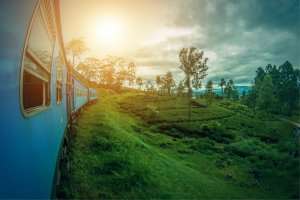 If you wish to do something different than just stay in fancy resorts and go cruising on enormous cruise ships then this is the perfect option for you. You'd have a great time connecting on a magical train journey that takes you through diverse and charming landscapes of the countryside in some far-flung corner of the world. There are some special train journeys in the world that provide exactly the same experience to couples.
Best train journeys in the world for couples: Eurail (Switzerland and Austria), Palace on Wheels (Rajasthan), Ella Railway (Sri Lanka), Bĕijīng to Lhasa Express (China), The Bergensbanen (Norway)
15. Play With Baby Elephants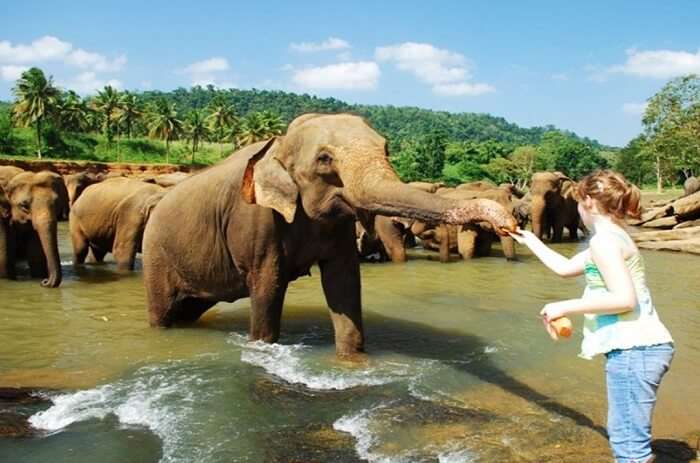 This may not be your average honeymoon experience, but it'd surprise you to know that a lot of couples include this activity in their itineraries, especially if they're traveling to an Asian nation rich in biodiversity and are looking for cheap honeymoon ideas for couples. Bathing, feeding, and playing with baby elephants provides an enriching and wholesome experience to travelers that cannot be compared. And the fact that it'd let you interact with the wild in their natural habitat will surely be more joyful than visiting a zoo. Besides, according to Feng Shui, elephants symbolize good luck, wisdom, protection, and fertility. So meeting and pampering these majestic creatures before you start your new life will definitely be a wise choice!
Best places in the world to interact with elephants: Pinnewala Elephant Orphanage (Sri Lanka), Dubare Elephant Camp (Coorg), Chobe National Park (Botswana), Elephant Nature Park (Thailand)
Suggested Read: 28 Offbeat Honeymoon Destinations In The World For 2022 Trip You'd Have Never Heard Of!
16. Enjoy A Stargazing Experience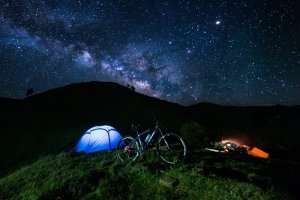 Imagine driving into the middle of the desert, setting up camp, and then spending the night wrapped up in each others' arms looking at the stars overhead while a bonfire cackles before you. Sounds romantic, doesn't it? Well then, make it a reality by heading off to the best places for stargazing in the world. Honeymooners find this to be one of the most interesting and romantic honeymoon ideas for a rather peaceful and private honeymoon experience.
Best places for stargazing in the world: Mauna Kea (Hawaii), NamibRand Nature Reserve (Namibia), Pangong Tso (Ladakh), Rann of Kutch (Gujarat), Lonar Crater (Maharashtra), Jaisalmer (Rajasthan)
17. Go Scuba Diving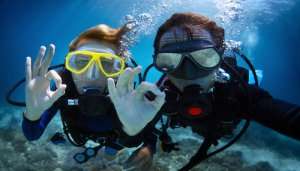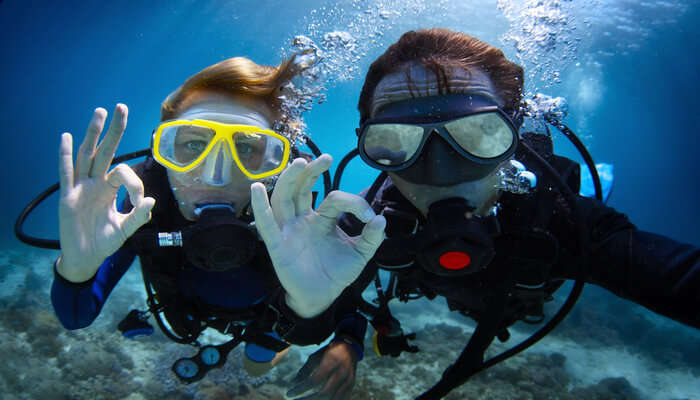 It's the perfect thing to indulge in if you and your partner prefer the world underneath the sea rather than the one above the land! It may not be as romantic as candlelit dinners, yacht cruises, and stays in lavish resorts, but it will definitely provide you and your lover an unmatched experience. Plunge into the depths of the ocean, swim over lightly swaying corals, and meet delightful sea creatures like dolphins, and you and your partner will find the whole affair more enriching and sensuous than other standard honeymoon experiences.
Best places for scuba diving in the world: Grand Island (Goa), Neil Island (Andaman and Nicobar Islands), The Maldives, Lang Tengah Island (Malaysia), Gili Trawangan (Lombok, Indonesia), Great Barrier Reef (Australia)
Suggested Read: 35 Unusual Honeymoon Destinations Not Meant For Ordinary Couples In 2022
18. Have A Candlelight Dinner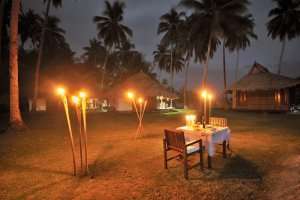 Though they may sound cliched, they still are one of the most romantic honeymoon ideas for couples hopelessly in love! And your dinner date doesn't have to be only in a fancy restaurant. The place can be an exotic beach or a cafe by the hillside, which will surely add an interesting touch to it. Whether you choose to dine in the white and blue landscapes of Santorini or on the rooftop of a cave hotel in Cappadocia, whether you splurge on seafood by the beach or enjoy wine in the middle of the sea in Bora Bora, you'll surely end up having a fabulous experience!
World's most romantic restaurants for a candlelight dinner: Tuscany Gardens (Goa), Jharokha (Taj Lake Palace, Udaipur), Le Dupliex (Puducherry), Tour D'Argent (Paris), Ambrosia Restaurant (Santorini), Two Oceans (Cape Point), Crab Shack (Soneva Jani, Maldives), Sunset Monalisa (Mexico), Clos Maggiore (London)
19. Stay In A Tree-house Overlooking The Forest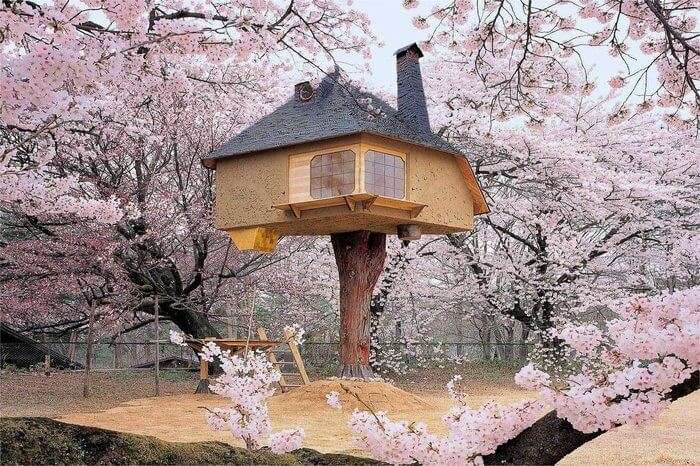 Admit it. It has been your childhood dream of living in a tiny treehouse, right? Well, it's time for you both to share that common dream and go stay in a real treehouse at last! The best part – your treehouse stay will come with all the services you otherwise expect in a hotel, like room service, fabulous interiors, great food, and the most awesome views that even a hotel can't provide! For all those couples who'd want to live their childhood fantasies on the most special trip of their lives, there won't be more romantic honeymoon ideas than this.
World's best treehouse stays for couples: Hornbill Tree House Resort (Dandeli), Tree House Hideaway (Bandhavgarh), Nature Zone Resort (Munnar), Castle Treehouse (British Columbia), Lion Sands Game Reserve (South Africa), Tetsu Treehouse (Hokuto, Japan)
Suggested Read: 35 Unusual Honeymoon Destinations Not Meant For Ordinary Couples In 2022
20. Row A Houseboat Over The Backwaters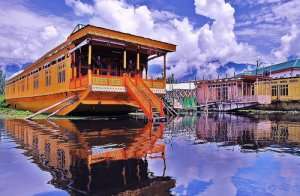 We can bet that you'll never be able to forget a scintillating houseboat experience once you have known how it feels to sail over those narrow, picturesque canals. Houseboats are often referred to as resorts-on-float, and rightly so. With a chef on board, a sailor, and a personal attendant, they offer nothing less than what a resort would. Giving you stunning views of the village life of some faraway land, houseboat stays are once in a lifetime experiences that you and your amour ought not to miss.
Best places in the world for a houseboat experience: Alleppey (Kerala), Goa, Butt's Clermont Houseboats (Srinagar, Kashmir), Floating Seahorse (Dubai, UAE), Traumfänger (Hamburg, Germany), The Floatwing (Coimbra, Portugal)
Further Read: Things To Do On Honeymoon: Travel Tips And How To Make It Special
Hope this list of romantic honeymoon ideas helps you figure out what's it that you really want to do. Share these ideas with your significant other before you book a customizable honeymoon package. Know of any more ideas for a romantic honeymoon? Let us know in the comments below.
Disclaimer: TravelTriangle claims no credit for images featured on our blog site unless otherwise noted. All visual content is copyrighted to its respectful owners. We try to link back to original sources whenever possible. If you own the rights to any of the images, and do not wish them to appear on TravelTriangle, please contact us and they will be promptly removed. We believe in providing proper attribution to the original author, artist or photographer.
Please Note: Any information published by TravelTriangle in any form of content is not intended to be a substitute for any kind of medical advice, and one must not take any action before consulting a professional medical expert of their own choice.
Frequently Asked Questions About Romantic Honeymoon Ideas
Which is the best place for a honeymoon in the world?
Some of the best places in the world for a memorable honeymoon are:
1. Hawaii
2. Bora Bora
3. The Maldives
4. Mauritius
5. Amalfi Coast
6. Greece
7. Paris
8. Italy
9. Bali
10. Kerala
11. Kashmir
What is a good honeymoon budget?
Your honeymoon budget would entirely depend on what kind of destination you choose, which season you visit it in, what kind of accommodation you pick, and how you travel around.
A honeymoon budget can normally vary from INR 50,000/- (budget) to even 5 lakhs (luxury) depending on these factors.
What are the top 10 honeymoon destinations in India?
The top 10 honeymoon destinations in India for 2022 are:
1. Srinagar, Jammu & Kashmir
2. Goa
3. Coorg, Karnataka
4. Nainital, Uttarakhand
5. Jaisalmer, Rajasthan
6. Shimla, Himachal Pradesh
7. Lakshadweep Islands
8. Ooty, Tamil Nadu
9. Darjeeling, West Bengal
10. Alleppey, Kerala
How do I choose my honeymoon destination?
Your honeymoon destination will totally depend on your preferences. You'll first have to decide things like the type of destination (beaches or mountains), type of experiences (relaxing or adventure), and the budget (lavish stays or budget travel).
Once you have narrowed these down, you can look up the best honeymoon destinations within these parameters.
What is the most romantic vacation destination?
There are several romantic vacation destinations across the world and it would not be right to single out one. From Maldives, Greece, Paris, Italy, Brazil, Cape Town, Bali, to Kerala in India, there are plenty of romantic honeymoon destinations to pick from.
Which island is best for honeymoon?
Some of the best islands for honeymoon include:
1. Kauai
2. Bora Bora
3. Phi Phi
4. Reunion Island
5. Grenada
6. Jamaica
7. Royal Belize Island
8. Isla Kiniw
9. St. Lucia
10. Florida Keys
11. Harbour Island
12. Little Thatch Island
---
Looking To Book Your Honeymoon Package?
Book memorable honeymoon on TravelTriangle with 650+ verified travel agents for 65+ domestic and international destinations.