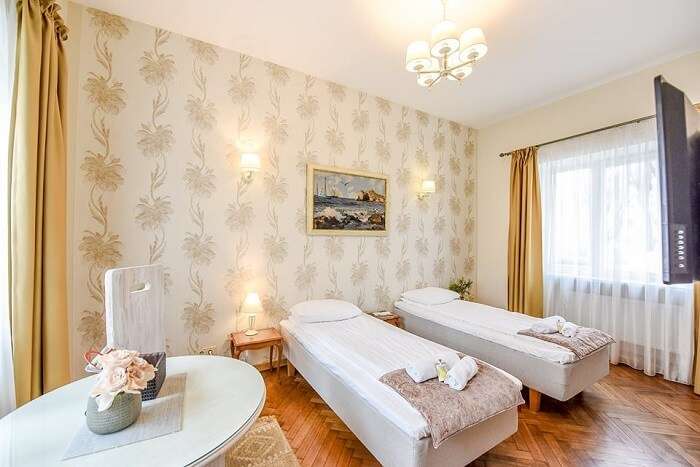 Picturesque onion-domes Russian Orthodox churches stand beside pointy fairy-tale castles in Lithuania. This Baltic country hugs the Baltic Sea on one side and is surrounded by Poland, Latvia, and Belarus on the others. Lithuania is the epitome of 'pretty landscapes,' it has beautiful woodlands and fresh lakes that make for wonderful scenery. It's capital city Vilnius as well as other major cities Kaunas and Klaipeda all boast of old towns with cobblestone streets and ancient architecture.
10 Hostels In Lithuania
We have listed out ten amazing hostels in Lithuania where solo backpackers or group travelers can set up their base and explore the fantastic destinations in the country.
1. The Monk's Bunk Kaunas

The Monk's Bunk Kaunas is rated amongst the top hostels in Kaunas Lithuania. The main reason that is driving this is the dedication of the staff towards customer service. Everyone who stays the hostel loves the friendly attitude of the team, who are always at the disposal of the guests and give local tips and advice on how best to explore the city. The hostel is located in a central area, 2KM away from Kaunas Castle and the Old Town. The location allows guests to use both public transport or take a quick walk to all the major attractions which lie within a 2KM radius.
Location: Laisvės al. 48-2, Kaunas 44246, Lithuania
Starting price: INR 930/-
TripAdvisor Rating: 5/5
Must Read: Summer In Lithuania: A Traveler's Guide To Enjoy A Vibrant Summer Vacation At This European Country!
2. Sports Hostel

The sports-themed hostel aptly called 'Sports Hostel' is one of the good hostels in Kaunas Lithuania. A newly established hostel, the hostel has modern amenities with chic furniture and comfortable bunk beds. However, it's the location which sets it apart from other hostels in Kaunas. It is located right opposite the bus station of Kaunas; it is convenient for getting in and out of the city, you don't have to go around lugging your backpack everywhere! Public transportation is not a problem, as Kaunas is well-connected, or you can ditch transport and walk everywhere. The Holy Revelation Church, Carmelita Church, Stumbras Museum, Zalgirio Arena, and Vytautas Great War Museum are some of the attractions within a kilometer of the hostel.
Location: Vytauto pr. 21, Kaunas 44352, Lithuania
Starting price: INR 890/-
TripAdvisor Rating: 5/5
3. Chocolate Hostel

Staying at the Chocolate Hostel will make you hungry all the time! This hostel is one of the best theme hostels in Lithuania. It starts right from the building; the hostel is located in a chocolate factory where you can take a tour if you are a guest. There is a chocolate shop on the ground floor, where you might want to stock up on some in case you feel hungry at night. The theme continues indoors where all the furnishings are done in caramel and brown colors, with decor items about chocolate. Not just the theme, this is one of the rare hostels in the old town Kaunas making it convenient to travel to all the famous tourist places in the city.
Location: M. Daukšos g. 48, Kaunas 44269, Lithuania
Starting price: INR 930/-
TripAdvisor Rating: 3.5/5
Suggested Read: Lithuania In Winter: 10 Best Experiences That You Must Have For A Picture-Perfect Trip
4. Klaipeda Hostel

The Klaipeda Hostel is one of the best hostels in Lithuania and has been able to draw on a typical Lithuanian home and offer the same feeling and atmosphere in the hostel. It is located in a quiet, peaceful area and has a beautiful little lawn on the side which almost all homes in Klaipeda have. The interiors are done up in pleasant colors, and you have all amenities like free WiFi, free coffee and tea, plus they also help with scooter and bicycle rental. The hostel staff also arranges for a special trip to the nearby Soviet Missile Base, and you can always find a great company at the hostel to go on shared tours.
Location: Butkų Juzės g. 7, Klaipėda 92228, Lithuania
TripAdvisor Rating: 4.5/5
5. Hostel Kubu

Location! That's the most significant feature of the Hostel Kubu in Klaipeda. It is located right on the main street of the town, and both the bus and railway station are within 600m of the hostel. Even the Old Town where all the main attractions are is less than a kilometer away from the hostel. You don't even have to wonder about how to travel because the hostel helps you arrange for bicycles and transfers to the airport. The hostel is a small building, with cosy interiors, and its ideal for solo backpackers who are looking for a relaxed stay. It is also one of the cheap hostels in Lithuania and offers total value for money.
Location: H. Manto g. 37, Klaipėda 92236, Lithuania
Starting price:INR 750/-
TripAdvisor Rating: 4.5/5
Suggested Read: 13 Frolicsome Beaches In Europe For All The Excited Beach Bums Across The Globe
6. Downtown Forest Hostel & Camping

It might seem strange that a hostel in the center of a capital city names itself a Forest Hostel! But that's how it is with the Downtown Forest Hostel; the hostel located in the hip and downtown area in Uzupis is surprisingly surrounded by a grove of trees almost hiding it from plain view. It is consistently rated as one of the best cheap hostels in Lithuania and is very beautiful. They also have a garden area with you can barbeque and even camp in tents, if the dorms are fully booked. The hostel is run by travelers who understand the value of a good hostel stay and strive to replicate it in the hostel.
Location: Paupio g. 31A, Vilnius 11341, Lithuania
Starting price: INR 580/-
TripAdvisor Rating: 4.5/5
7. Jimmy Jumps House Hostel

You know you are in for a crazy ride when you choose a hostel that is named Jimmy Jumps! The hostel run by a Canadian Backpacker is built with a lot of thought and is made into a functional and convenient hostel, that becomes a home away from home for solo backpackers who live out of their backpacks. What sets the hostel apart is their crazy tours that include tank driving, gun shooting, dog sledding, forest sauna, and also the 'normal' hostel stuff like beer pong, pub crawls and karaoke nights. When you have had too much fun the night before, all you need is a great breakfast, and the hostel gives you a free waffle breakfast that guests vouch for.
Location: Savičiaus g. 12, Vilnius 01127, Lithuania
Starting price: INR 680/-
TripAdvisor Rating: 4.0/5
Suggested Read: 17 Spots For Snorkeling In Europe Every Underwater Enthusiast Must Visit
8. Mikalo House

The Mikalo House is one of the few hostels in Lithuania that have a mix of private rooms and dormitory beds. The hostel is spacious and tastefully decorated, keeping in mind the mixed guest list which varies from solo backpackers to families. This is why unlike other fun party hostels, the atmosphere is more toned down, but on the plus side, the hostel is always clean and tidy. The large kitchen is a boon for those who like to cook their meals, and there is also a BBQ station in a private yard which is great for summer days. The hostel is air-conditioned and heated for autumn and winter months.
Location: Šv. Mikalojaus g. 3, Vilnius 01133, Lithuania
Starting price: INR 890/-
TripAdvisor Rating: 4.5/5
9. Hostelgate

Hostelgate is located in the Old Town of Vilnius just beside the Gate of Dawn. You don't even have to walk for too long, and you will have covered all the sights in the old town including the beautiful onion-domed churches and the historical museums. The hostel is fairly large and has big open common areas that are modern, while the dormitories are cosy and equipped with heating for the winter months. The hostel even has its traditional sauna that is ideal for the cold wintry months, get into the sauna before cozying up in your bed. Just one limitation is that the hostel is open only to ages between 18-50 years of age.
Location: Aušros Vartų g. 17, Vilnius 01304, Lithuania
Starting price: INR 600/-
TripAdvisor Rating: 4.0/5
Suggested Read: This Winter, Escape To The Best Honeymoon Destinations In Europe In Winter 2022!
10. B&B&B&B&B

Saving the best for the last, the B&B&B&B&B might just be the best hostel in Lithuania! Known also as the 5B hostel, the five Bs stand for Bedrooms, Breakfast, Boards, Beats, and Bar. The hostel has a range of dormitory options and private rooms as well and serves up a fabulous breakfast, and those who are late risers can enjoy brunch at the restobar. What is amazing is that the hostel building has an indoor skate park! No hostel is the world can boast of such a feature but there it is, and it's open all through the year. If you are wondering if it's a party hostel, worry not, there is a full-fledged club, the Kablys Club in the basement! And well it also has a Bar, just to round off the Bs!
Location: Kauno g. 5, Vilnius, Lithuania
Starting price: INR 720/-
TripAdvisor Rating: 4.0/5
Further Read: 31 Traditional Festivals In Europe That Will Up The Fun Factor Of Your Euro-Tour In 2022
Surprised at the variety and themes of hostels in Lithuania? These are some of the best hostels in the country and are sure of being a perfect base for your trip to Europe. The country carries its legacy of pagan history along with the Soviet rule era architecture and meets the new age with aplomb in the modern cities. The cities and towns of Lithuania are a traveler's delight and one of the top destinations on traveler's bucket list in 2022.
---
Looking To Book An International Holiday?
Book memorable holidays on TravelTriangle with 650+ verified travel agents for 65+ domestic and international destinations.
---