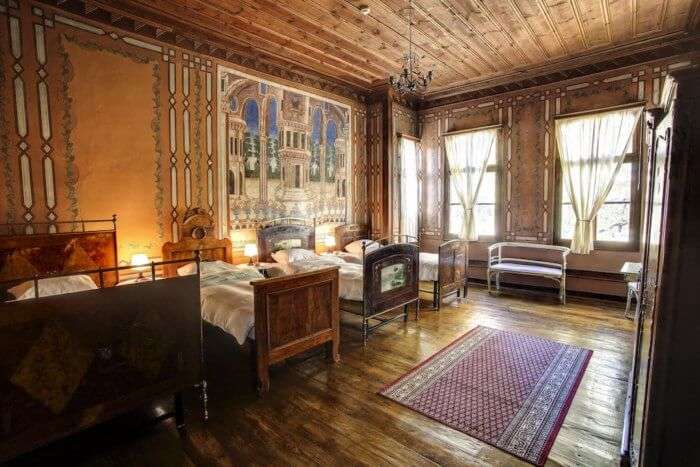 Looking for a reason to travel to Plovdiv in 2022? Here is one for you; the city has been designated as the European Capital of Culture 2022! One of the oldest city in Europe, it dates back to the 6th Millennium B.C and has continuously been inhabited since. The city is often regarded as the 'City of Seven Hills' since it is built around seven hills and the banks of the Maritsa River. The invasions over thousands of years have left their imprint of Plovdiv, and today it is a treasure house of antiques and historical architecture. Right from the hostels in Plovdiv, Roman Stadium to the 19th century National Revivalist-era houses, each building in Plovdiv has a story to tell!
Stay in the historic old town in one of the hostels in Plovdiv and explore the city from close quarters. The hostels offer a unique experience of local inputs from the staff, company of fellow backpackers and comfortable living, all at a fraction of cost!
Top 10 Hostels In Plovdiv
Here are our favorite top ten hostels in Plovdiv that are assured to give you a comfortable and convenient stay in the ancient city:
1. Hikers Hostel Plovdiv – For a great central location in old town
The Hikers Hostel in Plovdiv is one of the most popular hostels in the old town, and it's all thanks to its incredible location. The hostel is located just 200m from the ancient Roman amphitheater, and in the old town of Plovdiv. You don't have to venture too far to get a taste of the city, which is regarded as the cultural capital of Bulgaria. Step outside the hostel, and you will find restaurants, museums, art galleries, all within walking distance. The hostel itself is in an old 19th century with modern interiors; you get all the amenities of international hostels including free breakfast!
Location: ul. "Saborna" 53, 4000 Staria grad, Plovdiv, Bulgaria
Tariff: INR 800/-
TripAdvisor Rating: 4.0/5
Website | Review
Must Read: 9 Plovdiv Restaurants You Must Visit To Taste The Best Of Bulgarian Cuisine
2. Funky Monkey Hostel – For fun and cheerful hostel stay
The Funky Monkey Hostel in Plovdiv certainly channels the monkey spirit! The vibrant hostel is colorful and meant for travelers who are young at heart and enjoy meeting fellow backpackers. The hostel ranks among the top hostels in Plovdiv, and it is so due to the excellent facilities at the hostel. The clean and spacious dorm rooms are value for money, plus you also get a free Bulgarian or Continental breakfast. A quick walk will take you to the center of the city, and the old town is easily accessible by foot or cycle. The hostel staff will also help you book day trips to Buzludzha and Bachkovo Monastery and Asen's Fortress.
Location: ul. "Sveti Sveti Kiril I Metodiy" 2, 4000 Tsentar, Plovdiv, Bulgaria
Tariff: INR 800/-
TripAdvisor Rating: 4.0/5
Website | Review
3. Bike Hostel – For an authentic homestay experience in a hostel
Looking for an authentic stay in Plovdiv but also want the camaraderie of fellow backpackers? Then the Bike Hostel in Plovdiv is what you need. The hostel is run by Konstantin who is a resident and has converted his home into a comfortable hostel. Even the furniture is lived in and at least 50 years old! It's the old and homely feel of the hostel that guests love so much. It gives you a local experience of how living in Plovdiv looks like. The hostel has a cute little garden, where guests are allowed to barbeque and hang out. They also rent out bikes and kayaks, and what's more, if you stay there for three days then you get free usage of a bike or a free kayak experience down the Maritsa River!
Location: 17 Ekzarh Josiff Str, Plovdiv, Bulgaria
Tariff: INR 750/-
Website | Review
Suggested Read: Experience The Best Of Shopping In Plovdiv At These 7 Must Check-Out Places
4. Ginger House Plovdiv – For a peaceful stay in a convenient location
The Ginger House in Plovdiv is a refurbished home that has been turned into an elegant hostel. The house has two private rooms and a 6-bed dormitory, which means you won't have too many guests at the same time. It is ideal for families and for those who are looking for a bit of solitude. The interiors are beautifully done, and all the rooms have wardrobes, coffee machines and access to all the shared amenities in the house. The Ginger House is located within a 3 KM radius of all attractions, and you can easily take public transportation or bike to them. The distant location makes it convenient for road trippers as car parking is readily available.
Location: Preslav 47, 4000 Plovdiv, Bulgaria
Tariff: INR 800/-
TripAdvisor Rating: 4.0/5
Review
Suggested Read: 8 Water Parks In Bulgaria That Will Make Your Vacation More Fun
5. Hostel Old Plovdiv – For a luxurious stay in a heritage home at hostel rates
You might be pardoned if you enter Hostel Old Plovdiv and think you have walked back in time! One of the best hostels in Plovdiv, the Hostel Old Plovdiv is situated in an old house built in 1868. The house then belonged to a wealthy tobacco merchant who furnished the house with wood from Lebanon, marble from Greece, and granite from Turkey. You can see all these treasures at the hostel, and even the furniture is antique, making you wonder if there is a catch somewhere! The hostel also has private rooms, but its shared spaces are beautiful and elegantly done. You will undoubtedly feel like Eastern European royalty while staying at the hostel.
Location: ul. "Chetvarti yanuari" 3, 4000 Staria grad, Plovdiv, Bulgaria
Tariff: INR 800/-
TripAdvisor Rating: 5/5
Website | Review
6. Pijama Hostel – For a functional and international hostel stay
The Pijama Hostel is one of the newer hostels in Plovdiv and looks like any other European hostel. The interiors of the hostel are modern, and the shared spaces are clean and uncluttered. The hostel is located 60 meters away from the Roman Stadium and within 2KM of other attractions like International Fair Plovdiv, and the Ethnographic Museum. The hostel is run by Angelo who takes of every requirement of travelers who stay at the hostel. Just like the name suggests, its one big pajama party at the hostel! You will meet a lot of like-minded travelers who are interested in art, history, and culture.
Location: Konstantin Stoilov 9, 4000 Kapana, Plovdiv, Bulgaria
Tariff: INR 700/-
Website
Suggested Read: 12 Things To Do In Bulgaria That Will Keep You Engaged Throughout The Trip
7. Gramophone Hostel – For meeting fellow travelers and chill out stay
The graffiti and art-filled walls of the Gramophone Hostel invite travelers from across the world. It is one of the few hostels in Plovdiv that are preferred by foreign tourists. The prices are cheap, but the quality is total value for money. The hostel is reasonably large and accommodates up to 30 people at a time, but the large dormitories and wide open shared spaces never make it seem like a crowd! Listen to some music, or start a jam session, or head to your bunk for a peaceful night's sleep. Most travelers rate the location of Gramophone Hostel as its best feature. It has a lot of restaurants and entertainment venues in the neighborhood, and all the attractions are close by!
Location: ul. "Knyaz Alexander I" 36, 4000 Tsentar, Plovdiv, Bulgaria
Tariff: INR 750/-
TripAdvisor Rating: 3.5/5
Review
8. Hostel Filipopolis – For a luxurious hostel stay
The Hostel Filipopolis is one of the premium hostels in Plovdiv, and it's worth it! The hostel is excellent for travelers who enjoy comfort but are short on budget. The hostel interiors are tastefully done in colors of green and white. The location of the hostel is also quite convenient to explore; it is about 400m away from the Ethnographic museum and about a ten-minute walk away from the main street. You can enjoy shared lounge space where you can meet other travelers and share stories of your travels and who knows, even go on day trips around Bulgaria with them!
Location: ul. "Mitropolit Panaret" 7, 4000 Staria grad, Plovdiv, Bulgaria
Tariff: INR 1,000/-
Review
Suggested Read: 21 Spectacular Places To Visit In Bulgaria That Are A Treat To Your Eyes
9. Hipster Guest House Hostel – For a pet-friendly hostelling experience
The Hipster Guest House is locally known as Kapana's Hostel, and you will even find a board outside the hostel which says that! It is one of the hostels in Plovdiv with the best amenities at great prices. A lot of hostels which also have private rooms ensure that their shared spaces are taken care of, and this is a big advantage to those who book dormitory rooms in the hostel. The Hipster Guest House has a 4-bed dormitory plus many private rooms, and to make the deal sweeter, pets are allowed too! You can reach the Old Town of Plovdiv in just five minutes and access all modes of public transport.
Location: 26, Sadovets, Bulgaria
Tariff: INR 800/-
TripAdvisor Rating: 4.5/5
Review
10. Hostel Kapana – For a cozy and home-like hostel experience
You can stay at the Hostel Kapana and never even have to go anywhere for sightseeing! The hostel overlooks the Nebet Hill, Medieval Clock Tower, and even the Dzhumaya Mosque. It is also located in a pretty cobblestone alleyway from where you can easily travel to the rest of the city, especially the old town. You can even bargain for more discounts if you are staying for a longer duration! Each of the rooms has air-conditioning and WiFi, and you also get a free hot drink when you arrive.
Location: ul. "Frederic Joliot-Curie" 4, 4000 Kapana, Plovdiv, Bulgaria
Tariff: INR 1,000/-
Website
Further Read: Top 12 Bulgarian Restaurants That Will Leave You Spoilt For Choice
Inspired by this list of hostels in Plovdiv? A stay at any of these hostels will ensure a wholesome and fun experience, meeting other travelers and swapping stories, without burning a hole in your pocket! Don't wait any longer; book that trip to Europe and visit Plovdiv in Bulgaria on your holiday!
---
Looking To Book An International Holiday?
Book memorable holidays on TravelTriangle with 650+ verified travel agents for 65+ domestic and international destinations.
---