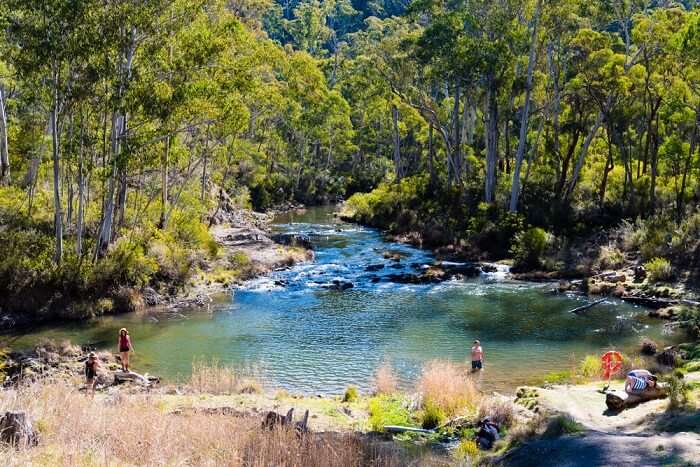 The country down south is full of natural wonders and surprises. The hot springs in Australia are nature's gift to the Aussies for they can take a relaxing hot bath any time they want. Surrounded by the Indian and Pacific oceans, Australia is a sovereign country which includes the beautiful island of Tasmania and the mainland of the Australian continent. Australia is considered to be the world's sixth largest country by area. Australia has a few beautiful cities and several small cities to offer a lot to its tourist. Some of the prominent cities of Australia are Sydney, Canberra, Melbourne, Perth, Adelaide, and Brisbane.
A hot spring is a naturally heated water that rises from the Earth's crust. Some of the springs are open for visitors that contain water in a safe temperature for bathing while others are dangerous and not allowed to get nearby. Australia has abundant of natural hot springs which attract tourists to come to this land of excitement and Kangaroos.
Best Hot Springs In Australia
Here are a few of the hot springs in Australia that have been acting a magnet to the Aussies and tourists from all over the world. Scroll down to know what's in store for you here!
1. Hepburn Springs
This hot spring is among one of the few historical bathhouses in the area and it was established in 1895 which is one of the oldest. This is a five star rated villa provides a bundle of revitalizing activities for the body and soul. The visitors get the one of the best experience through its ancient themed spa and natural mineral bathing, Sanctuary Retreat being the highlight of the place. Visitors can also spend overnight relaxing accommodation after the refreshed bath.
Must Read: New Year In Australia: Welcome The Upcoming Year Before Anyone Else Only Here!
2. Mornington Peninsula Hot Springs
This alluring hot springs in Melbourne, Australia is situated in the middle of the beautiful Mornington Peninsula and is known for its great spa sessions. The hot spring is located amidst the beautiful and serene habitat of South Melbourne. This one of the most talked spring water is made with the rugged caves and rock pools with pure thermal mineral waters. Built by the brothers Charles and Richard Davidson, this hot spring is inspired by the Japanese bathing culture. The place is amidst the green land which guarantees a joyful journey from outer to the inner self. Drench your soul in this beautiful hot springs in Melbourne Australia.
---
Australia Honeymoon Packages On TravelTriangle
Go on a luxurious honeymoon trip to Australia and witness the best of marine life at the Great Barrier Reef. Indulge in Australia's aquatic experiences, go for nature walks, and get the best of food & wine. Find best honeymoon deals offered only on TravelTriangle.
---
3. Deep Blue Geothermal Baths
This exotic hot springs in Victoria Australia with the facility of the spa is located in Warrnambool in Victoria's West. The place contains a pool which has from the ancient underground source called Dilwyn Aquifer. Established in the 19th century, this hot spring is considered as one of the open geothermal mineral pool with the facility of four private hot mineral pool rooms.
Suggested Read: Snorkeling in Australia: 10 Best Spots For Enjoying The Aussie Snorkeling
4. Dalhousie Springs
This is the vast hot springs in Blue Mountains Australia. Dalhousie springs consist of nearly 60 natural hot springs. The local indigenous tribes considered this as a sacred place due to the tree-lined, deep blue bunch of thermal worthiness. The place is located 500 km away from Alice Springs in the mid of the country within Witjira National Park.
5. Mataranka Thermal Pool
This is one of the most beautiful natural hot springs in Australia. The highlight of this pool is its underground mineral water which drives a good amount of pleasantly warm water into the pool. Situated at Elsey National Park, this is an exotic place covered with tall palm and lush green bushland. The eye-catching view of the pool makes it difficult for the visitors to stay away from the pool, the soothing water, and natural decor makes it a place rejuvenating for mind, body, and soul.
Suggested Read: 10 Best Australian Cafes For Those Big Time Foodie Travellers
6. Bitter Springs
Located in Mataranka region, this is one of the few natural thermal clusters of this region. The spring is deep and advisable only for adults and not children. Because of the slow currents, the swimmers can follow the water up to 100 meters which would be the reason it said to be not suitable for small children. The place is perfect for the water enthusiast, suitable enough to excite the traveler by its essences and thrill.
7. Douglas Hot Spring Park
The Park is also known as the Tjuwaliyn Hot Spring Park which is made up of different natural thermal pools like a small oasis. The place is perfect for an adventure enthusiast as the Park consists of different local species like bandicoots, flying foxes, and quolls. Availability of warm wells amidst of dry woodland is also a major factor that this park attracts adventurous travelers.
Suggested Read: Drop Everything And Head To These 9 Islands Near Australia Now
8. Katherine Hot Springs
This is a suitable place for a group of travelers looking for leisure time enjoyment. Arrange a get-together or a picnic in the area and enjoy a fun time with your loved ones. The hot spring is nearby the small town Katherine and hence it gets its name. The temperature of the place makes it an all-time favorite destination for its travelers but winters are highly recommended to visit this hot spring.
9. Innot Hot Spring
The place is considered of Hot spring and a leisure & Health Park which have a total of six public pools. The main attraction of this place is its feature that tourists are invited here to bottle their own water. Travelers can go on a digging experience where they have a shovel and dig for thermal spring water. What adventure it is!
Suggested Read: Scuba Diving In Australia: 10 Best Spots For Indulging In Diving Activities
10. Moree Artesian Baths
This place is located in South Wales which is a suitable destination for the family vacation. Moree Artesian Baths include Water Park for the children and an Artisan soak and Sauna retreat for the adults. The place also consists of a well-equipped gym, group fitness classes, and an Olympic pool. Soak yourself in a rejuvenating treatment of sauna and healing thermal spring water in this beautiful place. Having your family by your side is always a pleasure, isn't it?
11. Blue Mountains Sparadise
Hot springs in Blue mountains Australia are inspired by the Japanese settings. The destinations allow its travelers to enjoy the warmth of a herbal steam bath in mineral-rich water before heading to the Zen Garden. One can see the impact of Japanese architecture in its hotel rooms also which are old Tudor styled and adorned with Japanese futon beds and sliding doors.
Suggested Read: Great Barrier Reef In Australia: An Exquisite Guide For An Amazing Destination!
12. Lightning Ridge Bore Baths
The water reservoir of this place is considered to be almost two million years old, which makes this hot spring as one of the most talked ones in the rest. Its water comes from one of the largest and deepest artesian basin called the Great Artesian Basin. The temperature maintains in between of 40 to 50 degrees Celsius makes it perfect for the tourist to visit any season.
Further Read: Paragliding In Australia: 10 Best Places For Touring The Australian Sky
There are many options of hot spring parks in Australia. No wonder why the place is among the favorite destination to explore for many travelers. Book your trip to Australia and head out to the amazing hot spring parks to enjoy a rejuvenating bath.
---
Looking To Book An International Honeymoon?
Book memorable honeymoon on TravelTriangle with 650+ verified travel agents for 65+ domestic and international destinations.
---
Comments
comments