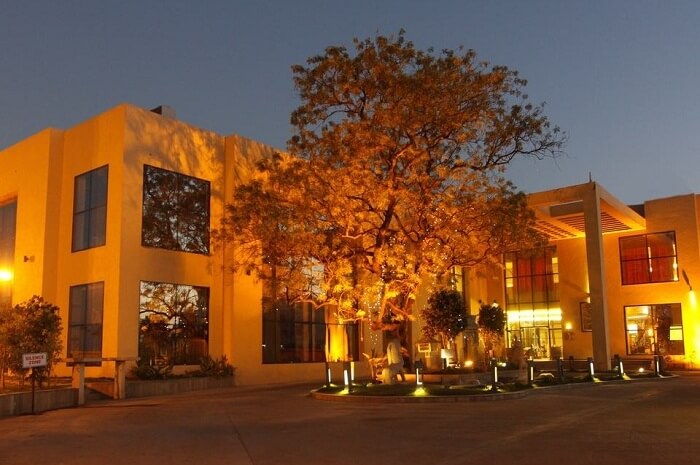 Shirdi is one of the most visited destinations in Maharashtra and for good reason. It's the home of Sai Baba whose devotees regard him as an avatar of Shiva. The town itself revolves around the spiritual master so that many of its attractions are tied closely to him. The Sai Baba temple draws numerous visitors every day as do the chawadi, Dwarakamayi and Maruti Mandir. Owing to the sheer number of visitors, the town has numerous accommodation options that cater to both budget and luxury travelers. You can also find 24-hour checkout hotels in Shirdi if you're only passing through. So if you're planning a visit to this holy town, here are some of the best stay options for you ranging from 5-star to affordable.
7 Best Hotels In Shirdi
1. Sun-n-Sand Shirdi

Suggested Read: 15 Absolutely Breathtaking Places To Visit In Monsoon In Maharashtra
Sun-n-Sand is one of the top class hotels in Shirdi near Sai Baba temple. It's five minutes away from the sacred site and only a kilometer from the railway station. The hotel offers guests four sophisticated room choices including standard, superior, studio and suite. Neutral color schemes with warm overtones create a comfortable space and let you relax completely.
The hotel features an outdoor pool, a children's play area, joggers' track and gaming machines to keep you entertained. It also has Shirdi's only Italian fine dining restaurant called Little Italy. The coffee shop, Checkers, serves delicious vegetarian delights and also has an a la carte menu.
What's special: It ranks among the best hotels in Shirdi with a swimming pool. It's also minutes from Sai Baba temple
Suggested suite: Temple-facing Room
Address: Shiv Road, Nighoj Village, Taluka Rahata, Shirdi, Maharashtra 423109
2. Keys Prima Hotels Temple Tree

Image Source
5-star establishments aren't the only luxury accommodations here; you can also find 4-star hotels in Shirdi that are just as elegant. Keys Prima Hotels Temple Tree is one. Located right near Sai Baba temple, it features a small shrine on the premises.
The hotel is ideal for vacationers and people looking for same-day check-in and check-out as it has day bed facilities in addition to regular accommodation. Guests can choose between the lower priced Key Room and the spacious Junior Suite. Key Café, meanwhile, serves up a sumptuous fare of vegetarian items. The breakfast buffet instantly peps you up and if you're in a hurry, you can request for 'breakfast on the go', which is a nutritious mix of goodies. A hotel and indoor and outdoor play areas for children are a couple of other facilities to make your stay complete.
What's special: It's a great hotel in Shirdi for a family. It's also very close to Sai Baba temple
Suggested suite: Junior Suite
Address: Ring Road, Behind Sai Ashram, Shirdi, Maharashtra 423109
3. Goradia's Lords Inn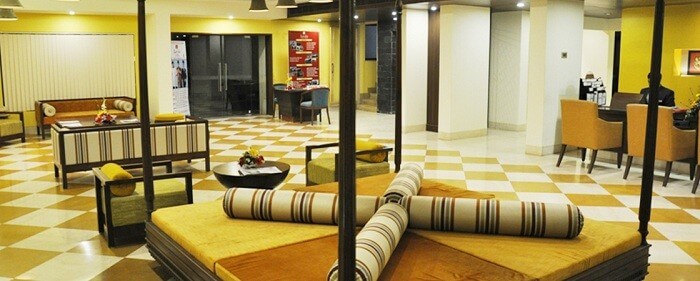 Suggested Read: Purushwadi Fireflies Festival, June 2017: See A Million Fireflies Dance, Just 4 Hours From Mumbai
Travelers looking for affordable yet luxury Shirdi accommodation need go no further than Goradia's Lords Inn. It's one of the few upscale hotels near Shirdi temple with tariffs that are pocket-friendly. Guests can enjoy free Wi-Fi and a complimentary breakfast as well as avail car rental services and request sightseeing tours.
Goradia's Lords Inn provides guests with a multi-cuisine restaurant that has a la carte dining options and buffets with north India, continental and Chinese cuisines.
What's special: Affordable accommodation with a taste of luxury
Suggested suite: Deluxe Double Room
Address: Off Pimpalwadi Road, Shirdi, Maharashtra 423409
4. St Laurn Meditation & Spa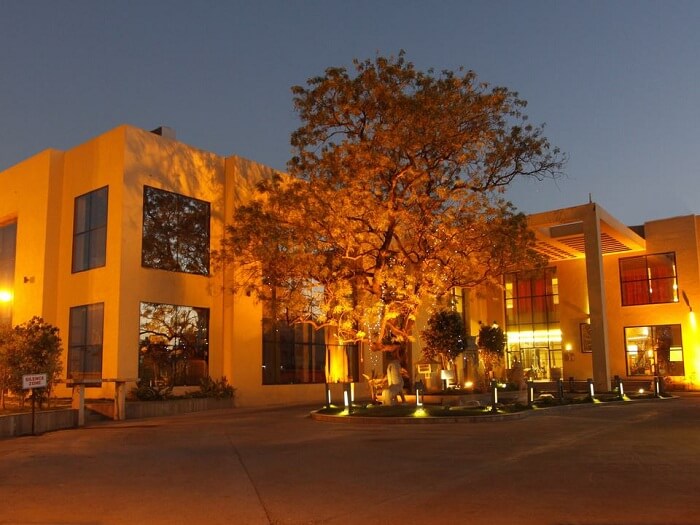 Image Source
Travelers looking for 5-star hotels in Shirdi won't be left disappointed. There are several choice options, one of them being St Laurn Meditation & Spa. The classy establishment boasts tastefully designed rooms, a multi-cuisine fine dining restaurant called Café Lotus and the Leaf Spa where all your pampering requirements are met through Ayurvedic, European and Oriental therapies. It also has an outdoor swimming pool surrounded by a manicured garden.
St Laurn Meditation & Spa is one of the 5-star hotels in Shirdi near the temple, which is just 850 meters away. It's also close to Gurusthan, Sai Baba's chawadi and Maruti Mandir.
What's special: It's among the most premium hotels in Shirdi near the temple
Suggested suite: Premium Room Deluxe
Address: S. No. 5/19, Rui- Shiv Road, Shirdi, Maharashtra 423109
5. Hotel Sai Leela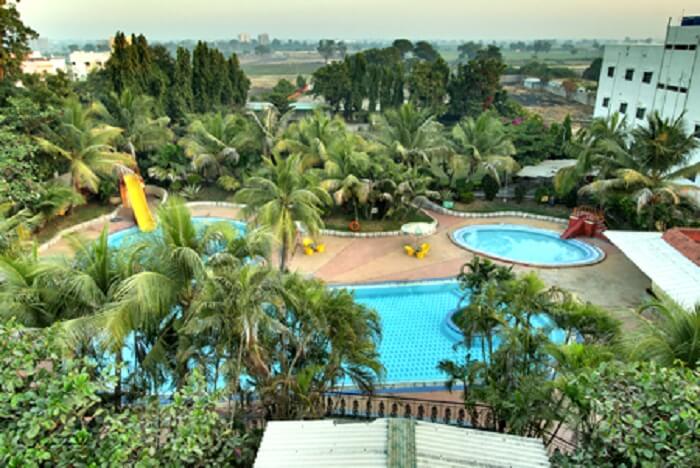 Suggested Read: 10 Tarkarli Resorts For A Kickass Budget Beach Vacation
There are numerous budget hotels in Shirdi near the temple and top among them is Hotel Sai Leela. It's popular among travelers looking for fuss-free accommodation without compromising on comfort and modern amenities. The rooms are simple yet stylish and boast a homely ambience. There are four options to choose from including A/C Double Room, Deluxe A/C Room, Villa A/C Room and Non A/C Double Room, each with its own appeal.
Hotel Sai Leela is one of the few good hotels in Shirdi that balances affordability with great facilities. It has an outdoor pool with side pools and a small waterpark, a children's play area, and a garden where you can sit with a hot cup of tea and savor tasty snacks. Foosball and table tennis are available too in case you want to spend time indoors.
What's special: Fuss-free accommodation with a range of facilities
Suggested suite: Double Room
Address: No. 9/5A, Pimpalwadi Road, Ahmednagar District, Shirdi, Maharashtra 423109
Tariff: INR 2,650 per night
Website
6. Hotel Sai Grand Castle Inn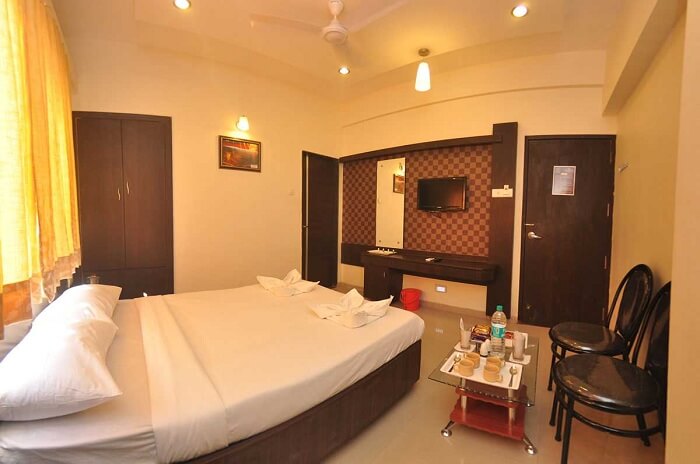 Image Source
Hotel Sai Grand Castle Inn is a budget hotel in Shirdi that aims to provide its guests with a comfortable stay. The rooms are modern and fitted with amenities to meet every need. Guests traveling with families will appreciate the choices on offer including the Executive Triple Bedroom, the Executive Four Bedroom and Executive Five Bedroom. Free pick-up and drop services for temple visits are also offered.
What's special: It's ideal for families and is among the good hotels in Shirdi near the temple with rates that are very reasonable
Suggested suite: Executive Triple Bedroom
Address: Pimpalwadi Road, Lane of Vijaya Bank, Shirdi, Ahmednagar, Maharashtra 423109
7. Sai Laxmi Hotel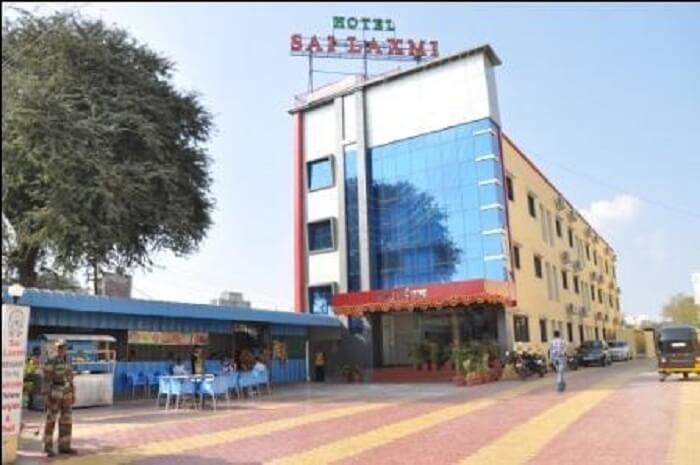 Suggested Read: 13 Places In India You Must Visit With Your Family
Travelers searching for hotels in Shirdi near the temple within Rs 600 will find that Sai Laxmi Hotel serves their needs perfectly. The no-frills establishment is suitable for people looking for comfortable quarters with no demands on luxury. The rooms and amenities are basic but more than sufficient to ensure a comfortable stay. The hotel is about three kilometers from Sai Baba temple but finding transportation is not a problem.
What's special: It's a cheap hotel in Shirdi and perfect for budget travelers
Suggested suite: Double Bed Non A/C
Address: Behind Nagar Panshayat, Kankuri Road, Shirdi, Maharashtra 423109
Tariff: INR 600 per night
Now that you know all about the best hotels in Shirdi, we hope you will have the spiritual experience along with the comfort and luxury you always desired. Perfect combo, right?
Comments
comments