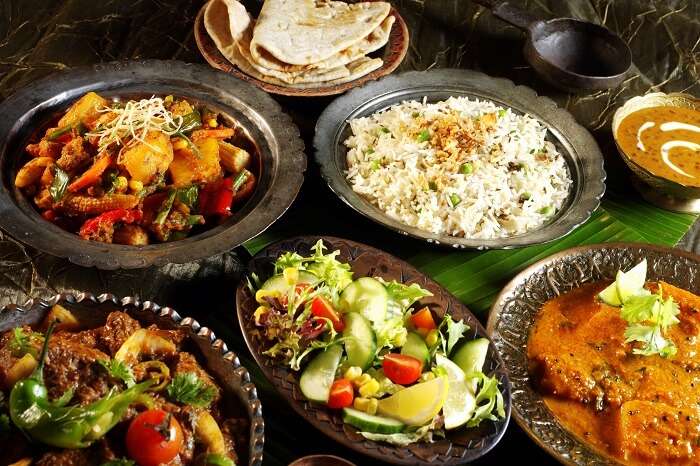 France seeks attention of its visitors from worldwide due to several reasons. Each of its cities is full of enthralling locations for the tourists to explore the rich cultural heritage of France coupled with modern developments. We strongly suggest you to visit Indian restaurants in Bordeaux, a quaint French city, for tasting delicious desi dishes.
Top 9 Indian Restaurants in Bordeaux
The annual Vinexpo wine fair has made Bordeaux a household name. Wine production remained in practice here since the 8th century. Imagine sipping a glass of chardonnay at one of these 9 Indian restaurants in Bordeaux with desi dishes on the side:
1. Le Rajwal

Image Source
Whether you're looking for the finest North Indian food or traditionally made South Indian dishes, you get them all in Le Rajwal restaurant in Bordeaux. The food is served in a purely traditional style. The waiters are well versed in English, French and regional Indian languages to make you feel at ease. This restaurant remains a popular name in this area for its tasty and delicious Indian recipes. Besides quality food, its charming decor will urge you to spend as much time possible as you can within its premises.
Must try: Lamb Vindaloo, Chicken Curry, Veggie Curry, Naan, Mint Sauce, Garlic Naan, Saag Paneer, Samosa, Biryani, Kulfi, Gulab Jamun
Location: 17 Rue des Faussets, 33000 Bordeaux, France
Cost for two: INR 906/-
Google rating: 4/5
Must Read: 10 Mountains In France To Add In Your Itinerary When Planning An Adventurous Trip
2. Le Rajasthan

Image Source
Le Rajasthan is a one-stop center to taste various North Indian delicacies. This restaurant welcomes the Indian community and the rest of the Asian diners, besides a good number of locals, to hog on yummy North Indian food. From select few pan-Indian recipes to India's traditional cuisines, this restaurant serves everything you could possible think of. Its soft spoken, friendly and courteous staff makes you feel at ease by conversing in English, French and even select few Indian languages.
Must try: Mix Pakora, Samosa, Poulet Pika, Poulet Chai Gourmand avec son riz, Poulet Biryani, Poulet Tikka Massala, Kheer, Kulfi, Curries, Chicken Masala
Location: 44 Quai Richelieu 33000 Bordeaux, France
Cost for two: INR 1400/-
Google rating: 4.4/5
Suggested Read: Chateaus In France: Stay Amid The Majestic Structures Of The Land
3. Punjab

Image Source
Punjab restaurant in Bordeaux, France is a popular eating joint which brings you great fine dining choices to explore the best of Punjab and North Indian cuisine. Its authentic recipes are prepared under the guidance of expert chefs. They strictly use original Indian spices and also go for local fresh ingredients. This air-conditioned eatery with its beautiful look and facilities for the privatized dining facility welcomes its diverse categories of diners. All the staff are properly trained to converse in English, French and even Indian languages. You are assured the best of hospitality here.
Must try: Poulet Tikka, Seekh Kebab, Samoussa de legumes, Poulet Shahi Korma, Agneau Punjabi, Pista Kulfi, Lassis Sucre, Firini, Wines
Location: 39, rue Saint Rémi 33000 Bordeaux, France
Cuisine: Indian
Cost for two: INR 1500/-
Google rating: 3.6/5
4. Koh I Noor

Image Source
This restaurant is highly concerned about the use of Indian spices and thus ensures using local and fresh ingredients to maintain the perfect aroma of recipes. The affordably priced recipes seek the attention of Indian community, besides the diners represented by other Asian nationalities. Often locals visit the restaurant for starters and drinks. The staff is friendly and courteous and they speak both French and English. Many of them love speaking in Indian regional languages to make the guests feel welcome.
Must try: Meat Samosa, Pakora, Salade Raita, Boeuf Keema, Boeuf Massala, Poulet Tandoori Massala, Gulab Jamun, Semoule Halwa, Salade de fruits, Poulet Tikka Masala, Biryani, Wines
Location: 3 Rue du Puits Descujols 33000 Bordeaux, France
Cost for two: INR 1895/-
Google rating: 4/5
Suggested Read: 13 Festivals In France That You Cannot Afford To Miss On Your Visit To L'hexagone In 2022
5. Le Taj Mahal

Image Source
Named after the famous landmark in India, the historic monument of Taj Mahal, the popular Le Taj Mahal restaurant in Bordeaux is a symbolic representation of the great food from India served to food lovers. This restaurant offers ample North Indian dishes besides a good chunk of other recipes which are popular throughout India. To maintain the original aroma and authenticity of the dishes served, its chefs take special care in selecting the freshest ingredients and spices. It is perhaps the primary reason that this restaurant is always thronged by Indians, other Asian nationals and also good chunk of French foodies.
Must try: Poulet tikka, Mixed Pakora, Agneau Seekh, Poulet Taj Mahal, Agneau Shahi Korma, Crevettes Malai, Pista Kulfi, Indien Halwa, Hot Gulab Jamun, Wines
Location: 24, rue du Parlement Sainte-Catherine 33000 Bordeaux, France
Cost for two: INR 1400/-
Google rating: 3.6/5
Suggested Read: Scuba Diving In France: Get Your Gear Out For A Transcendent Underwater Experience
6. Malabar

Image Source
Malabar Restaurant in Bordeaux, France is named after the famous Malabar region in Kerala. This restaurant remains a perfect place in France to taste great recipes from the South Indian cuisines. They serve authentic dishes and also ensure you receive personalized care. The staff is friendly and speaks French, English and multiple South Indian languages.
Must try: Samosas, Poulet épicé, Curries, Naan, South Indian Delicacies, Wines
Location: 7 Rue des Ayres, 33000 Bordeaux, France
Cuisine: Indian, Traditional
Cost for two: INR 1480/-
Google rating: 4.8/5
7. Le Maharajah

Image Source
As the name of the Le Maharajah restaurant in Hindi language suggests, it is the 'King of the Kings.' When it comes to serving Indian recipes, this restaurant offers many authentic dishes which are given a modern twist to suit the palate of French locals. Mainly thronged by the Indian community in France, this restaurant welcomes its guests from the rest of Asian nations as well as locals who are willing to explore Indian cuisine. Its ambiance is an embodiment of Indian culture and traditions.
Must try: Oignons Bhaji, Aubergines Bharta, Pâtisserie Maison, Wines
Location: 21 Rue Saint-Rémi, 33000 Bordeaux, France
Cost for two: INR 1750/-
Google rating: 3.6/5
Suggested Read: French Coastal Towns: A Breathtaking Journey Along France's Mesmerizing Coastline
8. Au Palais Indien

Image Source
The beauty of Au Palais Indien Restaurant is in its French-styled yet authentically Indian food. Several dishes from the Indian cuisine have been given a modern twist to cater to a plethora of Indians, Asian nationals and of course French people willing to taste some Indian recipes. It is a great place to taste cheap yet delicious Indian recipes. The facilities such as privatized dining, English and French speaking staffs, and wheelchair accessibility makes in-dining a strong suit of the restaurant.
Must try: Beignets Mixtes, Samosa légumes, Poulet Tikka, Poulet shai, Keema Aloo, Vegetable Biryani, Halwa, Riz au lait, Salade de fruits frais, Wines
Location: 67 Rue Paul Louis Lande 33000 Bordeaux, France
Cost for two: INR 1400/-
Google rating: 3.2/5
9. Vinayaka

Image Source
Located in a comparatively rushed yet calm area Vinayaka offers finest Indian recipes that urge taste buds to visit here again and again. Professional chefs ensure that flavor and aroma of high quality food is maintained since the cooking stage till being served to guests to enjoy them. Almost all recipes are prepared spicy but they are loved by the guests. The restaurant has friendly and courteous bilingual staffs fluent in French and English languages. They promptly solve issues, if any.
Must try: Tandoori Chicken, Indian Curries, Vegetable Curry, Naan, Gambas Tandoori, Agneau Tikka, Beignets de crevettes, Agneau Madras, Poulet Korma, Boeuf Vindaloo, Suji Halwa, kulfi, Lassis
Location: 13 Rue des Augustins, 33300 Bordeaux, France
Cuisine: Indian, Traditional Vegetarian Friendly
Cost for two: INR 1400/-
Google rating: 3.4/5
Further Read: 10 Exotic Wildlife In France That You Can Spot On Your Vacation
On your trip to France, you will find a plethora of Indian restaurants in Bordeaux. Besides having a chance to taste yummy delicacies from authentic Indian cuisine, you also get to taste Bordeaux's best selling wines which are recognized globally. Make sure to stop by in this city on your French trip and don't forget to taste these culinary delights.
---
Looking To Book An International Holiday?
Book memorable holidays on TravelTriangle with 650+ verified travel agents for 65+ domestic and international destinations.
---