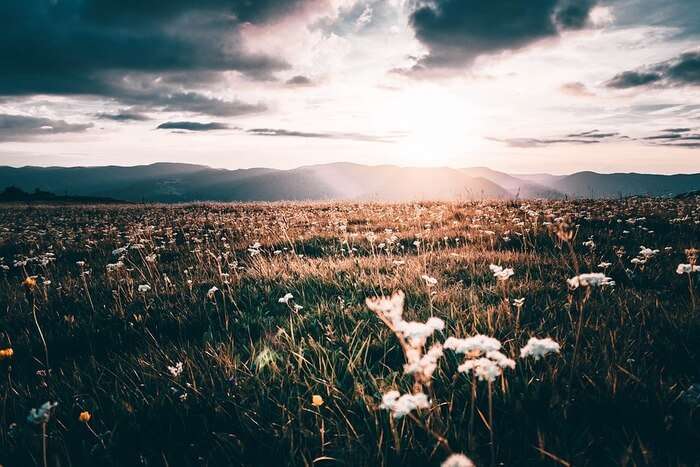 Whenever there is a conversation about Mountains in France, one is inevitably reminded of the Alps and more specifically, Mont Blanc. Apart from these, there are a number of mountains in the country that are definitely worth a try. Owing to its beautiful mountains, this country of glamour can be one of the favorite destinations for adventurists too.
Best Time For Climbing Mountains In France
France is a country of beautiful mountain ranges that promise spine-chilling adventure with every visit. However, from June to September, you get a chance to check a bunch of mountains off your wishlist without risking much. The winter months, however, get harshly cold and create hindrance while climbing, accompanied by the risks that snow brings along with it.
List Of 10 Mountains In France
France is a country with surreally scenic mountains. If you're a mountain person and planning your next hiking trip to this country, then scroll through to get a hang of different facts of mountains in France.
1. Mont Blanc
2. Aiguille Verte
3. Mourre Nègre
4. Montagne Sainte Victoire
5. Cirque de Gavarnie
6. Pic du Midi
7. Jura Mountain
8. Hohneck
9. Puy de Sancy
10. Monte Cinto
1. Mont Blanc
This mountain range is at a height of 4,810 meters and happens to be Europe's highest peak and one of the most famous mountains in France. Climbing the summit of Mont Blanc can be as difficult and exciting as it could get. The Northern Alps are also well known for the breathtaking mountain view and hiking opportunities. Till about 170 kilometers around the mountain, extends the Tour du Mont Blanc, a network of hiking spots around the area. The whole tour might take around two weeks to complete. You also have multiple starting points and huts for rest and refreshment.
Must Read: French Coastal Towns: A Breathtaking Journey Along France's Mesmerizing Coastline
2. Aiguille Verte
Other important mountains in France to climb include the ones surrounding Mont Blanc. The Aiguille Verte stands at an altitude of 4,122 meters and is a steep climb. However, the months between June to September ensure less difficulty in hiking. The town of Chamonix is one of the most popular base camps. The hotels in this region can turn out to be a little expensive during the months of skiing whereas you can definitely have a budgeted visit during the offseason.
3. Mourre Nègre
Mourre Nègre happens to be the tallest peak of Luberon massif. However, the 1,125-meter summit is a relatively gentle ascent known for its round shape and pine trees bordering the slopes of the region. Even though the area around Luberon Regional Nature Park is not a famous tourist spot, it has been enlisted in UNESCO and is found on the Haut-Vaucluse region of Provence. The area is rich in heritage and historical backgrounds of villages and towns.
Suggested Read: Scuba Diving In France: Get Your Gear Out For A Transcendent Underwater Experience
4. Montagne Sainte Victoire
The list of mountains in France also consists of the unforgettable name towards the further south of Aix-en-Provence and Marseille that is, the Montagne Sainte-Victoire. This mountain range, too, is famous for the amazing climbing opportunities. The temperature of this region barely ever goes below the freezing point even during the peak winter months. The summers can be as hot as 35°C. However, the land is frequented by strong Mistral winds.
Paul Cézanne, the famous artist has had a house facing these mountains and had painted it multiple times.
5. Cirque de Gavarnie
This region forms a picturesque barrier between France and Spain, extending about 430 kilometers between the Mediterranean and Atlantic oceans. Cirque de Gavarnie is located within the Pyrenees National Park and happens to be another UNESCO World Heritage Site of France. The landscapes here are lush and green and the slopes are gentle. Thus, making it a surprisingly easy climb. The village of Gavarnie trail goes up through the valley alongside clear mountain streams and waterfalls. It is also famous for a glacier that has an attitude of approximately 3,000 meters.
Suggested Read: 13 Festivals In France That You Cannot Afford To Miss On Your Visit To L'hexagone In 2022
6. Pic du Midi
This tall mountain in the Pyrenees is famously known for the astronomical observatory at its summit. During the Apollo missions, it was this summit that made the base of NASA scientists who mapped the surface of moon. The complex domes and towers of this area also serve as a hotel and museum. People usually confuse Pic du Midi with another mountain in the west known by the name of Pic du Midi d'Ossau.
7. Jura Mountain
Jura mountain of Grand Colombier is a gentle slope, offering an easy climb. This mountain range forms the border of France and Switzerland. This mountain is the highest summit of this area and has an altitude of 1,534 meters with an unforgettable view of the Lac du Bourget just below and the Alos in distant background. Mont d'Or of the same range is again, one of the most famous mountains in France. This mountain is known for its structure that suddenly disappears into a stone wall.
Suggested Read: 10 Exotic Wildlife In France That You Can Spot On Your Vacation
8. Hohneck
The historical Alsace region has the Vosges mountains spread across seven departments of northeastern France. The region is frequented with villages and hamlets and many parts of it have been marked as UNESCO biosphere reserves. Hohneck is the third highest peak, which is largely covered in forests. Hohneck mountain has an altitude of 1,364 meters. A mountain hut with miles of the radius is situated at the summit of this mountain and a webcam is placed to constantly keep the top view in check. This is a must visit if you're planning your climbing trip to France.
9. Puy de Sancy
Puy de Sancy includes the most spectacular mountains in France for skiing and climbing in the elevated region of central-south of the country, Massif Central. The mountain is a part of a stratovolcano that has been inactive for thousands of years. Skiing is the most popular activity in the northern and southern ends. This region is popular because of the various opportunities that it provides for amateur skiers and climbers. Chalet town happens to be the shelter for the skets who visit this region. The mountain range is easily accessible with the availability of cable cars and tandem lifts. This mountain sources the Dordogne river which is formed by the convergence of two smaller streams which are known as Dore and Dogne.
Suggested Read: 21 Best Places To Visit In France In Winter 2022 For A Blissful Holiday Experience!
10. Monte Cinto
The highest peak along the GR20 trail is the Monte Cinto which has an altitude of 2,706 meters. GR20 trail surrounds the island right from the northern till the southern end. The hiking route which is enough to send chills down your spine takes you through wild and remote landscapes. This also includes amazing view over the rugged mountains and the Mediterranean Sea. This trail is strictly for experienced mountaineers and should certainly be avoided by beginners.
Further Read: France Nightlife: Learn The French Way To Get High On Life
Mountain climbing in itself is an adventurous activity and not many people get to check it off their list. A lot of factors such as weather, health as well as budget determine the possibilities of it. However, mountains in France offer you with a lifetime experience and if you do understand this, then an adventurous trip to France is all you need. Happy climbing!
---
Looking To Book An International Holiday?
Book memorable holidays on TravelTriangle with 650+ verified travel agents for 65+ domestic and international destinations.
---