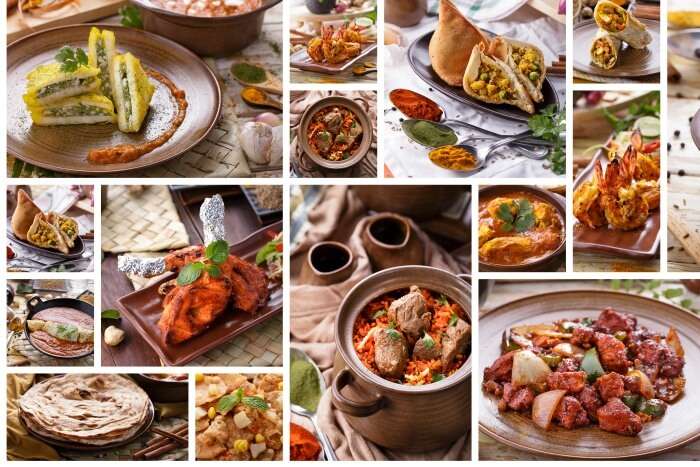 Poland is a beautiful country located in Central Europe. The country is full of tourist locations that one can enjoy at. There are cozy little cafes, graceful sites, coastal beaches, lake districts, lush forests, and much more.
While travelling and relishing the local cuisines, it is natural for one to feel like having the cuisine of their own country. Not often does it happen that you stumble upon restaurants that serve Indian dishes. However, there a number of Indian restaurants in Poland that you can visit and have your cravings satiated at.
14 Indian Restaurants In Poland
When you are exploring a new country, getting stuck in the search for the right restaurant becomes a bummer. So, for your convenience, we have compiled a list of some of the best Indian restaurants in Poland.
1. Buddha Indian Restaurant

The Buddha Indian restaurant is known to serve best of authentic Indian dishes here in Poland. The place also serves Thai food. So while you enjoy Indian food, you can also enjoy the Thai cuisine as well. The quantity served here is good.
Address: Nowy Świat 23, 00-029 Warszawa, Poland
Phone: +48 22 826 35 01
Must try: butter chicken, vindaloo
Google rating: 4.4
2. Bombay Masala

The vibe and atmosphere matter as much as the taste of the food for any restaurant to be considered as a good place. Bombay Masala has it all thus it is a must-visit place for having some authentic Indian food.
For parents travelling with their tots, this place is a blessing because the Bombay Masala has got a separate kids menu from which they can choose anything to eat.
Address: al. Jana Pawła II 23, 00-854 Warszawa, Poland
Phone: +48 22 653 96 00
Must try: naan, chicken dishes
Google rating: 4.5
Must Read: 8 Best Hostels In Poland That Will Help You Become A Smart Traveler!
3. Namaste India

Namaste India restaurant is a great place to enjoy some authentic Indian food. The food will not seem like it is being made in a country other than India, it tastes exactly like what you will get in any Indian restaurant.
They have a huge variety of dishes to choose from. The dishes are customizable according to your preference. The ambience of the place is good too.
Address: Nowogrodzka 15, 00-511 Warszawa, Poland
Phone: +48 22 357 09 39
Must try: Tandoori naan, starters
Google rating: 4.4
4. Bollywood Lounge

Bollywood is a huge part of Indians or it might not be too farfetched to say that Bollywood is almost like a part of the Indian culture.
Now, what if we tell you that there is a place right here in Poland which combines two of the best things of India? Bollywood Lounge serves Indo-Chinese fusion dishes with foot tapping and dance worthy bollywood songs being played by the DJ. The atmosphere here is enthralling and great for those who prefer a party-like vibe.
Address: Nowy Świat 58, 00-363 Warszawa, Poland
Phone: +48 22 827 02 83
Must try: Indo-Chinese Cuisines
Google rating: 4.2
Suggested Read: 8 Best National Parks In Poland For Reviving The Child In You!
5. Mr. India Restauracja

The place exudes India! This is evident from the name of the place itself as well as the food. The food served here is aromatic and full of flavor. The hospitality of the place is quite appreciable.
The rates are quite good considering the quality of food served, which is amazing.
Address: Aleja Komisji Edukacji Narodowej 47, 02-797 Warszawa, Poland
Phone: +48 22 213 06 89
Must try: dosa
Google rating: 4.5
6. Tandoor

the Indian cuisine differs a lot in terms of ingredients used and the style of preparation. At Tandoor, you get a great taste of authentic Indian food. The interiors are also done beautifully in an Indian style.
The staff knows the dishes they are serving and hence are a great guide in helping you decide from the menu.
Address: Marszałkowska 21/25, 05-007 Warszawa, Poland
Phone: +48 22 825 23 75
Must try: butter chicken, daal makhani
Google rating: 4.3
Suggested Read: 10 Best Festivals In Poland That Showcase The History And Traditions Of This Country!
7. Hindus

While travelling, a lot of money is spent on the food. But at times the money paid does not seem worthy for the food you get. At Hindus, the prices of the dishes are quite less as compared to many of the restaurants and at a low price, you get flavorsome Indian dishes.
The food is neither too oily nor too spicy, hence making it a perfect place to eat some authentic Indian food. There are some specials on the menu every day.
Address: Lipowa 7, 30-702 Kraków, Poland
Phone: +48 502 822 377
Must try: chicken tikka masala
Google rating: 4.7
8. Kalyan Indian Restaurant

If you are an Indian food lover looking for Indian vegetarian restaurants in Poland, you are going to love this place. The Kalyan Indian restaurant serves authentic Indian food which is both appetizing and delicious. At this place, the vegetarians are going to find great options.
Address: Janusza Meissnera 1/3, 03-982 Warszawa, Poland
Phone: +48 22 404 92 39
Must try: matar paneer
Google rating: 4.5
Suggested Read: 10 Incredible Beaches In Poland To Let Nature Soothe You Down!
9. Zayka

When you are travelling with kids, you have to take special care about their food requirements and make sure that the food is of top notch quality. If you are in Poland with your kids and are an Indian cuisine fan, then you have to visit the Zayka Restaurant which is a perfect place for the entire family and is also kid friendly.
The best part about this Indian restaurant in Krakow, Poland is that it is very well priced. The staff is friendly and will make you feel at home.
Address: Bolesława Limanowskiego 46, 30-551 Kraków, Poland
Phone: +48 508 786 855
Must try: biryani
Google rating: 4.7
10. Indian Masala

Indian Masala is a place that you should visit if you love traditional Indian food. They know the recipes well and you will not once question the taste of the dishes served, they are that good.
The place is perfect for those who are travelling with their families, as they have a lot of options for everyone. We all know that spicy food is the charm of Indian cuisine but at Indian Masala, you can tailor the spice in the dishes, according to your needs and preferences. The staff too is very accommodating.
Address: Mały Rynek 2, 31-041 Kraków, Poland
Phone: +48 12 421 47 56
Must try: aubergine curry, chicken tikka masala
Google rating: 4.3
Suggested Read: 9 Best Castles In Poland That Will Take You Back To Fairytale World
11. Swagat Indian Restaurant

Indian spices are identifiable by the aromas used in the dishes and as you enter the Swagat Indian restaurant, you will be greeted with wonderful aroma of the dishes. This is quite a welcome, isn't it?
The place serves exceptional food which is reasonably priced, so that you can enjoy a lot of delicious food without the guilt of spending too much money!
Address: 57, Jana Kazimierza, 01-259 Warszawa, Poland
Phone: +48 22 241 59 98
Must try: chicken dishes
Google rating: 4.6
Suggested Read: Wildlife In Poland: 9 Popular Animals In The Country You Must Witness
12. Mandala

This place is perfect for having some fusion in food. You get a variety of Indian dishes which and prepared with utmost love and has some great taste. Full marks on the preparation done by the chef of The Mandala restaurant.
The location might be a little difficult to find. The place has terrace seating too, so that you can enjoy the fresh breeze with some mouth-watering dishes.
Address: Emilii Plater 9/11, 00-669 Warszawa, Poland
Phone: +48 22 891 06 19
Must try: naan bread, curries
Google rating: 4.4
Suggested Read: 9 Best Churches In Lisbon That'll Make Your Portugal Holiday More Memorable
13. Taj India

The Taj India is a perfect place to enjoy some lip-smacking Indian dishes at Poznań. It is one of the popular Indian restaurants in Poznań, Poland. The entire place is beautiful decorated and the ambience seems very pleasant.
The portions served are really good and the prices of the dishes are also not steep.
Address: Wiankowa 3, 61-049 Poznań, Poland
Phone: +48 61 876 62 49
Must try: Chole
Google rating: 4.5
14. Bombay

If you want to have some flavorsome Indian dishes, you should try Bombay restaurant. The dishes have an authentic spiciness to them and you can taste it in every bite!
Address: Partyzantów 1, 70-222 Szczecin, Poland
Phone: +48 91 812 11 71
Must try: starters
Google rating: 4.5
Further Read: Summer In Poland: An Ultimate Guide For Planning A Chill Vacay With Your Loved Ones!
We hope that the list compiled by us would be helpful to you while preparing an itinerary for your Poland trip and will visit some of these places to enjoy mouth watering, authentic Indian food. Visit these Indian restaurants in Poland and give yourself a reason to come back to this country!
---
Looking To Book An International Holiday?
Book memorable holidays on TravelTriangle with 650+ verified travel agents for 65+ domestic and international destinations.
---