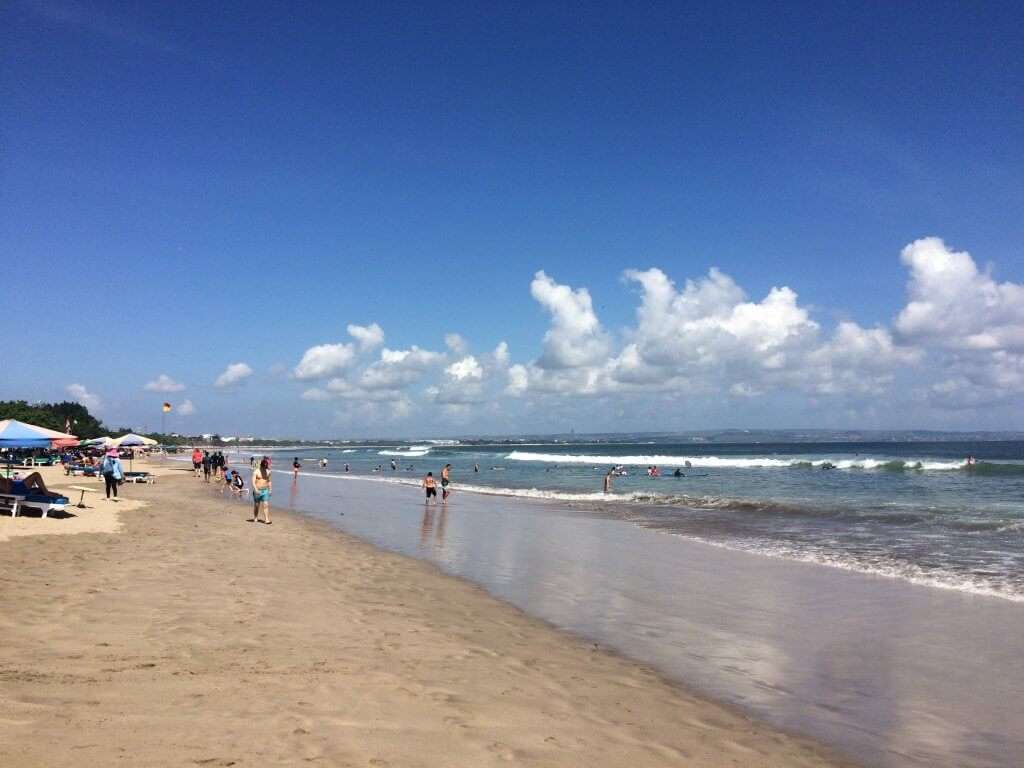 A popular beach holiday destination in Asia, Bali has all the perfect beach experiences that you can think of Pristine relaxing beaches, clear waters, thrilling watersports, breathtaking scenic views and a lot more. One of the most popular beaches on the island is the Double Six Beach Bali. Anyone visiting Bali must surely visit this place. And if this beach is not enough for you, head to the islands near Double Six Beach Bali to explore some more beaches.
About Double Six Beach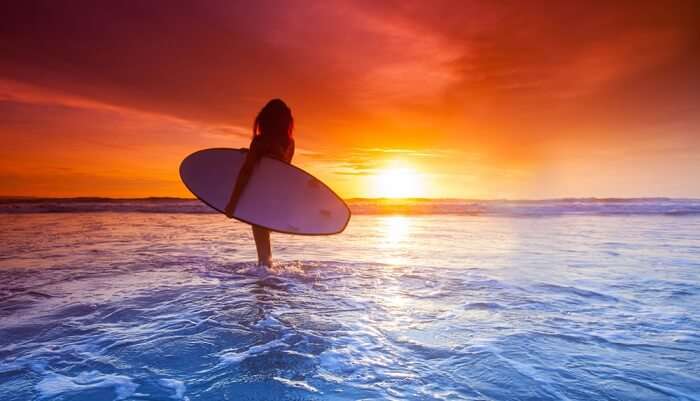 Double Six Beach is a part of Seminyak Beach and is the link between the Blue Ocean Beach, which is the extreme-northern stretch of Legian and Seminyak's extreme-southern beachfront. Double Six Beach extends 500-meters and has a parallel area that feature many happening bars and restaurants. The eateries here are open all day long so you can head to any of them whenever hunger strikes. Or you can simply go "restaurant-crawling" to taste different kinds of dishes and drinks. The beach is open to the public but you can freely access it if you are a guest at Legions resorts or hotels. This is one of the most popular beaches in Bali and also one of the few LGBT-friendly beaches on the island.
With a plethora of dining and partying venues, you shouldn't be worrying much about a things-to-do plan on the Double Six Beach. But you will surely get excited after knowing about the various activities that you can indulge on this gorgeous beach. If you are a surfing enthusiast, hit the beach during the early morning hours. This is the time when the waves are perfect for surfing activities. Surfboards are available on rent for anyone who is willing to experience this activity. There are surf schools also for any one interested in learning how to surf. The beach also a horse stable, located close to the Mesari Beach Inn. If you are interested in riding a horse, rent a horse and enjoy a ride by the beach. If you simply wish to relax on the beach, pick a sun lounger from a local, on rent. You can also enjoy a spa and massage treatment from a Balinese masseuse, easily available on the beach.
Location: Double Six Beach, Legian, Jl. Double Six, Seminyak, Kuta, Kabupaten Badung, Bali, Indonesia.
3 Islands Near Double Six Beach Bali
A good time to visit the Double Six Beach Bali and the islands nearby is during the dry season. Here are the pristine islands near Double Six Beach Bali for a holiday full of beaching:
1. Nusa Ceningan Island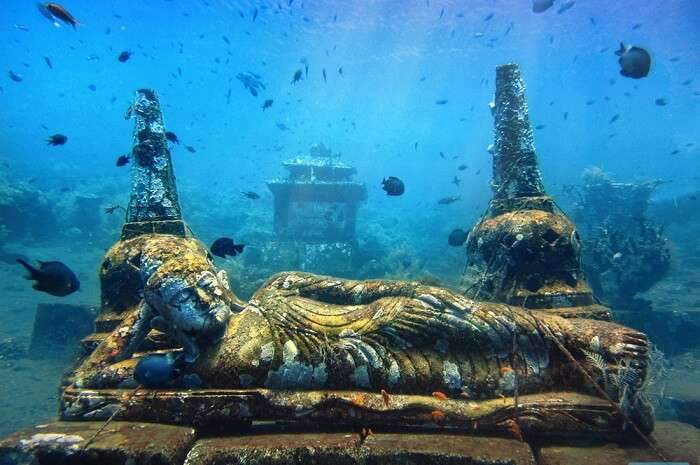 Image Courtesy: David Lazar
The smallest among the Nusa Islands, Nusa Ceningan is known for its rather exotic vibe that its beaches exude. Travelers usually combine a visit to this island with its sister islands, or just Nusa Lembongan, as the two are connected by an iconic yellow suspension bridge. Complete with vivid cultural features, picturesque coastal fishing villages, and seaweed farms, mangrove forests with turtle nesting beaches, and a Blue Lagoon, the beaches of Nusa Ceningan are definitely worth a trip on your holiday in Bali. Adrenaline junkies can indulge in a thrilling cliff diving session from Blue Lagoon or Mahana Point for merely INR 120/- per jump per person, while peace seekers and lovebirds can simply enjoy sweeping views of the ocean and incredible sunsets from the Secret Beach on this island. Other adventure sports to try here include the Abyss Zipline (for INR 390/- per person) and the underwater scooter rides that shall let you explore sunken temples and statues.
USP: Adventure activities like cliff diving, zip lining, and underwater scooter
Location: Nusa Ceningan, Nusa Islands, Klungkung
How to get to Nusa Ceningan: One needs to get to Nusa Lembongan first. Nusa Lembongan is just a 45-minute boat ride away from Sanur, Serangan Island and Tanjung Benoa on the Bali mainland. From there, you can access Ceningan via the bridge
Restaurants in Nusa Ceningan: Cut Catch Cucina, Bejana at The Ritz-Carlton, Arwana
Where to stay in Nusa Ceningan: Mulia Villas, The Bale, Courtyard by Marriott Bali
Nightlife in Nusa Ceningan: Driftwood Bar
TripAdvisor Reviews
34 Best Beaches In Bali To Visit In 2022 For An Exotic Mix Of Serenity, Seclusion, & Snorkeling!
2. Komodo Island National Park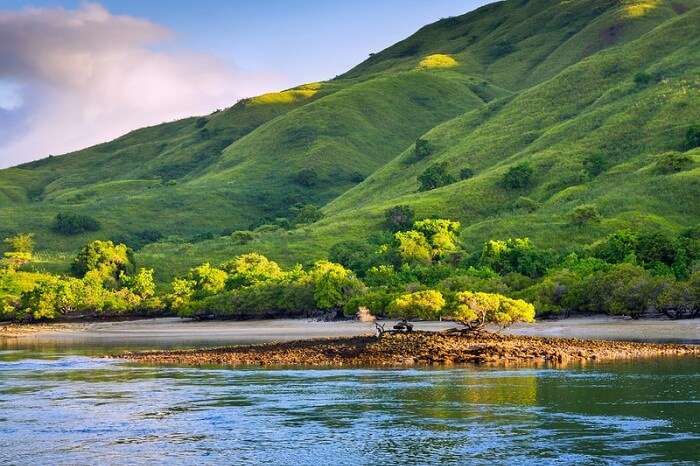 Clearly, one of the iconic things to do in Komodo Island, visiting the park, which is a UNESCO World Heritage Site, is something that you just have to do. Also counted amongst the new 7 wonders of the world, it is famous for its Komodo dragons, the largest lizards in the world. Though they are dangerous, you can watch and photograph them from a safe distance. This is easy since the park offers guided tours, where an expert goes around with you making sure you are safe at all times. The park is one of the most prominent attractions of Indonesia tourism.
Entry fees: INR 2000
13 Amazing Things To Do In Komodo Island For Adventure-Seekers In 2022
3. Nusa Lembongan Island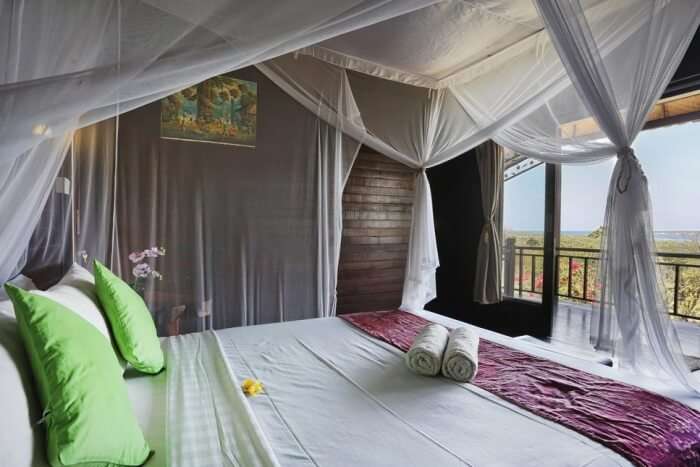 Poh Manis, with a stunning pool situated at a cliff edge, gives you perfect location you require to discover the sun setting between the slopes throwing the region around the manor in a warm brilliant gleam. It's the place to catch your trendy personal pool shot. Enjoy your stay!
Location: Ancak Village, Lembongan Island
Nusa Islands: A Pocket Guide To Explore This Glorious Island In 2022
Are you excited to experience the best beaching at the Double Six Beach Bali? Then plan a trip to Bali right away and enjoy and over-dose of beaching at the islands near Double Six Beach Bali. Island hopping is a must thing to do on your Indonesian vacation.