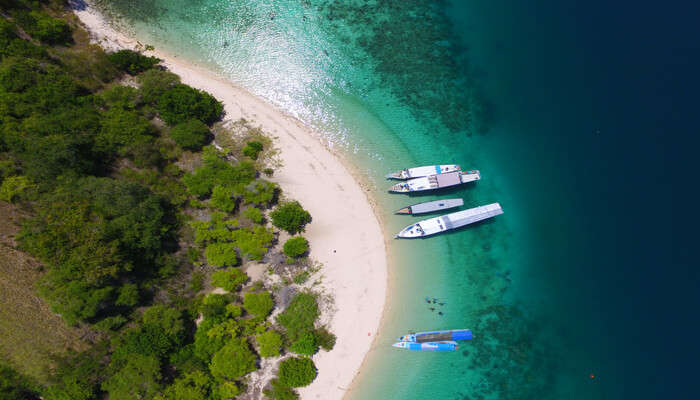 Did you know Jakarta has thousand islands? Well, Thousand Islands is the name of a group of as many as 110 islands in Jakarta. For someone who loves to be near water, Jakarta is a total paradise. The people of Jakarta head to these islands for recreation and in order to escape the monotony of daily life. While some of these islands are a part of Jakarta's north coast, the remaining ones are situated in its proximity. These islands near Jakarta are either inhabited by few people or not inhabited at all. They are like a box of everything good in it. They work as a perfect refuge to all your woes. So, are you ready to hop on a virtual tour of these picturesque islands?
8 Best Islands Near Jakarta
These 10 islands near Jakarta add on to the beauty and fun of the thousand islands and act as a great option for the most exciting vacation. These islands can be reached from Marina Ancol ferry port and we have provided their distance from the port only. Take a look!
1. Pulau Bidadari
How about a boat ride to an island where you find an old fort upon reaching there? Well, Pulau Bidadari is home to Fort Martello that dates back to the 17th century. It is very picturesque to look at! If you are a nature lover, you will fall in love with this island as it offers rare trees you won't find growing anywhere else like Peace trees, Black wood trees, and more.
Things to do: Visiting Fort Martello
Must Read: 15 Places For Shopping In Jakarta That Will Give You A Shopaholic's High!
2. Pulau Ayer
If you are looking for a lavish escapade to an island, Pulau Ayer is the place for you. Back in the 1950s, a resort was created for the Indonesian president and now you can have it all to yourself. Just imagine what kind of luxuries you will find on the resort. From recreational activities to peaceful spots, it will give you a soul-stirring experience.
Things to do: Snorkeling, scuba diving
3. Pulau Tidung
Known for the Love Bridge, Pulau Tidung is very famous amongst the locals as well as tourists. It is one of the best islands near Jakarta. The bridge, otherwise called Jembatan Cinta, is 800 meters in length and connects the small island to the large bridge. The couples traveling to Jakarta must visit this Love bridge. You can also take a dive into the blue waters of the island from the bridge.
Things to do: Visiting love bridge, snorkeling, scuba diving
Suggested Read: 10 Jakarta Beaches That Are Bound To Make Your Indonesia Trip All The More Fun
4. Pulau Pari
This island is home to many beautiful and interesting secrets that will leave you mesmerized. You can enjoy a boat cruise here. There are many spots like Sun Hill that you must not miss out on. It offers white sand beaches that will give you the most soul-soothing experience. Apart from this, it also offers a place called Virgin sands which is totally untouched so that you get the most purified experience. There are many islands to visit near Jakarta, but this one is unique.
Things to do: Cruising, snorkeling
Suggested Read: 27 Places To Visit In Jakarta That Showcase The Other Side Of Indonesia
5. Pulau Pramuka
If you want to witness how a life on an island is, then head to Pulau Pramuka. One of the best islands around Jakarta, it is a habited island and has schools, mosques, and more that you would not find on other islands. It is also home to green turtles. You will fall in love with these cute little creatures. Besides this, the island offers water sports that will let you witness the beautiful underwater life.
Things to do: Visiting Mosques, witnessing turtles
Suggested Read: 11 Best Things To Do In Jakarta: The Indonesia Capital Buzzing With Life!
6. Pulau Sepa
For a vacation that is totally dedicated to a beautiful island, you should visit Pulau Sepa. It is one of the top islands around Jakarta. Not only can you sunbathe and relax peacefully at the island, but also enjoy water activities like snorkeling, scuba diving or jet skiing. It also provides cottages where you can stay for relaxing and enjoying the scenic views it offers.
Things to do: Snorkeling, jet skiing, scuba diving
Suggested Read: Step By Step Guide On How To Get An Indonesia Visa For Indians
7. Pulau Pelangi
Also known as Rainbow island, Pulau Pelangi is a paradise for people who love snorkeling. It offers crystal clear waters and colorful reefs that will give you a soul-reviving experience. Apart from this, it also offers submarine boat and banana boat rides for you to enjoy the underwater life like never before. You can relax at the thatched-roof bungalows and enjoy a blissful vacation.
Things to do: Banana boat rides, submarine boat
Suggested Read: Indonesia Is On The Lookout For A New Capital City. Any Suggestions?
8. Pulau Macan
Going by the name Tiger island, Pulau Macan is a famous destination amongst the honeymooners. What attracts the couples to this island is its romantic huts. These huts offer panoramic views of the island as well as a beautiful view of the sunset. At a little distance from your bed, you will find the crystal clear waters of the island. You two can also enjoy canoeing, windsurfing and more thrilling activities on your holiday at this island.
Things to do: Canoeing, windsurfing, snorkeling
Further Read: Cruises In Indonesia: 6 Enriching Small Ship Cruise Tours For A Vacay
Aren't you excited already? These islands near Jakarta treat all kinds of travelers and when it comes to offering thrill and adventure they are a pro! From recreational activities to luxurious accommodations, they are perfect for a vacation that offers both amusement and serenity. Not only will you be enjoying tranquility and closeness to nature but also water activities that will thrill you from head to toe! So, what are you thinking about? Plan a trip to Indonesia and explore these beauties!
People Also Read: