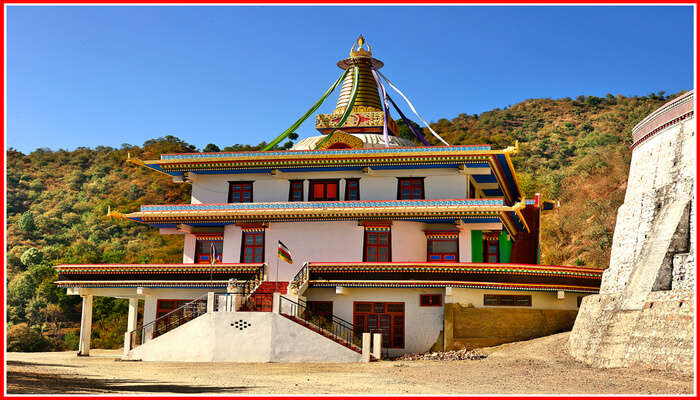 A serene low-key hill station tucked on the Punjab-Himachal border, Solan is often called the "Mushroom Capital of India" owing to the amount of mushrooms produced here year after year. This scenic little town lies on the lower ranges of the Himalayas and is the perfect retreat for those in need of a quick getaway from the city rush. Other than pristine natural surroundings and misty green hills, Solan is also home to some beautiful temples and monasteries. In fact, every year these ancient temples in Solan are frequented by pilgrims seeking inner peace. And it you too are planning to visit them, we'd better help you with a little insight into each of these before you set off to Solan!
6 Divine Temples In Solan, Himachal Pradesh
Here are the 6 most beautiful temples tucked in the charming little town of Solan in Himachal Pradesh. See what makes them an unmissable part of your trip.
1. Shoolini Mata Temple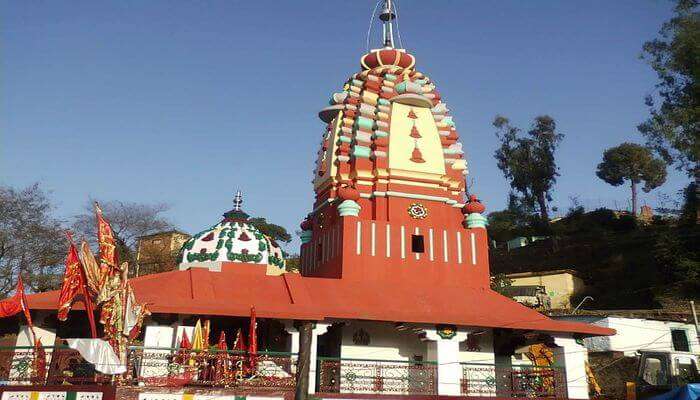 One of the most famous temples in Solan, the Shoolini Mata Mandir is dedicated to Shoolini Mata, who was believed to be an incarnation of Goddess Durga and the presiding deity of this shrine. This holy sanctum serves as one of the most important attractions in the city owing to its intriguing history. The temple complex turns into a riot of colors and music during festival days like the Shoolini Fair. The temple is illuminated with beautiful lights on this day and people in large numbers come to attend this fair, many of whom are traders, sweet sellers, bakers, shopkeepers, and merchants. Some of the main highlights of this festival are dancing, singing, and wrestling.
Location: Jaunaji Road, Solan, Himachal Pradesh 173212
Timings: 7 AM – 6 PM
Entry fee:Nil
Must Read: 10 Best Things To Do In Solan For A Fun And Frolic Vacation In 2021!
2. Jatoli Temple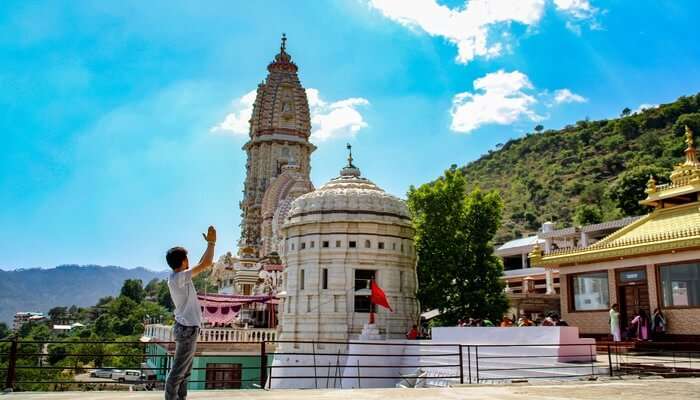 This sacred sanctum is not just the oldest, but also considered to Asia's highest Shiv temple in Solan. With an enormous Shiva statue greeting you at the entrance and another fascinating shivling placed inside a cave behind the statue, the Jatoli Temple in Solan is unlike the usual temple buildings in India. It is believed to have been built at the very spot where Lord Shiva had spent the night while passing by. If you visit this ancient shrine on the day of Mahashivratri, you're surely in for a treat! The colorful annual fair held here on that day is an experience you shouldn't miss! Located about 8 km from Solan city center, the Jatoli Shiv temple in Solan can easily be reached by bus or taxi from the main city.
Location: Village Jatoli, Temple Road, Rajgarh Rd, PO, Shamti, Himachal Pradesh 173212
Entry fee:Nil
Must Read: 10 Best Things To Do In Solan For A Fun And Frolic Vacation In 2021!
3. Kali Mata Temple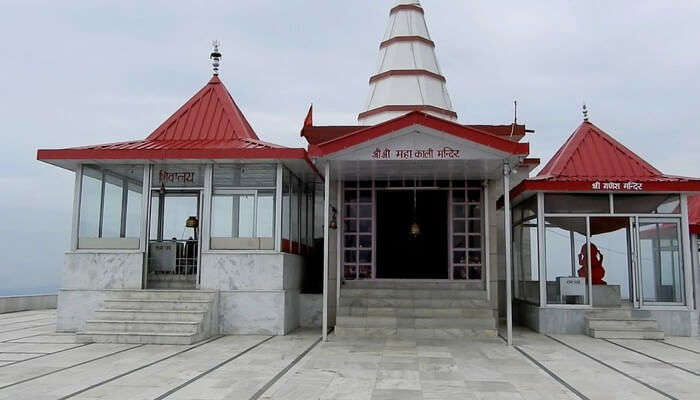 Situated in Shamti at a distance of about 5 km from the main city of Solan, this is amongst the most famous temples in Solan. Pilgrims and worshippers frequent this holy shrine in large numbers every year to seek blessings and pay their respects. Inside this peaceful sanctum is a beautiful statue of Kali Mata, the great protector and Goddess of death and time. One can easily reach this place by taking a taxi or hopping on a bus from Solan and getting down at the Rajgarh Road where this temple complex is located.
Location: Himachal Pradesh 173217
Timings: 6 AM – 8 PM
Entry fee:Nil
Suggested Read: Places To Visit In Solan Where You Can Completely Immerse Yourselves In Nature!
4. Shirdi Baba Temple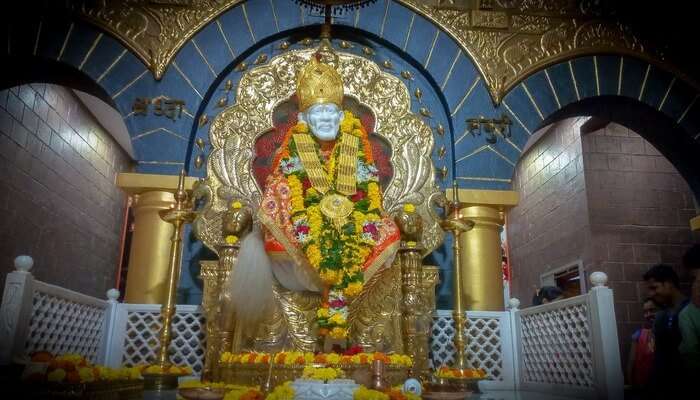 Built in the year 1989, this revered shrine of Sai Baba draws huge respect from the people of Solan and other areas around it. This temple is home to a massive sculpture of saint Shirdi brought here all the way from Jaipur. There is an eternal flame inside the temple that signifies the divine power of Sai Baba and draws people from far and wide. Whether its a pilgrim frequenting this place every year or a traveler setting foot here for the first time, this commendable heritage temple in Solan never fails to amaze visitors by its overwhelmingly peaceful aura. Situated quite near to the Kali Mata Mandir, this temple too can be reached via bus or taxi going towards Rajgarh Road.
Location: MDR6, Kasauli, Himachal Pradesh 173204
Entry fee:Nil
Suggested Read: Solang Valley: A 2021 Pocket Guide For A Perfect Tropical Getaway & An Ideal Winter Vacation
5. Jakholi Devi Temple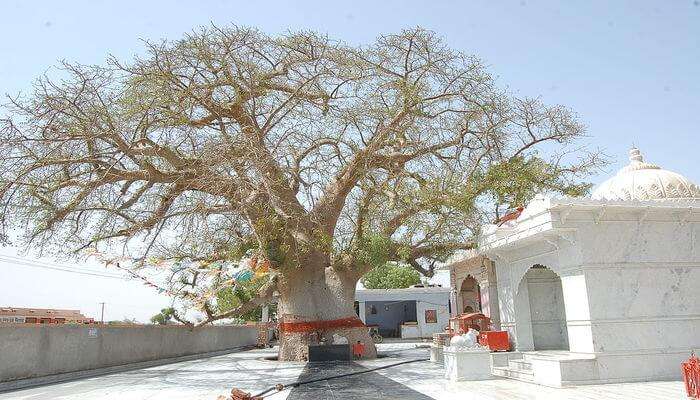 Also called the Bhadra Kali Temple, the Jakholi Mandir is another revered temple in this city that you must not miss. Though it's rather small in size compared to other popular temples in Solan, it is still one of the most famous here and is frequented by worshippers of Goddess Bhadra Kali is huge numbers. Located at a distance of just 5 km from the main town of Solan in Himachal Pradesh, this holy shrine is one of the Shakti Pitha in Jakholi with a Shikara type structure that is prominent form of Northern Indian temple architecture.
Location: Jakholi Village, Solan, Solan Tehsil, India
Timings: 6 AM – 8 PM
Entry fee:Nil
6. Menri Monastery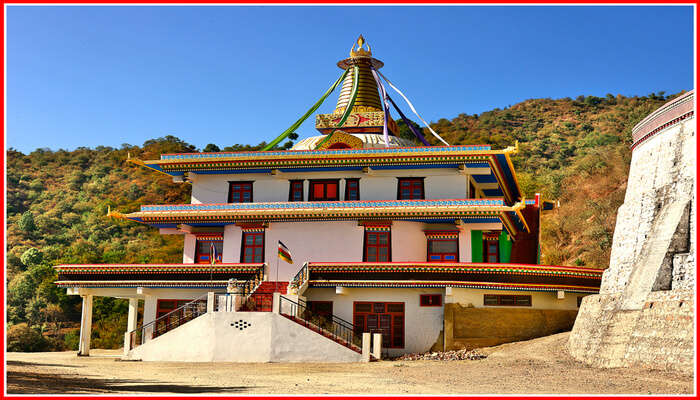 Menri is amongst the oldest monasteries in India, as well as one of the most colorful holy shrines in all of Himachal Pradesh! Home to a large statue of Lord Shenrab Mibo, this beautiful monastery in Solan is the center of festivities and joy during New Year's Eve when you can witness the stunning dance performances of Cham (the Bon Dance) and learn a great deal about the rich Buddhist culture. The devotees believe this sanctum emanates calmness and envelops visitors in positive vibes, which makes it a must visit for all flocking to the peaceful town of Solan.
Location: Dolanji, Ganyar, Himachal Pradesh 173223
Entry fee:Nil
Further Read: Top 10 Resorts In Himachal For A Truly Spoiling Holiday
If you wish to dwell in the peaceful aura of this little town away from the worries of the world, then you must visit these charming temples in Solan. Spending some time in the soothing atmosphere of these holy shrines on your holiday in Himachal will definitely calm your senses and help you reconnect with yourself!
Frequently Asked Question About Temples In Solan
Q. How many temples are there in Solan?
A. Altogether, there are six temples in Solan. All of these are the charm of Solan. They are an example of artistic proficiency in ancient times.
Q. What is famous about Solan?
A. Solan is famous for the production of tomatoes and mushrooms. It is also called as the mushroom capital of India. Located at an elevation of 1,600 from sea level, it also offers scenic beauty in the lap of nature.
Q. Which are some of the must-visit temples in Solan?
A. All six divine temples are equally important to visit on your trip to Solan. Menri monastery, Jhakoli Devi temple, Shirdi baba temple, Kali Mata temple, Jatoli temple, and Shoolini Mata temple are the names of these six divine temples.
Q. What are some other places to visit apart from temples in Solan?
A. There are many other attractions that one can visit during their trip to Solan apart from the temples. Some of those include Nalagarh palace, Kasauli, Chail, Kuthur fort are few of them.
Q. Which religion is practiced in Solan?
A. Hinduism is the main religion that is practiced in Solan for more than 95% of the Hindu population living there. Other native religions too are practiced here.
Q. Is there fundamentalism in Solan?
A. There is no such fundamentalism practiced in Solan. It is a peaceful place for its citizens and tourists.
Q. Do the Temples of Solan allow people of other religions?
A. No, there is no such limitation of religion in the temples of Solan. People of all religions and beliefs are welcomed here.
Q. Is there is any accommodation service is available inside the temples?
A. As the temples are a source of tourist attraction, there is no such availability of accommodation facility inside the temple. Other than that, you can find some nearby good hotels or lodges for accommodation.
---
Looking To Book A Holiday Package?
Book memorable holidays on TravelTriangle with 650+ verified travel agents for 65+ domestic and international destinations.
---
People Also Read:
Temples In Goa Darjeeling Temples Temples In Sikkim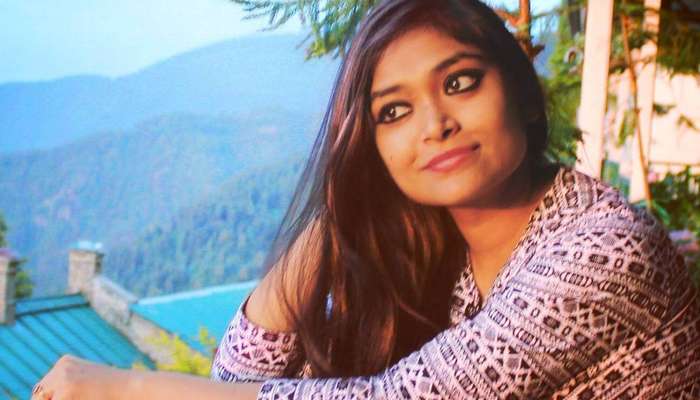 Comments
comments