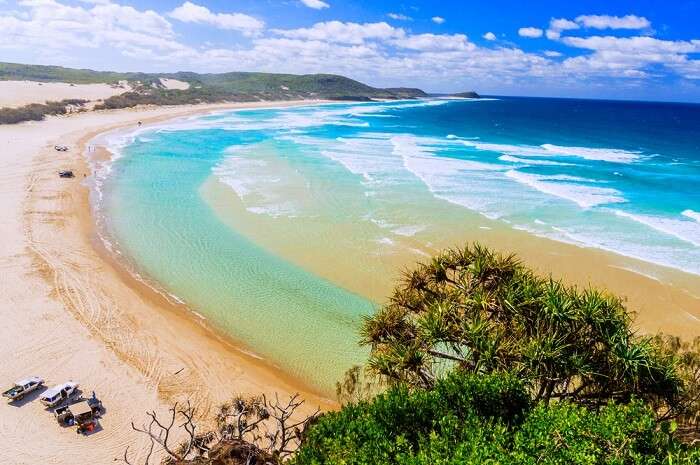 It is said that the Great Barrier Reef can be seen even from the moon, but the best views are of course the ones underwater! The technicolor corals come in all shapes and sizes and form the most beautiful and magical forests under the water. These disappearing forests surround thousands of islands building a chain which is the Great Barrier Reef. The reef lies adjacent to Queensland, and the islands near Queensland are the perfect places to witness the wonders of the reef. The incredible islands also have virgin white sand beaches and transparent waters that shimmer under the tropical sun. The magnificence of the islands of Queensland also stretches on land where rainforests thrive!
10 Adventure-Packed Islands Near Queensland
The islands close to Queensland are perfect for day trips and overnight stays, and for indulging in a range of water adventures. Here is the list of top ten islands that showcase the best of Queensland.
1. Whitsunday Island

The Whitsunday Island is one of the most photographed island beaches in Australia. Its swirling beaches where the white sands and aquamarine ocean mingle create a hypnotic image. Thanks to its scenic beauty it is among the most popular islands near Queensland. The main attractions on the island are the Whitehaven beach, Hill inlet, Cid Harbor and the Gulnare inlet. The island also has camping grounds where visitors can stay overnight and enjoy the pristine beauty of the island. There are seven campgrounds including at Whitehaven Beach, Dugong Beach, Nari's Beach, Chance Bay and Peter Bay. Day visitors often snorkel or swim in the area around the beaches or even enjoy strolling down the picturesque beach.
How to get there: You can take a boat from Airlie Beach and Shute Harbor
Must Read: Great Barrier Reef In Australia: An Exquisite Guide For An Amazing Destination!
2. Fraser Island

Fraser Island is one of the rare UNESCO World Heritage-listed islands, and this is because of its unique geographical and ecological features. Fraser Island is about 122 KM long and happens to be the largest sand island in the world and the indeed the largest of the islands around Queensland. The unique feature is the rainforest that grows on the sand! Not just rainforest, it also has freshwater dune lakes further inland which make it an extremely rare and vital island. Visitors can take enjoy this beauty by camping overnight and partaking in activities like hiking, and angling. Day visitors to the island visit attractions like shipwreck of S.S.Maheno, and see the Australian Dingo.
How to get there: Take a ferry from River Heads to Kingfisher Bay
3. Heron Island

One of the most popular islands off the coast of Queensland is Heron Island. The island is a coral cay and is famous for its rich biodiversity which includes the Heron reef surrounding the island that supports over 900 fish species and about 70% of the coral species found on the Great Barrier Reef. The island has a few establishments including the Heron Island Resort where about 100 people can stay at a time, the Research Centre and a ranger's station for the Capricornia Cay National Park which protects the zone. Activities on the island include hiking, reef walking, snorkeling, diving, and turtle watching and conservation. It is also a good area for birding and has been designated as an Important Bird Area.
How to get there: Gladstone is the nearest city and you can take either a boat, seaplane or helicopter to Heron Island
Suggested Read: 6 Best Gold Coast National Parks To Witness The Untamed Wildlife Of Australia
4. Magnetic Island

If you wish to enjoy the island life without compromising on the comforts of urban life, then you should head to Magnetic Island. It is one of the closest islands off the coast of Queensland and very near to the city of Townsville. The island has a lot of options in terms of hotels, backpacker hostels and guesthouses. About 2,500 people call the island their home, but over half of the island is a national park that is home to over 800 koalas. It is North Australia's largest colony of Koalas, but there are 160 other animal species you can spot and if wildlife is not for you then there almost 23 beaches and bays waiting to be explored.
How to get there: Take a 20-minute ferry from Townsville
5. Fitzroy Island

The Fitzroy Island is a green jewel peeking out of the azure blue waters. It is one of the most beautiful islands around Queensland and is a part of the Great Barrier Reef system. The island itself is fully covered by rainforest and has its reef system which is protected by the Fitzroy Island National Park. Like most islands in the region it is maintained by a private resort with 100 rooms, but even if you don't want to spend a night there, it is worth a visit for snorkeling and diving. The island also has glass-bottom boats for those who don't wish to go underwater. The island is small at 3.3 sq km but has four walking trails crisscrossing the whole island.
How to get there: Take a 45-minute boat ride from Cairns
Suggested Read: 15 Reasons Why Spending Winter In Australia Is Better Than Being Anywhere Else!
6. Great Keppel Island

The Great Keppel Island is a part of the larger Keppel Group and one of the most popular islands near Queensland. The island has facilities both for day visitors and overnight tourists, and there are guesthouses and hotels where you can spend the night. The island is known for its white sandy beaches; it has 17 of them! And the coral reefs around the island which are part of the Great Barrier Reef. The island is surrounded by clear waters that are ideal for snorkeling, and diving. You can also indulge in water sports like jet skiing, wakeboarding, tube rides and waterskiing. You can also find adventures inland by taking a hike to the highest point of Mount Wyndham.
How to get there: Reach Yeppoon (30 KM from Rockhampton) and then take a 30-minute ferry
7. Daydream Island

Even right you are probably daydreaming about visiting the vast expanse and go underwater to witness the magic of the Great Barrier Reef. If so, then the Daydream Island is where you should go to! One of the prettiest islands near Queensland, it is a part of the Molle island group and a part of the larger 74 Whitsunday Islands in Australia. The island is just 1 KM long and has beautiful coral reef surrounding the area. There are two resorts on the islands, one of which caters to overnight guests. The island also has a living reef which is a large aquarium created by marine biologists and has over 50 species of corals and over 80 marine species like rays, crabs, sea cucumbers and more!
How to get there: Fly or take a boat to Hamilton Island and then take a 30-minute ferry
Suggested Read: Beaches In Brisbane: Top 10 Beaches In & Around This Lively Capital Of Queensland
8. Lizard Island

Lizard Island is one of the few islands near Queensland which have private and exclusive access to the resort that maintains the island. The island is remote and almost 240 kilometers off the coast of Cairns. Lizard Island is a luxury resort and caters to celebrities and anyone with a lot of extra cash to spare! The island has 24 private beaches with virgin white sands and crystal waters. You can go on a one-hour boat ride to Cod Hole, which is rated among the top ten dive sites in the world. The remoteness from mainland Australia has ensured that it remains unspoiled, and you can witness incredible hard and soft coral in all hues and colors.
How to get there: Fly from Cairns by chartered flight
Suggested Read: 10 Most Iconic Places Near Australia That'll Leave You Absolutely Spellbound
9. Lady Elliot Island

The Great Barrier Reef is deteriorating in several places, but the Lady Elliot Island is standing strong and has been recognized as a Green Zone, which means it is an important conservation area. The island has a wealth of fauna, it is a breeding ground for Green and Loggerhead turtles which come to the beach between November and March, and it is also a significant seabird nesting site. Over 100,000 birds nest during the summer including species like buff-banded rail, Brown Booby, and Silver Gull. If you are lucky, you would even be able to spot a humpback whale between June to October. No matter which season you turn up, there are great animal sightings and year-round diving opportunities to view the corals.
How to get there: Fly from Bundaberg
10. Moreton Island

The Moreton Island is one of the biggest sand islands near Queensland and is a popular day-trip tour from Brisbane. There are a lot of things to see on the island including the beautiful beaches, the infamous Tangalooma Wrecks, the quaint Cape Moreton Lighthouse, and the relics of the Aboriginal occupation and World War Two. If you are interested in activities, then you have your hands full! You can participate in sand tobogganing, which is ideal because the island itself is sand! Then there is dolphin feeding, island fishing, boating, snorkeling & diving, four-wheel driving, surfing, bird-watching, and of course walking along the beaches!
How to get there: Take a 75-minute ferry from Brisbane
Further Read: 8 Endlessly Adventurous Sites For Paragliding In Auckland That You Will Love
Are these islands near Queensland making you daydream about an island vacation? Do not miss going to one of these islands and exploring the Great Barrier Reef on your next adventurous Australian vacation. Call TravelTriangle and plan an unforgettable holiday Down Under with all your adventure-loving BFFs.
---
Looking To Book An International Honeymoon?
Book memorable honeymoon on TravelTriangle with 650+ verified travel agents for 65+ domestic and international destinations.
---