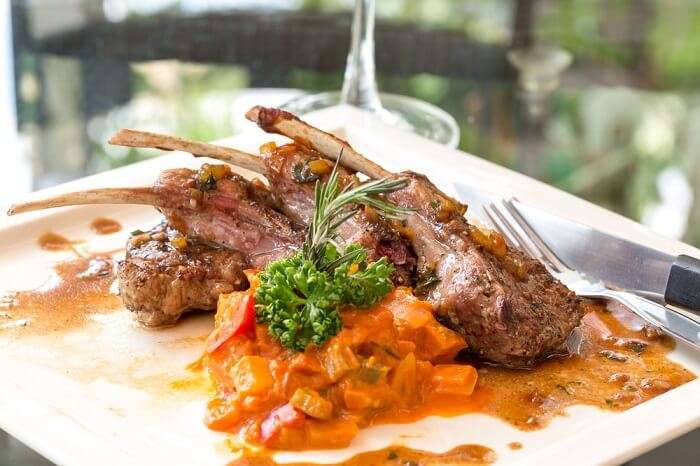 If you are looking for excellent restaurants in Christchurch, you have stumbled upon the right place. This place may be riddled with earthquakes but that does not stop it from being a favorite tourist spot in New Zealand. Ever since the 2011 earthquake, the city has been right back to its feet and attracting both the kiwis and the global tourists. It is the milieu of beaches, countryside edifices, and breathtaking sceneries. The city is quite the dynamo when it comes to cuisines – it is the potpourri of different cuisines. You will get to taste the flavors from all over the word along with the local specialties.
Top 8 Restaurants In Christchurch
you will be spoilt for choice as the city offers a large number of places catering to the taste buds of a foodie. If you are unable to make up your mind then keep reading – we give you a list of restaurants in Christchurch that will appease you.
1. King of Snake for Asian Cuisine

The name sounds like a movie, right? The ambiance of this fine dining restaurant lives up to its movie-like name. The food steals the show though as the traditional Asian food gets an arty twist to them here. Try the sweet and sour pork or the Penang beef cheek curry or even the crispy pressed half duck and be sure to get transported to the Asian lands. The food here solemnly lives up to the rave reviews that people have given to this place over time. The drinks that are served here are amazing as well. If you are taking a trip to Christchurch, a visit here is a must.
Location: 145 Victoria Street, Central Christchurch, Canterbury, 8013 New Zealand.
Must Read: Destination Of The Month: These Surreal Places Will Entice You To Fly To New Zealand In November
2. Twenty Seven Steps for Local Cuisines

That is one honest name as it takes twenty-seven steps to reach the restaurant. One would be advised to get some reservations as this is among the few 5-star restaurants in Christchurch and is always packed, so better not take that risk. This restaurant provides the delights of New Zealand showcasing the locally sourced seasonal ingredients. Their preparations in lamb, beef, venison, and seafood, once tasted are stuck to your taste buds. Their risotto is known to be outstanding. It is best not to miss out these type of restaurants in Christchurch when you are on a holiday in New Zealand.
Location: 16 New Regent Street, Central Christchurch, Canterbury, 8011 New Zealand
Suggested Read: Franz Josef Glacier: The Icy Pinnacle Of New Zealand You Won't Want To Leave
3. Beacon Brothers for Juicy Beacons

Who says the best and tastiest food has to be expensive? If you do not believe that. then that should be another reason for you to go to Beacon Brothers. Being one of the most pocket-friendly and cheap restaurants in Christchurch, they boast that their burgers are the best in the whole of Christchurch! Perhaps they are but that is for you to find out when you visit this establishment located in the trendy parts of Christchurch. A small suggestion would be to try varieties of fries they serve as sides instead of going for the one you are used to having.
Location: 81 High Street, Central Christchurch, Canterbury, 8011 New Zealand
Suggested Read: 10 Things To Do In Auckland In Winter To Witness A Unique Side Of New Zealand
4. Christchurch Tramway Restaurant For Food On Wheels

Eat while you take a trip around the city as well – not a bad idea, right? The Christchurch Tramway Restaurant fulfills your wishes aptly. You will find the tram waiting for you at 109 Worcester Stree. This is the only tram – restaurant in the city which is completely air-conditioned and vintage. You obviously would like to book a place on this 36-seater ride. Among the new restaurants in Christchurch 2018, this has been everyone's hot favorite ever since. It will give you a fabulous dining and site-seeing experience. You will be served a welcome drink, and then a four-course meal with delicacies that will make your desires to come here again stronger. And, of course, there will surely be the traditional servings of tea and coffee to keep your taste buds busy at all times. You must give the Amuse Bouche, the Seared Tuna, and Pudding a definite try.
Location: 109 Worcester Stree.Central Christchurch, Canterbury, 8011 New Zealand
Suggested Read: Shopping In New Zealand: 10 Incredible Places For Retail Therapy
5. Nobanno for the traditional Bengali food

If you do not have a healthy appetite then do not walk into this restaurant as they spoil you for choices. You will want to taste the next dish on the menu right after having the first one – so you see, a voracious appetite is a must. This is one among the nicest family restaurants in Christchurch that serves you with a cozy atmosphere some of the best Indian curries. The food will make you come here time and again to taste all the delicacies they serve. The menu here is authentic to Bengali cuisine but they have their welcome twists to the dishes. The mango lassi they serve is mouth-watering. Their chicken dishes are to swear by (just check their menu). It is best to get a taste for yourself instead of salivating while reading the article.
Location: 91 Riccarton Rd, Riccarton, Christchurch 8011, New Zealand
6. Dimitris for Greek Cuisine

Those in love with the street side Greek platter, take a peek here and then you will see yourself seated at one of the tables, enjoying the dishes you just ordered. For all those tourists out there who are tired after a great day of sightseeing, this is one of the best restaurants in Christchurch that will definitely appease you. Here you will get the authentic street side Greek dishes at very affordable prices. Try the Souvlaki they serve here and you will find yourself swearing by it for quite some time in the near future. Get yourselves knocked off your feet by the mouth-watering food they serve here.
Location: 86 Riccarton Street, Central Christchurch, Canterbury, 8011 New Zealand.
Suggested Read: 10 Adventure Places In New Zealand That Will Give You An Adrenaline Rush
7. Fine- Dining at Chillingworth Road

If you want a taste of fine dining in Christchurch and all the finely prepared dishes and appreciate the skills of the chefs, then go for the degustation menus at Chillingworth Road. You can get a taste of all at once and let your taste buds explode at the touch of the finesse and art of the food. You can also get the offerings in the form of five, seven or nine-course meals along with the option of getting extra wine pairings. The pocket pinch is a little high here but what is that compared to the food that pays delicate attention to every detail on your plate, using high – end ingredients to make the taste last in your mouth for a lifetime to come. I suppose it is worth the penny.
Location: 478 Cranford St, Redwood, Christchurch 8051, New Zealand
8. Zen Sushi And Dumpling for the love of Sushi

Do not let the idea of Zen deceive you. But then again it is a place that worships the sushi and the dumplings. The key to the delicious taste and aroma that sucker punches your nostrils is the fresh ingredients are used to cook each dish and also the sauce of love and dedication generously poured on each dish. Go for any dumpling you want – the traditional pork one, or the one with pork and chives – make it the classic steamed or the naughty pan-fried, or even try the variety of sushi, you will be left with a singular desire – 'wish I could have some more'.
Location: So, get here at 301 Montreal Street, Christchurch Central Christchurch, Canterbury, 8013 New Zealand to get a taste of dumpling and sushi heaven.
Further Read: Paragliding In New Zealand: 5 Best Places That Let You Soar High!
These are the top 8 trending restaurants in Christchurch, waiting for you to take a peek! So what are you waiting for? Go ahead! Plan a trip to New Zealand and grab your favorite meal, and let us know your review soon! Bon Appetite, Peeps!
---
Looking To Book An International Honeymoon?
Book memorable honeymoon on TravelTriangle with 650+ verified travel agents for 65+ domestic and international destinations.
---