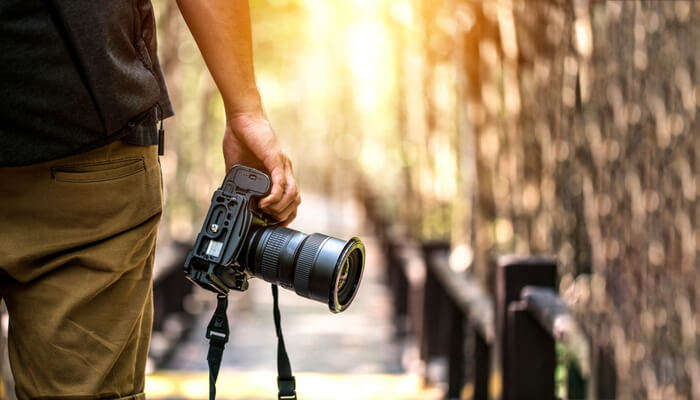 Tired of your old desk work? Planning on quitting the job for a trip across the globe?
But you need not stop working or even drain your bank account to spend your days travelling. With the right skill set and well-thought of career choice you can well end up in one of the jobs that allow you to travel. If you want to get paid for exploring the world, consider one of these job options. We start with the most obvious ones, moving on to a little less popular ones.
1. TOUR GUIDE: For those who love to travel and share their knowledge with the tourists

One of the most obvious careers that take you around the world is that of a tour guide. What other job would provide the pleasure of exploring the cities and getting paid for it? Wherever you want to go, popular travel destinations are always in need of friendly, knowledgeable guides to lead tourists through the city.
SKILLS REQUIRED: Knowledge of city's culture, history, food, hidden secrets; good communication skills; fluency in English, the local language, and one foreign languages
QUALIFICATION: No degree required as such
ACQUIRING THE SKILLS:
Learn a local language; foreign language – English, French, German, etc.
Get in depth knowledge of the city, its history, and culture, and explore to learn secrets of the city. Travel blogs, Wikipedia, and Lonely Planet books/ blogs are useful sources of information.
MAKING MONEY:
Contact local travel agencies as they are always in need of tour guides
Make contact with the cab/ taxi drivers who could suggest your name to the tourists
Look up tour guide jobs online.
2. TRAVEL BLOGGER: For the crazy lazy ones who'd rather trek mountains daily than go to office with same frequency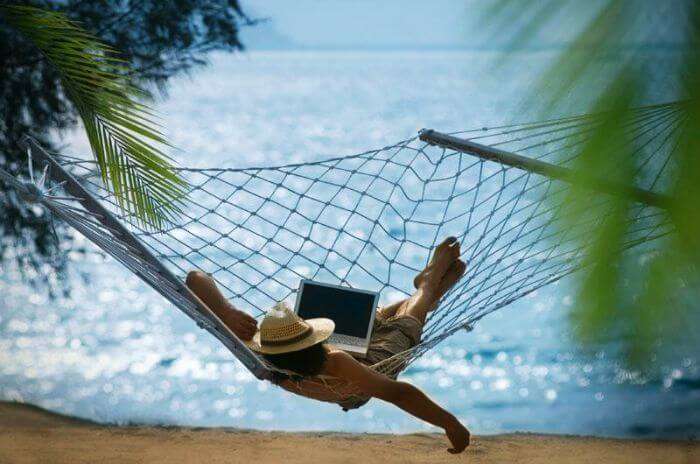 Imagine a hammock, a cold beer, and a calm breeze as you quietly type away on your latest travel column — sounds pretty good, right? Though it isn't the easiest way to make money, but this traveling job definitely is the most enjoyable one. Not many full-time opportunities exist in this career option. Most of the work you can get is freelance as publications typically want individuals who are able to submit firsthand accounts of a given location. So if you are looking for traveling jobs, you have hit the right link.
SKILLS REQUIRED: Good writing skills, marketing skills, and social media know-how
QUALIFICATION: No degree required as such
ACQUIRING THE SKILLS:
Read a lot of travel blogs, don't miss the popular ones.
Understand the SEO techniques and use keywords in your blog.
Create useful and unique content.
Understand marketing through Social Media, viz Facebook, Twitter, Instagram, Pinterest, Youtube, Flickr, etc. Paid ads on the same may initially be used.
MAKING MONEY:
Start off as guest writer on popular blogs/ websites of travel agencies.
Share your experiences on social networking sites.
Make money through AdSense on your blogs.
Freelancer.com has few openings for a freelance travel blogger.
Apply for job as Travel Writer for the Indian Embassy.
Must Read: 8 Inspirational Stories of Women On Wanderlust
3. FLIGHT ATTENDANT: For those who love to fly around the globe and interact with people of all hues and ages

Being a flight attendant is not only one of the most popular jobs that take you around the world, but also the most accessible one. The working hours are frequently erratic and the work is not always easy, but you will get to visit hundreds of cities across the globe. The flight attendants are frequently involved in overnight layovers, and can end up spending 1 to 3 days every week in different countries with the airline usually covering the cost of hotels, transportation, and food during these layovers.
SKILLS: Decent looks, pleasing personality, and good communication skills
QUALIFICATIONS: Certified course from a reputed air hostess academy and prior customer service experience.
ACQUIRING THE SKILLS:
Join an airhostess academy, such as FrankFinn etc.
Join a spoken English course
MAKING MONEY:
Such traveling jobs are generally advertised directly by the airlines that provide about six weeks of training. Look for them on any of the leading online job portals.
4. CRUISE SHIP CREW: For the love of the sea travel but bereft of the responsibility of the navy personnel

A travel lover's dream gig, working on a cruise ship provides for making a living while traveling the world. What's more? You receive free food and accommodation. Luxury cruisers have jobs for everyone from cooks and cleaners to nursery staff, musicians, fitness instructors and beauty therapists. If you've got a recognized qualification and experience in customer services or hospitality you're well placed to start earning as you cruise. Check skills required for a career in customer services below.
SKILLS: Pleasing personality, and good communication skills
QUALIFICATIONS: Qualification and experience in customer services or hospitality
ACQUIRING THE SKILLS:
Several cruise lines provide short-term courses
Join a course in hotel management and tourism
Join a spoken English course
MAKING MONEY:
Jobs are generally advertised directly by the ship cruises that provide about six weeks to six months of training. Look for them on any of the leading online job portals.
---
Planning your holiday but confused about where to go? These travel stories help you find your best trip ever!
Real travel stories. Real stays. Handy tips to help you make the right choice.
---
5. PHOTOGRAPHER: For those who'd rather a 500mm lens than the VIP box of an IPL match stadium

Definitely not the easiest way to earn a living, photojournalism or a career as landscape and travel photographer however allows you to see some of the most beautiful and harrowing parts of the world while at work. Besides being stratifying, it's among many glamorous jobs that take you abroad. Needless to say then, that you need to be ready and passionate for travel, for these are the jobs that require travel.
SKILLS: Good photography skills; creative writing and a knack for marketing
QUALIFICATIONS: Though a degree or a certificate course is not a mandate, having a specific qualification will boost your career
ACQUIRING THE SKILLS:
Join a degree course or a certified course in photography
Go through photoblogs or social pages of other professionals
Share your photos on Facebook, Twitter, Pinterest, Flickr, and Instagram
MAKING MONEY: Options for travel are endless.
Many photographers lead their own projects as well as work on commission.
Work as photographer for Photo Division of India/ Press Trust of India.
Must Read: There You Go, Coolest Photography Ideas For your Next Trip!
6. ARCHAEOLOGIST: For the sheer love of history, excavations, and travel

Imagine discovering the world's oldest chisel, or unearthing the skeleton of one of the very first dinosaurs. And now imagine being paid to do so along with a paid journey, and boarding and lodging in Egypt. Every day, archaeologists discover the buried treasures that give them a glimpse into life thousands of years in the past. Regarded as one of the best traveling jobs, it requires a substantial amount of studies and skills.
SKILLS:
Interest in history
Physical fitness
Enquiring mind with a patient and methodical approach
Accuracy and attention to detail
Good planning and organizational skills
Ability to work to deadlines
Perseverance in research
IT skills
Ability to work well as a team member or leader
Good communication skills and the ability to write reports
QUALIFICATIONS:
Bachelor's degree in humanities/ sciences
Some courses/ colleges may even require a Master's degree in ancient/medieval Indian history/ archaeology/anthropology/Indian classical language/ geology with knowledge of Pleistocene age
ACQUIRING THE SKILLS:
Most of the universities in India that have a department of archaeology offer this subject at the post-graduation level and beyond it. For complete details, click here.
MAKING MONEY: The following are the places in which you can land up a job after a course in archaeology in India:
Archaeological Survey of India (ASI)
Indian Council of Historical Research (ICHR)
National Museum
Universities and colleges as professors
Government and private museums and cultural galleries
7. EVENT MANAGER/ COORDINATOR: For the love of sponsored travel, stay, and parties

No, we are not talking about the 'Shaadi Mubarak' from 'Band, Baaja, Baarat'. Typically, an event management company looks after a myriad of events that include, inter alia, corporate events, trade shows, trade meets, product launches, TV/ Movie awards, public events, sports events and festivals. A job coordinating large-scale events like festivals and trade shows could be a golden opportunity for travel lovers. Meet with potential vendors from across the country, then travel to the event location to help oversee everything from setup to break-down. It might not be one of those jobs that require travel, but it definitely is one of those jobs that allow you to travel, depending upon what position/company you are working in.
SKILLS: Good communication skills, customer-relation management, marketing skills, media and public relation management, event management
QUALIFICATIONS: Typically, the job does not require a degree. However, a Master's in Marketing, Public Relations, Mass Communication, or Event Management is a plus.
ACQUIRING THE SKILLS:
A post graduate course from the above-mentioned courses and/or a prior experience in event management (college fests/ corporate events) will help boost your career in this field.
MAKING MONEY:
With the above-mentioned tips, you just might land up a job in one of the top event management companies.
8. ENGLISH TEACHER: For those who love to teach and travel along

You never really thought while reading 'The Rime of the Ancient Mariner' that similar jobs could actually take you places, like the albatross. Now, did you? Many people in non-English-speaking countries have the desire to learn the language, so there's always a need for people who can teach English-as-a-second-language (ESL) abroad. As an ESL teacher, you get paid for the privilege of being immersed in a different culture. Many English teachers are provided with free accommodations while they're working abroad.
SKILLS: Good communication skills- both verbal and written in English, pleasing personality, impeccable grammar, passion for teaching, comfort while working with kids, high patience levels and confidence
QUALIFICATIONS:
Bachelor's degree in English
Master's degree in English ( for teaching higher classes)
Bachelors of Education course (mostly required)
ACQUIRING THE SKILLS:
TEFL Online provides a certified course in TESL
BA, MA, and B.Ed courses are available in almost all state universities
MAKING MONEY:
Language trainer in companies in countries with English as second language
Language trainer for military corps and government offices of countries where English is not the first language
9. BIRD WATCHER/ ORNITHOLOGIST: For those who love birds, cameras, and travel

Birdwatching is not a career that's going to make you a millionaire, but it will definitely improve the quality of life if you, too, are stuck in the corporate job pit. For those who like to travel and enjoy watching the birds, birdwatching and ornithology are the options among all jobs that allow you to travel around the world…
SKILLS: Patience, a good eye for good shots and frames, knowledge of biology or zoology, along with photography and writing skills
QUALIFICATIONS: Birdwatching provides for a plethora of job options, ranging from a bird-photographer and bird-blogger to an ornithologist
ACQUIRING THE SKILLS: To know more about the skills required for an ornithologist click here.
MAKING MONEY: The profession is not highly rewarding and the salary will vary depending upon the specific field of bird-watching that you opt for eventually.
10. TRAVEL PRESENTER: For those who can go blabbing about places they travel to

This travelling job is not for the shy ones. Those who can brave the camera, talk fluently, and look good on screen; then this for you is the shiiz of all the travel-related jobs. It is, arguably, the best among the jobs that require travel. With the right skill set and confidence, you not just get to travel, but also get the fame and salary other can only dream of.
SKILLS: Zest for life, Passion for travel, Good Spoken Skills, and Vibrant Personality
QUALIFICATIONS: No qualification required as such, but a course in mass communication is a plus
ACQUIRING THE SKILLS: If you have to ask, you'll never have it. If you have it, you need only ask.
MAKING MONEY: Travel Shows and other such jobs for anchors have auditions.
So what's it gonna be for you then? The person in front of the camera, or behind it, or altogether not related to the camera; that is up to you to decide. But anyhow, keep your bags packed for the journey ahead.
Further Read: What Type Of A Traveler Are You? Let's Find Out!
---