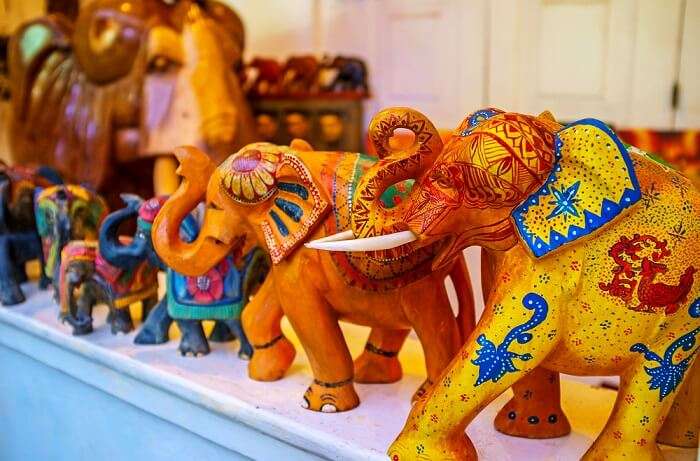 Apart from offering scenic views of the tea plantations and housing the most beautiful Buddhist shrines, the city of Kandy also offers a unique variety of things to buy which won't just pamper the Shopaholic within you, but also make the traveler in you fall in love with Sri Lanka. There are so many things Sri Lanka is famous that you will run out of money or space in your luggage bag but you will not run out of souvenirs to buy from here. From popular boutiques to souvenir shops, the city has so much in store that you won't be able to decide from where to start! But, don't worry. With this little Kandy shopping guide, we've got you covered!
10 Best Kandy Shopping Places
From captivating gems to spectacular antiques, there's a lot that you can buy. Just make sure you stop and shop at these top places because your trip to Kandy would stay incomplete if you don't come back home with bags full and pockets loose! In Kandy, Sri Lanka, shopping is an ultimate experience. So, don't miss out on it. Take a look at these best places that will set you on a shopping spree, and head out for your trip right away!
1. Main Market: For Local Handicrafts

A popular Kandy shopping center, the main market of the city is a shopping hub for locals and tourists alike. Situated in the heart of this beautiful city, it is built in a colonial-style structure and is a perfect place for street shopping in kandy. Offering a wide range of local items as well as handicrafts like textiles and paintings, it provides a great shopping experience to all kinds of travelers.
Location: Central Market, 196 Market St, Kandy, Sri Lanka
Must Read: Top 10 Restaurants In Kandy To Treat Your Inner Foodie With Authentic Sri Lankan Flavours!
2. Luv SL By Odel: For Authentic Souvenirs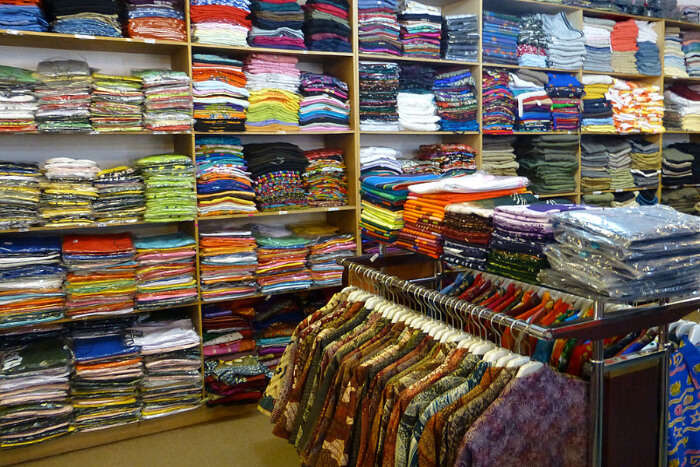 One of the best souvenir shops in Kandy, Luv SL by Odel offers a limitless range of souvenirs that you can take back home for your friends and family. Its colorful ambiance will allure you even more to grab everything that it offers, and believe us, once you enter here you would not want to step out! It is one of the those high profile shopping malls in Kandy, Sri Lanka where you can shop all the sophisticated fashion brands.
Location: Bank of Ceylon Mawatha, Colombo, Sri Lanka
3. Ceylon Tea Museum: For Unique Types Of Tea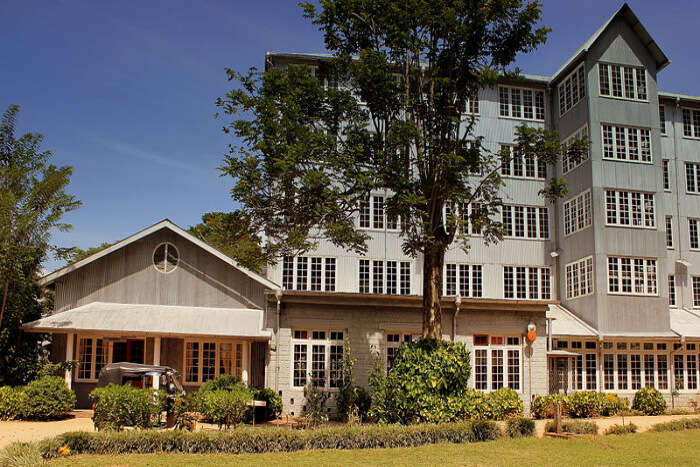 Offering a scenic view of Kandy, this museum is the ultimate Kandy shopping center for buying the traditional teas of Sri Lanka. It includes places for tea tasting & tea shopping, whilst showcasing the history of the tea industry. You can shop the best of Sri Lankan teas here and also treat your taste buds! If you are a chai-lover, you must definitely come to this place to getfresh tea leaves right from the plantations. It is one of the best souvenirs one could get from Kandy since Sri Lanka is also famous for tea and coffee production.
Suggested Read: Top 10 Things To Do In Kandy For Couples That Assure Ultimate Fun In Sri Lanka!
4. Jayamali Batik Studios: For Genuine Batik Materials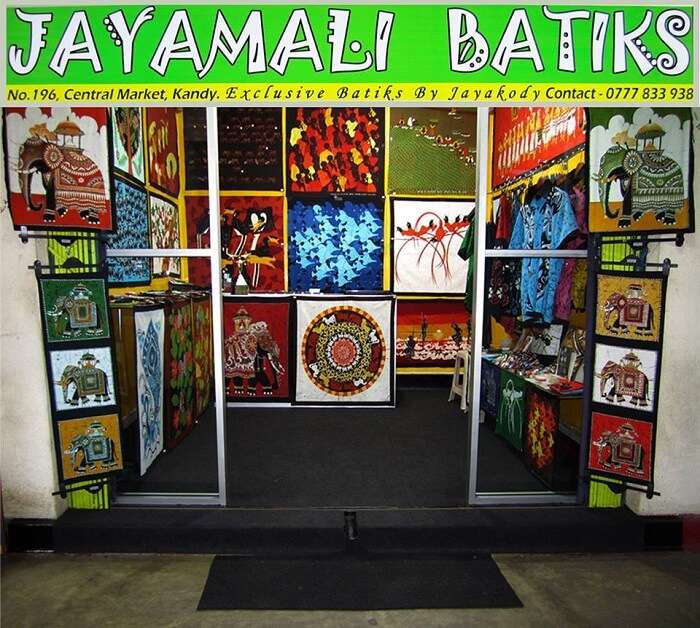 One of the best Batik shops in Kandy, Jayamali Batik Studios is known for selling original Batik materials that have been an integral part of Sri Lankas traditional & culture for years. It offers clothes, wall hangings, and more which are all made with exquisite Batik designs. These are one of the most fascinating things to buy in Sri Lanka that will surely tempt you to make them a part of your home decor!
Location: Central Market, 196 Market St, Kandy, Sri Lanka
5. Selyn: For Traditional Handloom Products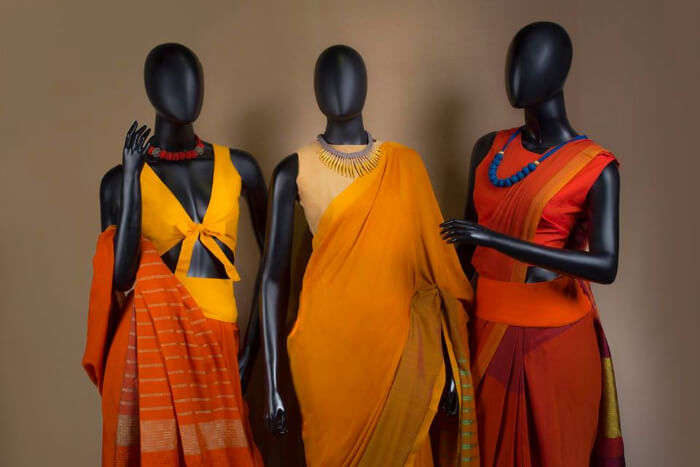 If youre looking for the best saree shops in Kandy, this is one place where your search would end. This is a traditional store that is famous for featuring real handloom products. Apart from offering beautiful Kandy fashion sarees, it also offers kurtas, bed linens, cushion covers, and more that you just cant miss out on! Located in one of the best markets in kandy, you ought to check out this place for fashion garments. You will find handwoven clothes made from 100% cotton and silk, something you may want to get from Kandy.
Location: No 102 Fife Road, Colombo 00500, Sri Lanka
Suggested Read: 25 Best Places To Visit In Kandy – Sri Lanka's Spiritual Capital
6. Kandy City Center: For Complete Shopping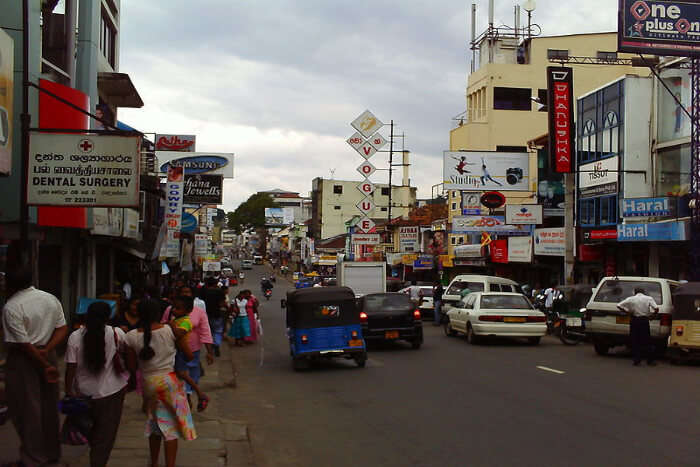 Located in the center of the city, it is the only Kandy shopping mall which brings all types of shops under one roof for a hassle-free shopping experience. From clothes shopping in Kandy to electronics to souvenirs and handicrafts, the Kandy City Centre will let you buy everything from one place!
Location: Sri Wickrama Rajasinghe Mawatha, Kandy 20000, Sri Lanka
7. Rangala House Gallery: For Art & Crafts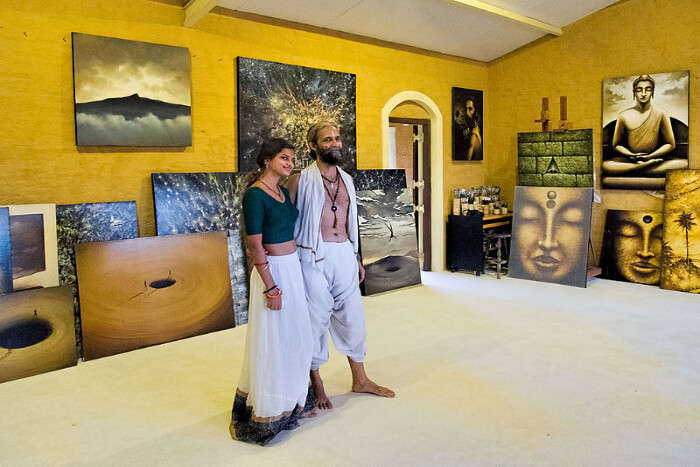 Showcasing the best works of Sri Lankan artists, painters, and artisans, this is one of the best Kandy shopping places which will give you a glimpse of the culture & lifestyle of the locals. The eye-catching paintings are so good that you will not want to go empty-handed from here. Apart from the paintings, this place also offers organic jams that are brought straight from the hills of Kandy!
Location: 7/1/1, Temple Street, Kandy
Suggested Read: If You Are A Waterbaby, These Picturesque Waterfalls In Kandy Should Be On Your List
8. Waruna Antiques: For Extraordinary Antiques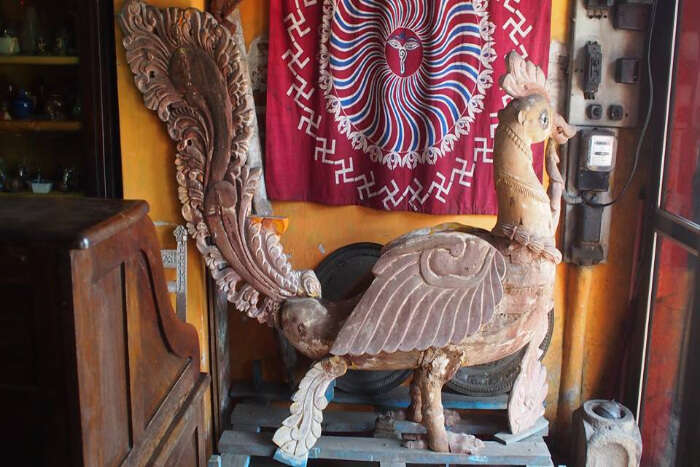 Be ready to embark on a historic journey of Sri Lanka as this shop offers antique items that are unique to the Sri Lankan culture. From coins to jewelry, it has got everything that will fascinate the shopping enthusiast in you to embark on a new journey of shopping in Kandy! Dont forget to take these back home as memories! A one of a kind store in Kandy, you will some of the groovy stuff at this shop that you will definitely want to bring back from your trip. Have the experience of best shopping in Kandy at this place.
Location: 761 Peradeniya Rd, Kandy, Sri Lanka
Suggested Read: 13 Best Things To Do In Kandy To Bedazzle Your Sri Lankan Vacation
9. Buddhist Publication Society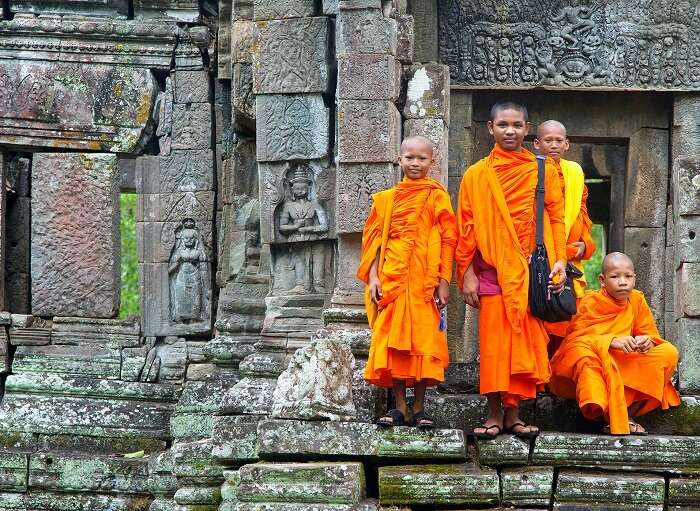 If youre looking for specific books on Buddhism and want to sneak a peek in how it all came to be or even if youre just in mood for a fresh read about Buddhist practices, this is the kind of shopping in Kandy you need. With a spacious library, it is located in the Sacred Tooth Relic temple complex, near the lake and is a non-profit organization that distributes books about the ancient teachings of Buddha. You can take a stroll around to breathe into a serene ambience that this place offers.
Location: 54 Sangharaja Mawatha, Kandy, Sri Lanka
10. Cargills Food City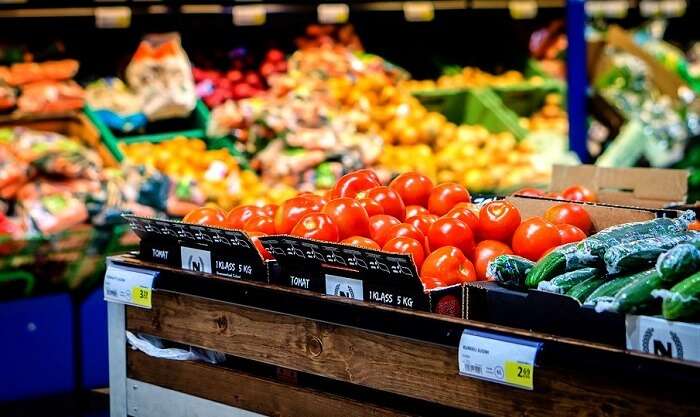 You can find some of the fresh produce of groceries in here along with other items like packaged meals and beverages. This place is a must visit if youre particularly craving for some jams and spices to add to your meal as they offer an amazing range of organic ones for shopping in Kandy. One can also get chilled beer at Cargills Food City by entering through the back entrance.
Location: 3, Sri Dalada Veediya, Kandy, Sri Lanka
Further Read: Top 5 Bentota Beach Resorts For A Luxurious Stay Along The Shores Of Sri Lanka
Now when you know where to treat the Shopaholic within you, you would definitely find it easy to have an amazing Kandy shopping experience. Just plan your Sri Lanka holiday with Travel Triangle, customize your itinerary, and head straight to these places!
Frequently Asked Questions About Kandy Shopping
Which are the best kinds of shops to do Kandy shopping from?
Antique stores, boutiques, book stores, cell phone shops, chocolate shops, clothing shops, cosmetics stores, craft stores, department stores, gift shops, jeweler shops, craft stores, and tea stores.
What types of shopping markets are present in Kandy, Sri Lanka?
Kandy in Sri Lanka has Central Markets, night markets, open local markets, outdoor markets, and shopping malls to shop authentic Sri Lankan products and branded goods.
What is the authentic beverage product to buy once in Kandy?
The Lankan Tea is a world popular for its special taste and aroma. It is advisable to taste the Lanka tea and buy from authorized Lankan Tea stores and tea museums in Kandy.
Which is the best fabric to buy by women tourists once in Kandy tour?
The women tourists must try the Lankan silk drapes. They are original silk fabrics, which are hand-woven too. You can buy them from authorized Lankan Silk Factory shops and handicraft shops in Kandy.
What are the edible items to buy once in the Kandy trip?
The Sri Lankan spices are the best to buy from Kandy local markets. They add fresh aroma, taste and special flavor in culinary.
Are herbal cosmetics available in Kandy?
Yes, Sri Lanka is known for its tropical rainforest and thousands of herbs found here. You can buy many herbal cosmetic products from herbal stores present in Kandy.
Is it possible to go shopping in Kandy on a day trip?
Yes, you can do shopping in its shopping malls, local markets and in the night market in a day trip once in Kandy tour, Sri Lanka.
Is Kandy the best place to shop for kids?
Yes, Kandy has many baby stores, kids wear shops, gift shops, toy shops and kids-friendly places in major shopping malls.
Do shops in Kandy accept Traveler' Cheques from tourists?
Yes, most of the shopping malls and boutiques in Kandy City accept Traveler' Cheques from tourists. It is advisable to inquire first before purchasing.
Do shops in Kandy accept credit cards from tourists?
Yes, most of the shops in Kandy accept credit card payments from tourists. It is advisable to enter such shops, which have a MasterCard logo on their storefronts.
---
People Also Read:
Shopping In Sri Lanka Shopping In Myanmar Shopping In Pokhara