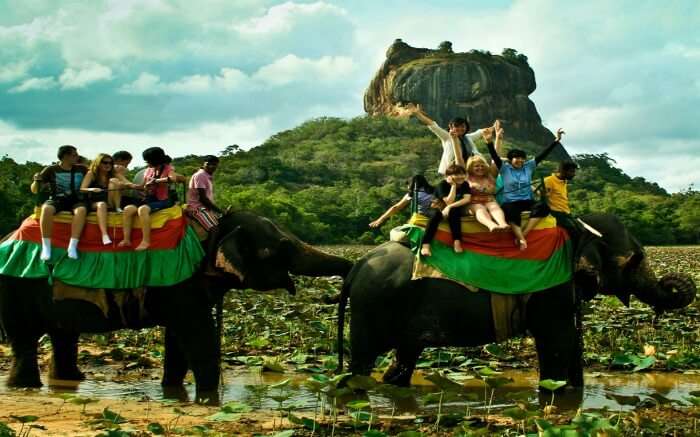 Kandy, in the heart of Sri Lanka, is one of those places that leave lasting imprints on mind and soul of every passionate traveler. The city is detailed by mild chants of hymns, emblazoned with soothing charm, and nature's magical vibes. Whoever takes a trip to Sri Lanka is left deeply influenced by the refined charm and the best things to do in Kandy that result in a bounty of lasting memories.
A major hub of Buddhism among other prominent Asian destinations, Kandy is a place submerged in tranquility. Couples spending romantic moments at a lake facing restaurant around the Kandy lake, women clothed in tasteful attire, cheerful compassionate people brimming with warm gestures, and exciting historical monuments overlooking magnificent vistas make Kandy an exciting place in Sri Lanka.
Explore the city like a pro with this handy guide on best things to do in Kandy Sri Lanka!
8 best things to do in Kandy to make your Sri Lanka trip exciting!
1. Start with a cuppa of steaming tea at Ashburnham Estate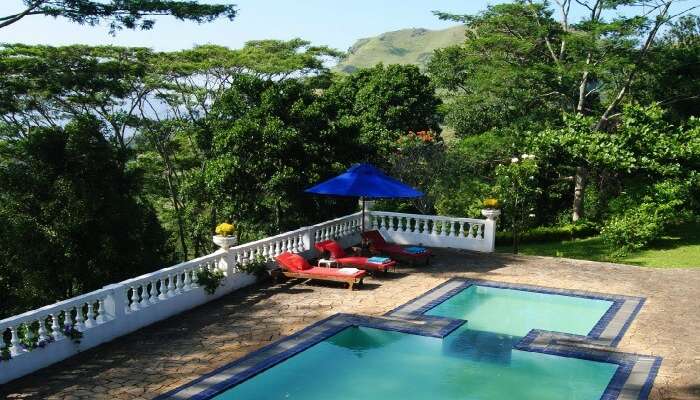 Unique rooms, vast tea estates in the boutique premises, and exciting nature around make Ashburnham an important place to stop by when you are looking for best things to do in Kandy. The 100-acre campus located at a one hour distance to the northeast presents stunning views of the Knuckles mountains, waterfalls, tea estates, and has exciting stay options. The huge bedrooms with modest design are a treat to the travelers.
Good food and guided tours put Ashburnham atop the list of must-visit places in Kandy. Thanks to the unmatchable experiences offered at the property!
Guided tour includes: Tour of Botanical Gardens, Temple of Tooth Relic, Udawattakele Forest, and down the hill for Ayurvedic massage in Wattegama among others
Tariff: $ 149 per night onwards
---
Sri Lanka Holiday Packages On TravelTriangle
Book your Sri Lanka trip from TravelTriangle: Inclusive of Hotels, Sightseeing, Transfers, & Meals. Best Prices Guaranteed. Get Customizable Package & Free Guidance From Destination Experts. Book Now!
---
2. Want a joyride? Take an elephant ride.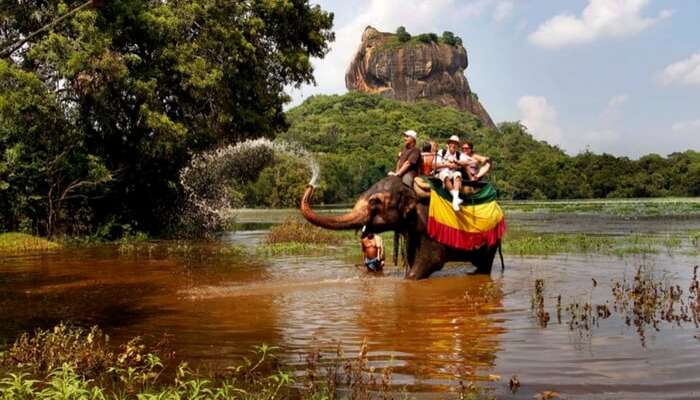 One of the best things to do in Kandy and the most loved fun activity in the town, an elephant ride is one of its kind experience when you are in Kandy. Ride the beast, play with them, feed them, and take a shower as they empty their trunk full of water, elephant ride is one of the important highlights of top things to do in Kandy.
Well trained and tamed elephants exploring the wildlife, and nearby villages make the safari even more exciting.
Where: Pinnawala Elephant Orphanage
Tariff: $30 per person approximately
Must Read: See The Best Of Sri Lanka: Ramayana Tour & Beyond
3. Take a leisure stroll up to the Dambulla Cave Temple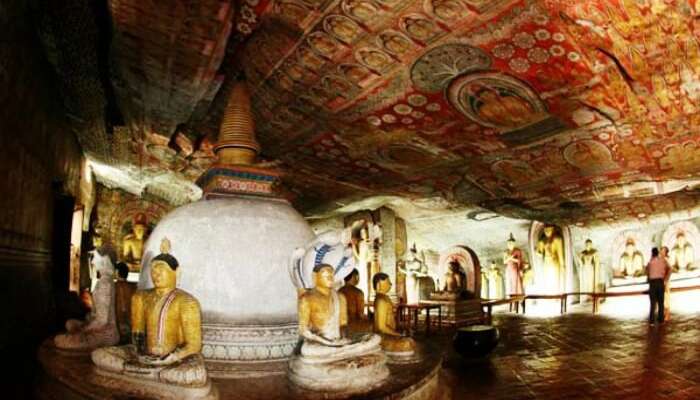 If you are a traveler looking to sample the unparalleled beauty and vast diversity of Sri Lanka, take a leisure stroll in and around the Dambulla Cave Temple. The temple regarded as one of the most ancient (dating back to 2nd century BC) and prized possessions of Sri Lanka boasts of prehistoric paintings, carvings, and peace. A popular place for spiritual seekers and Buddhists, the cave temple is certainly one of the most sought after place in Kandy.
It also happens to be the Largest Rock Cave Temple in Sri Lanka tucked at a 600 feet high rock with exceptional nature views around it. The archeologists have affirmed that the rock caves were once a dwelling place back in prehistoric times. The temple is 68 km from Kandy in Dambulla town by the A9 road.
Attractions for visitors: Rock paintings, statues of Lord Buddha
4. Go for meditation at Nilambe Buddhist Meditation Centre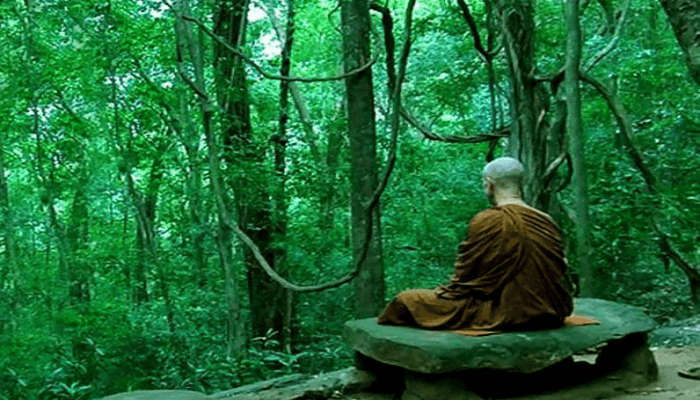 13 km to the south of Kandy lies Nilambe Buddhist Meditation Centre – a peaceful sojourn offering daily meditation classes to the seekers and nature enthusiasts. The meditation center is the perfect place for everyone looking to make the best of a memorable holiday in the island nation. With lots of greenery and Buddhist monks around nothing in Kandy could get you as much comfort as Nilambe Meditation Center. Walk through the sprawling tea estates and pump yourself up. This place has a lot to offer!
And while you are at the meditation center premises make sure that you maintain absolute silence and adhere to the guidelines mentioned here!
5. Take a nature walk along by the Kandy Lake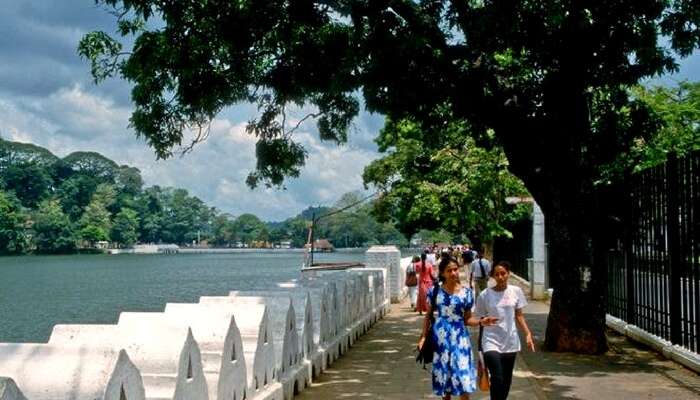 A comforting nature walk around the central lake must be in your Kandy things to do list! The areas around the lake mostly thronged by the peace loving visitors. A peaceful walk in the morning hours with Tooth Relic Temple and rainforest looming in the backdrop make for the perfect setup to go for a leisure stroll around the Kandy Lake.
Besides, you'd also stumble on a lot of visitors practicing Buddhist way of meditation and spreading chants in the surrounding areas. Such a place gives you plenty of time to meditate and rediscover yourself.
Must Read: 12 Honeymoon Places In Sri Lanka That Will Sweep You Off Your Feet
6. Time for some action at Horton Plains National Park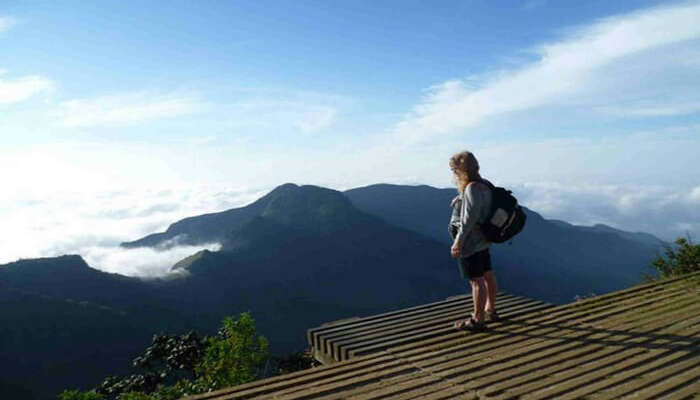 From standing on the verge of World's End overlooking an almost 900 m plunge to planning camping and hiking in the park area, an excursion to the Horton Plains National Park is indeed the best thing to do in Kandy for adventure seekers. The chain of mountains in the national park area features exciting trails across the most popular peaks in Sri Lanka. Enchanting and inviting they are!
A walk through the alpine, lush grassland and traversing paths atop 2000 m plus altitude give you the perfect thrill you have been looking for in Kandy. The best of the park can be experienced between 6 – 10 am, that's when it's covered in mist and haze.
January – March is the perfect time to visit the Horton Plains National Park.
2.5 hour – dirve from Kandy takes you to Nuwara Eliya – a tourist attraction in the central Sri Lankan province. Considered as a trekker's paradise Nuwara Eliya has amazing landscapes and tea plantations. Devon Falls and Hakgala Botanic Gardens are other attractions here.
Suggested Read: 10 Waterfalls in Sri Lanka That Unveil Country's Bewitching Landscapes
7. Feast on good food and great lake views!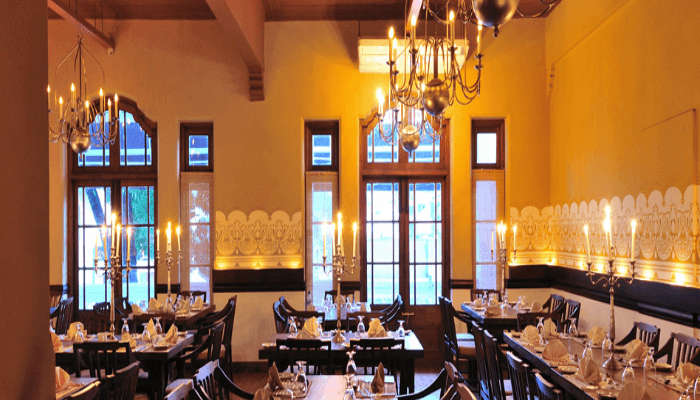 Dine by the Kandy Lake, marvel the excellent views, and feast on the precious moments, you just cracked one of the best things to do in Kandy effortlessly! As you sit back in the picturesque restaurant reputed to offer unmatchable views around, the experiences offered by the comforting Kandy city become unparalleled! Care to explore?
1. Rock View
2. White House
3. Soya Center
4. Kandy House
5. Kandy Muslim Hotel
8. Go shopping at Main Market & Kandy City Center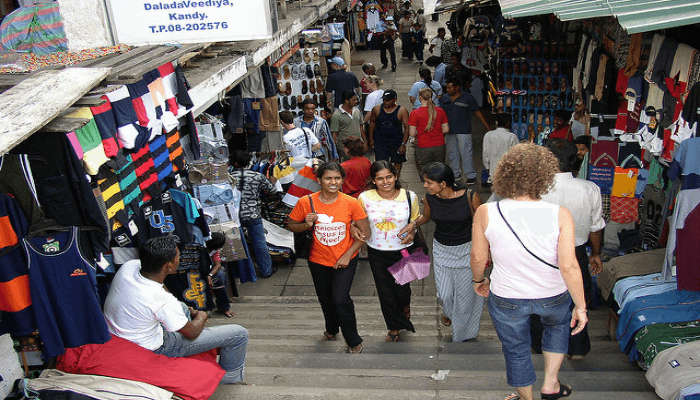 With ample of shopping options, Kandy City Center and Central Market offer a world of exciting opportunities for travelers. Exploring the local marketplace is certainly one of the best things to do in Kandy. The city center mall distinguished for its ultra modern features, and unique architecture caters to a major chunk of visitors planning a visit to Kandy.
Apart from well-laid restaurants, supermarkets, and entertainment area the center also has plenty of showrooms featuring designer wears, handicraft stores, and accessories shops. You can also find other popular shopping options in the city located in the close proximity of the Kandy Lake.
If you are planning to travel to Kandy in July or early August, do make prior arrangement to attend Esala Perahera – the 10-day festival when lots of elephants are decorated and processions are carried out.
Kandy is a spiritual sojourn for sure, but the thrilling spectacles around the city are equally engrossing if you are up for some adventure. Go for the best things to do Kandy and know what this place has in store for you. Plan a Sri Lanka Trip now!
Further Read: The Ultimate Sri Lanka Honeymoon Guide
---
Looking To Book An International Holiday?
Book memorable holidays on TravelTriangle with 650+ verified travel agents for 65+ domestic and international destinations.
---
Comments
comments