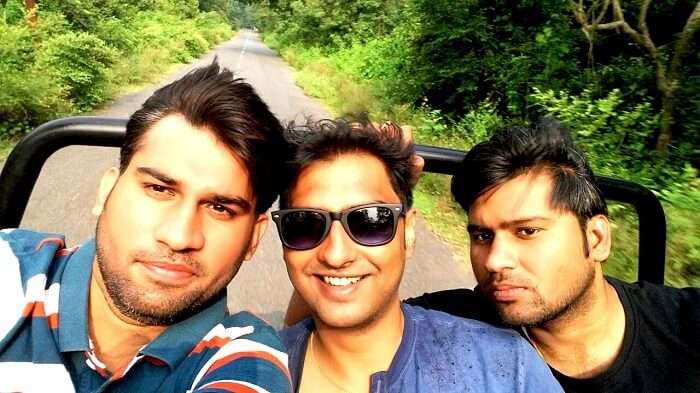 A group of friends cum adventure enthusiasts headed to the jungles of Uttrakhand for a thrilling encounter with mother nature. Karan recollects their time spent in Jim Corbett in search of the elusive Bengal Tiger. The trip cost him INR 3800 per person and also included their transfers, accommodation, meals, and sightseeing.
An adventure trip to Jim Corbett seemed perfect. It checked all the boxes in terms of distance, adventure, budget and good enough time to spend with each other .
While searching for tour packages on the internet, I landed on the TravelTriangle page. They provided an option of modifying the package according to our travel needs, which seemed very interesting to me. I put in a query on their website and following that a representative from TravelTriangle called me and understood my requirements.
I was connected to multiple agents who sent me various quotes as per our needs and I selected the best one which suited our travel plan.
As a person managing a group of young and enthusiastic professionals, there was always an urge within me to mix hard work with leisure . And now I finally had a good opportunity to enjoy a weekend getaway with my friends.
Day 1: Journey To The Hills

Suggested Read: An Adventurous 2-Day Weekend Retreat To Jim Corbett
We left New Delhi at 11pm for an overnight bus journey to Ramnagar. During our journey, we stopped at 3 am for snacks and at 6 am for sunrise. We parked our bus in front of a farmland that had a clear view of the horizon. It was a warm and beautiful sunrise.
Day 2: Spending the day at the resort

We arrived at the resort at 8.30 am. Upon arrival, we enjoyed a wholesome breakfast. Afterwards, I couldn't resist diving in the pool where my friends already were enjoying.
Whatever slight tiredness of the overnight journey was there, it got washed away magically (Or maybe it way was just the excitement of being there). All the water volleyball and the belly flops had again made us hungry. We proceeded for lunch at 12.30 pm.
Post lunch, we began with sightseeing. First up, we visited the Jim Corbett Museum where we got to know more about the destination and it's history. After that, we visited a famous local temple parched across a rugged path.
A little way down the temple, we could see a riverside. We walked there and enjoyed for a while, sitting on the large pebbles and dipping our feet in the water. We arrived back at the resort at 5pm, and it didn't take long before we were in the pool again like a happy bunch of penguins.
We had dinner at 9pm, after which we stayed up till 2 am by spending time by the pool with each other.
Day 3: Jungle Safari

Suggested Read: 30 Resorts In Jim Corbett For 2022 That Are Definitely A Class Apart
Much like vampires who don't sleep, we were up again by 5am to get ready for the jungle safari. We reached the Jhirna gate by 6am to begin our safari. It was a thrilling experience to roam  amidst the wildlife in a jeep with cool wind blowing across our faces.
Although, we missed the tiger spotting by a few minutes, we had to be content with elephants, deers, and a few tiger tracks. The safari ended at 9am, after which we had some snacks for breakfast.
We reached the resort at 10 am and checked out. The journey back to New Delhi was enjoyable and hilarious.
It was a much needed weekend break for me. The time I spent with my friends helped me clear my head and relax my mind for the tough period of work that lay ahead of me. Jim Corbett also helped me appreciate the flora and fauna more than ever.
High Points :
Jungle safari was an amazing experience.
Time spent with friends at the pool and the riverside was enjoyable.
Low Points :
Food at the resort could've been better.
We didn't get to see a tiger.
Tips for Travelers :
Ideal time to go to Corbett for tiger spotting is after 15 October.   
Witness the wildlife in its full bloom Click on the link for more exciting weekend getaways!
---
Long Weekend Trips Starting @ Rs 3499/-
Take a trip to spend the upcoming long weekend with your buddies.
✓ Stay at 4 star rating hotels with local sightseeing, meals and transfers.
✓ Travel in AC coach round trip (from Delhi).
✓ All Inclusive Deal– Camping, Jeep Safari & Trekking as per itinerary
✓ Sign up NOW to celebrate the long weekend out of town!
---