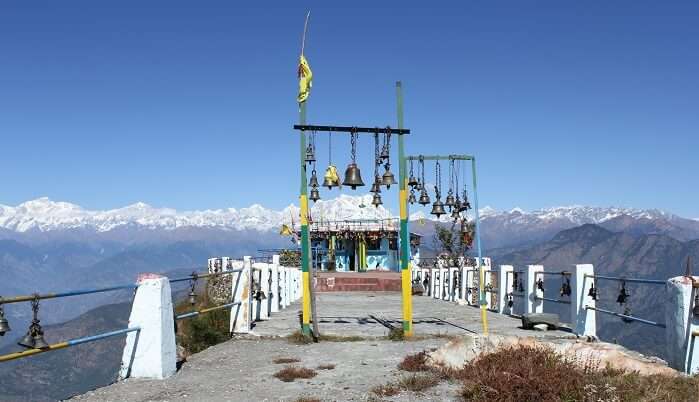 Home to innumerable religious abodes, the Kartik Swami Temple in Uttarakhand is a sacred escape that features an enthralling expeditions. You not only unravel untouched and wild terrains, but also get to explore the mystic site dedicated to the elder son of Lord Shiva, Kartikeya — the one worshipped as Murugan Swami in South India.
Apart from its religious significance, the Kartik Swami Temple in Rudraprayag of the Garhwal region is an offbeat trekking destination that allures adventurers who wish to capture extraordinary sights of the Himalayas. On this expedition that commences from Banderpunch, you will witness Kedarnath Dome, Chaukhamba Peak, Neelkanth Parvat, Dronagiri, Nanda Ghunti, Trishul, Nanda Devi, and Meru & Sumeru Parvat.
Kartik Swami Temple In Uttarakhand: History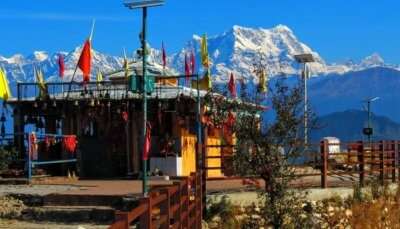 According to Hindu Mythology, one day, Lord Shiva challenged his sons Ganesha and Kartikeya by saying that whoever will complete seven rounds of the universe first will be rewarded. On hearing that, Kartikeya headed to circle the universe on his vehicle. On the other hand, Ganesha stepped forward and took seven rounds of his parents — Shiva and Parvati. This act of Ganesha impressed the Shiva, and he gave the privilege of being worshipped first to Ganesha. When Kartikeya heard about it, he decided to sacrifice his body and bones to his father as reverence. The narrative states that the entire incident occurred at the site of this temple.
8 Top Hill Stations Near Uttrakhand You Can Visit On A Long Weekend
Overview
Trek distance: 3 km
Difficulty level: Easy
Ideal for: Beginners
Altitude: 3050 m
Best time: January to June, and October to December
Location: Rudraprayag, Garhwal
Starting point: Kanakchauri Village
Nearest railway station: Haridwar Railway Station (nearly 205 km away)
Nearest airport: Jolly Grant Airport in Dehradun (nearly 222 km away)
Known for: Religious site, trekking, sunset & sunrise, bird watching, mesmerizing views
Tourist Places near Kartik Swami Temple in Uttarakhand
The following are the best places to explore near Kartik Swami Temple in Uttarakhand:
1. Ukhimath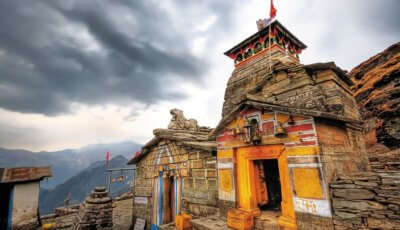 Ukhimath is perched at 1317 mt. above sea level in the Rudraprayag district of Uttarakhand state. During winter, when Kedarnath Temple remains closed, the rituals are performed at the Omkareshwar Temple in Ukimath. Nestled amid tranquil escapades of the Himalayas, Ukhimath is a paradise for nature lovers.
Distance from Kartik Swami Temple: 79 km
12 Bakeries In Dehradun For A Delightful Trip To The State Of Uttarakhand
2. Sari Village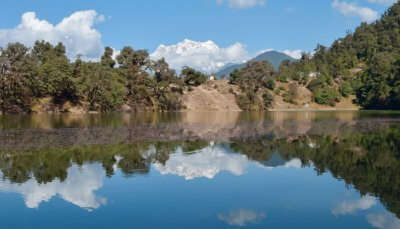 Sari Village is a serene hamlet nestled nearly 20 km from Chopta that features an abundance of oak and rhododendron trees. Also known as Saari Gaon, the place serves to be a base camp for local expeditions, including the Deorial Tal trek. Home to a handful of homestays, Sari gives you a chance to sneak peek at the untouched beauty of the local terrains of Uttarakhand.
Distance from Kartik Swami Temple: 15.1 km
3. Deoria Tal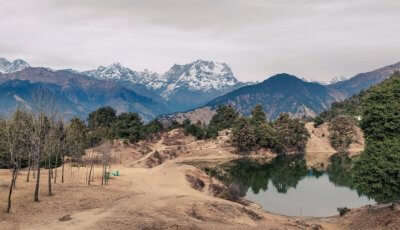 Deoria Tal is the famous emerald lake nestled at 2438 mt. amid the majestic Himalayas. The lake reflects the enormous image of the Chaukhamba peaks during clear mornings. The trek is ideal for beginners and you can also extend your expedition to Bisuri Tal, Tungnath, and Chandrasila from here.
Distance from Kartik Swami Temple: 15.4 km
6 Best Venues for a Destination Wedding in Jim Corbett
4. Chopta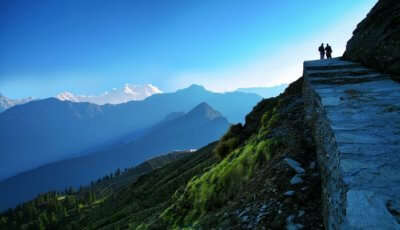 Chopta is an abode of scenic beauty and is known to be the 'Mini Switzerland of Uttarakhand'. Waking up amid a salubrious breeze with chirps of birds adding freshness to your morning vistas, Chopta is truly invigorating where the crimson rays of the sun kiss the snow-clad mountains. The abundance of dwindling pines, deodars, rhododendrons, and conifers makes it an ideal place to plan a romantic getaway with your loved one.
Distance from Kartik Swami Temple: 6.4 km
Best Things to do in and around Kartik Swami Temple in Uttarakhand
The following are the best activities to indulge in Kartik Swami Temple:
1. Trekking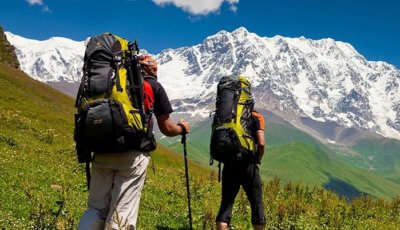 The temple allures countless nature lovers and adventure freaks and you need to take a 3-4 km trail that passes through a rhododendron forest making your journey a wonderful experience. The trek starts from Kanakchauri and takes nearly 1 hour to reach the main destination.
Brahmatal Trek Guide: All You Need To Know
2. Bird Watching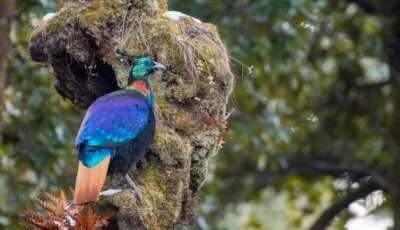 Kartik Swami Temple in Uttarakhand is home to over 150 species of birds and you can spot a golden eagle, black eagle, steppe eagle, bearded vulture, Himalayan snowcock & monal, and many more here. This excursion is a paradise for birdwatchers and makes you capture some endangered species in their rare moments.
3. Camping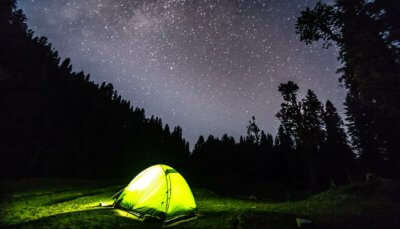 Kartik Swami Temple offers perfect grounds for camping too. If you are traveling with your family or friends then bring in your camps and halt here to capture magnificent views of prominent peaks, including Chaukhamba, Dronagiri, and Neelkanth.
Top Things To Do In Jim Corbett With Family For A Refreshing Holiday Experience
4. Village Tourism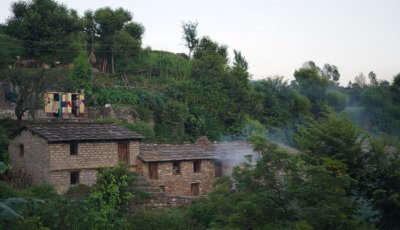 Kanakchauri Village serves to be the base camp for the Kartik Swami Temple excursion. The place hosts village tourism and is an ideal site to experience local cultures and customs.
Places to Stay near Kartik Swami Temple in Uttarakhand
The following are the best homestays in and around Kartik Swami Temple:
1. Mayadeep Holiday Home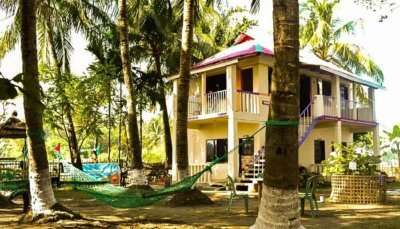 Image Credit: Mayadeep Holiday Home for Facebook
Mayadeep Holiday Home is amongst the best homestays in Kanakchauri that is surrounded by verdant landscapes. Spell-binding morning views with delicious meals cooked with local ingredients make your stay a comfortable experience amid the rough terrains.
Location: Kanakchauri Village, Rudraprayag-Pokhri Road, Uttarakhand
Price per night: INR 1,500
Rating: ⅘
Kasauli In December: When the City Transforms Itself Into Heaven
2. Homestay Sree Kartikeya Palace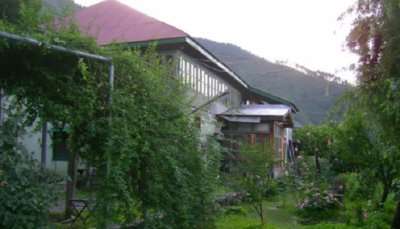 Image Credit: Himalayan Homestays for Facebook
Sree Kartikeya Palace features 4-double bedrooms with a basic setup and makes you spend comfortable time here with your fellow travelers. The rooms have an attached bathroom with a facility of hot water throughout the day.
Location: Main Road, Kanakchauri Village
Price per night: INR 1,000
Rating: 3/5
3. Woodstrekker Camps Mohankhal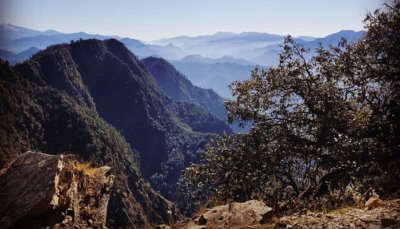 Image Credit: Woodstrekker India for Facebook
If you wish to stay in camps on your trip to Kartik Swami then Woodstrekker Camps Mohankhal is an ideal site to spend time. Located amid lush greenery, the place hosts interesting nights where you can also enjoy bonfires with your friends.
Location: Mohankhal Village, 7 km from Kanakchauri
Price per night: INR 1,000
Rating: ⅗
Rishikesh In December: 10 Experiences You Need To Have For Embracing The Chill In 2022!
Best Time to Visit Kartik Swami Temple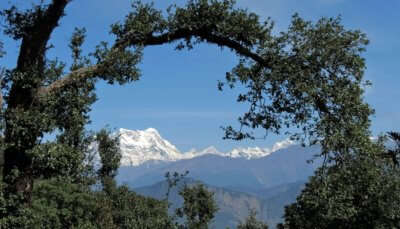 The best time to visit Kartik Swami Temple in Uttarakhand is between October to June. October and November are the best months if you wish to witness the snow-capped Himalayas of the region. Avoid visiting the temple during the monsoon, as the route to the temple tends to be slippery.
How to Reach Kartik Swami Temple
The best way to reach the temple is by road. The nearest railway station to the temple is in Haridwar Railway Station which is nearly 205 km away from your destination. Jolly Grant Airport in Dehradun is the nearest airport and you can continue the remaining journey by road, that is, either by bus or taxi. You can also hire a car and self-drive to reach the Kartik Swami Temple in Uttarakhand.
Luxury Adventure Camping On A Weekend In Rishikesh
Tips
The following are the tips that would definitely make your journey a comfortable experience:
Book your trip in advance and set a proper itinerary.
Check the weather forecast and make sure that you pack accordingly.
Carry mosquito repellent and other utilities that make your stay comfortable amid forestry areas.
Carry your trekking gear and walkable shoes.
Don't forget to pack your first aid box.
Kartik Swami temple is an offbeat place in Uttarakhand that is worth exploring with your travel mates. This easy expedition is ideal to plan over a meeting. If you wish to have a memorable trek to Uttarakhand then you can book your future expeditions with TravelTriangle and enjoy vacationing like never before.
For our editorial codes of conduct and copyright disclaimer, please click here.
Frequently Asked Questions about Kartik Swami Temple
How can I reach Kartik Swami Temple?
Kartik Swami Temple can be reached by road. You can take the 3 km trek from Kanakchauri in Rudraprayag district to reach the temple.
When to take Kartik Swami darshan?
The temple can be visited throughout the year and remains crowded by locals on Purnima that comes on the full moon day of the Hindi calendar. Avoid visiting the temple during the monsoon as the roads to the temple tense to be slippery.
Is it safe to visit Kartik Swami temple during Covid times?
You need to follow all the mandatory travel guidelines mentioned by the authorities to ensure a safe travel experience. Avoid crowded places and keep sanitizing your hands after touching surfaces. Maintain social distancing and remain masked in public places.
Can we camp at Kartik swami temple?
Yes, you can camp around the temple. There are also camps available in the region where you can plan a stay for 2-3 days. Make sure that you plan your trip in advance.
People Also Read:
Temples In Uttarakhand Temples In Himachal Pradesh Temples In Haridwar