Brahmatal is a serene escape nestled amid the Himalayas of Uttarakhand that features panoramic vistas of the majestic peaks, especially Mt. Trishul and Mt. Nanda Ghunti. This natural water body lies at an altitude of 3734 m and hosts memorable trekking experiences. Traversing through the forest trails that lead to meadows and unraveling hidden waterfalls along the route that remains accessible throughout the year makes it a famous Himalayan trek. The lush green grandeurs of the Brahmatal trek turn impeccable white in January and February, giving a chance to capture views of snow-capped peaks. It is a round trek that starts from Lohajung and halts at four places, including Bekaltal, Brahmatal, Tilbudi, and Wan. If you wish to go on an expedition to Brahmatal, continue reading this detailed guide to have an unstoppable journey with your gang!
About Bramhatal Trek

Nestled in the depth of Uttarakhand, Brahmatal is one of the exclusive Himalayan treks that remains accessible throughout the year. The 6-days trek starts from Lohajung and takes to unexplored terrains, including halts at Bekaltal, Tilbudi, and Wan.
The trek route is ideal for beginners as well as experienced trekkers. The majority of the trek continues under forested areas and has fewer chances of altitude sickness. Brahmatal expedition is an ultimate combination of adventure where every single step leads you to the charming terrains worth exploring in a lifetime.
Overview:
Region: Uttarakhand
Duration: 6 Days
Brahmatal trek difficulty level: Easy To Moderate
Max altitude of the trek: 12,200 Ft.
Brahmatal trek distance: 24 Kms.
Trail type: Round trail, it starts and ends at Lohajung
Base camp: Lohajung
Best season: Mid November to March
Brahmatal trek price: Ranges between INR 9,000 to INR 12,000 per person
15 Best Places To Visit In Uttarakhand In December 2022 For A Refreshing Escape!
Brief Itinerary of Brahmatal Trek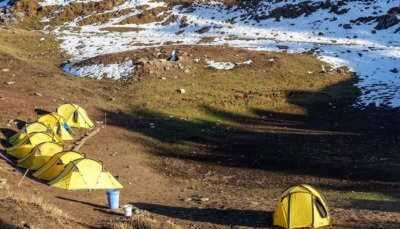 Rishikesh and Kathgodam serve to be gateways to the Brahmatal trek. You can reach Rishikesh by rail or road and proceed towards Lohajung by bus or taxi. The following is the day-wise itinerary of the entire excursion:
Day 1: Rishikesh/ Kathgodam to Lohajung
Day 2: Lohajung to Bekaltal
Day 3: Bekaltal to Brahmatal
Day 4: Brahmatal to Tilbudi via Brahmatal Pass
Day 5: Tilbudi to Lohajung via Wan
Day 6: Lohajung to Rishikesh/ Kathgodam
Places to Visit during Brahmatal Trek
The following are the places that you will be exploring during this trek:
1. Lohajung Village

As the expedition commences from Lohajung, you get a chance to explore this serene hamlet nestled in the Chamoli district of the Garhwal region. The place serves as the base station to numerous enthralling treks, including Brahmatal Trek, Roopkund Trek, Bedni Bugyal Trek, etc. The vast lands of this village make it an ideal place for camping.
Luxury Adventure Camping On A Weekend In Rishikesh
2. Bekaltal

Bekaltal is nearly 8 km from Lohajung, and this high-altitude natural lake flows towards Mundoli and Ratgaon. The lake is 7 km from Brahmatal and leads to open meadows that offer enticing views of the Himalayan peaks. Winter brings a hard layer of ice over the lake, and the site remains covered under the snow blanket in January and February.
3. Brahmatal

Brahmatal, the place has a prominent relevance to Hindu mythology, and according to the religious texts, Brahma visited the site for self-mortification. The serene lake freezes during the winter months and is amongst the rare Himalayan treks that remain open throughout the year.
19 Amazing Places To Visit In Uttarakhand In Winter Of 2022
Things to do during Brahmatal Trek
The following are the activities to indulge in during the Brahmatal trek:
1. Camping

The verdant terrains of the Chamoli district offer ideal grounds for camping. A camping experience amid untouched landscapes allures wanderers to the Brahmatal trek. Quarrelsome sounds of night-flies, under the twinkling skies, and the freshness of nearby gushing streams, overnight halts of the Brahmatal trek experiences are mind-blowing for nature lovers.
2. Swimming and Bathing

The trek gives a chance to sneak peek at the hidden waterfalls and take a few refreshing dips with your fellow partners. You can take a break from your regular trekking routine and indulge in swimming to relax your body and mind for some time. Be careful if you are expediting during monsoon, and avoid swimming if the water flow is more.
10 Reasons To Visit Auli In Winter 2022
3. Hiking

You can hike to the nearby areas while taking halts during your journey. Take a walk to nearby villages and understand the local culture. You can also taste local recipes and attend ceremonial celebrations before returning to your camps for an overnight stay.
Best Time for Brahmatal Trek

Brahmatal is around the year trek, and travelers prefer taking the expedition majorly in winter and early summer. Being a popular winter Himalayan trek, travelers prefer going here in January and February. The region experiences snowfall in winter which brings an impeccable blanket of ice. Spring season, especially in March and April, the trail gets beautified with bountiful Rhododendron blossoms. You can also witness some remaining patches of snow contrasting with lush green meadows.
New Year Weekend Trip To Kanatal: To Fantastic Beginnings
Tips for Brahmatal Trek

The following are the important tips that must be followed while planning your excursion:
Start training your body for the trek at least a month before.
Keep adequate cash as there is no ATM on the entire trekking route, including the base camp.
Plan your journey with experienced travel partners and book the trek in advance.
Avoid planning the Brahmatal trek during the monsoon as the route tends to be slippery.
You will not get mobile phone networks after Lohajung. Keep your family informed about the expedition.
Essentials and Gears
50-60 liters backpack with comfortable straps and rain cover
Trekking pole
Head torch
Water bottle, hydration pack, and thermos flask
Energy bars and dry fruits
First aid kit
Hand sanitizers and disinfectants
Disposable bags
Physical Fitness for Brahmatal Trek
You will be covering a distance of almost 24 km in 6 days, and to comfortably complete the trek, physical fitness is needed. Crossing uneven terrains with a heavy backpack requires your body to be prepared in advance. Squats, quadriceps, hip flexors, hamstrings, and ultimate stretching will help in relaxing muscles during the expedition.
Rishikesh In December: 10 Experiences You Need To Have For Embracing The Chill In 2022!
Brahmatal trek is a lifetime experience, and being an offbeat place, the serene ambiance with rare tourist activities makes it an ideal getaway for those interested in adventures amid mountains. You can plan and book your enthralling Himalayan trek to Brahmatal with TravelTriangle and have a memorable experience with your loved ones.
For our editorial codes of conduct and copyright disclaimer, please click here.
Frequently Asked Questions about Brahmatal Trek
Is Brahmatal trek difficult?
The difficulty level of the Brahmatal trek ranges from easy to moderate. Beginners can go for this trek, however, regular fitness would be required to complete the expedition comfortably. One must start preparing at least a month before heading for the trek.
Is Brahmatal trek for beginners?
Yes, beginners can go for the Brahmatal trek. However, make sure that you have appropriate gear for the trek. Check the weather forecast before heading for your journey and make sure that either you are traveling with experts or some local resident is accompanying, if you are a first-timer.
Which month is best for Brahmatal Trek?
If you wish to go for a winter Himalayan trek then plan an expedition to the Brahmatal trek in January and February. However, if you wish to avoid snowy landscapes and blooming topography is in your mind then plan a visit in mid-March or April. Avoid going on this trek during monsoon season as the route tends to be quite slippery.
Which trek is best Brahmatal or Kedarkantha?
Brahmatal and Kedarkantha, both the places host enthralling trekking experiences that are suitable for beginners. If you are planning an expedition during the winter months, then undoubtedly Brahmatal is a better choice. Kedarkantha receives heavier snowfall during late winters which adds difficulty to the trek.
Is there a network in Lohajung?
Yes, you will get all the mobile networks in Lohajung. However, once you start your journey towards Brahmatal, you will face connectivity issues.
People Also Read: