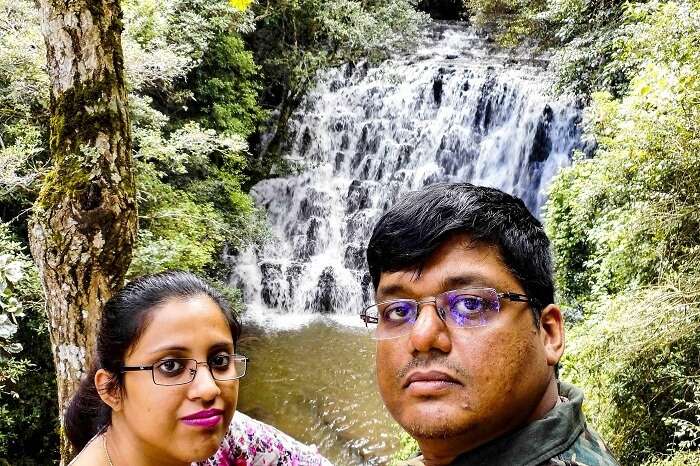 After spending 5 days in the North East, Kaushik describes his account of an unforgettable romantic trip to Meghalaya that unearths a magical destination in all its beauty and aplomb tucked away in the heart of the North-Eastern Himalayas.
After three consecutive months of tireless work, thoughts of a vacation inevitably popped up in our heads. My wife and I didn't want to go anywhere in South India, but most likely somewhere international like Sri Lanka, Maldives or a country in South-East Asia.
However, after considering the weather and the season, a romantic trip to Meghalaya sounded like the best option. It wasn't really the international trip we had started planning, but a place like that deserved a lot of intrigue and attention.
 Experiencing The Sweet Delights Of North East India: A Beautiful Family Trip To Sikkim & Darjeeling
Details of our romantic trip to Meghalaya
Trip Cost: INR 32,000
Trip Duration: 4 nights 5 days
Agent Name: Chalo Hoppo
Inclusions: Transfers, accommodation, meals (excluding dinner), sightseeing, and taxes
Exclusions: Flights, lunch, entry fees, and additional expenses (if any)
While searching for North East tour packages, we had a lot of questions in our mind like how will the food options look like for us pure vegetarians and how much would the rain play a part in disturbing our itinerary (since we planned to go to the wettest place on Earth- Cherrapunjee).
After we contacted TravelTriangle, a representative from their end handled all of our queries tactfully. At the end of it all, we had booked a romantic trip to Meghalaya with an itinerary that matched our needs 100% and met the price range we had in mind.
Day 1: Landing into the green pastures of Meghalaya
On the first morning, we took a direct flight from Chennai to Guwahati. Just as we were about to land, green fields appeared out of nowhere just like a chess-board raising our excitement to another level.We were welcomed at the airport by Hasan, our driver, who came along with his Swift Dzire.
We began our journey by traveling towards Shillong. We stopped on our way for breakfast at the Jiva Veg Restaurant at Nongpoh. We were pleasantly surprised by the menu which had all kinds of Dosas and Parathas. The drive from Nongpoh to Shillong was scenic as we saw clouds sailing along the same winding roads we were traveling on. On our way, we also stopped by at the beautiful Umiam Lake where the water had rare a green tinge that I have rarely seen in a lake before.
A few hours later, we checked into the Sha-Ri Loum Guest House in Shillong. We liked the homestay since it was clean, had a pleasant view, and offered privacy that many hotels don't.
Later that afternoon, we did some sightseeing by visiting the Don Bosco Museum. My wife, who generally does not like museums, spent her time going around the seven floors with quite a bit of interest. There was also a floor dedicated to the religions of the world which was really interesting for me.
We ended the day with a visit to the bustling local markets of Shillong. We also tried some common Indian street food which was delicious. Back at the homestay, we were served a tasty dinner that included dal, rice, and some pakodas.
Day 2: 3500-steps to reach Nongriat
The next morning, we got up early, checked out from the homestay and left for Nongriat. To reach this village in Meghalaya was an adventure in itself. There was no other way to go there except trekking down a 3500-step staircase. When we booked the place, it felt like a once in a lifetime experience that we wanted on our romantic trip to Meghalaya. But when we began our trip, we felt terrified of the possible outcomes.
At last, we decided that after having traveled this far, we had to take the plunge. We packed very lightly having just one set to change, some toiletries and a medical kit. We started our walk from the Tyrna village, which was the base for reaching Nongriat Village. As we huffed and puffed our way down the never-ending flight of stairs, we tried filling our lungs with the fresh air, lush green surroundings, and the spirit of adventure.
Romantic Trip To Northeast India: Our Memorable Escapade To Gangtok, Pelling, & Darjeeling
On our way, we then came across a small, yet beautiful village in the middle of the forest. Amidst the tall and tropical trees, we had a feeling that we were in the heaven, just that we weren't ready for it.
After a while, we reached a beautiful long root bridge, which is considered as the halfway point to Nongriat. The water flowing down the long root bridge was crystal clear and felt like pure mineral water. After another gruesome hour of trekking, we finally reached the Nongriat village at 4 pm.
We checked into our homestay and proceeded to the double-decker bridge to have a bath in the wonderful falls and pool. We virtually had the whole pool and falls to ourselves as most tourists who come down to Nongriat don't stay here.
That evening we met a Bengali guy and his friend who had come down that evening to stay in the bungalow. We shared stories of our travels and had dinner together.
Day 3: The long climb back to Sai Mika Resort in Cherrapunjee
The next morning we checked out of Nongriat and began our climb back to Cherrapunjee. Oddly enough, we took half the time climbing up as compared to when we were on our way to Nongriat. It was probably because we had gotten used to the thousands of stairs.
Upon reaching Tyrna village, we had locally grown pineapple and said goodbye to our guide Kit-Bot. We arrived in Cherrapunjee and checked into the Sai Mika Resort which is a 5 km drive into near nothingness.
Best Things To Do On A Family Trip To Sikkim And Darjeeling
After that, we then headed to a waterfall near the resort where we were treated to a sight that I have not seen ever. The river had created infinite small craters and gorges which are a sight by themselves which was scary yet beautiful.
While my wife took a break and rested at the resort, I kept myself busy with photography. At Sai Mika Resort, the weather and the clouds passed through every 2 minutes. At one point we were in the sunshine you left and the next minute there is a wave of clouds passing by like army drill out of nowhere. The clouds would come, hit the high ground, consolidate, and then move towards me like a wave of white smoke on the disco floor.
Later on, we had dinner and took rest before deciding to call it a day for our romantic trip to Meghalaya.
Day 4: A scenic and adventurous drive to Markasa
Like our daily routine goes, we checked out of the resort and then headed out after breakfast towards Markasa Village. It was a distant place, as we started at 9 am to reach only by 12.30 pm.
The stretch from Shillong to Markasa was awesome. This day we witnessed all types of skies that I had never seen before, scenery that keeps clearing and fogging every couple of minutes and that urge to see the very next scene.
An Epic Adventure Trip To Meghalaya With Friends
Yet another surprise on our romantic trip to Meghalaya came when we stopped at a dhaba for lunch and a tasty pumpkin dish was available along with rice. The food was really good as I gobbled up most of it.
Finally, as the dust settled on another fantastic day of travel and exploration, we proceeded to our village homestay, that was 5 kms from Markasa, to call it a night.
Day 5: Heading back to civilization
On the final morning of our romantic trip to Meghalaya, we left the village touched by the integrity, simple living, carefree life of the people in Meghalaya. We also said our goodbyes to the dog that accompanied us to all the viewpoints around the village just because my wife had given him some leftover food.
The overnight rains had made the muddy road even more slippery, but our expert jeep driver made sure that we came back to Markasaw in time for our flight. We were back in Nongpoh for our lunch before we headed back to the airport in Guwahati.
As we boarding our flight back to Chennai, the realization of going back to the world that we live in was pretty hard-hitting. Meghalaya was the kind of heaven that we always dream of living in.
At the tail-end of this romantic trip to Meghalaya, my wife couldn't help but convey her feelings as she was left wondering why wasn't she born here? or could she not have a mother here? In the end, we were grateful to the almighty tried who set up an idyllic surrounding for a painter and left him admiring God's work on this beautiful stretch of land.
Discovering Unseen Places On A Family Trip To Meghalaya
High points:
Chetan from Chalo Hoppo made our itinerary after understanding who were and our love for nature, trekking, etc. Hats off to him for planning such a wonderful romantic trip to Meghalaya.
Although I'm not too keen in stargazing, to experience that in Nongriat left me speechless.
Tip To Travelers:
The double-decker root bridge in Nongriat is a one-of-a-kind in the world. You need legs of steel and the determination of a tiger to visit it and experience it.
Meghalaya is a green paradise for all nature lovers. Book your Meghalaya tour package and reconnect with nature in the stunning North-East!
---
Looking To Book Your Honeymoon Package?
Book memorable honeymoon on TravelTriangle with 650+ verified travel agents for 65+ domestic and international destinations.
---
Comments
comments