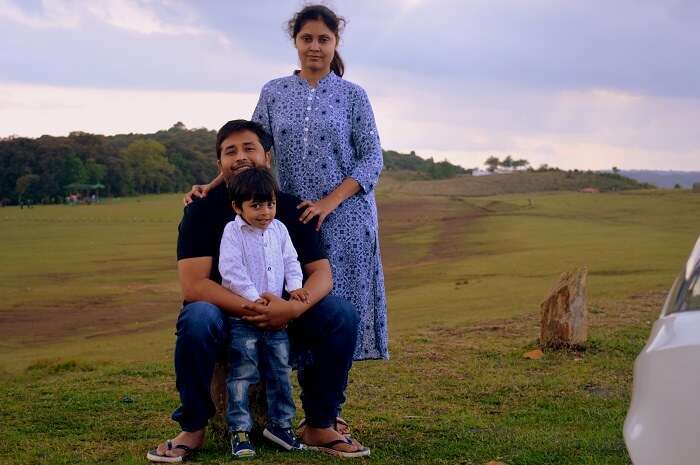 Vishal and his family took the path less traveled by that gave them an unforgettable family summer vacation. On their 6 nights/7 day family trip to Meghalaya, they witnessedthe beauty of North-eastern India through its picturesque hills, sacred forests, and gorgeous waterfalls.
Just like in the past, as soon as the financial year winded up, my wife and I were eager to head out on a family summer vacation to an international destination. However, we soon had to alter our plans and find a domestic destination for a family trip as my son's passport could not be processed in time.
Places To Visit On A 7 Day Trip To Meghalaya
Since we love visiting places that are not commercialized, we all mutually agreed on a trip to Meghalaya. I previously knew about TravelTriangle through their Facebook advertisements. After submitting my details on their website, I got multiple quotes from various agents which peaked my interest in booking a trip through TravelTriangle. I selected the Meghalaya tour package given to me by Siang Explorer agency.
Trip Cost: INR 40,000
Trip Duration: 6 nights/7 days
Agent Name: Siang Explorer
Month of Travel: April 2017
Inclusions: Transfers, accommodation, breakfast, safari, and taxes
Exclusions: Flights, meals, and insurance
After I shared the customized itinerary with my wife, which contained some of most stunning places to visit in Meghalaya, she was particularly excited about visiting the cleanest village in Asia, and Kaziranga National Park.
Day 1: Getting to Kaziranga by road
After boarding a flight from New Delhi, we arrived in Guwahati at 1 pm. Our guide picked us up from the airport and drove us to Kaziranga National Park. We arrived at the Wild Grass Resort at 6 pm and checked into our room.
Later on, we had dinner at the resort and relaxed for the rest of the evening. We decided to sleep early, as we wanted to catch up on some lost sleep over the past 24 hours.
Day 2: An adventurous safari in Kaziranga
The Ever Growing Living Root Bridges, Meghalaya – A Nature's Marvel In The Northeast
This day, we were scheduled to take both the elephant and jeep safari in Kaziranga. We woke up at 5 am and got ready for our elephant safari. As our elephant stepped into the wild, we saw a lot of rare animals like the Rhino, Indian Hog Deer, and Barasingha.
After the elephant safari got over at 8, we were given an option to go for the jeep safari in the first half of the day or come back later in the evening for a sunset Safari in Kaziranga. We didn't wanna explore the national park in patches, so we opted for a jeep safari straight after breakfast.
After having breakfast, we proceeded for the jeep safari in Kaziranga. One good thing was that our jeep drove us into Kaziranga through a different gate than where we had gone through earlier this morning. The jeep took us to a more scenic part of Kaziranga, where, along with the wildlife, we could enjoy the rich landscape.
After the safari, we returned to the hotel for an afternoon nap. In the evening, we explored the local market and enjoyed a delicious Assamese dinner at a small eatery. Later on, we returned to the resort at 10 pm and called it a night.
Day 3: Road tripping to Shillong
18 Popular Harvest Festivals Of India
The next day, we checked out of the Wild Grass Resort and started for Shillong at 9 am. Since it was the time of Bihu in Assam, we requested our driver to stop somewhere during our journey where we could see Bihu celebrations. We stopped at a beautiful Bihu function where we had lunch and enjoyed seeing their local rituals.
After multiple stoppages along the way, we reached Shillong at 8 pm and checked into the Shillong Hills Guest House for the night. Although we didn't get to see many places on this day of our trip to Meghalaya, we certainly enjoyed the scenic drive to Shillong.
Day 4: Sightseeing in Shillong
We began our day with breakfast and then proceeded for sightseeing in Shillong. To be honest, the places we visited like Ward's Lake, Shillong Peak, and Don Bosco Monument didn't really excite me. Although, the visit to the Sacred Forest made the sightseeing in Shillong worthwhile.
We hired a guide over there, who gave us a very informative tour of the forest, explaining its history, and of the tribes here in Meghalaya. The forest was lush green with its old tree roots crawling all over the place, giving the impression of some medieval forest kingdom.
Later in the evening, we visited the local market in Shillong for some souvenir shopping. After buying gifts for our family and having dinner, we returned to the hotel at 8 pm and rested for the night.
Day 5: Exploring caves and waterfalls in Meghalaya
15 Captivating Honeymoon Destinations In North East India
On the next day of our trip to Meghalaya, we checked out of Shillong and traveled to Cherrapunjee. On our way, we were lucky enough to visit the incredible Mawsmai and Mawmluh caves. Since it was one of the top things to do in Meghalaya, the cave exploration was something unforgettable.
After our cave adventures, we visited a number of waterfalls like Elephant falls, and Nohsngithiang falls on the way to Cherrapunjee.
After completing our sightseeing, at 4 pm, we checked into Saimika Resort, Cherrapunjee. The resort was situated in a very picturesque location with a great view of the mountains. In the evening, we decided to go for a walk around the resort, as the scenic beauty of that place was hard to ignore. The rooms given to us were brilliant, and the staff was very welcoming. The resort was eco-friendly as most of its electricity usage was utilized from the solar panels.
We ended our day with dinner at the resort followed by a beautiful late evening walk in the resort garden.
Day 6: Stepping into Asia's cleanest village
12 Hotels In Shillong For Couples That Promise A Blissful Stay
Post breakfast, we checked out of the lovely Saimika Resort and proceeded towards Guwahati. We had a few stops during our journey, with the first of them being- Dawki river.
A pure and pristine river that runs right along the Indo-Bangladesh border. I felt rejuvenated and energized after taking a dip in the refreshing river. Later on, we got back to our cab and proceeded towards Mawlynnong- the cleanest village in Asia.
In Mawlynnong, we saw the famous living root bridge and also walked around the clean and tidy village streets.
Once the village tour was done, we carried on our journey to Guwahati to eventually arrive at the hotel at 9 pm. We had requested TravelTriangle to culminate our trip to Meghalaya in Guwahati, so that we could easily take our flight back to New Delhi.
Day 7: Flying back to New Delhi
The next morning, we checked out of the hotel in Guwahati and paid a visit to the Kamakhya temple. A divine end, to what was an incredible journey to the heart of North-east India.We were dropped off at the airport for our 1 pm flight back to New Delhi.
On our flight, my son and I talked a lot about the charming and serene places we visited in Meghalaya. His enthusiasm told me that this was one trip he wasn't going to forget in a long time. As quality family time is hard to come by these days, this trip to Meghalaya was worth every single penny we spent and maybe even more.
High points:
The stay in Cherrapunjee was something I would recommend to everyone.
The visit to the Sacred Forest in Shillong was a special experience.
I'm glad we opted for an Elephant safari in Kaziranga.
Low point:
We could've had a better hotel in Kaziranga, as I didn't mind paying more.
Do you have an appetite for offbeat places? Book your North East tour package and experience the wonderful Seven Sister States!
---
Looking To Book A Holiday Package?
Book memorable holidays on TravelTriangle with 650+ verified travel agents for 65+ domestic and international destinations.
---
Comments
comments