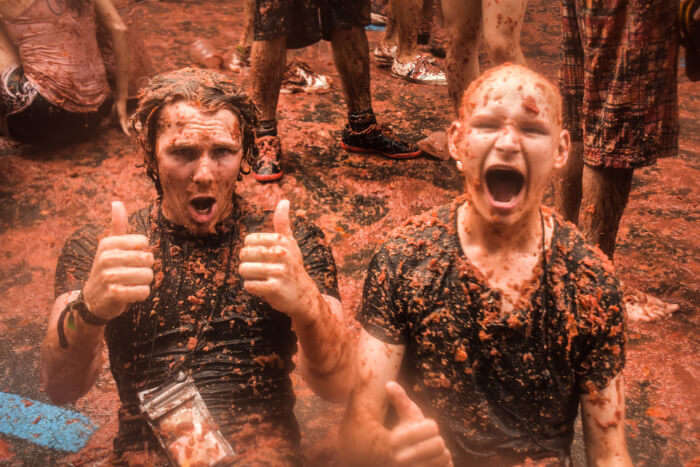 With the Tomatina festival just round the corner, there couldn't be a better time to visit Spain! But when questions like where to stay, where to eat, how to commute, and how much to spend start to haunt us, that much-awaited Spain getaway to experience Tomatina goes down the drain. And while most other blogs give ample information on what the festival is about, they leave out the crucial bit. But not anymore!
We have put together for you a complete guide of the Spain tomato festival with essential info like accommodation options, restaurants, bars, sightseeing options, transportation, shopping, etc, that you can keep in mind while browsing budget Spain tour packages from India.
When is La Tomatina festival 2021?

La Tomatina will be celebrated on 25th August 2021 in Buñol. The festival is celebrated on the last Wednesday of August.
Where does La Tomatina take place?

La Tomatina takes place on the streets of Buñol, a charming little hamlet located 38 kilometers west of Valencia, its provincial and autonomous capital city, in Spain. While it may have started for a different (and certainly bizarre reason) altogether, it is now celebrated to honor Buñol's patron saints – Luis Bertrán and the Virgin Mary.
With a population of not more than 9,000 people, the town of Buñol sat unnoticed year after year till travelers around the world caught wind of the bizarre, yet totally fun Tomatina festival that takes place here every year. As far as the people of Buñol are concerned, they are the some of the most friendliest lot you'll find in the Europe, and definitely the most creative and adventure-loving as well (where else do you find a festival that legally allows you to throw tomatoes on one another?)
Must Read: Top 17 Most Beautiful Cities In Spain: You Must Be A Robot To Resist The Spell Of These
What happens during the Tomatina week in Spain?

Tagged as the 'World's Biggest Food Fight', La Tomatina is the Spanish tomato throwing festival that takes place on the last Wednesday of August every year. During the Tomatina festival, Spain becomes lively and cheerful than ever. The festival begins at 11 AM on the said day right after the sound of the first cannon and ends at 1 PM when the second cannon is fired to mark the end of the festival. What happens in these two hours is nothing less than a battle where participants throw, rub, and bathe in tomatoes. But the two hours of La Tomatina festival isn't all that you'll get to experience on your Spain holiday!
The Tomatina frenzy begins a week before the main festival. So you'll have a week long of excitement to indulge in. Since the ideal duration for a Spain getaway is around 6 days 5 nights, you'll have a plethora of things to explore and festivities to engage in while you're here. Let us underline the prime events you need to look out for on your Spain trip:
25th August, 2021: Music, Dance, Wine, Fireworks, Parades…and Paella!

A day before the festival, it's pure madness on the streets. With music, laughter, dancing, and fireworks, the whole town of Buñol is drenched in a jolly festive spirit. After shopkeepers have put down protective plastic wraps in their shops, everyone gears up for the fun event of the night before the main festival – the Paella making competition!
Culinary enthusiasts line up to prepare the most delicious of Spanish dishes. Once the winner is announced, a grand feast begins wherein food and wine, including the freshly cooked Paella, is distributed to everyone around.
Suggested Read: 20 Remarkable Places To Visit In Madrid That Will Give You A Taste Of The Good Life In Spain!
26th August 2021: Let the battle begin!

Trucks bring in and throw onto the central streets of Plaza del Pueblo more than a hundred metric tonnes of tomatoes. But the desperately waiting crowd cannot begin the festival right away! At about 10 AM, a piece of Spanish ham is put up on top of a greased wooden pole. The festival can only begin once a brave soul out of these thousands of people has climbed the pole and retrieved the meat.
It's the most comical scene for spectators as people try to fight their way to the top in the most bizarre and awkward ways, slipping right back down each time. The warriors soon accept their defeat, and while the ham still dangles on the top, the cannon is fired at sharp 11 AM, the and madness begins!
By the time the second cannon is fired at 1 PM, the town, along with its inhabitants, has been painted red. One is not allowed to throw any more tomatoes after this time. These two crazy hours of squashing tomatoes on strangers and rolling people on the tomato pulp sprawled floor ends with trucks spraying down water on these people. What you'll see now aren't just de-tanned individuals, but also the shining, spick and span streets of Buñol, washed clean by the buckets of citric acid thrown over it.
Suggested Read: Honeymoon in Spain: A Romantic Español Vacation
How can one get to Buñol for La Tomatina festival?

Getting to Buñol is relatively easy, especially from Valencia (in comparison to Barcelona and Madrid).
Getting to Buñol from Valencia: The nearest airport to Buñol is 30 miles away in Valencia. From the airport you can take a local bus, hail a cab, or simply hire a car and drive to Buñol yourself. Or you can get to the Valencia Central Station and take one of those trains to Buñol that leaves after every 60 minutes (the first one is probably at 8:08 AM). The 50 minute train journey is the most convenient and inexpensive way to get to Buñol for Tomatina.
Getting to Buñol from Barcelona: One way is take a flight to Valencia and then a road trip to Buñol by bus, car shared cab, etc. The other is to getting straight to Buñol by train, taxi, or hired car.
How much does it cost to get into La Tomatina?

La Tomatina festival tickets cost INR 750/- per person (10 Euros) and are only available to the first 20,000 people who book it well on time. But don't fret if all tickets are already sold out. Tomatina festival tours are also available which includes not just the tickets to the festival but also your accommodation and other amazing deals. You can still be a part of the amazing events around it, or experience other things that Spain has to offer!
Suggested Read: Take The World & Paint It Red at La Tomatina 2021
What is the average budget per person per day for a holiday in Valencia, Spain?
Worried about budget issues? Fret not. We have it sorted! Here's a breakdown of the estimated budget of a day in Buñol, Valencia, including primary aspects like accommodation, meals, local transfers, sightseeing, and various others, like shopping. Buñol in Valencia is a relatively inexpensive little town, so you'll not have many troubles finding ideal spots for yourself to stay, eat, and hang out at.

Avg Flight Rate (round trip): INR 1,44,500/-
Avg Accommodation: INR 6,500/- (EUR 86)
Meals (with alcohol): INR 3,000/- (EUR 40)
Local Transfers: INR 2,000/- (EUR 27)
Sightseeing: INR 1,000/- (EUR 13)
Miscellaneous: INR 5,000/- (EUR 66)
Total Avg Budget Per Day: INR 17,500/- (EUR 233)
Note: Flight rates are not included in the budget given above as they may vary on the traveler's destination and time of booking. Also, these are per person rates.
Where should one stay during the Tomatina week in Spain?
Being a small town with only around 9,000 inhabitants, Buñol doesn't have many accommodation options. When early birds have booked all the limited hotels in the town, people turn to the next available options – the hotels in Valencia. You can stay in Valencia and commute between the two towns as getting to Buñol from Valencia takes only around an hour.
1. Venta Pilar | Buñol

You may remember this hotel from the hit Bollywood flick 'Zindagi Na Milegi Dobara'. It's the same hotel where the actors in the film stayed overnight to enjoy the Tomatina festival on their bachelor's trip…and got a surprise visit from the suspecting fiance! With comfortable, air conditioned rooms, free WiFi, a restaurant, bar, and lounge, this budget hotel in Spain is a mere 5 minutes walk from the train station, and a good choice for someone who doesn't want to spend a lot on accommodation.
Location: Avenida Perez Galdos 5, 46360 Buñol
Average Price: INR 4,000 per person per day
TripAdvisor Rating: 3.5 | Google Rating: 4.2
TripAdvisor Reviews
2. Hotel Restaurante Condes de Buñol | Buñol

Owned and run by a Spanish family in Buñol, this hotel and restaurant is among the most affordable hotels in the Valencia province, and a great stay option for Tomatina fans. The hotel is equipped with basic facilities like free WiFi, room service, air conditioning, other than a lavish restaurant and bar.
Location: Avenida Blasco Ibanez 13, 46360 Buñol
Average Price: INR 5,000 per person per day
TripAdvisor Rating: 4 | Google Rating: 3.7
Website | TripAdvisor Reviews
3. Hotel Zenit Valencia | Valencia

One of the best and most inexpensive hotels in Valencia, Zenit is lies close to the Valencia North Railway Station and the Town Hall square. Equipped with a lavish 5-star restaurant, fitness centre, business centre, bar and lounge, free parking, and free WiFi, the hotel is perfect for those looking for reasonably priced accommodation options in Valencia at the time of the Tomatina festival.
Location: Calle Bailen 8, 46007 Valencia
Average Price: INR 8,000/- per person per day
TripAdvisor Rating: 4.5 | Google Rating: 4.2
Website | TripAdvisor Reviews
Which Are The Best restaurants In Buñol?
Here are some of the best restaurants located in Bunol which will let you experience a fine-dine while attending the La Tomantina festival.
1. La Boheme | Buñol

Offering a varied menu with many gluten-free delights, this restaurant is a must visit for all foodies visiting Buñol during the Tomatina festival. The quirky diner and bar boasts of a hospitable, friendly staff and offers finger-licking items off its menu like hamburgers, pizzas, tapas, desserts, pancakes, crepes, and many Spanish delights like Paella.
Location: Calle Jesus Saez Ramirez 2, 46360 Buñol
Average Price: INR 1,000 per person (with alcohol)
TripAdvisor Rating: 4
TripAdvisor Reviews
Suggested Read: The Tomatina Fever Is On! Here's How To Plan A Perfect Holiday In Spain, The ZNMD Way!
2. La Taska | Buñol

This cosy hideaway for food lovers in Buñol is the perfect place where you can hang out with your friends after the festival is over. The relaxed, laid-back atmosphere and rooftop seating provides a for a pleasant dining option in Buñol. Serving an extensive menu of some of the best and most innovative fare in Spain with the likes of Paella (in different varieties), nachos, salmon, hot dogs, Gazpacho, Spanish Omelet, Jamon Serrano, and Turrón, you'll not regret your decision to dine here while in Buñol.
Location: Calle del Doctor Garces Vericat, 1, 46360 Buñol
Average Price: INR 1,000 per person (with alcohol)
TripAdvisor Rating: 4.5
TripAdvisor Reviews
Tip: Don't forget to try the range of craft beer coming straight from the diner's microbrewery!
Suggested Read: 8 Best Spanish Cuisines That Will Make You Fall In Love With Spain All Over Again!
3. Ricard Camarena Restaurant | Valencia

The place has a fancy decor with red brick walls and a high ceiling. But what'll actually blow your mind at this stylish diner is their range of Mediterranean, European, and Spanish cuisines that includes the likes of amuse bouche, roasted aubergine, steak tartare, seafood platter, along with a great wine list, all prepared in their tasteful, open kitchen. Though a little expensive, the culinary experiences Ricard Camarena provides in this abode is the finest you'll have in all of Valencia.
Location: Avda. Burjassot n0 54, 46009 Valencia
Average Price: 9,000/- (with alcohol)
TripAdvisor Rating: 4.5
TripAdvisor Reviews
Suggested Read: Two Weeks In Spain: An Ultimate Guide For Exploring The Country's Gorgeous Marvels Like A Pro
Which are the best places to visit in Spain
Here is a list of the best places to visit in Spain during the La Tomatina festival which will keep you engaged, entertained and have fun.
Though limited in number, Buñol provides some very indulgent sightseeing options to its visitors who come bask in the Tomatina fun. Some of the best places to visit in Buñol and Valencia include:
1. Castillo De Buñol | Buñol

Located right in the centre of the town, the castle sits majestically on a small hill between the Borrunes ravine and the Buñol River's moat formation. The castle was built in the 13th century and was earlier a Muslim stronghold, before finally being given over to the Christians. Don't miss out on the breathtaking architecture of the old Mercador Palace, the Church of the Saviour, and a part of the old Gothic Palace when here. Kids can visit the exciting museums on the castle grounds which bears artifacts from the Paleolithic Age, Iron Age, and the Roman era. Apart from being a great exhibit of Spain's glorious past, the castle also holds various musical concerts in its courtyard from time to time.
Location: Calle del Castillo, s/n, 46360 Buñol
Admission Price: Free
Timings: 10 AM – 2 PM
2. San Luis Park | Buñol

The favourite hangout of youngsters residing in or visiting the town, San Luis is a public park located in the western part of the Buñol. It playing host to a number of cultural and festive events throughout the year, and provides lovely views of the Buñol River. Other than banking on the peaceful views of the river gushing by, one can cover the length of the river in a refreshing stroll. Other places of interest in the park include a tiny chapel, a bar and an open air auditorium.
Location: San Luis Park, Calle San Luis, 46360 Buñol
Admission Price: Free
Timings: Open at all times
3. Cueva Turche | Buñol

Once you follow the Buñol River down from the San Luis Park till where it eventually splits off into the Charca de las Palomas river, you'll end up at a gorgeous waterfall, cave and pool with picnic tables right next to it. It is one of the most relaxing place in Buñol where you can take a dip, explore the mysterious cave, and have fun with your wanderer mates. And the best part, the ideal time to visit this area is monsoons! All the more reason for you to start packing for Spain already!
Location: Cueva Turche, Charca de las Palomas, Buñol
Admission Price: Free
Timings: Open at all times
Suggested Read: Honeymoon In Spain: 15 Best Places For A Romantic Español Vacation In 2021
4. The City of Arts and Sciences | Valencia

An IMAX cinema, Europe's largest aquarium called the Oceanogràfic, the Príncipe Felipe Science Museum with interactive exhibits, the avant-garde opera house known as Palau de les Arts Reina Sofía, and the impressive l'Assut de l'Or bridge along with the Agora, are the crown jewels of the City of Arts and Sciences in Valencia. Apart from these iconic attractions, you can also spot the magnificent, futuristic architecture of Santiago Calatrava in the colossal structure of this entire complex. It is an amazing place for all your entertainment and leisurely needs, apart from being a heaven of knowledge for kids and one of the 12 Treasures of Spain!
Location: Av del Profesor Lopez Pinero, 7, 46023 Valencia
Admission Price: INR 3,000/- is the average ticket price of all major attractions at City of Arts and Sciences
Timings: 10 AM – 9 PM
5. Playa de El Saler Beach | Valencia

With pearly white sand, deep blue water, absolutely clean shores and a cool breeze year-round, the Playa de El Saler is the among the most popular beaches in Valencia. Nestled in the heart of the La Albufera Natural Park, this beach is a favourite of all youngsters for it's wild vibe. This enormous stretch of 2.6 km of fine, silky white sand has massive dunes and a large expanse of pine trees which makes this beach an utterly picture-perfect haven to explore for beach bums, couples, and families on their trip to Spain.
Suggested Read: 15 Best Things To Do In Barcelona That Are Enough To Relish The Real Taste Of Spain!
Which are the best places for shopping during the Tomatina festival in Spain?
1. Chic Market | Valencia

This market has a handful of stalls selling a range of exciting stuff like Spanish clothing, vintage accessories (headwear, fans, etc) and curios. You can go crazy shopping here and buy pretty souvenirs and apparels for your gang at very reasonable prices.
Location: Calle de Caballeros 36, 46001 Valencia
2. Madame Mim | Valencia

Travelers are always fascinated by what Madame Mim has to offer, which is why Valencians call it the best best vintage shop in the city. Apart from the usual lot of clothes and accessories, the store has a line of the quirkiest of items on the shelves that can make the best of souvenirs or home decor articles. No one can just walk away after a peek into the gallery!
Location: Calle de Puerto Rico 30, Valencia
Suggested Read: 10 Sensational Wedding Venues In Spain That Will Give You Major #WeddingGoals
3. Lladró | Valencia

Have an inkling towards porcelain statues and crockery? This store in Valencia is famed for its unique porcelain sculptures. Started by the three Lladró brothers as a small shop more than half a century ago, this place is now a full-fledged factory on the outskirts of Northern Valencia that has an employee count of over a hundred and exports its products all over the world. One can actually walk through, select and purchase figurines from this factory-cum-museum-cum-store.
Location: Calle del Poeta Querol 9, Valencia
4. Bodegas Baviera | Valencia

What use is a Spain holiday without buying some of its finest wine? And what better place to buy Spain's oldest wine and cavas than the Bodegas Baviera established back in 1870. Indulge in a stimulating wine tasting session and pick the best of brands while you're here. The current owner of Bodegas is mad about music, so on entering the shop, you'll first be greeted with a wide variety of odd looking musical instruments adorning the walls, before you can lay your eyes on their wine stock.
Location: Carrer de la Corretgeria, 40, 46001 València
La Tomatina Rules: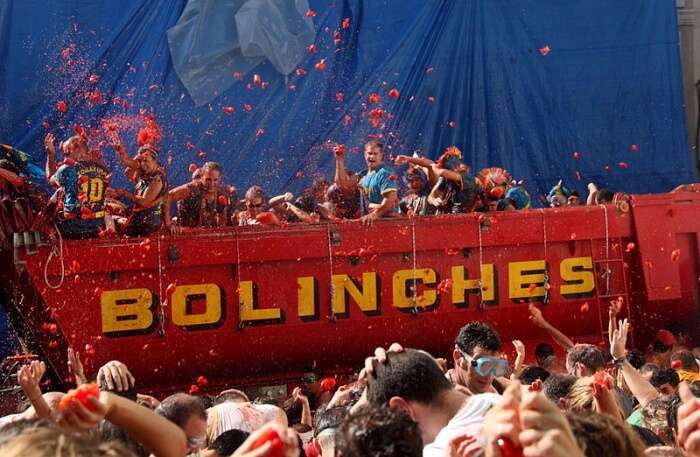 You may remember a rule or two from when Katrina Kaif mentioned them in ZNMD. But let us just brush your memory up a bit:
Squash the tomatoes before throwing them so that you don't end up hurting anyone due to the impact
Give way to the lorries carrying tomatoes
Do not bring bottles or hard objects into the battle as they can hurt others and cause accidents
Do not rip the T-shirts of other people, no matter if they are your BFFs
You can throw tomatoes and tomatoes only
Do not throw tomatoes after the second shot is fired
Further Read: Best Islands For Honeymoon: Across The World & Full Of Love!
What are you still waiting for? It's never too late to experience one of the most exciting festivals of the world. So book a customizable package for an unforgettable trip to Spain, pack your bags, and go join the Tomatina frenzy! Also, share this with your wanderer buddies to let them in on the fun!
People Also Read
Tokyo Festivals Winter Festivals In Europe Festivals In Sweden