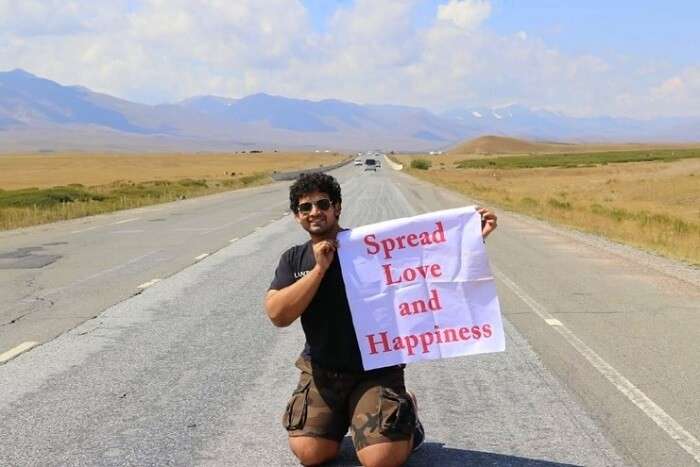 A gold medalist Indian wrestler and a world peace activist, Labhanshu Sharma recently started an unusual journey around the globe to spread the one message this world needs more than anything else – World Peace. Determined to bind the world with the strength of love and peace, this young Bravery Award winner and National Youth Icon had been preparing for this life-changing feat for over a year before the hon'ble Chief Minister of Uttarakhand Shri Trivendra Singh Rawat finally flagged off his journey on 9th August 2019.
Traveling For World Peace
Let us give you a peek into his extraordinary journey where he is inspiring thousands of youngsters as he goes along spreading the message of peace, one destination at a time!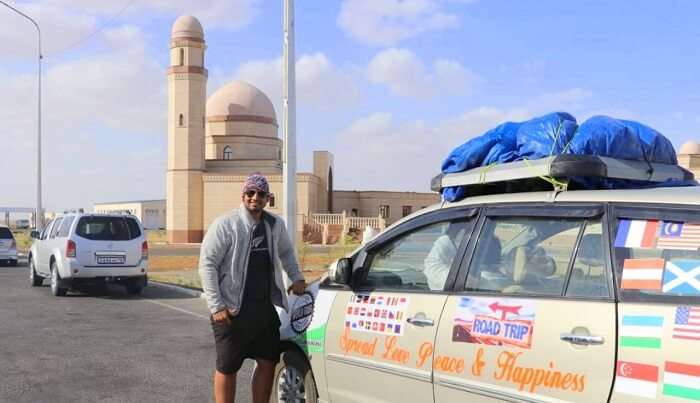 The Aim
"As an athlete, I used to visit many countries before. Wherever I went, I saw that every nation fights on petty issues," stated Labhanshu. "They constantly wage wars without end, just so they could draw borders and put their name on another piece of this planet. They fail to understand that we can only win by love, peace, and humanity. This is why I decided to embark on a journey where I could spread this message in separate parts of the world in the best way possible."
His goal is to travel to more than 100 countries by road with his own Indian vehicle. The entire journey of covering over 100 countries will take about three years in total, and the first phase of his journey will be for three months.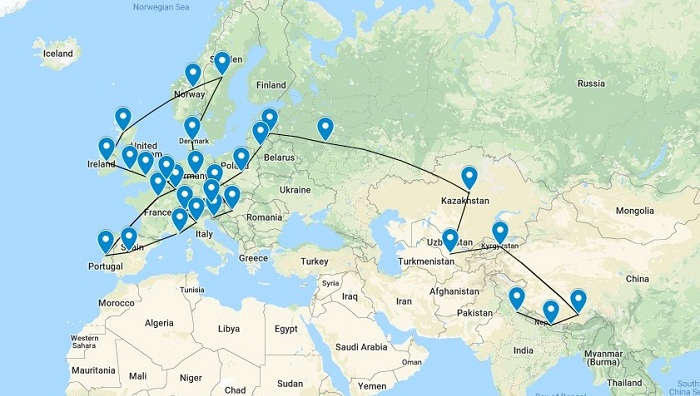 He plans to cover a total distance of around 30,000 km in the first phase itself. The countries he will be covering in this three-month phase include India, Nepal, Tibet, China, Kyrgyzstan, Uzbekistan, Kazakhstan, Russia, Latvia, Lithuania, Poland, Czech Republic, Hungary, Slovenia, Austria, Switzerland, Italy, Monaco, Spain, Portugal, France, Luxembourg, Belgium, Germany, Denmark, Sweden, Norway, Scotland, Ireland, Wales, and the United Kingdom.
Must Read: 28 Most Extraordinarily Beautiful Places To Visit In October In World In 2022
The Method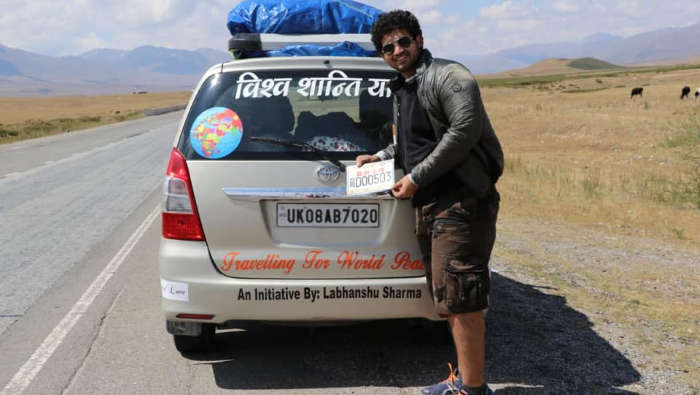 While traveling for world peace to different countries, Labhanshu plans to meet the Indian Ambassador in each country he visits. The ambassador, in turn, will arrange an event or a program where he can connect with the locals as well as the Indian community living in that country and speak on how the world constantly fights on religion, resources, and on drawing borders. He will speak about the importance of being "One World, One Religion", and how everyone needs to unite in order to make the world a happier, more peaceful place.
Suggested Read: 40 Most Romantic International Honeymoon Destinations On Your Budget In 2022
The Journey So Far
His international road trip is going great so far! In every country or city he visits, he is greeted by warm smiles and kind words. "Wherever I go, people get so thrilled to see an Indian car on their road and they gather around to greet me," he conveyed.
He had started from Rishikesh on 9th August 2019, and he has already covered Nepal, Tibet, and China up till now. He's currently in Osh, Kazakhstan, after having driven approximately 10,000 km all the way from India.
Further Read: International Destinations On Diwali Weekend 2022: 10 Places That Can Light Up Your Holidays
How's that for inspiration, folks! Want to help him in his mission? You can do your bit by simply sharing his journey with your friends and family while he's on the road traveling for world peace. Let's come together to wish him luck in his selfless efforts to bind the world with the thread of love, peace, and happiness.
Frequently Asked Questions For Labhanshu Sharma Traveling For World Peace
What are some of the most romantic places in the world?
Maldives, Italy, France, UK, Mauritius, Greece, Iceland, and Switzerland are some of the most romantic countries in the world that are on the wishlist of every couple.
Which are some of the happiest places in the world?
The happiness index is highest in Finland, followed by Denmark, Norway, Iceland, the Netherlands, and Switzerland.
Which are some of the budget places to visit in the world?
Most of the Asian, especially South Asian countries are cheap to visit which are easily possible to visit in a limited budget. Thailand, Laos, Vietnam, Singapore, Malaysia, and Indonesia are some of the best countries to visit on a shoestring budget.
What are the best countries to visit in the world?
Some of the best countries in the world that should be on your wishlist include the USA, Indonesia, India, Germany, Canada, Sweden, and Australia.
Which is the No.1 tourist destination in the world?
France is considered to be the number 1 holiday destination in the world as this country as witnessed the most tourist inflow in the past few years.