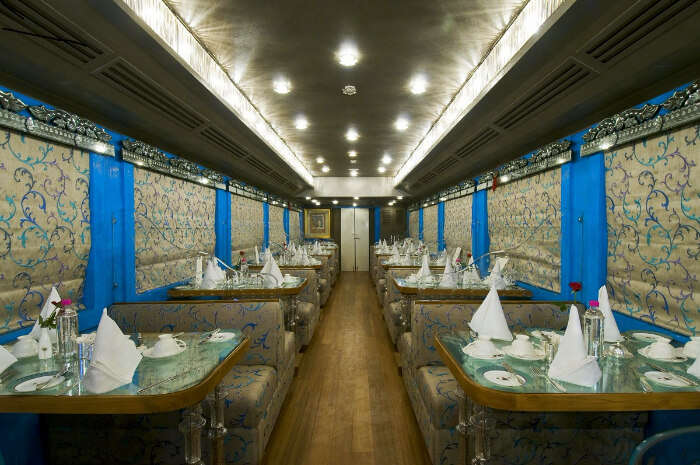 At 4:30 pm, just when the sun begins to paint the dusky evening skies of Delhi orange and yellow, the sleepy engine of "Royal Rajasthan On Wheels" kicks into motion, chugging down the track, slow and determined like all nighttime freights. Slowly, the luxurious train departs from Delhi and enters into Rajasthan, revealing the mighty forts, grand palaces, and a flourish of bright colors on its streets.
The train covers popular tourist attractions of Rajasthan, also some wonderful cities like, Jodhpur, Udaipur, Chittorgarh, Sawai Madhopur, Jaipur, Khajuraho (Madhya Pradesh), Varanasi and Agra (Uttar Pradesh), before returning to Delhi.
All that you need to know about the luxurious Royal Rajasthan On Wheels
Facilities of the luxurious Royal Rajasthan On Wheels

The luxury train comes with 14 luxury cabins that are named after the royal palaces of Rajasthan. Some of the cabins are named: Hawa Mahal, Padmini Mahal, Kishori Mahal, Phool Mahal and a super deluxe coach has been named Taj Mahal. Those cabins are divided into deluxe and super deluxe suites, equipped with Satellite TV, WiFi, music system, washroom, and temperature control systems.
Royal Rajasthan On Wheels also has two dining cars that are named Swarn Mahal and Sheesh Mahal. While the interior of Swarna Mahal made of brass and beautiful gold, Sheesh Mahal is decorated with bright floor lamps and gorgeous crystal pelmets. This is not all, the train also has a souvenir coach where passengers can select from a wide range of handicraft products and clothes. It also has a spa and a recreation zone.
Train tariff: Deluxe Cabin: USD 625 per person per night on twin sharing | Deluxe Cabin Single: USD 875 per person per night | Super Deluxe Suite: USD 1700 per cabin per night
Suggested Read: 7 Super Luxury Trains In India That Are Worth Spending A Fortune
The route and itinerary of Royal Rajasthan On Wheels

Image Source
This 7 nights and 8 days journey takes passengers through many interesting cities.
Day 1: (Departs Delhi) Royal Rajasthan On Wheels departs from Delhi's Safdurjang Station every Sunday at 4:30 pm. At the station, guests are welcomed with the ceremonial greetings with aarti, garland, and tika.
Day 2: (Jodhpur) The train arrives in Jodhpur at 9:15 and passengers are served breakfast on board. Jodhpur is a popular city, known for its grand Mehrangarh Fort, which is a fine example of the Rajput's glorious past. After exploring the city and having your lunch in a fine hotel, the train departs at 5:10 pm.

Day 3: (Udaipur) Royal Rajasthan On Wheels arrives Udaipur at 8:00 am and passengers have their lunch on board. Udaipur is known for its gorgeous lakes and haveli gardens. Also known as the "Venice Of The East", this city is home to the most wonderful palaces. After lunch, the train leaves at 2:30 pm.
Day 3: (Chittorgarh) The luxury trains arrives Chittorgarh at 4:45 am. The fort of Chittorgarh is a treasure trove of history that offers an insight into the lives of the Rajput rulers. The light and sound show in Rana Kumbha Palace is worth a watch. After the exploration the train departs at 10:00 PM.

Day 4: (Sawai Madhopur) The train arrives Sawai Madhopur at 5:30 am. Sawai Madhopur is known mainly for Ranthambore Fort and National Park. Tourists can catch a glimpse of Bengal tigers and other animals in the wilderness. The train leaves at 11:00 am.
Day 4: (Jaipur) The train reaches Jaipur at 1:15 pm. The "Pink City" welcomes the passengers with the grand and gorgeous Hawa Mahal, old bazaars, and the wonderful City Palace. The train departs at 10:15 pm.
Suggested Read: 67 Places To Visit In Rajasthan: A Glimpse Of Rajputana Splendor

Day 5: (Khajuraho) The Royal Rajasthan On Wheels reaches Khajuraho at 11:00 am. Khajuraho has a series of temples known for its erotic sculptures. The temples were built between 9th to 12th century in Madhya Pradesh. After exploration, the train leaves at 6:30 pm.
Day 6: (Varanasi) The train reaches Banaras at 6:00 am. Banaras or Varanasi is about 3000 years old religious city. A city of wonderful ghats and the river Ganges, it shows the culture of rural India. The train leaves 6:00 pm.

Day 7: (Agra) The train arrives 5:00 am in Agra. The city of one of the most stunning heritage monument, Taj Mahal, Agra lets passengers experience the art, architectures, and culture of India. The train leaves at 11:00 pm.
Day 8: (Delhi) The train reaches Delhi at 7:00 am and passengers checkout at 7:45 am.
Are you all game to experience this journey through Rajasthan and Madhya Pradesh? Although it'll be heavy on your pocket, but if you can afford it, you must try it. Here's a Rajasthan destination guide that'll help you learn a bit more about the state.
Further Read: 15 Best Places Of Indian Cultural Heritage