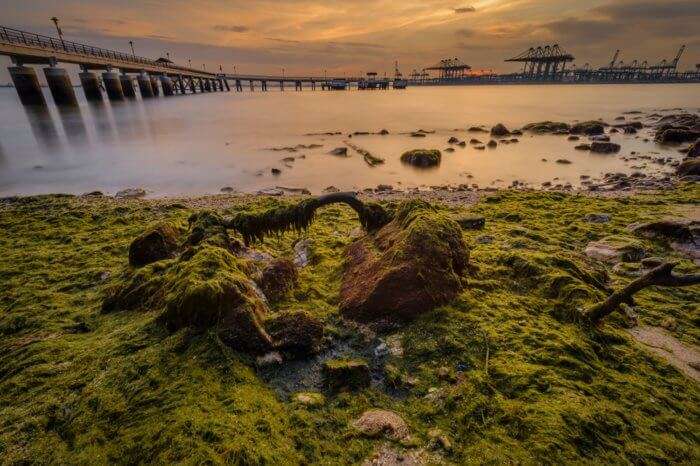 While most decide between mountain vacations or beach vacations, there are seldom such places which offer the features of both- of lazing around the beach area or perhaps going for hiking in the mountainous area. But the Labrador Natural Reserve, which offers the advantages of both so that you get the best of both worlds on your holiday.
About Labrador Nature Reserve
Labrador Park Nature Reserve, also locally known as the Labrador Park is situated in the southern part of mainland Singapore. When talking about physical features, it houses only a rocky seacliff which the public can access with ease. About 10 hectares of its coastal vegetation and its rocky reserve has been part of a natural reserve go encouraged preservation. This nature reserve in Singapore houses more than 70 kinds of birds which reside over here and that includes the rufous woodpecker, blue-crowned hanging parrot and Abbott's babbler amongst others can be seen here. Apart from this, there are also diverse species of butterflies which live here. The rocky shore mentioned above isn't barren as well and one can find a multitude of crabs and corals over there apart from sandworms, seagrasses, and horseshoe crabs.
Cost: The park is open throughout the day, but the rocky Beach and the jetty is open from 9 am to 8 am daily. The Labrador Secret Tunnels are open from around 10 am to 7 pm daily with the last admission for a guided tour at 6 pm. The best time to head out here is definitely from early morning to late afternoon. There is no entry fee to the park, rocky Beach or the jetty but guided tours over at the Labrador Secret Tunnels cost $5 per child and $8 per adult.
Best Time To Visit
The months from February to April is the best time to visit this park simply because these are the months between summers and winters, which means that you will get to enjoy plenty of outdoor activities between them. Avoid going in the months of November to January and from May to June because the former is the period of wet months and the later one- hottest months.
Things To Do At Labrador Nature Reserve
Already excited? Check out the list of things you can do at Labrador Nature Reserve while you are on your trip. Take a look!
1. Promenade
The best part of going outside is that it clears one's head and allows for some much needed solitary space for thinking and introspection. The calmness is more when the place is by the water. This is what the promenade is for. This seafront promenade located over at Labrador Natural Reserve is the best place to head to for a bike ride or a walk while enjoying scenic visuals of the sea. You can also engage in fishing over here but make sure to check if you can in that particular space or not.
Must Read: 12 Things To Do In Kallang For A One Of A Kind Singapore Tour
2. Labrador Jetty
Even if you can't go fishing on the promenade there is a much better and legal way to go fishing and that is on the reopened Labrador jetty. Here you will get to see the only rocky sea cliff in all of Singapore's mainland. The jetty was recently opened to the public after being closed down for multiple years due to landslides but with the new cliff face, the jetty is sure to be back up and running.
Suggested Read: All You Need To Know About The Amazing Suntec City For Your Next Singaporean Vacay!
3. Seaside Playgrounds
This is definitely made for those who are a little younger but even adults can't help but rediscover their inner child once they see this amazing swing set. The view from there is amazing as well, especially during the low afternoon when the sun isn't in the middle of the sky but also hasn't gone down. The whole atmosphere here is also really relaxing and there are actually two playgrounds over here. One is smaller than the other but the other one has the bonus of having a small relics from WW2 and also from Singapore's colonial days.
Suggested Read: 3 Best Museums In Woodlands For An Extravagant Holiday In Singapore
4. Natural Trail
Amongst the things To Do At Labrador Nature Reserve, going hiking is a must. This trail was actually brought as part of the Labrador nature reserve. While many wouldn't consider it to be actually hiking since the whole thing is fully paved, but barring one other reserve, this is about as close as one can get to hiking over in Singapore. The trail here is just breathtaking and it is also completely forested as well. Bring your binoculars to spot some small animals apart from monkeys. But along this trail lies hidden some historical artifacts as well so be on the lookout for those. But be prepared, there is a bug problem there. So if bugs make you feel icky then it's better to just avoid the path altogether.
Suggested Read: The Ultimate Palawan Beach Guide To Help You Plan Your Next Escape To Singapore
5. Bukit Chermin Boardwalk
If hiking trails aren't your thing then go for a walk along the Bukit Chermin Boardwalk. The boardwalk stretches from the natural reserve till the Keppel Bay which is a really short distance away. You can enjoy amazing views of the scenery no matter the direction you look at. The bonus points regarding this place are that there are far fewer bugs in here.
6. Berlayer Creek Mangroves
To reach here, take up the path which goes towards the MRT station and then through the Berlayer Creek mangroves. Only one such Grove remains out of two in Singapore. The tide impacts what one can see here but there is some lookout points where one is still able to see some amazing creatures. But as a fair warning, their are a lot of bugs here as well.
What To Pack?
Pack in two or three pairs of synthetic or will socks.
Put in some storm or rain gear which might include rain pants, rain jacket, gloves, warm hat, pack cover and such.
Check the weather in which you will be landing and pack accordingly.
Pack in hiking boots and a small first aid kit.
Put in bug spray or an insect repellent of any sort.
Suggested Read: 10 Alluring Night Markets In Singapore That'll Be Easy On Your Pockets!
Tips
Don't forget to visit the mesmerizing tunnels.
You don't have to carry excessive amounts of good as basic amenities like a cafe and such are available near the promenade and the tunnel.
Bring drinking water as there aren't that many places to buy drinks from.
Further Read: 11 Lesser Known Things To Do In Sengkang On Your Singaporean Holiday In 2022!
This park offers views and adventure facilities which will suffice both the lonesome adventure seeker and the pack hunter. There's something for everyone and that just makes for a great vacation for everyone. So, get packed and book your trip to Singapore right away!
---
Looking To Book An International Holiday?
Book memorable holidays on TravelTriangle with 650+ verified travel agents for 65+ domestic and international destinations.
---