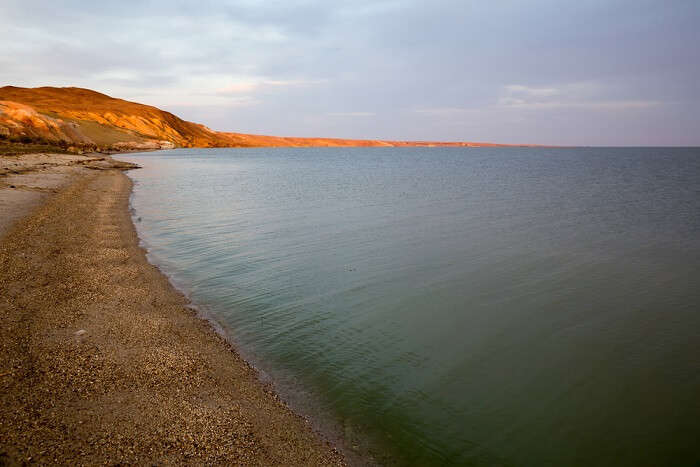 With high standards of living, Kazakhstan is the place where you can find a number of top-class restaurants, museums, shopping centers and much more. You'd be surprised to know that it is also the ninth largest country in the world. Known for its one of a kind nightlife, Kazakhstan is the one-stop destination for everyone who loves to explore the modern architecture. If you are planning a holiday trip with your family, Kazakhstan is the right option for you. There you can go hiking, rock climbing, and not to forget skiing. Another reason you should visit Kazakhstan is that is the home to many beautiful lakes of Kazakhstan.
Major Lakes In Kazakhstan
Who wouldn't love to be at a place where they can just sit back, relax, and enjoy the amazing work of nature! If you are a nature lover who loves to discover new places, then Kazakhstan is the perfect place for you to visit. Make your stay pleasant and memorable by viewing the list of lakes of Kazakhstan
1. Lake Markakol
It is one of the major lakes in Kazakhstan and a beautiful spot for tourists just like you. You can visit the Lake Markakol that is located in Altai. It is more than 38km long and 19 km wide. Standing at the top, you can easily view the mountain peaks covered in snow. You will find more than 100 streams and even Taiga forest. The yellow trees surround this wonderful lake shaped like an ellipse. The best time to visit the place is noon when the sun is at its peak and shines brighter.
Must Read: Kazakhstan Allows A 72-hour Transit Visa To Indians Extending A Warm Welcome
---
Looking To Book An International Holiday?
Book memorable holidays on TravelTriangle with 650+ verified travel agents for 65+ domestic and international destinations.
---
2. Lake Balkhash
Being the largest lakes in Kazakhstan, Lake Balkhash is 614 km long. It is also interestingly, the second largest saline lake in the world. Located in Central Asia, the lake is divided into different parts. You will find more than 120 kinds of different bird species there. It is quite popular among the local citizens of Kazakhstan and Russia. If you choose to visit this lake, it will be just like you are on the beach side.
Suggested Read: Top 7 Kazakhstan Tourist Places Encompassing The Best Of Central Asia
3. Big Almaty Lake
If you are in Kazakhstan, then there is no way you can miss the beautiful lakes of Kazakhstan. You can enjoy the breathtaking view of the canyon, the color of the water varies depending on the weather conditions and season. The lake is surrounded by Sovetov, Ozerny, and Tourist peaks that are 4317, 4110, 3954 meters high respectively. The land near the lake is the place where you will see snow leopard and bears. You can reach the lake by hiking, driving or taking a bus. This way you will be able to enjoy the long drives through the parks. You can even organize a little picnic for you and your family. Enjoying tasty meals while sitting in the park is one of the most relaxing ways you can spend your holidays.
Suggested Read: 6 Places To Visit In Asia In November: An Escape From The Snow Into The Tropics
4. Lake Issyk
This is one of the major lakes in Kazakhstan located in the Southeast region of the Alatau mountain range. The lake is about 1700 meters above sea level and is more than 8000 years old. If you love activities full of exciting adventures, then you can also go for rock climbing. You would be thrilled to know that this spot used to be a burial mound. You can reach the lake by simply driving along with Kuldzha route. There is a small entrance fee you have to pay to get inside. Driving around is the best way to spend some quality time with your family or friends enjoying the beauty of nature. In order to reach Lake Issyk, you may have to walk around 3 km.
5. Kolsai Lakes
Known as one of the beautiful lakes of Kazakhstan. The integrated system of three lakes is known as 'The Pearl of the Northern Tien Shan.' It is the perfect vacation spot for you if you wish to spend some time close to nature. Surrounded by forests, hills, and clean water, this place is the well-balanced combination of nature. The lake is also surrounded by trees such as Alpine and Spruce. Being located at the high mountain ranges of Alatau, you will have a great time relaxing there. The best seasons to visit the place are summer and spring. You can even spend some time fishing or just going for a long walk. You can find animals such as rainbow trout and bears at the nearby forest.
Suggested Read: Make The Best Of Your Southeast Asian Holiday By Planning A Snorkeling In Thailand
6. Lake Kaindy
It is one of lakes in Kazakhstan that is submerged in forests. It is located at the altitude of 2000 meters and is 400 meters long. The unique thing about the lake is its fresh and clean water. The water of the lake is limestone blue in color. The lake is surrounded by tall trees emerging from the bottom. Tourists and visitors are fascinated by the beautiful tree limbs. You can get a complete view of the lake by boating. Remember the weather there is extremely cold, and that is why it is recommended to wear wetsuits and keep other protective gear and equipment with you all the time. If you are visiting the lake during summers, then you can even go for underwater diving and explore the lake.
Suggested Read: 10 Beautiful Places To Visit In Southeast Asia in 2018 That Won't Let You Put Your Camera Down
7. Lake Zaysan
One of the major lakes in Kazakhstan located in the Eastside of the country Kazakhstan. It is a freshwater lake located between Altai and Tarbagatay Mountain range. The lake has the surface area of more than 1800 km and the altitude of 420 meters. The biggest lake in the Eastside has been into existence for more than 65 million years. The lake is 22 meters wide and is about 15 meters deep. You will also find a dam build across the lake known as Bukhtarma reservoir that is almost 375 miles long. The Irtysh River is the major outlet of Lake Zaysan. You can even have a good time at the lakeside fishing with your family and friends.
Further Read: 14 Romantic Honeymoon Destinations In Asia In 2018 For Every Budget
If you are planning a holiday trip to Kazakhstan, then you should definitely add these beautiful destinations to your list. Being a nature lover, if you wish to explore more in this charming country, plan your trip to Kazakhstan with TravelTriangle and soak in the serenity present in this scenic land!
---
Looking To Book A Holiday Package?
Book memorable holidays on TravelTriangle with 650+ verified travel agents for 65+ domestic and international destinations.
---
Comments
comments