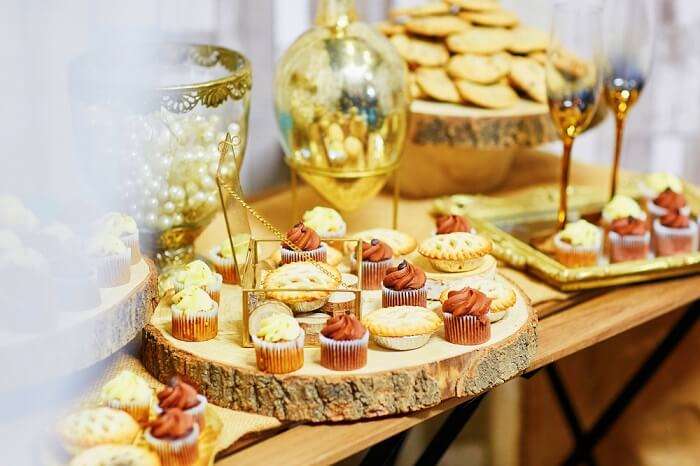 Lithuania is an art-loving, culturally, and historically rich nation located in Northern Europe. Owing to the harsh weather conditions of the country, people of Lithuania are used to consuming heavy meals that are rich in fat and carbohydrates. The country gives prominence to nature and they make sure to include available greens in their meal. Visiting the country during summers is sure to give one an amazing opportunity to try their traditional Lithuanian cuisine. Here are some Lithuanian restaurants that serve classic Lithuanian meals that are hard to ignore.
10 Must-Visit Lithuanian Restaurants
It's a must for every foodie wandering into Lithuania to stop by and gorge on the finger-licking delicacies served at these popular restaurants in Lithuania.
1. Restaurant Lokys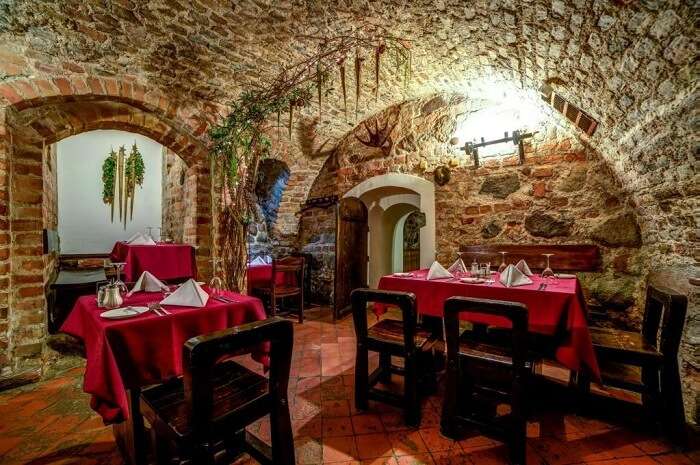 Image Source
Located in the ancient 14th-century merchant street, Restaurant Lokys is undoubtedly one of the best Lithuanian restaurants in Vilnius. The restaurant ambiance resembles an old tavern with modern amenities. Lokys is pretty famous among travelers for their cold beet soup, roast boar with pears and rye bread dessert. The restaurant has very few selected options for vegetarians. Its perfect location in the Old Town attracts tourists and provides breathtaking views of the city. Sometimes, the restaurant organizes live music for their customers, especially in the summers.
Location: Stikliu Street 8/10, Vilnius 2001, Lithuania
Cost for two: INR 2500
TripAdvisor rating: 4.5/5
TripAdvisor Reviews
Must Read: Top 12 Bulgarian Restaurants That Will Leave You Spoilt For Choice
---
Europe Holiday Packages On TravelTriangle
Explore the most beautiful places to visit in Europe, from Paris to the Venice canals and from the Greek islands to the Swiss alps. Book customized packages by expert agents on TravelTriangle. Inclusive of airport transfers, cab, resort, sightseeing and meals. Best holiday experience Guaranteed. Book Now
---
2. Senoji Trobele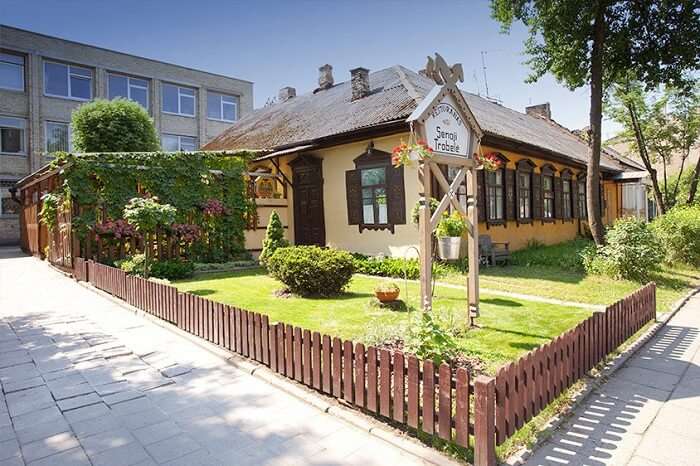 Image Source
Known for its pretty ambiance and the most delectable Lithuanian cuisine, Senoji Trobele takes the center stage for being the best restaurants in Lithuania. The restaurant is themed like a folk town from the medieval times that gives the customers a refreshing change from the city lights. The staff here are known to be very courteous and friendly, paying attention to every customers' needs and even explaining each dish to them politely. Not only do they serve exceptional Lithuanian dishes such as zeppelins, dumplings, and pork but also brews their own beer. One gets to taste a variety of cold Lithuanian beers and the locally made mead here.
Location: Naugarduko gatve 36, Vilnius 03228, Lithuania
Cost for two: INR 3500
TripAdvisor rating: 4.5/5
TripAdvisor Reviews
3. Mykolo 4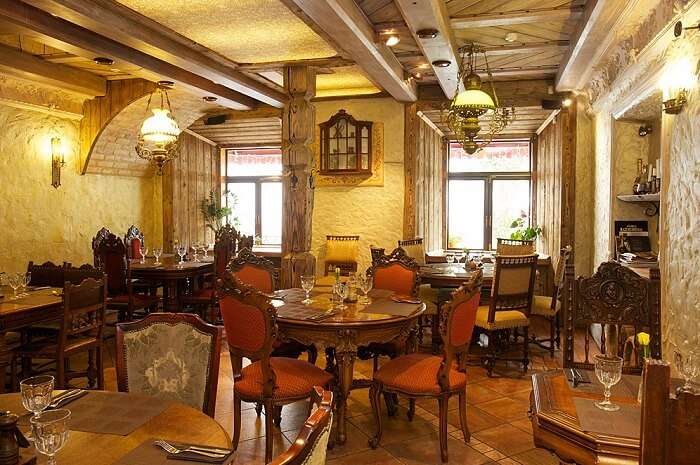 Image Source
Nestled in the heart of the main tourist spot, the Old Town, Mykolo lures in customers with its extravagant interiors and the amazing Bourgeoisie cuisine. It is basically a form of cuisine that incorporates the French and Polish style of cooking to Lithuanian cuisine. The restaurant is also well-known for their hospitality and their extensive list of Nordic wine. The ambiance of the restaurant is relaxing and full of warmth. They even play some soft jazz tunes in the background that is greatly enjoyed by the customers. Some of the must-try dishes here are the dumpling soup, lamb dishes, and the catfish. Unfortunately, there are very limited options for vegans and vegetarians.
Location: Shv. Mykolo gatve 4, Vilnius 01124, Lithuania
Cost for two: INR 3000
TripAdvisor rating: 4.5/5
TripAdvisor Reviews
Suggested Read: Summer In Lithuania: A Traveler's Guide To Enjoy A Vibrant Summer Vacation At This European Country!
4. Gabi Restoranas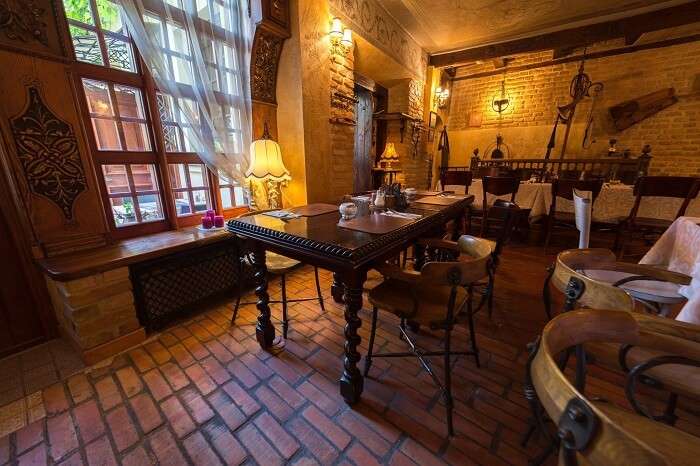 Image Source
Restaurant Gabi is found hidden away in Pilies Street near the tourist hot spot, the Old Town. It is located in a refurbished 18th-century house with antique interiors. This beautiful restaurant is known for its appetizing Italian and Lithuanian cuisine. Gabi also happens to have a beer brand of their own along with the scrumptious food. All kinds of meat dishes are recommended here with their special dates and spinach sauce. It also offers vegetarians with a number of options. Each delicacy here is prepared from scratch after one orders using the freshest produce. Apple pie is suggested by many locals for dessert which comes along with a scoop of vanilla ice cream.
Location: Shv. Mykolo gatve 6, Vilnius 06312, Lithuania
Cost for two: INR 2000
TripAdvisor rating: 4/5
TripAdvisor Reviews
5. Lauro Lapas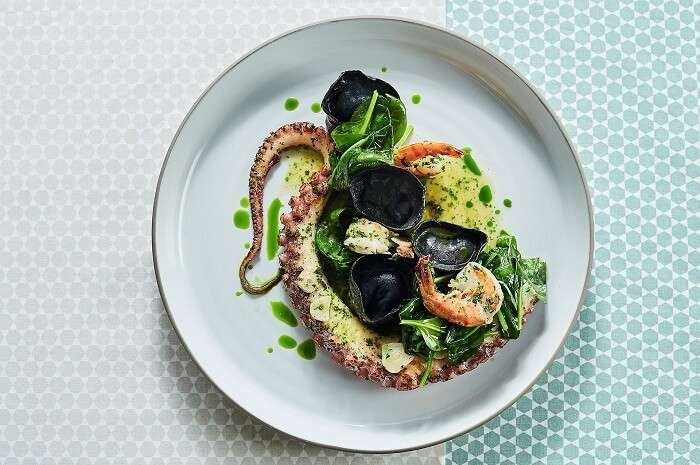 Image Source
With chic interiors, this contemporary restaurant happens to be one of the highly recommended Lithuanian restaurants by locals. Lauro Lapas serves exquisite Lithuanian cuisine but with a modern twist. It offers state of the art Italian cuisine with a Lithuanian twist. The walls of the diner are adorned with meticulously arranged cookbooks and bread. The restaurant is vegetarian-friendly and offers exceptional dishes made from beef, pork, and lamb at reasonable pricing. Their bar menu includes a long list of wine and cocktails. The place is perfect for a brunch or a special dinner event. Live music is part of the restaurant's attributes.
Location: Pamėnkalnio gatve 24, Vilnius 01114, Lithuania
Cost for two: INR 2500
TripAdvisor rating: 4.5/5
TripAdvisor Reviews
Suggested Read: 12 Restaurants In Poland That Will Make You Fall In Love With Polish Cuisine
6. Aline Leiciai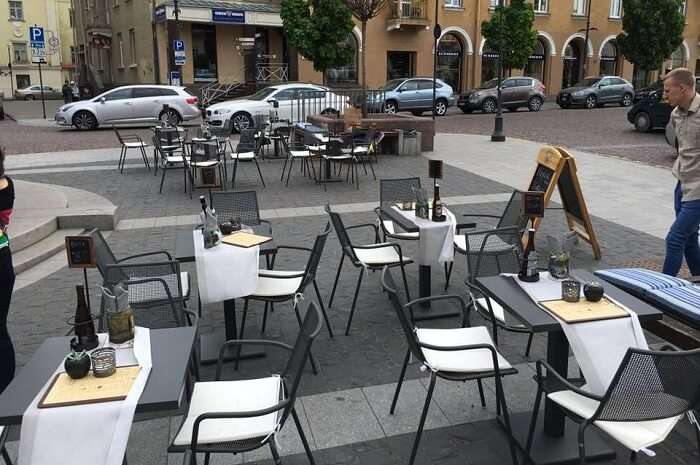 Image Source
Aline Leiciai is more of a pub than a fine-dining restaurant located in the capital, Vilnius. It is famous for its abundant variety of Lithuanian beer and food. It also serves the local mead made out of herbs and honey. This pub is a good place to get together with friends and have an afternoon drink whilst enjoying some palatable Lithuanian meal. The ambiance of the restaurant is very ethnic with slant tiled roofs and untempered stone walls. It is a small place that spreads an intimate yet casual environment. Some of the must-haves from this restaurant is the mushroom soup with rye bread, dumplings and potato and pork dishes.
Location: Stikliu gatve 24, Vilnius 01131, Lithuania
Cost for two: INR 1500
TripAdvisor rating: 4/5
TripAdvisor Reviews
7. Bistro 18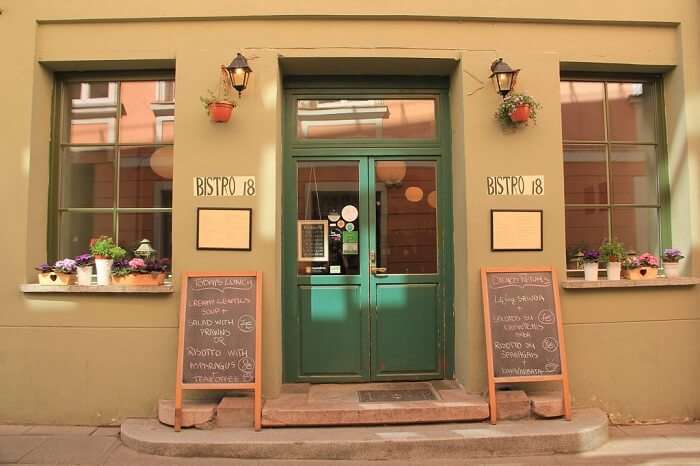 Image Source
Bistro 18 is technically not just a Lithuanian restaurant but specializes in contemporary cuisine from all over the world. It is a tiny family restaurant with limited seating but has a cozy and intimate atmosphere. It is among the most in-demand restaurants by tourists in Lithuania as it serves comfort food. From classic risotto to spicy Indian curry, Bistro 18 makes sure its customers are served with delicious food and warm hearts. The bistro even has a good collection for wine and cocktails. Vegetarians can have a hearty meal here as there are several options for people with special dietary requirements.
Location: Stikliu gatve 18, Vilnius 01131, Lithuania
Cost for two: INR 3500
TripAdvisor rating: 4.5/5
TripAdvisor Reviews
Suggested Read: Bulgaria Nightlife: 15 Hip And Happening Places For A Dazzling Time
8. Telegrafas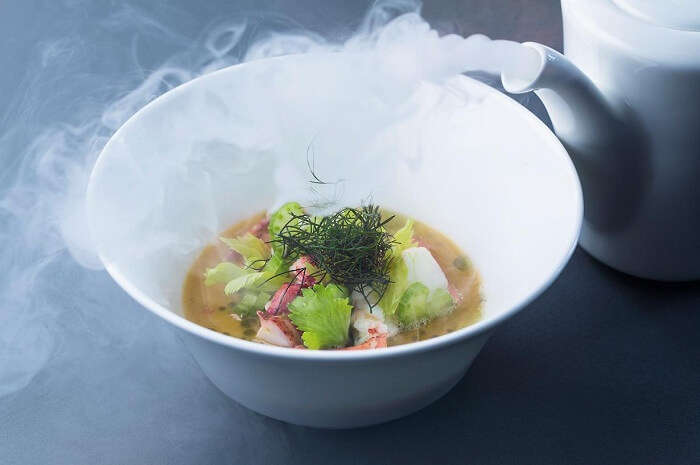 Image Source
Nestled between the medieval buildings of the Old Town is this opulent restaurant known for its marvelous culinary escapades. The restaurant is located in the Grand Central Kempinski Hotel that overlooks the gorgeous Cathedral Square. With fancy interiors and cutleries, the restaurant gives out a classy and romantic atmosphere that is perfect for an intimate evening with loved ones. It could probably be the only restaurant in Lithuania that serves Mediterranean cuisine while still withholding the essence of traditional Lithuanian dishes. Cepelinai, seafood platter and potato dumplings with spinach are some of the must-haves here.
Location: Universiteto gatve 14, Vilnius 01122, Lithuania
Cost for two: INR 5000
TripAdvisor rating: 4.5/5
TripAdvisor Reviews
Suggested Read: 14 Indian Restaurants In Poland That Will Ensure A Savory Experience
9. Amandus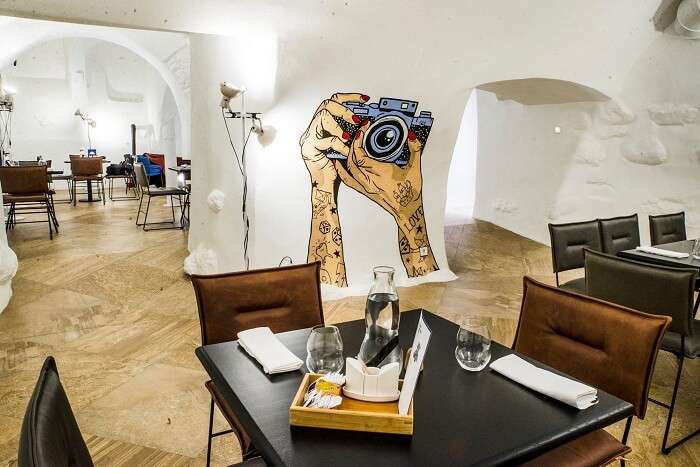 Image Source
Amandus is not just a restaurant but a gastronomical retreat. Situated in the heart of the capital city- Vilnius, Amandus takes pride in creating interesting and noteworthy dishes based on traditional Lithuanian recipes. One can find a lot of vegetarian and Scandinavian options on the menu as well. The interiors of the restaurant are kept minimal yet elegant that resonates a cozy ambiance. The restaurant has a 7-course set menu that one gets to taste, especially during the summers. It is a nice place to have a quiet and relaxing dinner. The food here is exceptional and colorful as are the wine and cocktails.
Location: Pilies Street 34, Hotel Artagonist, Vilnius 03214, Lithuania
Cost for two: INR 4500
TripAdvisor rating: 5/5
TripAdvisor Reviews
10. Chacapuri Sodu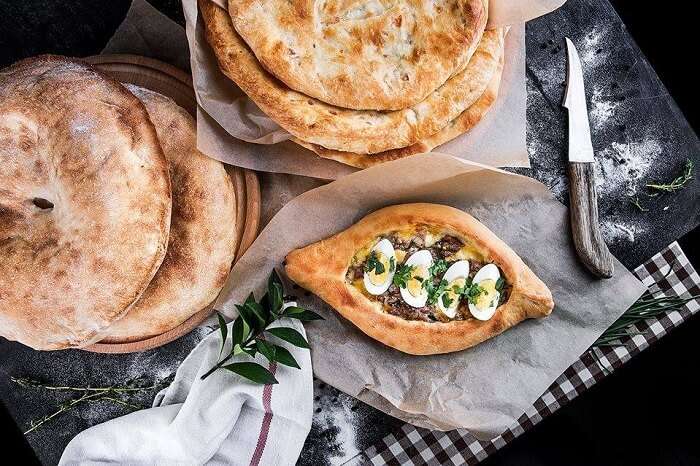 Image Source
Chacapuri Sodu is a budget-friendly restaurant located just outside the main square in the tourist hub. This small restaurant serves limited food native to Georgia and Lithuania. It is a nice place to stop for a quick bite of Khachapuri or a cup of fresh kharcho soup. This eatery is not vegetarian-friendly.
Location: Pilies Street 34, Hotel Artagonist, Vilnius 03214, Lithuania
Cost for two: INR 800
TripAdvisor rating: 4.5/5
TripAdvisor Reviews
Further Read: 10 Cafes In Malta Where You Can Satiate Your Caffeine Cravings In A European Way
Lithuania is a tourist friendly country that plays host to international music festivals and concerts to encourage and promote Lithuanian music to the rest of the world. In order to achieve that, the capital has to play a good host by serving the best meals to the visitors. These Lithuanian restaurants are definitely a gastronomic treat adding to the charming environment of the country. Book your escapade to Europe with the help of TravelTriangle today and explore the culinary journey in this Baltic country.
---