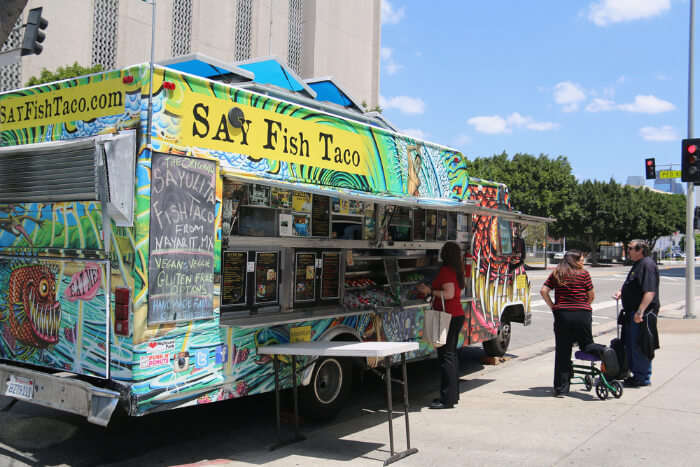 Los Angeles, the city of dreams, is famous for its chilled out lifestyle and urbane vibe. Many Hollywood stars and celebrities have their homes in Los Angeles. Therefore, it is given that everything will be top class including even the Los Angeles Food.
The trendsetting city in Southern California is also a mecca for foodies. Not only will you find fine dining restaurants that provide you with modern gastronomic experiences, but the food trucks here are also top notch. This is why you will find unique food dishes since chefs and foodies are experimental here.
Los Angeles is famous for its places as well as its food. There are many food trucks, hotels, and restaurants which are famous for different delicacies. Los Angeles is filled with restaurants and delicacies which are made only in LA and also served with different dishes.
Los Angeles Food: What All To Try
There are many restaurants, food chains as well as food trucks in Los Angeles where a foodie can have amazing food experiences. Here is a list of food places in Los Angeles and its unique dishes.
1. French Dip Sandwich
Image Source
The French Dip Sandwich is also known as a Beef dip in American cuisine. It consists of French roll on which very thin sliced roast beef is kept. In restaurants, it is usually served with onions, Swiss cheese, and also beef juice. French Dipped Sandwich of Philippe's in Los Angeles is world renowned. A person visiting Los Angeles should surely try it.
---
Looking To Book An International Holiday?
Book memorable holidays on TravelTriangle with 650+ verified travel agents for 65+ domestic and international destinations.
---
2. Mediterranean Gem Salad
Salads are not something which a person would think about trying in a new place. Very fewer people are interested in it, but a person should surely try Mediterranean Gem Salad. Radicchio and Crunchy kale are mixed with hazelnut, dates, chicken and blue cheese. Sycamore Kitchen of Los Angeles is famous for its Mediterranean Gem Salad, and it is also its specialty.
Must Read: 10 Best Indian Restaurants In Los Angeles That Will Not Let You Feel Homesick!

3. Ice Cream Sandwich
A meal is considered to be incomplete without deserts and sweets. The best thing as the desert is an Ice cream Sandwich. It is a frozen dessert which consists of two crusts or some biscuit with ice cream in between. The main ingredients of this dessert are ice cream and cookies of different flavors. The Ice cream Sandwich of Diddy Riese in Los Angeles is renowned.
4. Green Tea Matcha Latte
A day is incomplete without the consumption of tea or coffee. A latte in the morning will wake up a person for a magical day. A person could consume latte either hot or cold, and it could be added with various flavors of milk. Green Tea Matcha Latte is famous for Urth Caffe in Los Angeles. So, while you're out and about in this scenic land, don't forget to give this one a try for sure!
Suggested Read: Top 10 Things To Do In Los Angeles, The Home Of Hollywood
5. Macaroon
It is also known as French Macaron as it is more famous in France. Macaron is a sweet confection which is made up of icing sugar, granulated sugar, egg white, ground almond or powder of almond and food colors. Macaron is served with jam or buttercream which is filled between two cookies. It can also be called a sandwich cookie. Macaron of Bottega Louie in Los Angeles is famous all over the world.
6. Sweet Potato Tacos
Food trucks Los Angeles are famous for its Tacos. There are many food trucks running in Los Angeles but the best one to try Tacos is El Chato Taco Truck. There are different types of tacos like Sweet Potato Taco, Baja Fried Cod Taco, Pumpkin Taco and many more. Sweet Potato Taco is filled with roasted sweet potato, feta cheese, almond chile, scallions, and fried corn. It is a very tasty dish which should be tried when a person visits Los Angeles.
Suggested Read: 10 Best Hotels In Los Angeles That'll Take Your Breath Away
7. Wood Fired Pizzeria
Pizza is fun to try in any part of the world. But the taste of a pizzeria is much better when it is made at a place where wood is fired. The taste of any regular pizza is increased when it is made in a wood chamber. Food market Los Angeles has a famous place which is Olio GCM Wood Fired Pizzeria in Grand Central Market which serves the best wood-fired pizzeria. A person would never regret after trying it.
---
Planning your holiday but confused about where to go? These travel stories help you find your best trip ever!
Real travel stories. Real stays. Handy tips to help you make the right choice.
---
8. Vegan Food
Vegan Food includes hot dogs, burgers, deli slices, sausage, nuggets, chicken style cutlets, and ground meat. Vegan Food Los Angeles is very famous because of its quality and variety in the dishes. A person could find Vegan food at many places, and the best ones are Crossroads Kitchen, Flore Vegan, Shojin and My Vegan Gold. Vegan meat is very famous in Los Angeles.
Suggested Read: Top 10 Tourist Places In Los Angeles That Will Add A Little Glamour To Your Tour
9. Hollenbeck Burrito
Hollenbeck Burrito is world famous of Manuel's Original El Tepeyac Café in Los Angeles. It is seared pork meat which is simmered in a red tomato based on the Chili Verde recipe, beans, and guacamole which is topped with the sauce of Chili Verde and rice. It is a delicious dish, and the best one of Manuel's Original El Tepeyac Café is Five Pound Burrito. So, if you're in mood for a crazy tasty burrito, then this is surely your pick for the day! Tried some?
10. Red Velvet Froyo
Yogurt is a great dish to eat when you want to eat something sweet. Red Velvet Froyo is made up of chocolate chips which are mixed until it becomes smooth and creamy. It is then poured in loaf and tin, and cream cheese swirl is prepared. This cream cheese is then mixed with sugar and vanilla paste, yogurt and then red velvet is poured over this mixture. Red Velvet Froyo is famous for Yogurt Stop in Los Angeles.
Suggested Read: Los Angeles In December: 10 Experiences To Witness The Magical Side Of The City!
11. Mexican Hot Chocolate
In winter seasons people love to eat hot chocolate. Mexican Hot Chocolate is made of sugar, vanilla, chocolate, salt, and ground chile. It is then mixed until it becomes creamy and smooth. Chocolate is melted for 5 minutes, and Mexican Hot Chocolate is ready to serve. A Mexican Hot Chocolate in cold weather would be the best choice. Cacao Mexicatessen in Los Angeles is famous for Mexican Hot Chocolate.
12. Rice Crispy Treat Cookie
Cookies are always the hot favorite of every person to taste in different places around the world. Rice Crispy Treat Cookie is made by lining a cookie sheet with a greased parchment paper and heated in an oven at 350 F. Flour, rice, sugar, and marshmallows are stirred in a bowl. Golden syrup and butter are melted together, and then its mixture is stirred with the mixture of flour and other materials. Stella Barra in Los Angeles is famous for the Rice Crispy Treat Cookie all over the world.
Suggested Read: Top 18 Los Angeles Shopping Destinations To Find All The Style Inspiration You Need
13. Matzo Ball Soup
This soup is prepared by using Matzo balls. Chicken-broth fat and eggs are mixed together in a bowl. It is then stirred with garlic, shallot, lemon, ginger, dill, zest, parsley, matzo meal, and salt and with this the Matzo Ball Soup is ready to drink. Canter's Deli in Los Angeles is famous for its Matzo Ball Soup. So, even though you might not be a soup fan, this is surely nothing less than a treat and who knows, it might end up making you a soup person after all! Are you ready?
14. The Flaming Margarita
A person would be amazed and would be lost into thinking by seeing the name. A person would think that how can someone eat something which is on flames. But it is different. There is a small disc of lemon which is floating on the surface of the beverage and on top of that lemon there is a blue flame which dims and then disappears. This is a very popular item in Los Angeles, and it is available at El Compadre in Los Angeles.
Suggested Read: Nightlife In Los Angeles: 10 Places For An Extraordinary Experience After Sunset
15. Ten Pound Pancakes
Stir together baking powder, flour, sugar, and salt. Make a place to add milk, melted butter, and egg in the middle and mix it until it becomes smooth. Pancakes are great as light snacks, and people love to eat it. The Pantry in Los Angeles is famous all over the world for Ten Pound Pancakes. It is the specialty of The Pantry.
16. Plain Cake Donut
Image Source
Donuts are very famous in Los Angeles. There are many types of donuts available. The most famous of all is Plain Cake Donut. It is made up of baking powder, salt, sugar, flour, ground cinnamon, nutmeg, and milk. Bob's Coffee & Donuts in Los Angeles is famous for its Plain Cake Donut.
Los Angeles Regional Food Bank is an organization which helps people who are in need of food. Out of 7 people in Los Angeles, one person faces a food shortage and is not able to get two meals a day. There are many volunteers who look for people who need food, and there are many events like monthly giving according to which this organization serves the poor and needy people with food.
Further Read: Top 15 Los Angeles Beaches For That Perfect Summer Escapade
Los Angeles is one of the coolest cities in the US. People who plan a trip to the US put Los Angeles especially to the itinerary to experience the cool and urbane cultural vibe of this city. From shopping to cuisine, make sure you strike off each and everything from your LA list.
---
Looking To Book A Holiday Package?
Book memorable holidays on TravelTriangle with 650+ verified travel agents for 65+ domestic and international destinations.
---