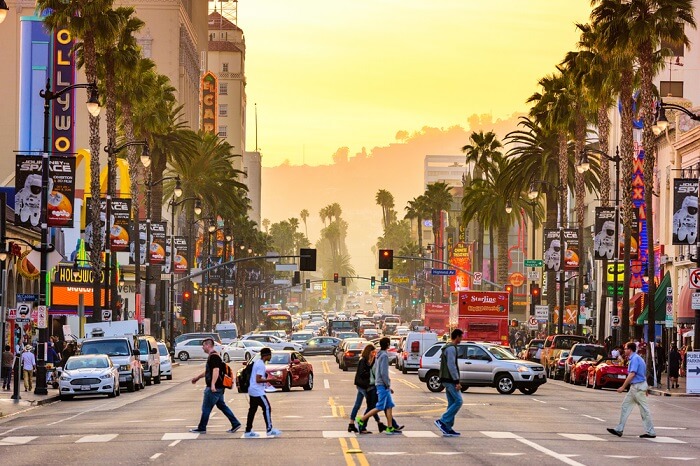 Hollywood Sign, Disneyland, and Universal Studios, what is Los Angeles not famous for? Add Los Angeles shopping to the list and it becomes the ultimate hub of haute couture. Whoever said money can't buy happiness simply didn't know where to go shopping. They should come straight to Los Angeles.
One cannot separate fashion from Los Angeles. Home to Hollywood celebrities and fashionistas, the Southern California city is the vogue capital of the States. Any new style spreads like a wildfire to the rest of the country and the world. No wonder it is shopaholics' favorite destination to shop. Also, Angelenos, (that is what LA people are called) like everything tasteful and classy which is why you will find the best of things to buy from here.
Top Los Angeles Shopping Places For The Shopaholics
Los Angeles is a mecca for all thing vogue and trending. From Macy's to Jimmy Choo to Givenchy, you will find all the opulent fashion brands in the city. Be prepared to get your credit cards maxed out while you are in Los Angeles shopping at your favorite brand stores.
Here are the most popular places in Los Angeles where you can go on a shopping spree guilt-free:
1. The Grove, Los Angeles
Suggested Read: Top 10 Los Angeles Beaches Which Are Perfect Summer Escapade

Take a note, shopaholics, because The Grove is your address for Los Angeles shopping. Known as one of the best shopping, dining, and lifestyle places in the California city, it is a one-stop destination for best clothing, cosmetics, and accessories. Shop till you drop in the exuberant stores in the complex. And when you are done splurging all your money, you can catch a breath at one of the gourmet restaurants or watch a movie at the theatres. Apart from shopping and dining, the place also keeps the shoppers busy with a variety of exciting events happening in the complex.
Address: 189 The Grove Dr, Los Angeles, CA 90036, USA
Timings: 10 AM – 10 PM
2. Rodeo Drive
Located in the posh location of Beverly Hills, Rodeo Drive is where all the celebrities come to shop. It is undeniably one of the fanciest shopping places in Los Angeles. The place is so huge it is easy to get lost in its splendor and charm. Its three blocks are scattered with more than 100 world-renowned stores and hotels. For those who like everything swanky and top-drawer, Rodeo Drive is their perfect Los Angeles shopping guide. From Versace, Jimmy Choo, to Tiffany & Co., you will find all high-profile brands on Rodeo Drive
Address: Beverly Hills, CA, USA
Timings: 10 AM – 6 PM, Sunday closed
3. Robertson Blvd
Suggested Read: Nightlife In Los Angeles: 10 Places For An Extraordinary Experience After Sunset

Another famous Los Angeles Shopping Street where celebrities and stargazers come to shop is Robertson Boulevard. If you want to buy some high-end apparels, this place has got a variety of store to burn a hole in your pocket. The stores of high-profile brands like Chanel, MAC, and Vince attract shoppers like bees to honey. Even if you are not interested in shopping, you can always spot at famous Hollywood celebrities or have lunch at the famous cafe and restaurants like The Newsroom and Ivy.
Address: S Robertson Blvd, CA, USA
Timings: 10 AM – 9 PM
4. The Santee Alley
The Santee Alley is your destination for cheap shopping in Los Angeles. The downtown alley has a huge flea market known as the Fashion District from where you can find vendors selling apparels, accessories, footwear, and cosmetic supplies. An equivalent of New Delhi's Sarojini Nagar, the place is open seven days a week. The streets of the Santee Alley, known for its lively and bustling atmosphere, is where you can put your bargaining skills in use. Have an amazing Los Angeles shopping in the busy streets of Fashion District.
Address: 210 E Olympic Blvd, Los Angeles, CA 90015, USA
Timings: 9:30 AM – 6 PM
5. Melrose Avenue
Suggested Read: Top 10 Things To Do In Los Angeles, The Home Of Hollywood

The glamorous city of Los Angeles is not short of fancy places to shop. Melrose Avenue in Beverly Hills is another classy neighborhood known for its swanky and funky taste. It is one of those rare eclectic Los Angeles shopping destinations where you can find both styles; funky and suave. Be it arts and antiques, clothing, accessories, or cosmetics, find all extravagant stores in Los Angeles, California lined one after another. Even if you don't like to shop, this shopping avenue offers some Instagram-worthy sites to feature on your newsfeed.
Address: West Hollywood, CA, USA
Timings: 11 AM – 7 PM
6. Los Angeles Airport Shopping Mall
For those who need no excuse to shop can embark on their Los Angeles shopping spree right from the start. Lax Shopping Mall offers an extensive list of stores from where you can buy designer apparel, handbags, swanky watches, and perfumes. Even if you have some time in boarding, one last shopping tour in the LAX mall will help you kill some time and do a good damage to your budget. Lol!
Address: 1 World Way, Los Angeles, CA 90045, USA
Timings: Open all hours
7. The Citadel
Suggested Read: 9 Best Restaurants In Los Angeles Where One Cannot Eat Just Once!

For outlet shopping, Los Angeles has a variety of outdoor shopping malls and complexes of which The Citadel is one. It has got all the plush clothing stores and fine dining places for shoppers. Find your perfect style in LA while browsing the coolest stuff in the shops at the Citadel and redefine your style statement. Good News: There is always exciting sales on so you can shop all you want without any feeling of guilt in the world.
Address: 100 Citadel Drive, Commerce, CA 90040, United States
Timings: 10 AM – 9 PM
8. South Coast Plaza
The biggest mall on the West Coast, South Coast Plaza is an example of elegance and aesthetic appeal. There are more than 250 outlets and stores where you can go on a Los Angeles shopping spree. Stella McCartney, Saks, and Hermes, you will find all the swanky stores inside the mall. Apart from shopping, you can also indulge in fine-dining experience at the high-end restaurants. With so many choices, money in your wallet will disappear like vapor. Whether you are a kid or an adult, this Los Angeles Shopping mall has got something for everyone.
Address: 3333 Bristol St, Costa Mesa, CA
Timings: 10 AM – 9 PM
The sunny city of Los Angeles is not only known for shopping. The city of dreams makes other American cities green-eyed with its glam and splendor. Experience a breezy holiday on your next trip to Los Angeles and you will know it for yourself that there is no other city like this California City.

Comments
comments