Louvre Abu Dhabi is UAE's one of the hottest attractions and one of the most intriguing museums in the Gulf Region. A visit to the Louvre Abu Dhabi comprises of exploring a myriad collection of art, artefacts and exhibits from diverse civilizations and world history. Feast your eyes on the stunning architecture of the building, the unique design, the floors and the walls that are a visual representation of the ingenious artists.
Abu Dhabi, the capital of the United Arab Emirates is a city that takes a modern take on its cultural ties and brings forward a myriad of landmarks, monuments and attractions that are worth buying tickets for. The Louvre Abu Dhabi threw open its doors in 2007 and has since been a prominent mark on the cultural front of Abu Dhabi. Marked by its stark white domed roof, it is an eye-catching building that will make you want to get a glimpse of what's inside. Some of the highlights include Leonardo da Vinci's La Belle Ferronnière, a 6th-century sphinx, early Chinese pottery, and paintings by Whistler and Klee. The collection is on loan from the Louvre Paris and other French museums, and some items are rotated periodically. If you're into history, culture, art and architecture then read on to know more about what this museum has to offer and what are the experiences that you can expect at one of the most fascinating museums in the Gulf Region.
Experiences At Louvre Abu Dhabi
Apart from touring the intrinsic galleries and gawking at the reflections of minds of great artists, this museum has a lot to offer than you would normally expect. The Louvre Abu Dhabi is not an ordinary museum that's for sure, you would need at least two to three hours to make the most of its experiences and collections. Let us have a look at what all you can expect while planning a visit to one of the largest museums.
1. Discover The Galleries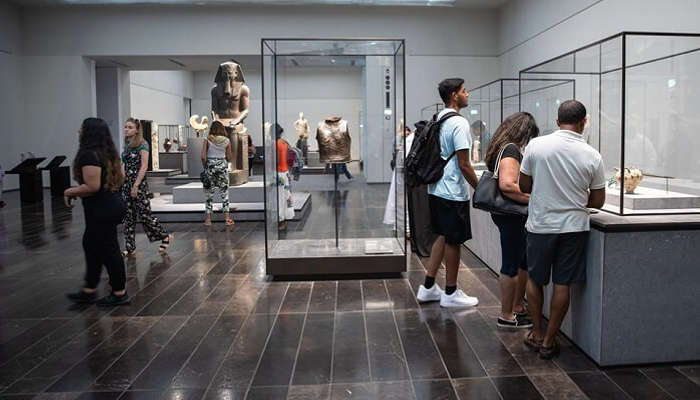 The galleries at the Louvre weave a story of humanity in twelve different chapters, the galleries are divided into 12 such sections that focus on shared themes and ideas that reveal common connections through the entire humanity. The works that are on display range from prehistoric artefacts to contemporary artworks. Come and witness humanity in a new light at the Louvre museum in Abu Dhabi.
Introduction: The Great Vestibule
Gallery 1: The First Villages
Gallery 2: The First Great Powers
Gallery 3: Civilisations and Empires
Gallery 4: Universal Religions
Gallery 5: Asian Trade Routes
Gallery 6: From The Mediterranean To The Atlantic
Intersection: Cosmography
Gallery 7: The World In Perspective
Gallery 8: The Magnificence Of The Court
Gallery 9: The New Art Of Living
Gallery 10: A Modern World?
Gallery 11: Challenging Modernity
Gallery 12: A Global Stage
Must Read: Monsoon In Abu Dhabi: Visit This Middle Eastern Gem In The Rainy Season
---
Dubai Holiday Packages On TravelTriangle
Travel Dubai in Luxury. Visit grand Burj Khalifa or the breathtaking Palm Islands. Enjoy Dhow Cruise, International Buffet Dinner, Dubai City Tour, Desert Safari, Ferrari World and Abu Dhabi City Tour. Book your Dubai holiday package on TravelTriangle.
---
2. Kayaking At The Museum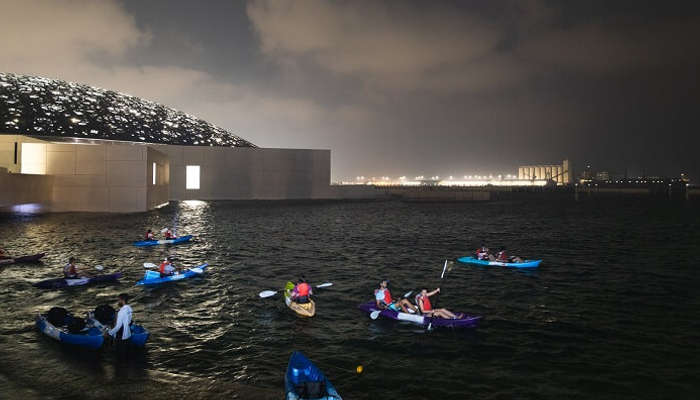 Be part of this unique guided tour as you immerse yourself into each and every one of the spectacular pieces on a kayak from the stillness of the Arabian Sea. Witness the museum's stunning architecture from a unique perspective accompanied by professional instructors with safety ensured.
Suggested Read: 10 Top Restaurants In Abu Dhabi To Indulge In Its Rich Culinary Delights
3. Performing Arts: Cubist Electro Night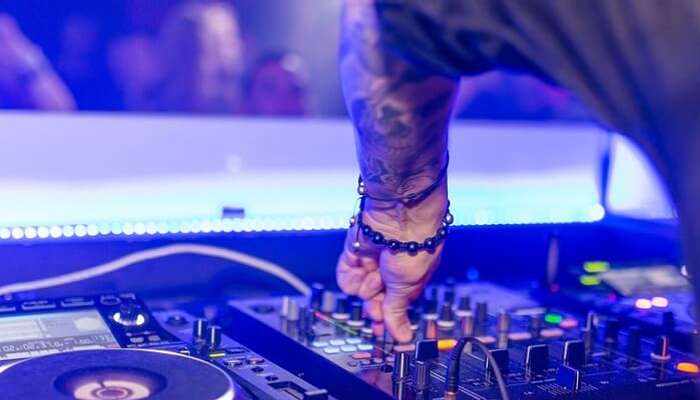 This November, expect an electrifying night at the Louvre Abu Dhabi featuring an impressive line-up of live Dj sets. The legendary alter ego of Amon Tobin, Two Fingers, Molecule Live, the French pioneer in sound innovation and immersion, and emblematic Boogie Box DJs, Hassan Alwan and Tristan Girault will be playing over cubism-inspired visuals lighting the iconic dome of the museum.
Suggested Read: Desert Safari In Abu Dhabi: A Guide For Indulging In The Most Adventurous Experience Ever!
4. Children's Museum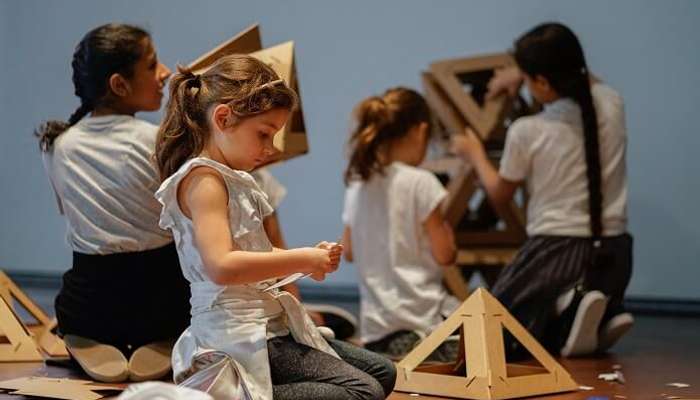 Yes. Louvre Abu Dhabi is a kid-friendly museum where the kids can have their share of fun too and keep themselves entertained while imbibing all the knowledge surrounding them! Take an interactive adventure through the Children's Museum to learn how the artists work and use different means to show the art and reveal facts. The museum is dedicated to children from 1-12 years of age, designed to enhance their curiosity and teach them about museum spaces.
Suggested Read: The First Of Its Kind Hindu Temple In Abu Dhabi Is Nothing Less Than A Gem
5. Exhibitions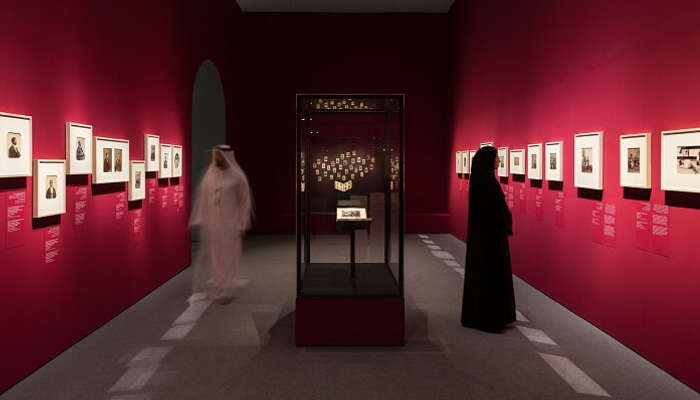 The Louvre Abu Dhabi hosts four temporary exhibitions every year that showcase the thematic approach as the permanent collections in museum galleries. The exhibitions portray comparisons, influences and shared ideas across civilisations and cultures.
6. Guided Tours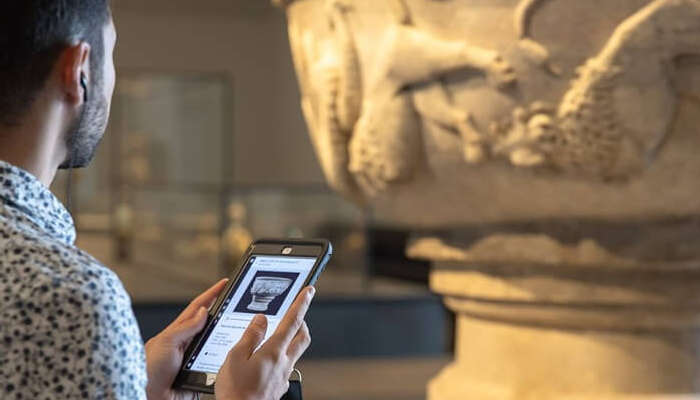 Collect a mini-iPad from the ticketing hall or download their app for free on your personal devices tour from available on Google Play and Apple Store. With over 150 audios, texts, HD pictures and 3D views, this multimedia guided tour will give you an insight into the depths of the Louvre Abu Dhabi's art and collections. Discover the architecture and the story of the museum and meet the main stakeholders of Louvre Abu Dhabi through their video-interviews. You can also use geo-tracking if you're lost and need to find a way around the museum. If you wish to opt for a personal guide who will take you around the artworks of Louvre Abu Dhabi then there are tours available by mediators around the gallery and take about 45 minutes to explain the art, their historical backgrounds and the significance.
Suggested Read: 10 Resorts In Abu Dhabi To Soak In The Extravagance Of The Arab In 2019
7. Souvenir Shopping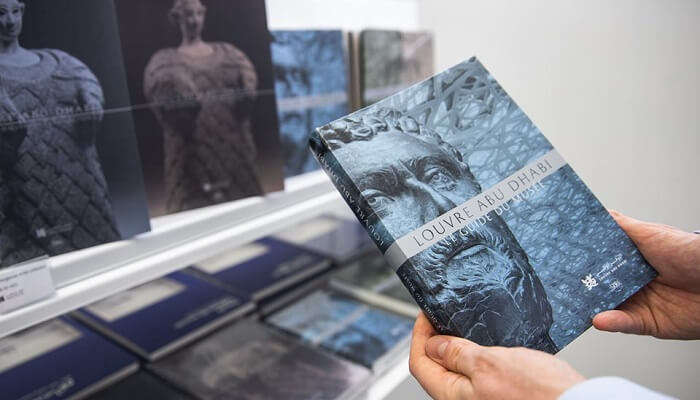 Buy yourself a souvenir from the Museum Boutique and get a chance to take home with you a masterpiece of the museum, whether it is a gift or a book to explore and expand one's knowledge. Designed by Jean Nouvel, the boutique features a great collection of books from around the world and unique designer products.
Suggested Read: Honeymoon In Abu Dhabi: For A Romantic Rendezvous In The Charming Capital Of UAE
8. Join The Art Club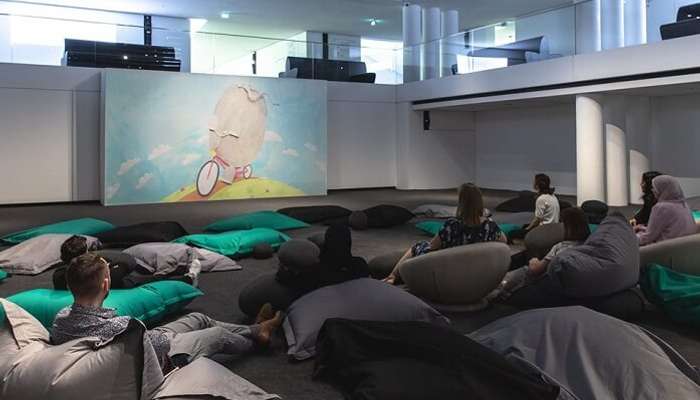 Be a privileged member of the Art Club at the Louvre art museum in Abu Dhabi and enjoy special benefits like unlimited entry to special offers, priority reservations and exclusive events. Socialize with like-minded art lovers and cherish the art all around you at the Louvre Abu Dhabi with your fellow members.
Suggested Read: 10 Day Trips From Abu Dhabi For A Complete UAE Experience In 2019
9. Food Indulgences At Louvre Abu Dhabi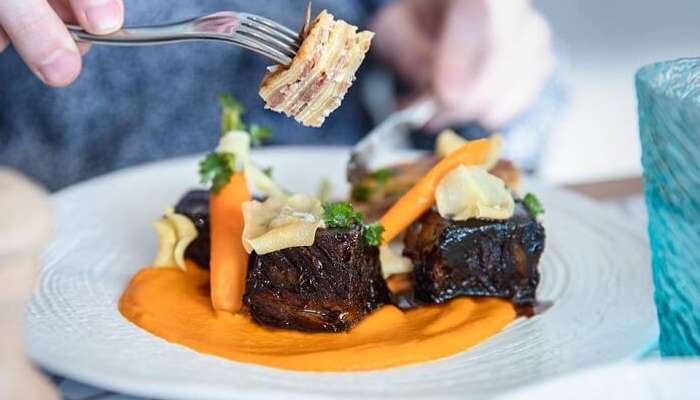 After a heavy and an exhilarating tour of the museum, relax over a cup of coffee and indulge in some delectable snacks at the museum cafe or the Aptitude cafe. Choose to dine in the pleasant surroundings of a contemporary roof-top lounge bar and enjoy the breathtaking sunset views.
Opening Hours Of Louvre Abu Dhabi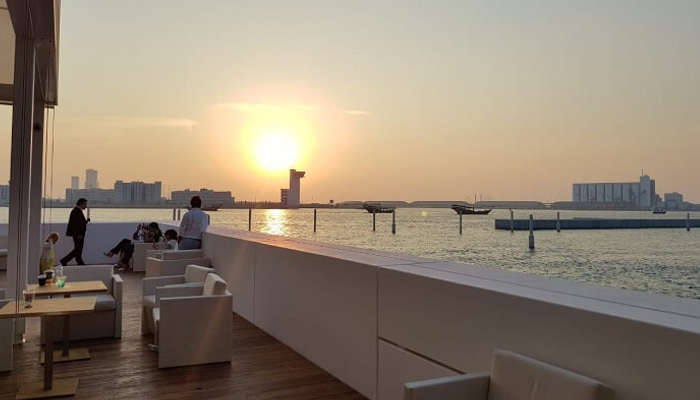 Louvre Abu Dhabi is closed on Monday, the last entry and purchase is 30 minutes prior to close.
1. Museum Gallery and Exhibitions
Saturday: 10 am – 8pm
Sunday: 10 am – 8 pm
Monday: Closed
Tuesday: 10 am – 8 pm
Wednesday: 10 am – 8 pm
Thursday: 10 am – 10 pm
Friday: 10 am – 10 pm
2. Museum Cafe
Saturday/Sunday/Tuesday/Wednesday: 10 am – 8 pm
Thursday/Friday: 10 am – 10 pm
3. Museum Boutique
Saturday/Sunday/Tuesday/Wednesday: 10 am – 8 pm
Thursday/Friday: 10 am – 10 pm
Entry Fee At Louvre Abu Dhabi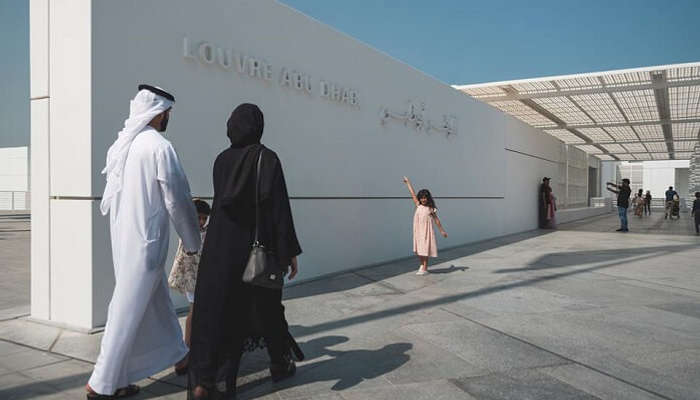 Buy your tickets online for a quick admission when you visit the museum. Admission will give you access to the museum galleries, exhibitions, Children's Museum and public spaces underneath the dome.
Admission Fee: 63 AED/ INR 1,230
How To Get To Louvre Abu Dhabi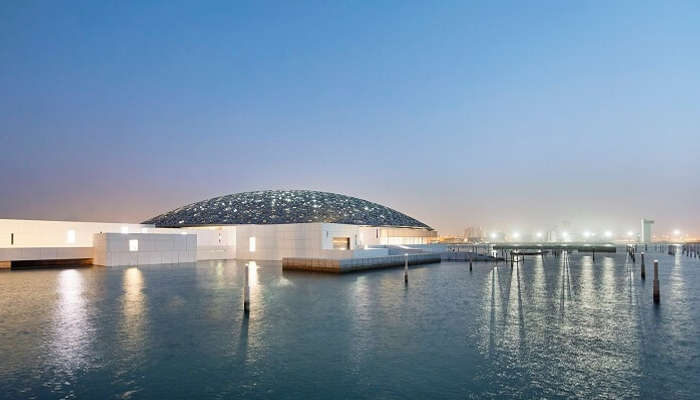 By Bus: Take Public Bus Route 94, stop in Louvre Abu Dhabi (Saadiyat Island).
By Taxi: A Drop off/ pick up point is located just in front of the main entrance. Taxi from Abu Dhabi city will cost approximately around Dh30 and Dh40.
By Car: While coming from Abu Dhabi city, take the Zayed Port area, follow signs for Yas Island and take Sheikh Khalifa Bridge to Saadiyat Island. Follow road signs off Sheikh Khalifa Highway E12 to the Cultural District to Louvre Abu Dhabi. First exit after the bridge.
Suggested Read: Delve Into The Abu Dhabi Nightlife & Let The Party Begin
Useful Tips To Know Before Visiting Louvre Abu Dhabi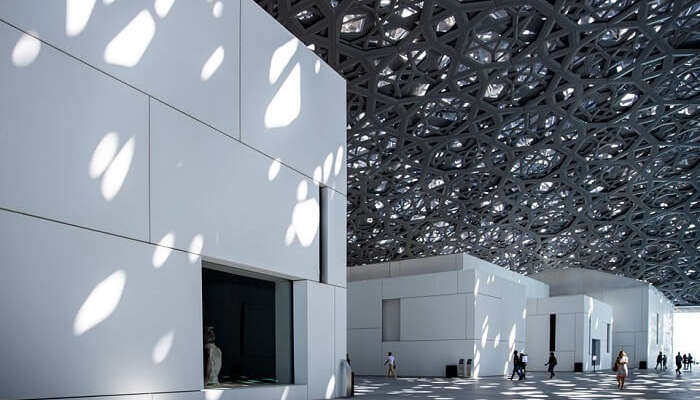 Here are some useful tips that you can use before visiting the most magnificent museum in the world that will help you ease your process and ensure you have a pleasant visit.
Download the guide app beforehand for background on the artworks at the museum.
Carry a jacket or alight sweater since the temperature inside the museum is usually cold.
The museum is wheelchair accessible and offers parking and secure lockers.
The museum has free Wi-Fi access.
There is an ATM in ticketing Lobby.
Further Read: Shopping In Abu Dhabi: When In Abu Dhabi, Shop Like The Sheikhs Do
We hope that this guide enticed you enough to visit the Louvre Abu Dhabi and book your tickets right away to plan a vacation in Abu Dhabi, the capital of the United Arab Emirates. Make sure you follow the guide and useful tips to ensure a hassle-free visit and enjoy your time enhancing your knowledge about the art, history and culture of Abu Dhabi. What are you waiting for? Plan your visit and tell us about your experience later!
---
Looking To Book An International Holiday?
Book memorable holidays on TravelTriangle with 650+ verified travel agents for 65+ domestic and international destinations.
---
Comments
comments