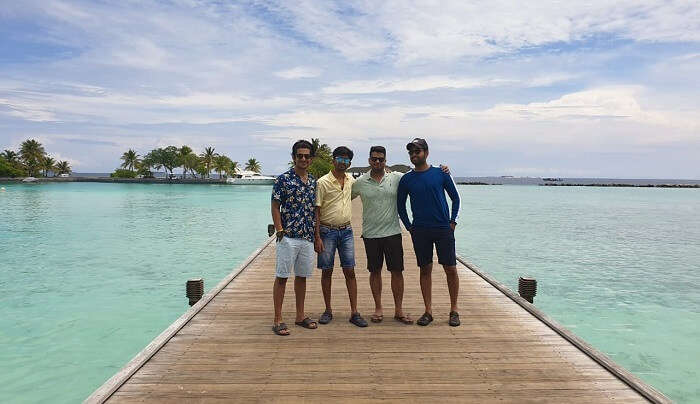 Looking for a break to escape the mundane life and the urban chaos? Even though the Maldives doesn't need much convincing on planning a vacation to the stunning islands, here's giving you 5 reasons to visit Maldives in May.
I and my cousins wanted a memorable holiday and we had heard about maldives many times and seen the pictures on social media sites that intrigued us to go visit Maldives, that's why we had decided to go to Male.
Details Of Our Trip To Maldives In May
Trip Duration: 5 days
Trip Cost: INR 2,90,500
Inclusions: Breakfast, Lunch, Dinner, Airport transfer, Gym, Resort activities, Windsurfing
Exclusions: Airfare
Day-Wise Itinerary Of Kshitij's Trip To Maldives In May
Day 1: Arrival
Day 2: Exploring the marine life
Day 3: Water Villas Stay
Day 4-5: Water Sports
Maldives In October: Our In-Depth Guide To Experiencing The Island In 2022
5 Reasons Why You Should Visit Maldives In May
A trip to the Maldives should be on the bucket list of every traveler, the reasons to visit Maldives are plenty, but here are some of the top reasons to visit Maldives in May based on my experiences.
1. Underwater Marine Life




The underwater marine life was our highlight on the second day. It goes without saying that a trip to Maldives is incomplete without taking a dip into the crystal clear blue waters that merge with the rich marine life of Maldives. Home to about 1200 islands, it has some of the best beaches in the world with a stunning underwater marine life that will captivate your soul. The magical underwater world of Maldive is bound to cast a spell on you. It boasts a myriad of marine life which is considered to be the best for snorkeling, diving and recreational activities. Take a dip and swim freely into the depth of the ocean and discover the magical wonders of the underwater world, witness a spectacle of vibrant coral reefs, sea turtles, reef sharks, stingrays and other species!
2. The Luxurious Water Villas




The overwater villas were the highlight on the third day. A staycation in Maldives is all about living life in the lap of luxury and amidst the surreal waters. The overwater villas are an escape to experience an ultimate Maldivian lifestyle. Waking up to the sound of waves lapping against your resort and the cool sea breeze greeting you gently in the morning, this is what heaven feels like.
You'll Soon Be Able To Catch A Ferry From Kerala To Maldives
3. Water Sports







The watersports was our highlight on the fourth day. Maldives is a gem for enjoying watersports, we indulged in windsurfing, canoeing, snorkeling and lots of exciting water sport activities. Water sports is definitely among the top reasons to visit Maldives, you can truly make the best of water sports like kayaking, snorkeling, jet-skiing, rollerblading, canoeing, windsurfing, sea bobbing and more. The resorts have instructors to guide you through all the activities.
4. The Food


Nothing beats the Maldivian cuisine, relish the local food like the Maldivian curry with Tuna or gorge on the fresh seafood platter that includes a delicious fish soup accompanied by lime, chili, rice, curry leaves, onions and a coconut. We got arrangement in bagicha restaurant and our package included breakfast, lunch and dinner so we didn't have to spend a single penny on food. It was absolutely delicious.
5. Paradise Island Resort



The whole paradise island resort was the highlight on the fifth day as it was our last day. Imagine an island in the middle of an ocean, with pristine white beaches and deep blue horizons along with soaring coconut palm trees. You can have all of this at the Paradise Island Resort & Spa which is an ultimate destination for travelers looking to unwind in the lap of luxury and nature.
Maldives Weather In May
We visited the maldives in may 2021 and its starting of the monsoon. The weather is a little bit humid and couple of pleasant shower made our day. You'll have quite a bit of rain if you're going in May, although it doesn't usually rain for long and you'll still get plenty of hot and sunny weather. The average high in the capital, Malé, is 31ºC in May, so it's a great time to go if you love the heat.
Island Hopping In Maldives: A Tryst With The Turquoise Waters In 2022
What To Pack For A Trip To the Maldives In May
While packing for a trip to Maldives, make sure you carry the following belongings:
High SPF Sunscreen
Flip Flops, floaters
Thin apparels to wear (Shorts, shirts )
Swimsuits
Mosquito repellent
Snorkeling mask
First aid kit, medicines
camera
Shades
Caps
Hard USD or Maldivians currency
Experience With TravelTriangle
I seriously consider my experience with TravelTriangle as the best budget friendly and most honest travel services that I have ever received and I would like to highly recommend every traveller to go with TravelTriangle. Every detail given in Male package by TravelTriangle is as pure as they explained to us before bookings. Every word was crystal clear.
I sincerely want to thank TravelTriangle for planning a hassle free trip and every person from the team who explained it to me patiently before confirming anything.
Our Budget Trip To Maldives From India Was The Perfect Blend Of Romance And Adventure!
Maldives is the exotic dream of tranquility, breathtaking sunsets, white sand beaches and swaying palm trees against the backdrop of limitless blue skies. There are enough reasons required to convince you into booking a holiday to Maldives in May. Make Maldives your choice of destination to spend an unforgettable summer vacation with your loved ones and tell us about your experience later!
Common Queries Asked By Travelers
Is it a good time to visit Maldives in May?
The best time to visit the Maldives is from November to April. The island nation is warm and sunny year-round, but consists of a dry season and a wet, rainy season. May to October is considered the rainy season, with the islands seeing between 5 and 10 inches of precipitation monthly and often strong winds.
How much does it rain in Maldives in May?
Southwest monsoon (wet season) usually extends from May to November. In this season the Maldives can experience torrential rain, strong winds and storms. The change over period usually occurs sometime in late November-December accompanied by a period of unsettled weather.
What is the cheapest time to go to the Maldives?
The best time to visit on a budget would be between April and June. The weather is not as wet as later months, and you can find comfy accommodation, which is cheaper than the luxury resorts. Try booking your flight in advance, and plan around the peak seasons.
How many days do you need in the Maldives?
Unless you are into specific activities that requires time such as diving & deep sea fishing, Maldives is perfect for a short stay instead of a long one. Anything more than 1 week will be too much for our opinion. 4 to 5 days is usually sufficient if staying in one hotel and perhaps 7 days if 2 hotels.
Is Maldives worth visiting?
The Maldives are not for everyone, but they are absolutely perfect for some people on some trips.