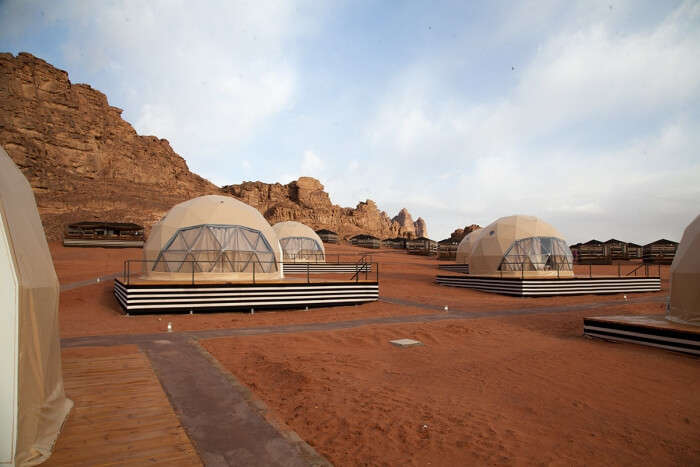 The rugged rusted landscape of Wadi Rum has gotten us smitten right from the beginning of time, making it an outworldly place for glamping. The scenic charm of this Jordanian gem reminds us of Mars – the burnt orange sand and asymmetrical cliffs. But now to add on to the Martian experience, partially glassed, spaceship-like domes are being introduced in Sun City Camp. The glassed walls allow the guests to enjoy the views of the wilderness right from the comfort of their beds.

Sun City is considered among the best glamping resorts in Jordan, and has been around three years now. The recently-introduced domes are a part of the expansion, spanning over an area of 40 square meter and each dome can accommodate upto four people. Right here, you can experience the raw beauty of desert while also getting yourself pampered with luxury. "I want my guests to see the beauty of nature at night in Wadi Rum," says Al-Nawafleh, the owner of the Sun City Camp. "The stars are amazing. The silence in the desert, it's just mesmerizing." he added
Along with number of other facilities, guest can make the most of their time in Wadi Rum by indulging in activities such as hot air ballooning, jeep adventure, camel rides, among many.

These Martian domes in Wadi Rum have certainly transformed the glamping experience in the deserted region of Wadi Rum! It's time you allow yourself to indulge in the same. Fret not! Travel Triangle's Jordan tour packages will be your savior from the hassles.
Further Read: Glamping In Wadi Rum: 5 Exclusive Properties For The Luxe Staycation