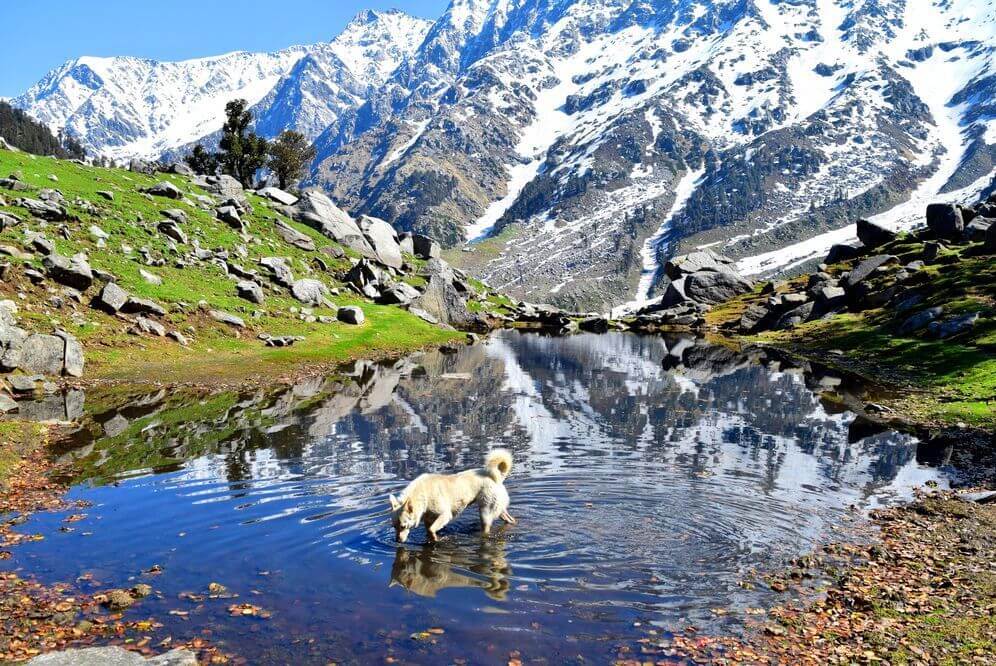 Home to charming monasteries, riveting waterfalls, and the hippest of cafes, Mcleodganj is a popular hill station nestled in the sublime hills of the Dhauladhar range. This lush little town is adorned with unending natural beauty and paints a mesmerizing picture of the perfect blend of Tibetan culture with some British influences. Every wanderer's favorite destination, Mcleodganj in December is equally appealing as its summer counterpart. Intrigued? Scroll down to find out how!
Known far and wide for its acclaimed and religiously significant monasteries, Mcleodganj in winters cannot be missed for its pristine geographical magnificence. Book yourself a short getaway into a winter wonderland with the choicest of Himachal tour packages and immerse yourself in its naturally astounding vistas!
How Is Mcleodganj's Weather In December?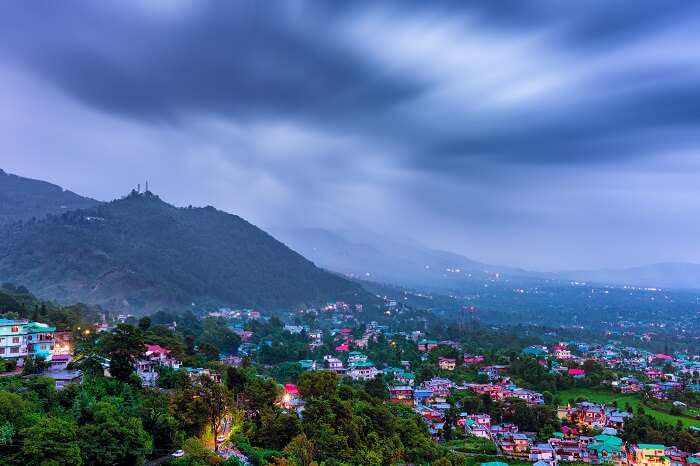 If you are one of those people who find delight in the white magic of snowfalls, Mcleodganj in December is for you. With temperatures dipping below -1℃elsius, this captivating hill station is ideal for honeymooners.
Being a hill station, Mcleodganj has pleasant weather during year-round. The summer months bring cool mountain air, while the place receives heavy rainfall in the monsoons, and in winters, the Mcleodganj snowfall is famous for its scenic beauty!
Even though Mcleodganj is preferred as a summer holiday destination in India, for those who love the cold weather and snowfalls, Mcleodganj with its freezing temperatures is a Disneyland of snow, snowfalls and everything white. The misty fog, the icy cool temperatures and the thick white blanket of snow makes it an ideal honeymoon destination.
The winters, with temperatures ranging between 5°-17° Celsius, is perfect to for winter lovers seeking peace and seclusion. Exuberant in all its white glory, Mcleodganj in December helps create a romantic ambiance perfect for honeymooners.
Mcleodganj Temperature In December: Minimum: 1℃ | Maximum: 17℃ | Average: 12℃
Average Budget To Explore Mcleodganj In Winters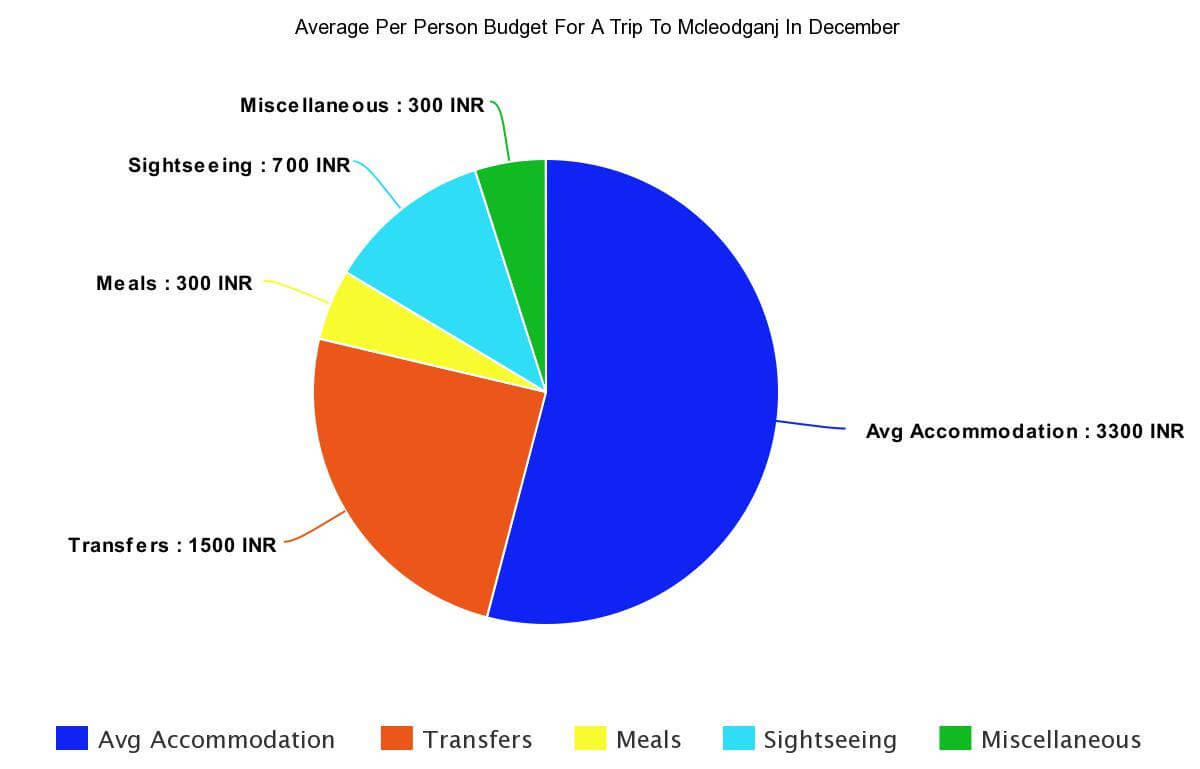 When on a trip to Mcleodganj, you need not worry about the expenses! Being one of the most inexpensive retreats in the North, Mcleodganj will bestow you with the best of experiences at rock bottom rates. Here's a breakdown of how much it can cost per person for a trip to Mcleodganj in December which includes aspects like transfers, accommodation, food, sightseeing, and other tidbits.
Avg Flight Rate (round trip): INR 17,000/- per person
Avg Accommodation: INR 3,300/- per person
Transfers: INR 1,500/- per person
Meals: INR 300/- per person
Sightseeing: INR 700/- per person
Miscellaneous: INR 300/- per person
Note:
Flight rates are not included in the budget given above as they may vary on the traveler's destination and time of booking
'Transfers' here indicate transportation from cities like Delhi and Chandigarh to Mcleodganj (either by train or road), and then getting around in the hill town
Best Places To Visit In McLeodganj In December
To make the most of your trip to the hill station of McLeodganj in the month of December, you must consider visiting the places that are amongst the well-known spots here. Listed below are some of the best places to visit in McLeodganj in December you must add in your itinerary.
1. Namgyal Monastery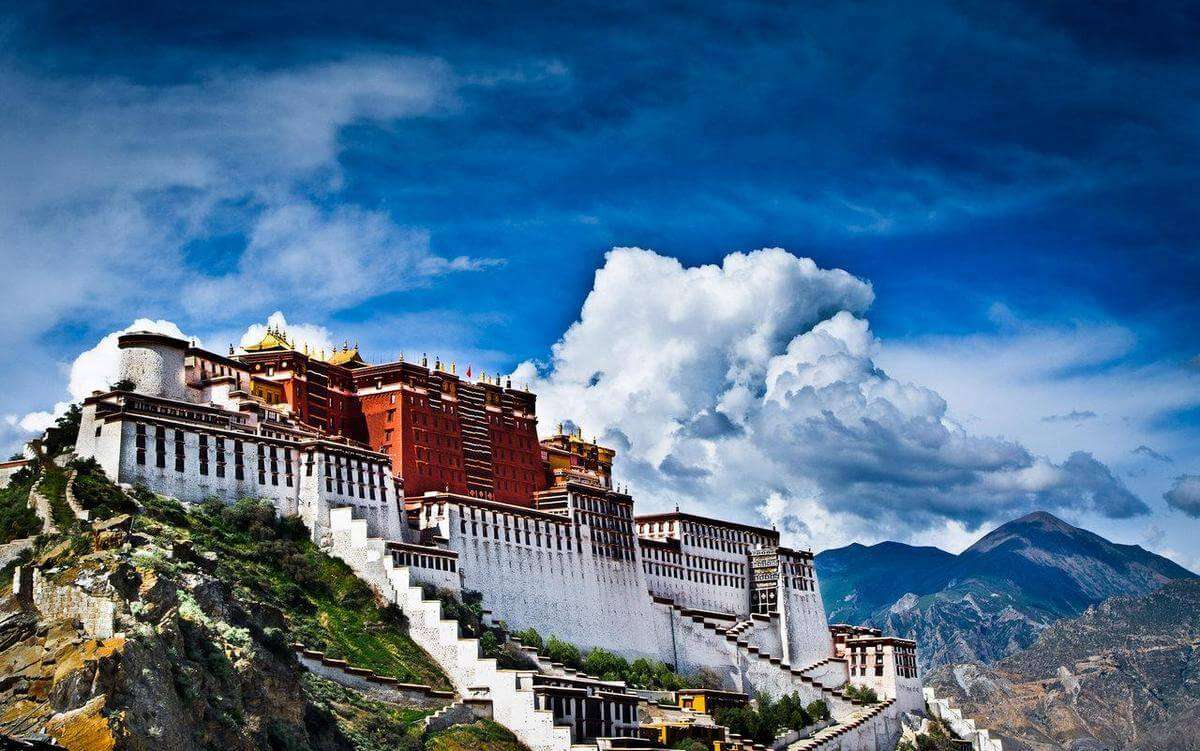 Overlooking the Dhauladhar mountain ranges, the Namgyal Monastery, also called "Dalai Lama's Temple", is famous for its ornate architecture along with being a center of learning and an ocean of wisdom. Founded in the 16th century, the monastery preserves the religious, intellectual and artistic traditions of the Tibetan monks and offers a unique perception of life, religion, rituals, and reality that cannot be missed on a Mcleodganj trip in December.
Location: Mcleodganj, Dharamshala
Distance From City Center: 4 km
Timings: All Days- 4:30 am to 8:30 pm
2. Kangra Fort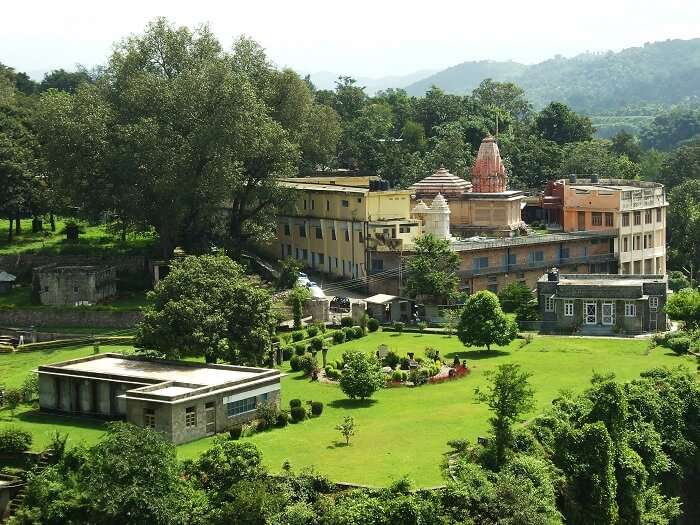 Ranking as the 8th largest fort in the Archaeological Survey of India, this citadel was built by Maharaja Susharma Chandra of the Katoch dynasty and cannot be missed on a trip to Mcleodganj in December. Fabled as a treasure mine, this quaint fort was attacked 52 times, yet it still stands tall and mighty. Its grandeur speaks volumes of the rich cultural history of Kangra and its rusty ruins stand as a reminder of what we will all be when our time is done.
Location: Old Kangra, Kangra
Distance From City Center: 20 km
Entry Fee per person: Indians – INR 150/- per person (with audio guide) | Foreigners- INR 300/- per person (with audio guide)
Timings: All Days- 9 am to 6 pm
15 Places To Visit In Himachal Pradesh In December 2022
3. Bhagsunath Temple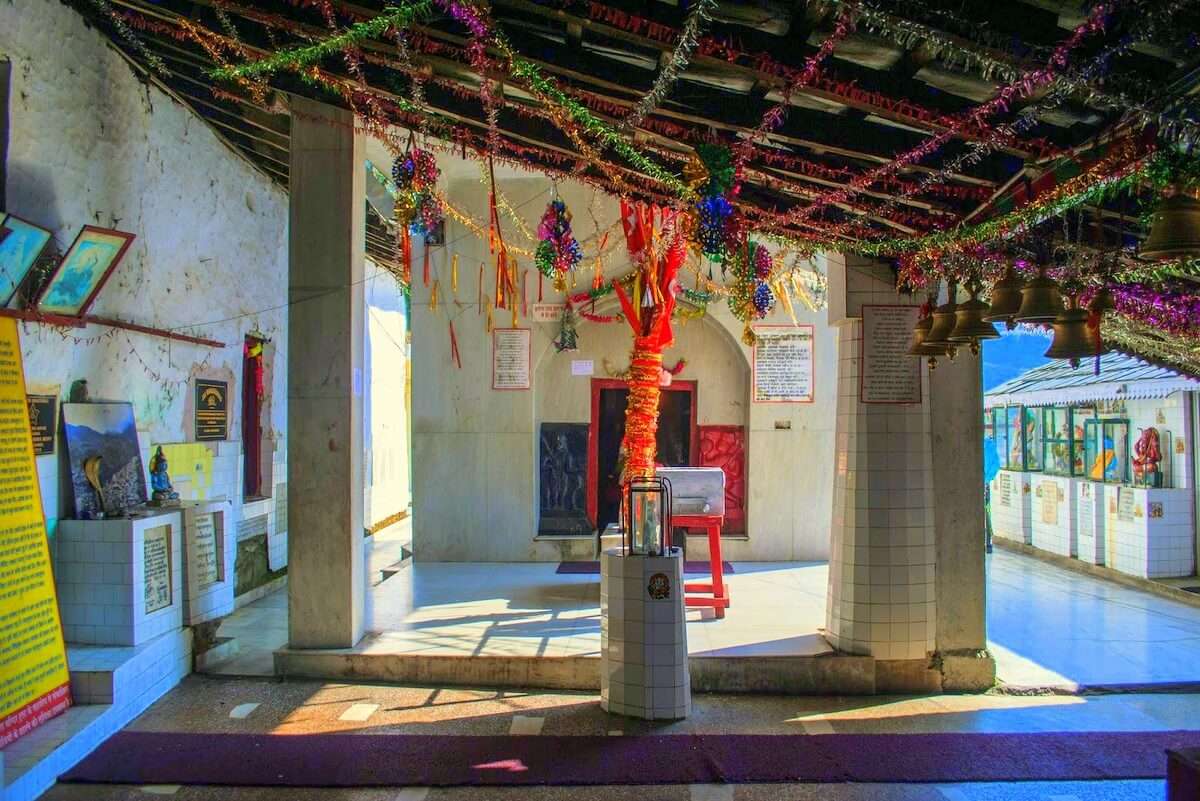 Surrounded by lush green trees and pictorial landscapes, this holy temple is dedicated to Lord Shiva and the local deity Bhagsu Nag. This place also holds special significance as a symbol of the courage of people as after the devastating earthquake of 1905, this sacred sanctuary was rebuilt by the Gorkha regiment back to its former glory, making it a major tourist attraction on a Mcleodganj trip in December.
Location: Mcleodganj, Dharamshala
Distance From Mcleodganj Bus Stand: 2 km
Entry Fee: Free
Timings: All Days – 5 am to 12 pm
4. St. John's Church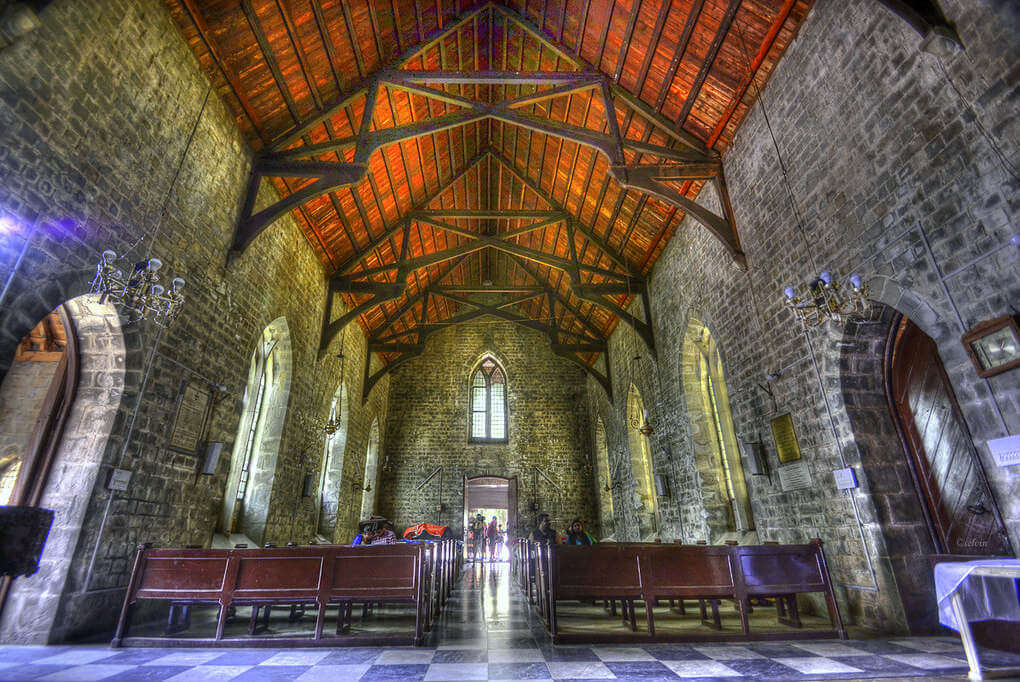 Set amidst the wilderness, this enchanting structure entices with its neo-gothic architecture. Built in 1852, this beautiful house of God is dedicated to John the Baptist and is also the resting place of Lord Ergin, the Governor General and Viceroy of India during British Raj. It's mysterious aura blends beautifully with the alluring winters of Mcleodganj in December, offering a beautiful amalgamation of nature and man-made marvel, especially during snowfall in Mcleodganj.
Location: Mcleodganj, Dharamshala
Timings: All Days – 10 am to 5 pm
5. Masroor Temple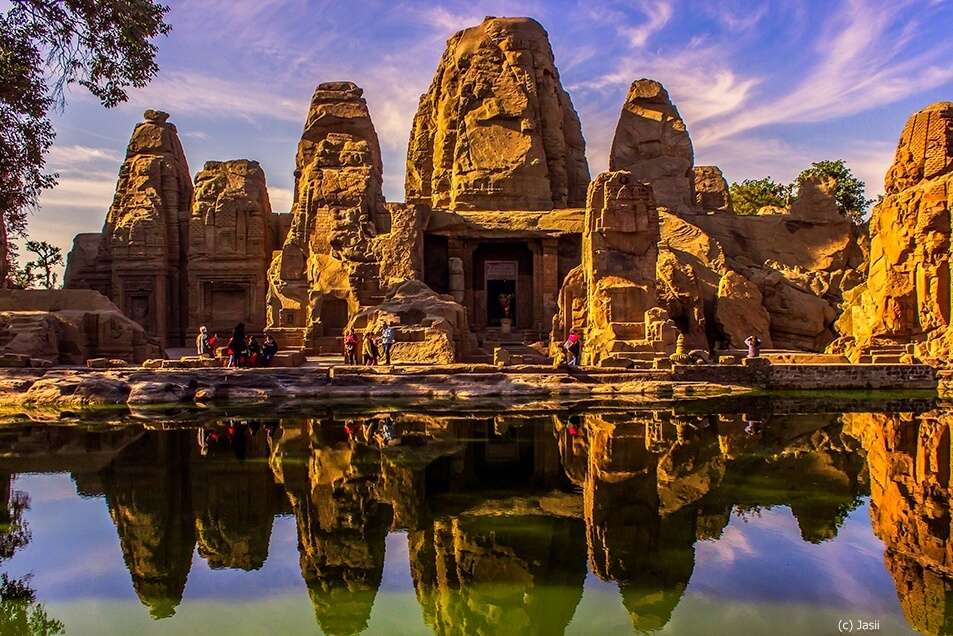 Believed to have been built by the Pandavas, this aesthetically beautiful temple in the Kangra valley is carved from a group of fifteen monolithic rocks, naming it the Himalayan pyramid. The charm of this temple complex lies in the view of the snow-capped Dhauladhar range that it offers in December, making it the best time to visit Mcleodganj.
Location: Lanjkhas-Nagrota Surian Road, Masroor, Kangra
Distance From Mcleodganj: 50 km
Timings: All Days – 6 am to 6 pm
6. Kora Circuit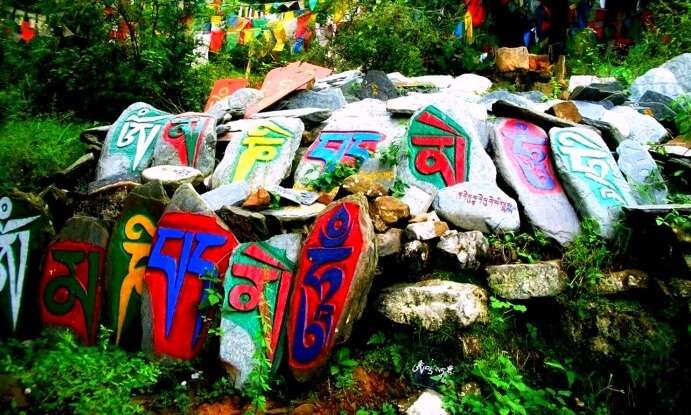 Join the pilgrims outside the Tsuglagkhang Complex by taking a left from the complex's entrance on a Kora circuit (ritual circuit) along a prayer-flag draped path that cannot be skipped on a Mcleodganj trip in December. This colorful and scenic path also serves as a memorial for the hundreds of Tibetans who self-immolated themselves as a protest against the Chinese rule.
Location: Mcleodganj, Dharamshala
7. Men-Tsee-Khang Museum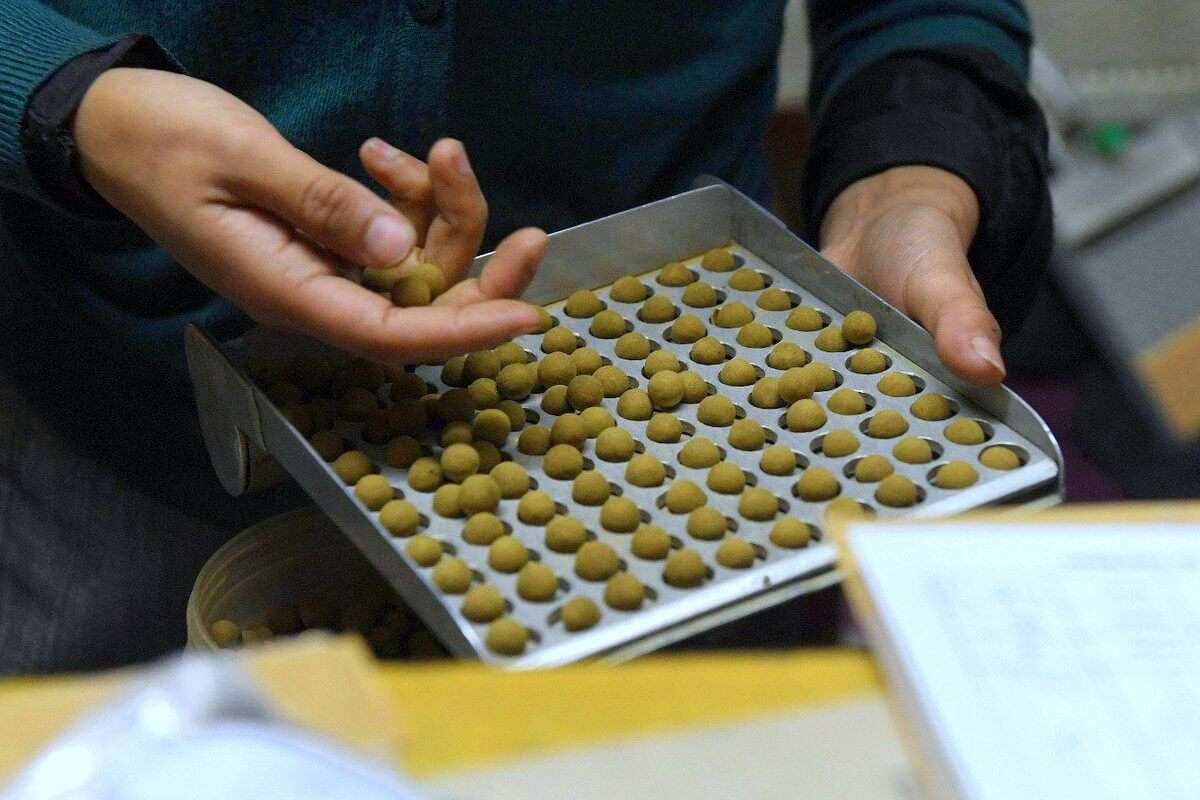 A visit to this 3 storeyed display of the fascinating sciences of Tibetan astrology and medicine cannot be skipped from the list of things to do in Mcleodganj in December. Come visit this glorious center of wisdom and appreciate the abundance of knowledge and learning that is a part of the Tibetan heritage.
Location: Mcleodganj, Dharamshala
Timings: Monday to Saturday- 9 am to 1 pm; 2 pm to 5 pm (with a break of 1 hour in between); Closed on Sunday, 2nd and 4th Saturday of each month
Entry Fee Per Person: INR 20/- per person
8. Bookworm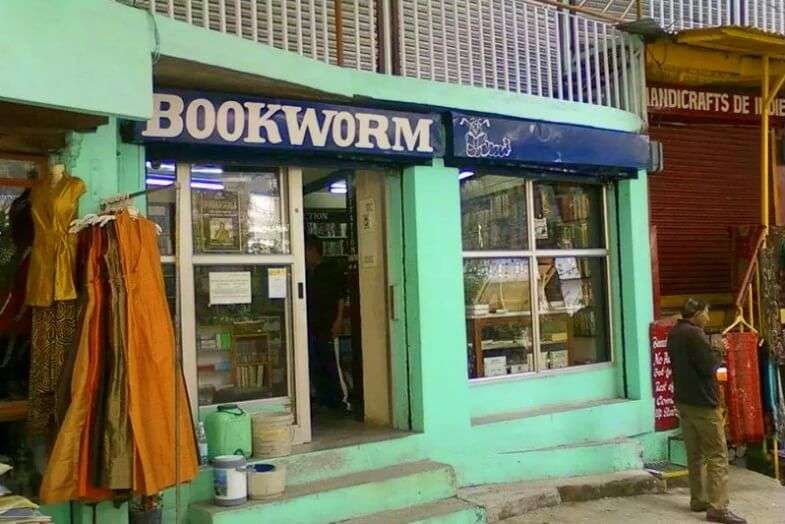 Addicted to stories? Mcleodganj has something for you too. Bookworm is a tiny bookshop which is a haven for all book lovers. Take some time out of your busy schedule when in Mcleodganj in winters and add to your reading experience by picking up a book and embarking on an unknown journey between its pages in the tranquil ambiance of the Bookworm.
Location: Hotel Bhagsu Road, Mcleodganj
Timings: Tuesday to Sunday- 9 am to 7 pm; Closed on Monday
Budget: Economy
Best Things To Do In McLeodganj In December
In order to make your visit to McLeodganj productive, you must indulge yourself in some of the best recreational activities. There's a lot to experience during the snowfall in McLeodganj.
1. Triund Trek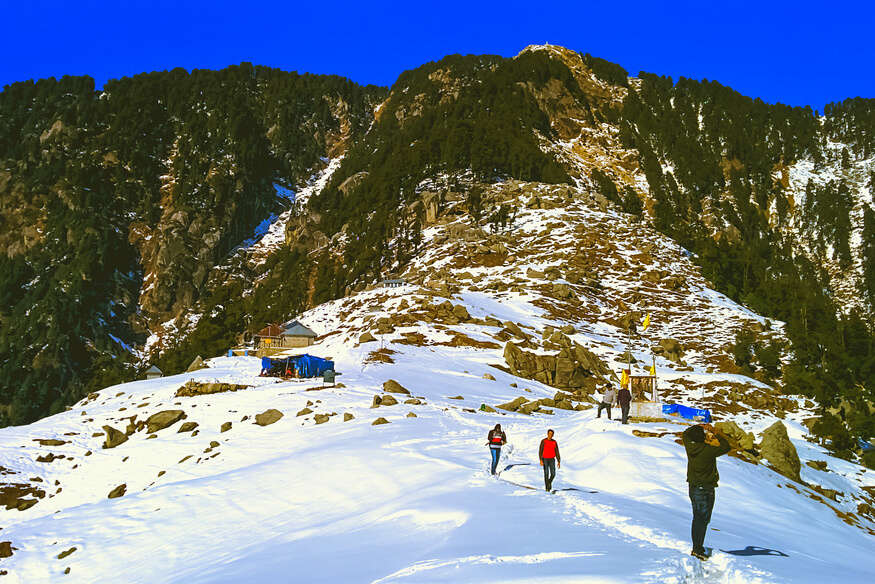 Embark on a trek to escape from the hectic city life at Triund that offers a sublime view of Kangra Valley.This 1100 meters sharp Triund trek in December is worth your time because of the scenic views of the snow laden natural beauty of the majestic Himalayas. The night sky is a sight to behold and provides a perfect excuse for camping. With such surreal views to unfold, December is undoubtedly the best time to visit Mcleodganj for trekking.
Location: Triund Hill, Dharamshala
Distance From Mcleodganj Bus Stand: 10 km
Time Required: 5 to 6 hours
Base Camp: Mcleodganj
Trekking Distance from Galu Devi Temple: 9 km
Tip: One should keep the following points in mind while trekking to Triund:
Pack some snacks and water for your hike as there are no eating outlets
Prepare a medical kit for emergencies
Obtain all permits in advance for a hassle free experience
11 Most Convincing Reasons To Visit Mcleodganj This Summer 2022
2. Bonfire At Laka Glacier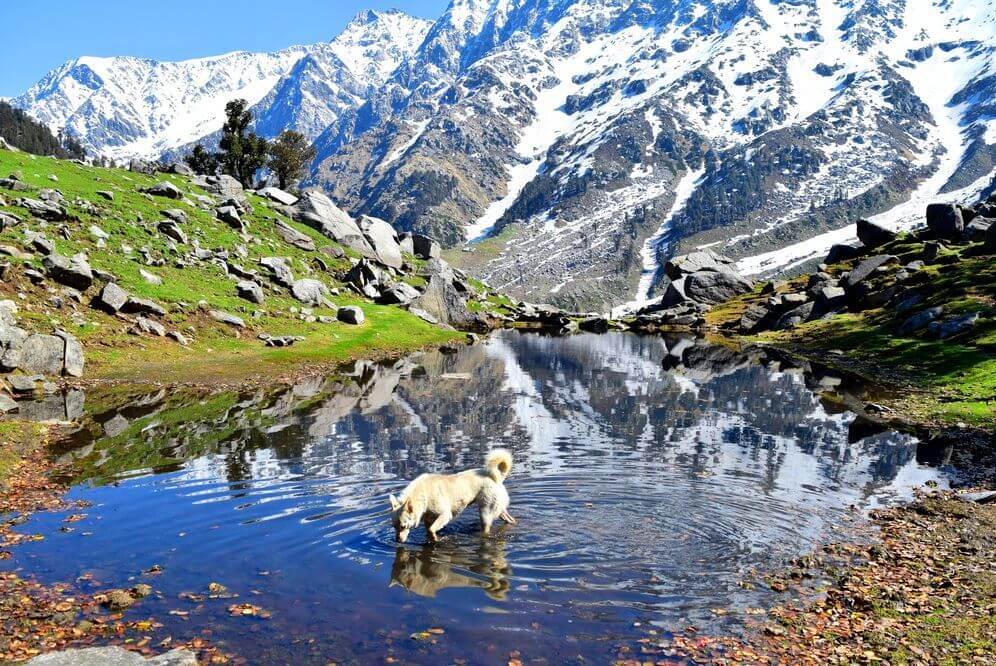 Traversing the glacial moraine further up the Triund hill, trek on the hills of Mcleodganj to reach Laka Glacier. This challenging trek in the snow is absolutely captivating for its breathtaking views. The open meadow of natural magnificence is the site of the most enthralling sunset one can ever witness and is perfect for creating memories around a crackling bonfire with the people you love.
Location: Illaqa, Himachal Pradesh
Distance From Dharamshala: 13 km
Base Camp: Mcleodganj
Tip: Book online treks in advance to avoid last minute inconvenience.
Trip To Mcleodganj & Triund Trek: A Reunion Of Four Childhood Friends
3. Meditative Experience At Dharamkot

Far from the crowd of Mcleodganj, the scenic beauty of Dharamkot awaits you. Offering a panoramic view of the entire Kangra valley as well as the Dhauladhar ranges, this picturesque little village lies in complete contrast to the Tibetan influences of Mcleodganj. The meditation centers of Tushita and Vipassana offer a chance to get in touch with your inner self and the tranquility of this "Yoga village" is a perfect getaway from the hectic lifestyle. Meditation, in fact, is one of the best things to do in Mcleodganj in December.
Location: Dharamkot, Dharamshala, Himachal Pradesh
Distance From Mcleodganj: 9 kilometers
4. Visit Tibetan Museum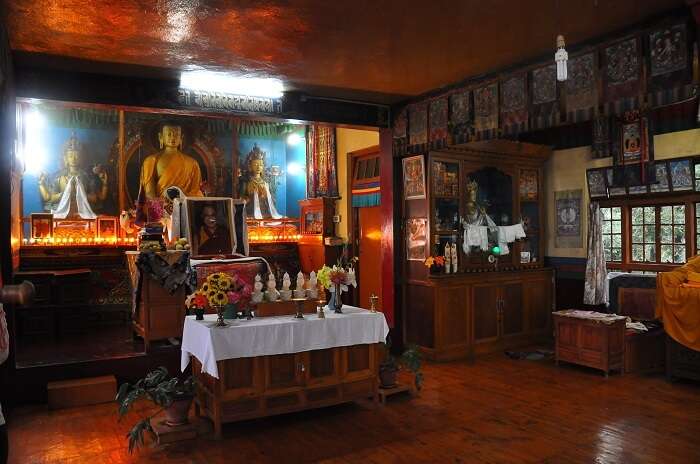 Located within the Tsuglagkhang complex, the Tibetan Museum houses a vast array of handicrafts and pottery, as well as a remarkable collection of Tibetan art, historical documents, and paintings. This astounding museum offers an insight into the Tibetan culture and the struggles of Tibetan exodus and resistance thereby becoming the most important things to do in Mcleodganj in December.
Location: Temple Road, Dalai Lama Temple Complex, Mcleodganj
Timings: Summer – 9 am to 6 pm (All Days except Monday) | Winter- 9 am to 5 pm (All Days except Tuesday)
Entry Fee: Free
---
Planning your holiday but confused about where to go? These travel stories help you find your best trip ever!
Real travel stories. Real stays. Handy tips to help you make the right choice.
---
5. Shop At Tibetan Handicraft Center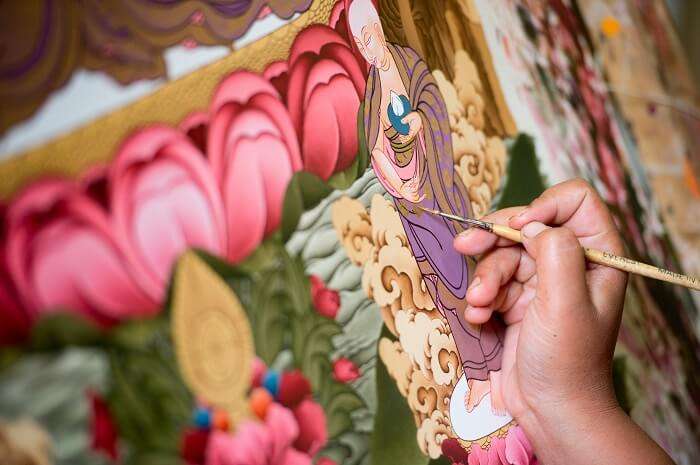 Famous for its arts and crafts, this center is a cooperative that employs refugees for weaving Tibetan carpets and offers the visitors a unique experience of watching the weavers in action. One simply cannot miss witnessing the Tibetan Thangkas which are spellbinding Tibetan Buddhist paintings depicting a Buddhist deity or mandal, come to life on a trip to Mcleodganj in winters.
Location: Mcleodganj, Dharamshala
Timings: Monday to Saturday- 9 am to 5 pm | Closed on Sunday
Entry Fee Per Person: INR 5/- per person
Where To Stay During The Mcleodganj Tour In December
There are various accommodation options in the hill station of McLeodganj that will ensure a cozy stay. The best ones are listed below!
1. Fortune Park Moksha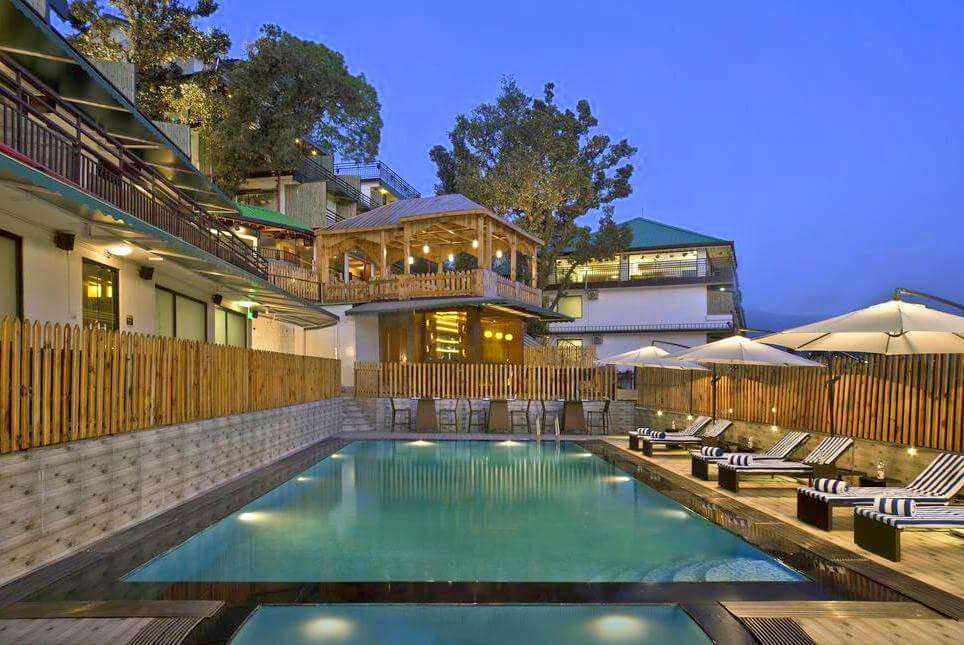 Image Source
Amidst the Strawberry hills, this luxury hotel offers an exquisite view of the snow-clad mountains of the Dhauladhar range adding to the romantic ambiance of the city and is hence one of the best places to stay in Mcleodganj. The hotel provides an excellent range of amenities like free Wifi, comfortable accommodation, and fine dining and is ideal for honeymooners.
Address: Strawberry Hills, Satobari, near Dal Lake, McLeod Ganj, Dharamsala 176216, India
Average Price/Night: Starting from INR 6,672/- (double-sharing basis & tax excluded)
Ratings: 4/5 | Reviews | Website
2. Udechee Huts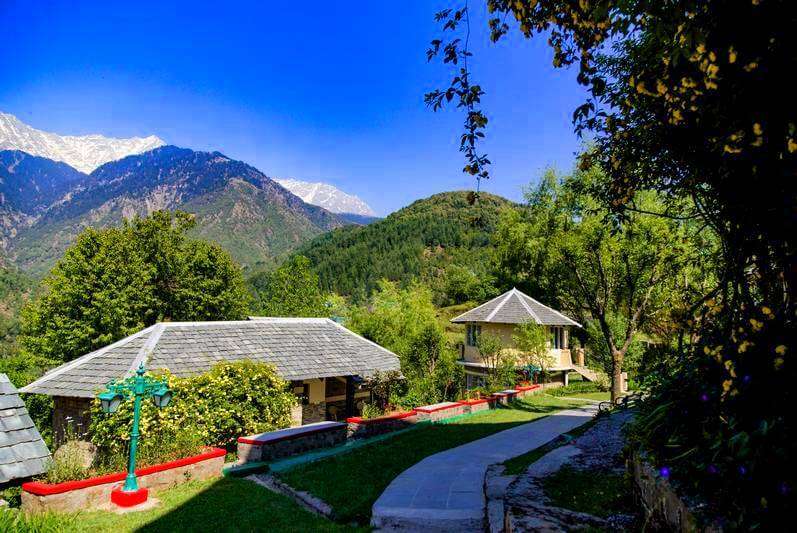 Facing the Dhauladhar glacier, the Udechee huts blend perfectly with the architecture of the glittering mountains. This family-run hotel treats its guests like family members and is ideal for that home-like feel away from home.
Address:| Village. Naddi PO Dal Lake, McLeod Ganj, Dharamsala 176216, India
Average Price/Night: Starting from INR 2,068/- (double-sharing basis & tax excluded)
Ratings: 4.5/5 | Reviews | Website
15 Best Resorts In Mcleodganj For A Laidback Weekend In The Hills
3. Pink House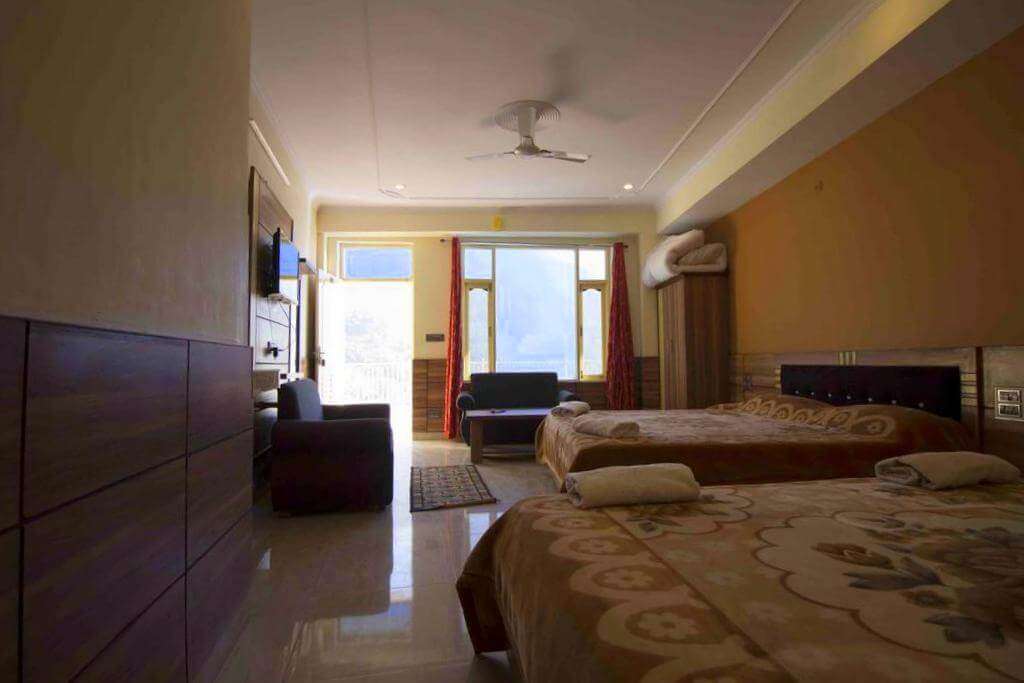 A home to the travelers, trekkers, photographers and dreamer, this budget hotel provides a comfortable stay with an excellent array of amenities that make your Mcleodganj trip in December a memory to be cherished.
Address: Opposite Youngling School, Jogiwara Road, McLeod Ganj, Dharamsala 176219, India
Average Price/Night: Starting from INR 1,317/- (double-sharing basis & tax excluded)
Ratings: 4/5 | Reviews | Website
Best Restaurants In McLeodganj
After all, no trip is complete without good food. Taste the authentic food served out during the McLeodganj snowfall time at some of the best restaurants in McLeodganj. The most famous ones have been mentioned in the list below!
1. Lung Ta
Image Source
Enjoy the authentic Japanese delicacies in this beautiful family restaurant that also offers some Vegan options and revel in the perfect amalgamation of culture that is unique to Mcleodganj.
Location: Jogibara Rd, McLeod Ganj, Dharamsala, India
Timings: Monday to Saturday: 12 pm to 12:30 pm and 5:30 pm to 8:30 pm; Cl9sed on Sunday
Cuisine: Japanese
Average Meal For Two: Starts from INR 100/- (tax excluded)
Google Ratings: 4.4/5 | Reviews
Must Try: miso soup, homemade kombucha, sushi
2. Nick's Italian Kitchen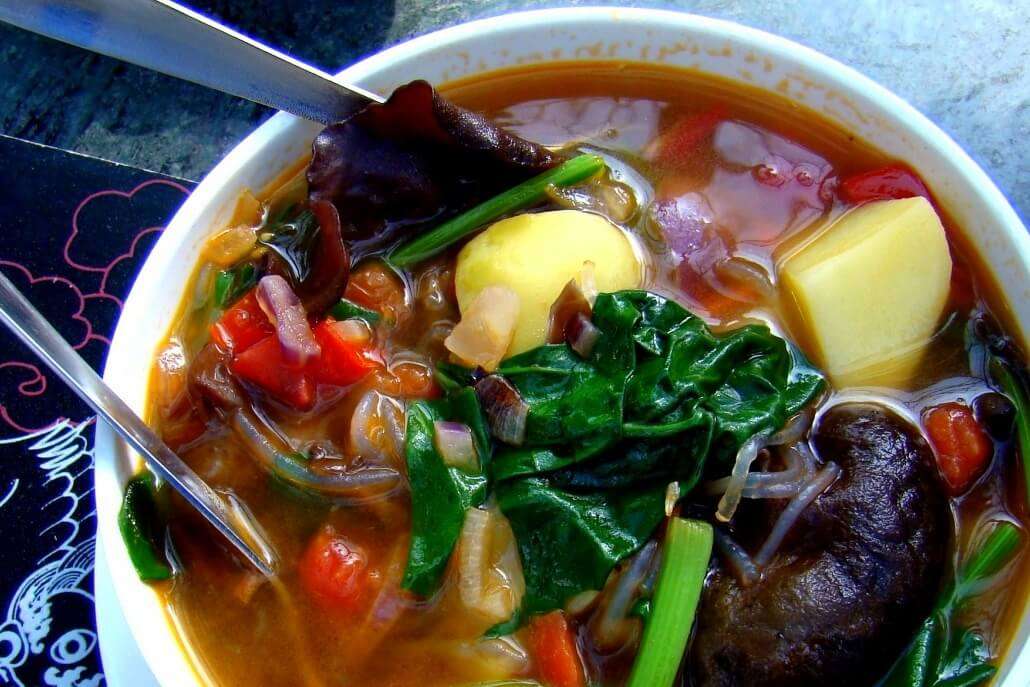 Renowned for its hospitality, this place is a saviour for the Vegetarians who share a love for the appetizing Italian cuisine. The restaurant is ideal for some food with a view along with a calming and vibrant atmosphere.
Location: Kunga Guest House | Bhagsu Road, McLeod Ganj, Dharamsala 210424, India
Timings: All Days- 7:30 am to 8:30 pm
Cuisine: Italian
Average Meal For Two: Starts from INR 200/- (tax excluded)
Google Ratings: 4.2/5 | Reviews | Website
Must Try: pasta, chocolate mousse cake, cheese momos
3. Illiterati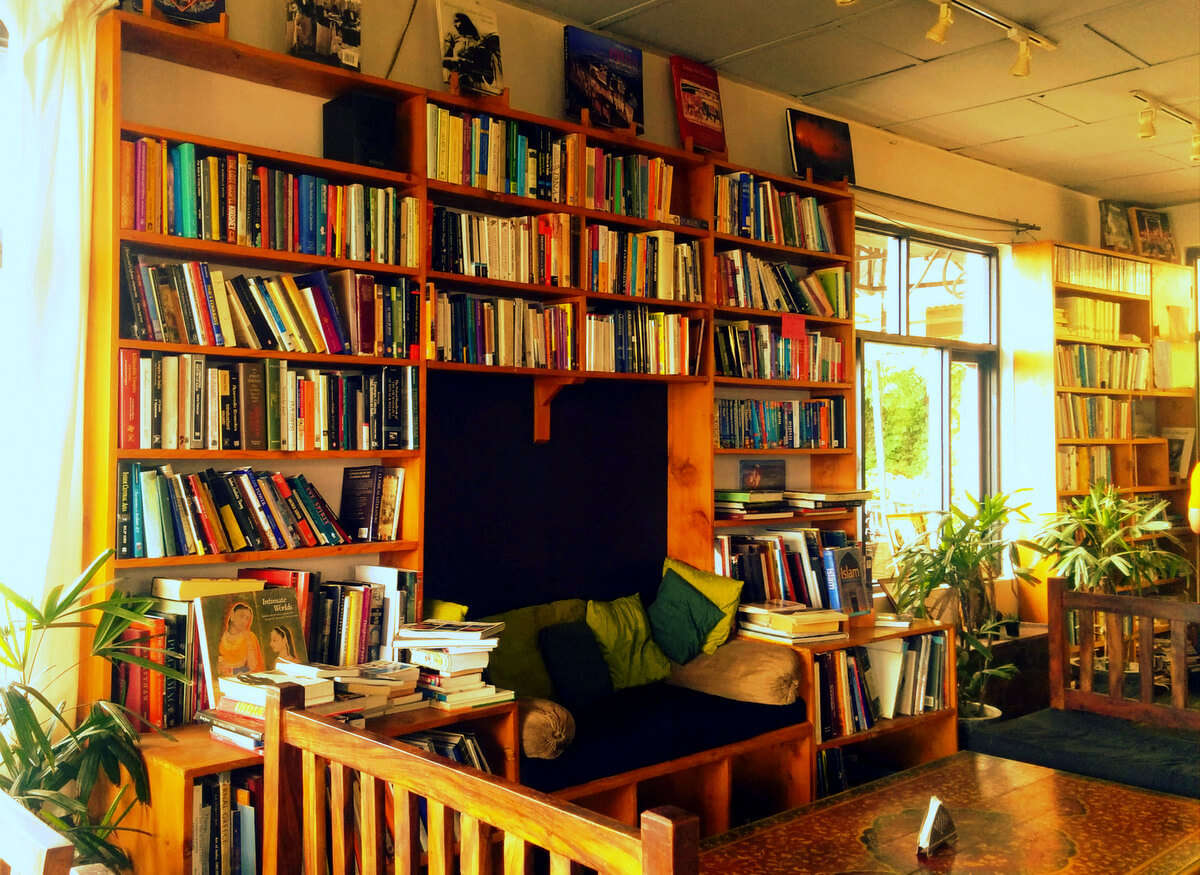 Away from the crowd of the city square, this cute little cafe brings nature's serenity to your dining table. This international cafe serves local and fresh organic food inside a bookstore, thus bringing the best of both worlds together. Find some solace while enjoying a hearty meal on the balconies facing the mountains.
Location: Lower Jogibara Rd | White building next to the motorcycle repair shop, above the Asho Spiritual Institute, McLeod Ganj, Dharamsala, India
Timings: All Days- 10.30 am to 9 pm
Cuisine: European
Average Meal For Two : Starts from INR 1,500 (tax excluded)
Google Ratings: 4.5/5 | Reviews | Website
Must Try: Chicken Schnitzel, hummus, pancakes
21 Amazing Things To Do In Mcleodganj For A Super-Cool Retreat In 2022
Can't wait to experience the magical Mcleodganj snowfall? Customize your own Himachal packages with TravelTriangle, and experience the best of the city on a idyllic vacation!
Disclaimer: TravelTriangle claims no credit for images featured on our blog site unless otherwise noted. All visual content is copyrighted to its respectful owners. We try to link back to original sources whenever possible. If you own the rights to any of the images, and do not wish them to appear on TravelTriangle, please contact us and they will be promptly removed. We believe in providing proper attribution to the original author, artist or photographer.
Please Note: Any information published by TravelTriangle in any form of content is not intended to be a substitute for any kind of medical advice, and one must not take any action before consulting a professional medical expert of their own choice.
Frequently Asked Questions About Mcleodganj In December
How to reach Mcleodganj?
Mcleodganj is easily accessible from all the major places in India. Find out how you can reach this heaven through different means:
By Air: Gaggal Airport is the nearest airport and is 30 kilometers away. One can hire a private taxi to reach Mcleodganj. The nearest major airport is in Chandigarh which is well connected to all the major cities of the country, while Delhi is the nearest international airport.
By Train: Located 25 kilometers away, Kangra Mandir is the nearest railway station whereas the nearest broad gauge railway station is located in Pathankot which is at a distance of 90 kilometers. Hire a taxi or hop on one of the state run buses to reach your destination at Mcleodganj.
By Road: One can reach Dharamshala which is at a distance of 9 kilometers from Mcleodganj. Dharamshala is well connected to Delhi by frequently run buses of the Himachal roadways. From Dharamshala there are regular buses for Mcleodganj or one can hire a taxi.
Which is the best way of getting around Mcleodganj in December?
Though taxis are conveniently available and the nearest taxi stand is located in the Kotwali Bazaar near the Dhauladhar Hotel, auto-rickshaws are a cheap alternative. One can also book tickets to public and private bus service. However, the scenic beauty of Mcleodganj is best explored on foot and should not be missed when in Mcleodganj in December.
How far is Mcleodganj from Delhi?
Mcleodganj is one of the most popular weekend getaways from Delhi and is located at a distance of about 480 Km. You can reach Mcleodganj from Delhi, in the following ways:
By Road: Deluxe buses of Himachal Pradesh Tourism are also available from Himachal Bhawan. One can also drive to McLeod Ganj from Delhi via NH 1, a journey of about 10 hours.
By train: Pathankot Railway Station, situated approximately 90 km away, is the closest broad gauge railhead serving those headed to McLeod Ganj.
Where is Mcleodganj situated?
McLeod Ganj (also spelt McLeodGanj or Mcleodganj) is a suburb of Dharamshala in Kangra district of Himachal Pradesh, India. It is known as "Little Lhasa" or "Dhasa" (a short form of Dharamshala used mainly by Tibetans) because of its large population of Tibetans.
Where can one go for shopping in Mcleodganj?
Dotted with colorful shops Mcleodganj is a delight for the shopaholics. The hand woven woolen apparels, Tibetan mats and carpets are worth a buy for their creativity. Antique shops around the famous street markets like Kotwali Bazaar and Jogiwara road are ideal for some souvenir shopping for friends and family.
Does it snow in Mcleodganj in December?
Yes, Mcleodganj experiences snowfall in December. The temperatures drop between the range of -1°C to 9°C during December to February.
What is the best time to visit Mcleodganj?
The best time to visit Mcleodganj is during the winter months of October to February and during the summer months of March to June.
---
Long Weekend Trips Starting @ Rs 3299/-
Take a trip to spend the upcoming long weekend with your buddies.
✓ Stay at 4 star rating hotels with local sightseeing, meals and transfers.
✓ Travel in AC coach round trip (from Delhi).
✓ All Inclusive Deal– Camping, Jeep Safari & Trekking as per itinerary
✓ Sign up NOW to celebrate the long weekend out of town!
---
Comments
comments