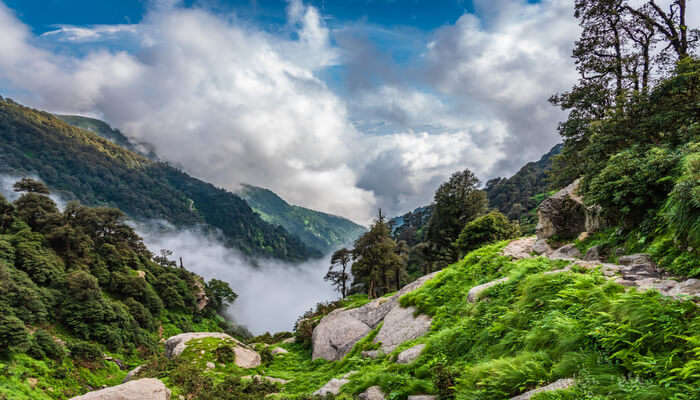 The suburban regions of Dharamshala, McLeodganj is popularly known as the "Little Lhasa" famous for its Tibetan population, in the Kangra district of Himachal Pradesh, is a great hill station to visit. It is surrounded by several adventurous offbeat lands and hill stations that can be explored starting from Bir Billing which is the sports destination followed by Dalhousie, Chamba, Khajjiar and Barot that are other interesting nearby spots for tourists. Apart from the greeneries of Khajjiar and Chamba, one can explore the tea estates of the Palampur on the way to Barot. In short, there are a lot of amazing places to visit near McLeodganj, and we have listed below the best ones.
7 Best Places To Visit Near McLeodganj
After you have already enjoyed a trip to McLeodganj, there is a list of famous places in McLeodganj that you can include in your trip to Himachal Pradesh. Here are a few such cities that are a must-visit.
1. Amritsar: Visit The Sacred City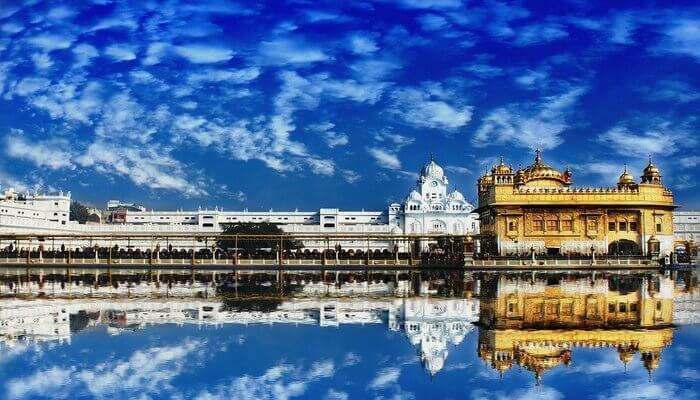 Amritsar is one of the most popular religious cities and the capital of Punjab. It is situated in the northern area of Punjab and is just 25 km away from the border of Pakistan. Amritsar is a world-famous tourist site known for its commercial heritage, Sikhism and culture. The city was founded in the 16th century and its name is derived from the Amrit Sarovar (pool of nectar). The most popular attraction in Amritsar is the Golden Temple, which is considered as the most sacred shrines of Sikhs. The Golden Temple was constructed by Guru Arjan Dev.
This city has a rich history comprises of various mythical and historical narratives which include the epic Ramayana. The Ram Tirth is considered as the ashram of Maharishi Valmiki where Sita gave birth to Luv and Kush. The popular Gobindgarh Fort and Ram Bagh in Amritsar were constructed by the founder of the Sikh Empire, Maharaja Ranjit Singh. Another popular site of Amritsar is the Jallianwala Bagh which has a painful history for Indians. Amritsar is also famous for its rich collection of textiles like shawls and carpets. Amritsar offers several Punjabi foods like Lassi, Kulchas, and Chola-Bhaturas. The Harike Bird Sanctuary (1953) is one of the best places to visit in Amritsar. You can also visit other religious places like St. Paul's Church, Samadhi of Guru Angad Dev Ji and Durgiana temple.
Best Time To Visit: October to March
Things To Do:
Try Street Food
Visit Golden Temple
Shopping
Suncity Amusement & Waterpark

Places to Stay:
Taj Swarna
Hyatt Regency
Radisson Blu Hotel
WelcomHotel Amritsar
Fairfield by Marriott Amritsar
Distance from McLeodganj: 209.1 Kms
Dharamshala in December 2022: Everything You Need To Know For The Best Snowy Vacation!
2. Shimla: Explore The Queen Of Hills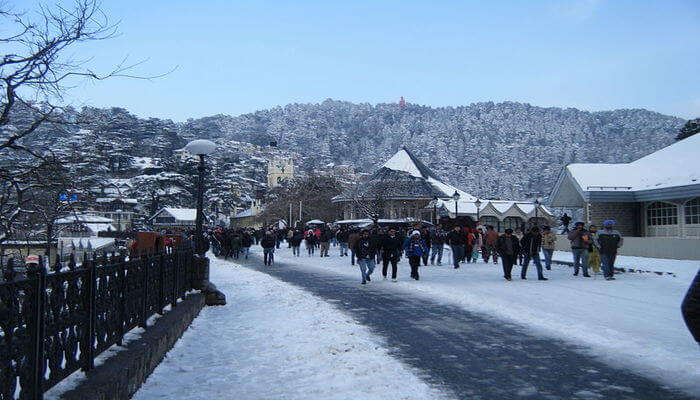 India's one of the most popular tourist destinations 'Shimla,' is known as the Queen of Hills and one of the best places to visit in McLeodganj. Shimla is the capital and the largest city of Himachal Pradesh which is situated in the northwestern part of the Himalayan Mountain Range. Being one of the most beautiful hill stations, Shimla is surrounded by several picturesque green valleys, mountains and snowy atmosphere. It is also covered with a rich collection of trees like pine, deodar, oak, and rhododendron. It comprises of many tourist attractions like old buildings of Shimla (once were Britishers used to stay), Viceregal Lodges, beautiful iron lamp posts, bakeries, and coffee houses. These places make Shimla one of the most visited cities in India.
Shimla distinguishes itself from other hill stations as it has several clubs, bars, shopping malls, and bakeries. One interesting feature of Shimla city is that it hosts a historic toy train, which is linked with Kalka. This train passes through 105 tunnels and many beautiful road stations. Some of the other tourist attractions near Shimla are Naldehra, Chail, Kufri, Christ Church, Sankat Mochan, Jakhoo temple, and Himachal State Museum. Christ Church and Sankat Mochan are one of the best tourist places near McLeodganj that you can visit. Every destination in this city has a unique attraction that never fails to impress the tourists. To make your Shimla tour memorable, you must taste some local foods like saucy Chole Bhature, Bun Muska, Exotic Ice Sandaes and fruit chaats. To experience the real charm of the city, you should visit Shimla in the winter season.
Best Time To Visit: March to June
Things To Do:
Toy Train Ride
Shopping At Lakkar Bazar
Paragliding
Rafting At Tattapani

Places to Stay:
Treebo Trend Varuna
Snow Valley Resorts
Treebo Trend Snow View Resort
Apple House
The Hill Crest Inn
Distance from McLeodganj: 245.0 Kms
3. Bir Billing: The Best Spot For Paragliding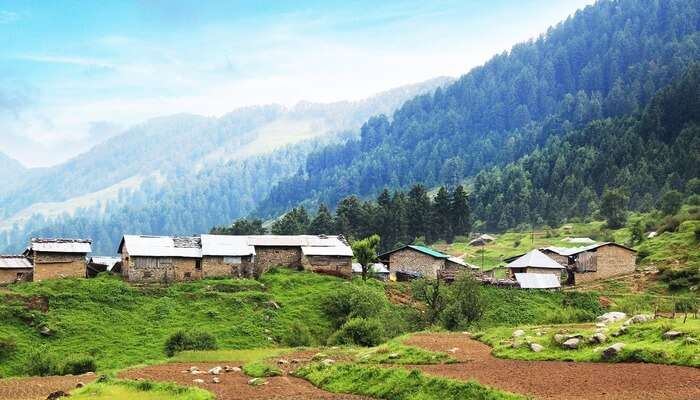 Bir and Billing, the twin village is a popular tourist attraction mostly known for paragliding. It is situated at a distance of 60 km from Dharamshala. It is located in Joginder Nagar valley popular for adventurous sports like trekking, mountain biking, camping, angling, and paragliding. Bir and Billing are also known as the 'town for meditation.' These villages are mainly a Buddhist place where you can find an influence of Tibetan culture due to the Tibetan community which is settled in the town.
Bir is regarded as one of the best spots for paragliding in the world (Bir Billing hosted the Paragliding World Cup in 2015). Tourists can also taste the Tibetan delicious foods like momo, Thukpas and Sha Phaley in some of the pretty cafes near the village. You can also enjoy hiking, monasteries and the scenic view of gardens. The best time to visit Bir and Billing is the winter season.
Best Time To Visit: Throughout the year
Places to Stay:
Bir High
Pink Park Hotel
Darshnik Homestay
Billingvista Guest House Bir
Flyers Paradise
Distance from McLeodganj: 72 Kms
Top Things To Do In Dharamshala 2022: A Mix Bag Of 22 Popular And Offbeat Activities
4. Palampur: Scenic Trails For All Trekkers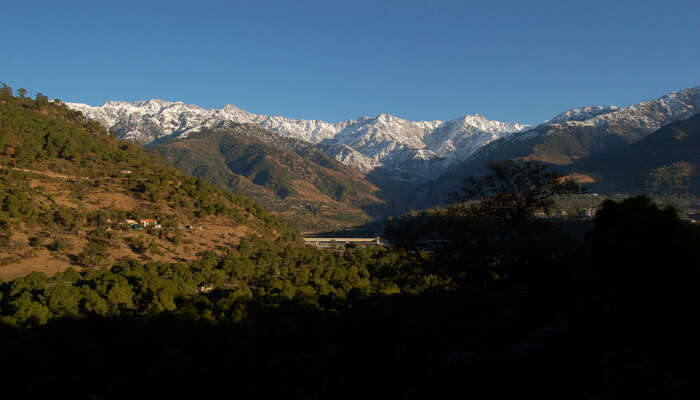 Named after the famous local fruit "palm," Palampur is a hill station in the district of Kangra in Himachal Pradesh, India. This place has the best plantations of tea. Palampur has been famous for its tea gardens since time immemorial. The Bundla Chasm is a stream into which the waterfalls and makes it a and can be included in the places to visit near McLeodganj. wonderful place to visit. The Saurabh Van Vihar and the snow-capped Dhauladhar mountain range are an amazing experience to witness in Palampur. There is no lack of adventures. One can go on a trekking trail to the Birni Devi Temple at the hilltop and get a great view of the snow-capped Shivalik mountain range.
Moreover, Palampur has a monsoon-influenced climate where the summers are hot and winters are cooler. Palampur is the place of rivers and rains. There were no bridges and roads earlier that led to a massive flood. Sair is the local festival that celebrates the offset of the rainy season. There are many local festivals which are a delight to experience. There are many trekking spots on the hilltops. It is located at an altitude of 2250m. March to June is the best time to visit Palampur as the climate is mild in this season. The tour won't be expensive and the location is worth experiencing.
Best Time To Visit: Throughout the year
Things To Do:
Go Paragliding at Bir
Trek to Triund
Picnic at Neugal Khad
Try your hand at pottery at Andretta
Places to Stay:
Infinitea Tea Garden Resort
RS Sarovar Portico
The Bliss Palampur
Hotel Rongla
Hotel Highland Regency
Distance from McLeodganj: 42.1 Kms
5. Chamba: The Valley Of Honey And Milk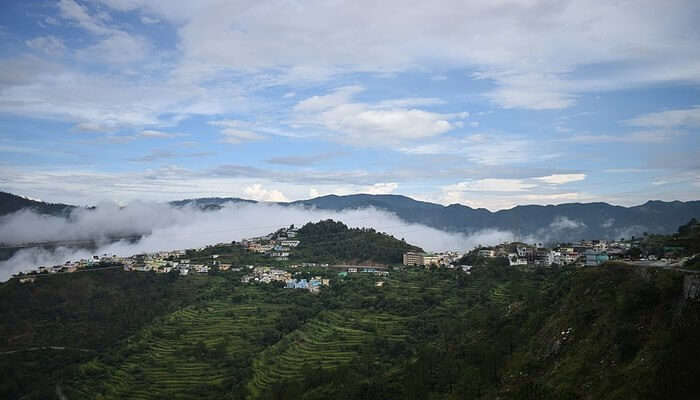 The 24km stretch of land, at a height of 926m above sea level, the valley of honey and milk, is a city famous for its paintings, temples, lakes, and handkerchiefs as well as its meadows and streams, Chamba, has the unrivalled scenic beauty. This beautiful place was founded by Raja Sahil Varman in the 10th century AD. The town is believed to be blessed with the highly fragrant trees of Champaka. Also, this town was guarded by Goddess Champavati.
Chamba is located in the northwest of the state of Himachal Pradesh. It stands on the banks of the River Ravi in a valley between two mountain ridges. It is nearer to the Dalhousie, only 56km via Khajjiar. Moreover, one can visit one of the best things to do in McLeodganj is to take a day trip to Chamba. Chamba's trekking experience would prove a great adventure as one would get the chance to view the beautiful Pir Panjal and Dhauladhar mountain ranges. You can enjoy the aura of the Shivalik range and participate in various local festivals of Chamba.
Best Time To Visit: October to June 
Things To Do:
Kalatop Wildlife Sanctuary
Trekking
Bhuri Singh Museum
Boat Ride

Places to Stay:
OYO Hotel River n Shines
Anantson Resort
Himalaya Holiday Inn
Krish Homestay
The Shivay Cafe and Stay
Distance from McLeodganj: 156.0 Kms
15 Best Places To Visit Near Dharamshala That Make For Lovely 2022 Detours
6. Khajjiar: The Town With The Stunning Lake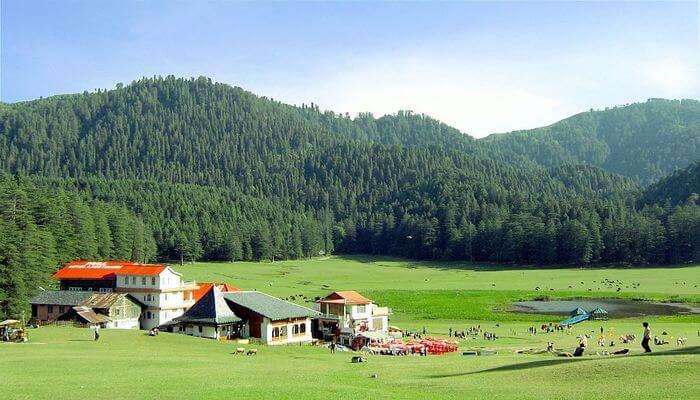 The mini-Switzerland of India, famous for its Khajjiar lake, Kalayop wildlife sanctuary and the Lord Shiva statue, Khajjar is located in Chamba district of the state of Himachal Pradesh in the northern part of India. It is a hill station, which resembles Switzerland.
Apart from sports like zorbing, this place is famous as a location for movie shoots. The recent movie shoot was for the film "Ek ladki ko dekha to aisa laga." The rarest combination of the ecosystem can be witnessed here. The lake, the pasture, and the forest together make this hill station worth visiting. One can experience snowfall here as well. It is just a few hours from the nearest town Dalhousie, which is 24 km away from it.
The hill stations near the town of McLeodganj are an amazing place to visit. One has the option to go on trekking to the nearby places. The towns and villages are full of vitality and diversity and the off beaten paths sound adventurous to the visitors. There are a lot of best cities near McLeodganj that are a must-visit on your vacation.
Best Time To Visit: Throughout the year
Things To Do:
Zorbing, Khajjiar Lake
Jungle Safari
Handicraft Shopping, HP State Handicraft Centre

Paragliding
Places to Stay:
Hotel Country Resort
Kailash Island View
Cozy Swiss Meadows
Valley View Rooms near Khajjar lake
OYO Heart Beat Resort
Distance from McLeodganj: 134.7 Kms
7. Parashar Lake: Visit The Pagoda Temple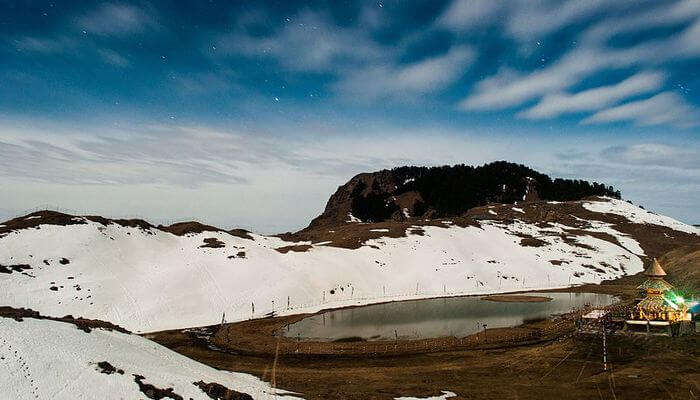 One of the mysterious destinations in India, Parashar Lake is situated 49 km north of Mandi in Himachal Pradesh. It has a beautiful view of blue water which is located amidst the Dhauladhar ranges of Kullu. Parashar Lake is surrounded by lush greeneries and a pleasing environment. Apart from its picturesque view, this place is also famous for the three-story temple located on the bank of the lake. This temple is dedicated to the sage Parashara because it is believed that Parashara used to meditate here for a long time. So, in the memory of this sage, Bansen the king of Mandi built this temple in the 13th century in Pagoda style. Some account says that the local temple of Prashar Rishi is made of Deodar tree.
Parashar Lake is one of the places to visit in Himachal Pradesh. Far from the crowd and noise of the cities, tourists can visit here to spend a peaceful time with family and friends. Nearby the lake, tourists can also spot a glimpse of snow-capped mountains and the shining Sutlej River. According to some myths and legends, when Mahabharat ended, the Pandavas with Dev Kamrunag landed at this place to find a peaceful place. There is an interesting history behind its oval shape. As per some legends, Bheem, one of the Pandavas, formed this lake in the oval shape by his arm-power. Parashar Lake is also suitable for trekking. The best time to experience the true charm of the place is the winter season.
Best Time To Visit: December to February
Distance from McLeodganj: 205 Kms
These 20 Resorts In Shimla Will Help You Plan A Scenic Escape In 2022
If you are looking for and awesome tour with your friends and family, then plan your Himachal trip with TravelTriangle and enjoy visiting places like McLeodganj, Dharamshala and many more on this trip.
For our editorial codes of conduct and copyright disclaimer, please click here. 
Frequently Asked Questions about Places to Visit near McLeodganj
Which are the best 10 Places To Visit in Mcleodganj?
Here is a list of the 10 best attractions in Mcleodganj:
1. Triund
2. Bhagsunath Temple & Waterfall
3. Dharamkot
4. Naddi View Point
5. Tibetan Museum
6. Namgyal Monastery
7. Minkiani Pass
8. Dal Lake
9. Dhauladhar Ranges
10. The Dalai Lama's Temple
What places are best to visit near Mcleodganj?
Amritsar, Shimla, Bir Billing, Palampur, Chamba, Khajjiar, Parashar Lake, etc. are some of the best places you can visit near Mcleodganj.
Can I visit Mcleodganj during the current Covid situation?
Yes, you can plan a visit to Mcleodganj during the current Covid situation. However, make sure that you are completely vaccinated and always carry your vaccination certificate. Besides this, you need to follow government protocols that include wearing a mask when in public, sanitizing hands at certain intervals, and maintaining social distance.
When is the best time to visit Mcleodganj?
September to June is the right time to visit Mcleodganj. Travellers can choose to experience the winter chill during the months of September to March or beat the heat during the summer season from April to June.
How many hill stations are near McLeodganj?
Out of 40 hill stations in Himachal Pradesh, over 7 hill stations are near McLeodganj. Some of the best hill stations near McLeodganj are Dharamshala, Baijnath, Palampur, and Shimla. These hill stations are voted by many travellers.
How far are Shimla and Amritsar from McLeodganj?
McLeodganj is a native city of Shimla and Amritsar though it has a long distance between them. Shimla is located at a distance of 245 km while Amritsar is about 209 km.
What are the adventurous things to do near McLeodganj?
Near McLeodganj, you can find several destinations where you can enjoy different adventurous sports. For example, trekking at Triund, paragliding in Bir and Billing, camping in Shimla.
How far is the Golden Temple from McLeodganj?
The Golden Temple is the most popular tourist attraction in Amritsar. The distance of the Golden Temple from McLeodganj is about 210.6 km via NH 54 and NH 154.
---
Looking To Book A Holiday Package?
---
People Also Read:
Places To Visit Near Sikar Places To Visit Near Ajmer Places To Visit Near Alwar