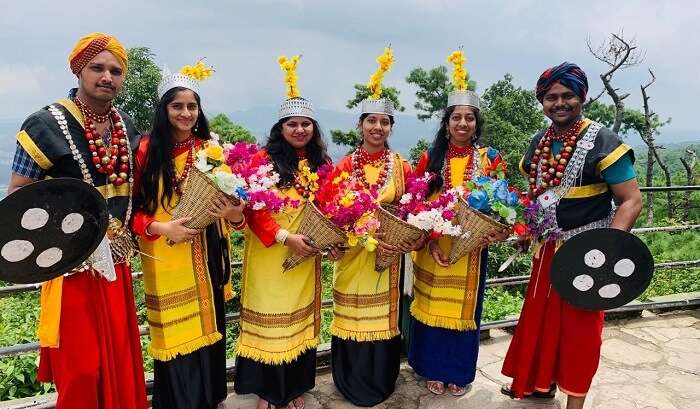 Nothing beats the joy of taking a refreshing and adventure-packed trip with your friends to get away from the monotony of life. In fact, traveling to a new place to unwind and relax is a yearly routine for Manogna and her BFFs, and this year, it was Meghalaya! See how they planned an awesome-sauce trip to Meghalaya in June within a small budget and had the time of their lives.
It's a yearly routine for me and my friends to go on a trip around the months of June or July. This time, we planned to visit a completely serene place which would refresh us and allow us to step away from our daily routines and hectic schedules.
After all, what can be more refreshing than spending time with your favorite people amidst untouched nature! We wanted to visit a hustle-free place where we could discover ourselves. After spending hours on the internet to find our ideal paradise, we ended up choosing Meghalaya for its promising views and enriching experiences.
Details Of Our Itinerary For Meghalaya Trip
Trip Type: Friends
Trip Cost: INR 46,400/-
No. Of People: 6
Trip Duration: 3 Nights 4 Days
Inclusions: Breakfast, airport transfers, accommodation, English speaking driver cum guide
Exclusions: Lunch, dinner, sightseeing, private transfers, entry tickets, travel insurance
The Highlights Of Our Customised Meghalaya Travel Experience
Day 1: Hanging at Umiam Lake
Day 2: Living Root Bridges, Asia's cleanest village, and Dawki River
Day 3: Shillong Peak, Elephant Falls, Arwah Cave
Day 4: Laitlum Canyons and Balaji Temple | Departure
19 Places To Visit Near Shillong In 2022 For Experiencing Meghalaya's True Beauty!
Meghalaya Weather In June
June is the perfect time to visit Meghalaya. During the onset of the monsoon season, the place is covered with lush foliage and there's a cool, tingling breeze in the air which is a welcome break from the pollution of metros. It would be slightly foggy in one place and drizzling in another, but overall it was a really pleasant and happy weather to explore this North-Eastern gem. It is also the time when you'd find orchards and trees loaded with colorful fruits and flowers.
Best Places To Visit In Meghalaya In June
Though we enjoyed visiting all the places in Meghalaya, the ones we have listed below were our absolute favorite. Make sure you add all of these tourist places in Meghalaya to your holiday itinerary.
1. Umngot River In Dawki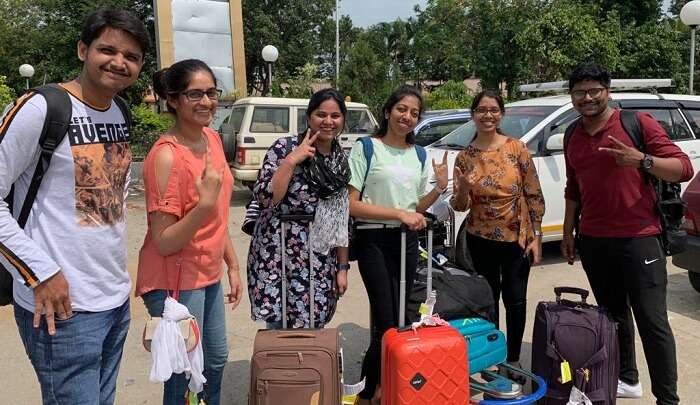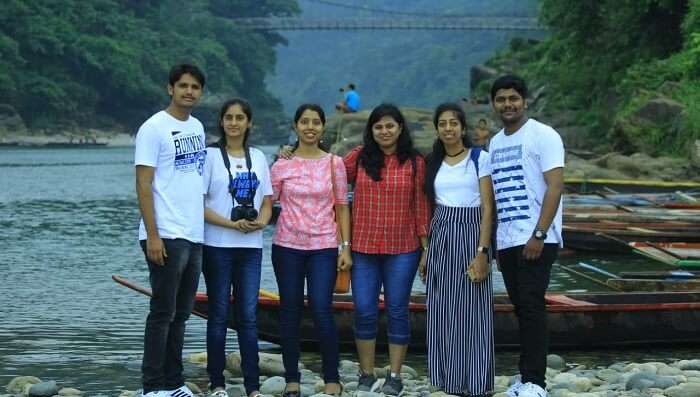 The drive to this little town of Dawki was absolutely thrilling, and so is the town itself. It lies on the border between India and Bangladesh and is famed for this river that has crystal clear and unique green-blue water. The presence of plenty of wooden kayaks in the water and surreal hills in the backdrop just makes the whole scenery look dreamy and postcard-like. It's here that you can see the Suspension Bridge above the Umngot River that adds an extra touch of beauty to it. We totally loved kayaking on this mirror-like water with breathtaking sights for company.
Other than kayaking and basking in the beauty of this little town, we had a little yet intriguing conversation with the border security officers and paid respect to our national flag. We even got the chance to taste the Bangladeshi fruit called 'Bare' with lots of spices in it.
31 Popular Places To Visit In Shillong In 2022 That Will Treat Your Eyes, And Calm Your Soul
2. Living Root Bridges In Shillong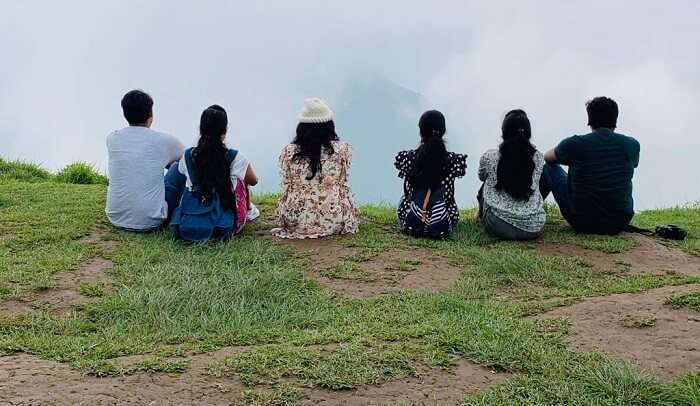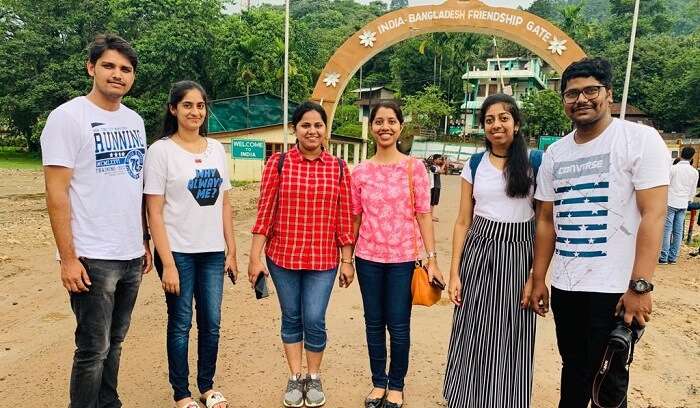 After visiting the Mawjngih Lapynshongdor View Point, which was foggier than we thought, we trekked to the Living Root Bridges that have made Meghalaya famous the world over. It was a small trek of about half an hour and the end-result was simply breathtaking even in Meghalaya in June!
Located in the Nongriat Village, this is a paradise for nature lovers, couples, photographers, and even architecture enthusiasts owing to the unique way in which these bridges have been constructed. Created out of rubber fig trees by the Khasi and Jaintia people living in the mountains of Meghalaya, these double decker living root bridges are the true natural wealth of this state that have stood the test of time!
3. Mawlynnong, Asia's Cleanest Village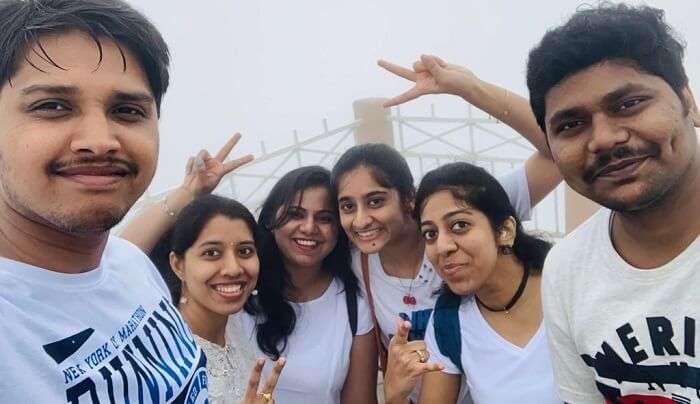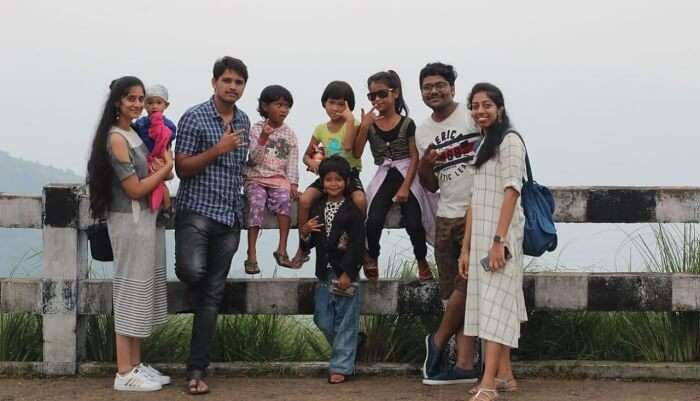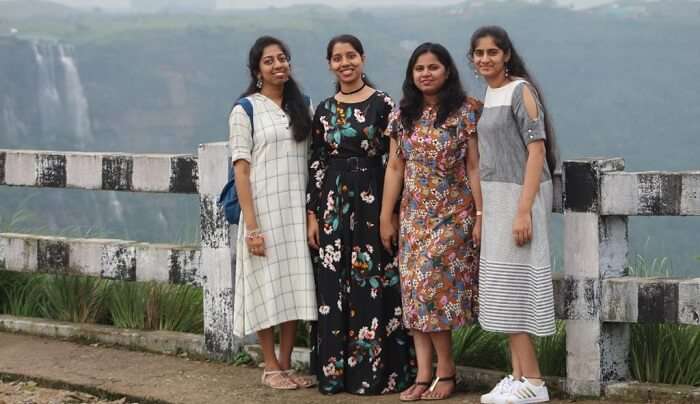 We'd say it's also the most beautiful village other than being the cleanest village in Asia! It is rightfully called God's Own Garden and is replete with the greenest of natural resources. We had a healthy and delicious vegetarian lunch here that had been prepared fresh from the farms of Mawlynnong itself. We loved the fact that the locals are very strict about the cleanliness factor here, and were constantly on the watch to make sure travelers do not litter around.
4. Arwah Caves In Shillong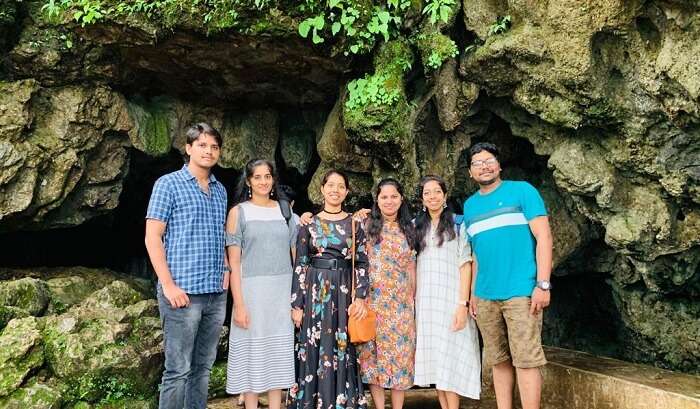 Other than pretty Elephant Falls and Dainthlen Falls, Cherrapunji has an ancient cave system which is a must-visit for people visiting Meghalaya in June or any other month for that matter. It's a 30-minute trek from the parking lot to these caves and the entire experience of walking through a beautiful, thick forest with birds chirping overhead is something you shouldn't miss.
We wandered through these mysterious caves where each offers something unique in terms of either structure or carvings. Out of all these, the Mawsmai Cave was a rather tough one to get into, we just saw it from the outside.
The Ever Growing Living Root Bridges, Meghalaya – A Nature's Marvel In The Northeast
5. Seven Sisters Waterfall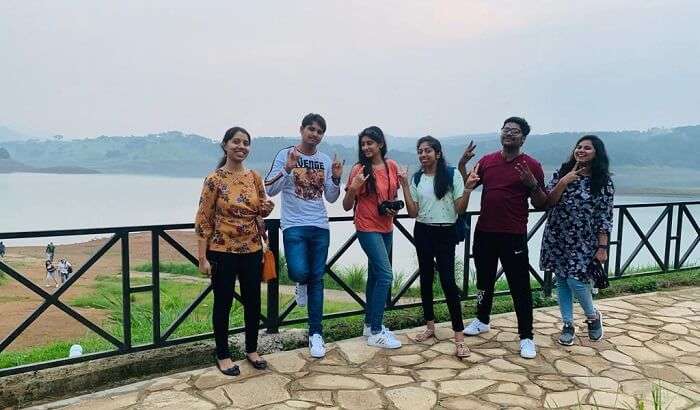 This is essentially a cluster of seven different waterfalls uniquely arranged side by side over a wide and rugged cliff, which is why they have been named thus. This powerful and fierce marvel of nature can only be viewed from a distance and one is not allowed to venture near it for safety reasons.
They are enormous and tucked right in the midst of thick trees, which makes it a real treat for onlookers as well as your Instagram feed! Other than gazing at this wonder, we got the chance to interact with some adorable local kids who let us join in on their little birthday celebration and shared chocolates with us. After taking some selfies with them and the waterfall, we bid them farewell and returned to our hotel.
6. Laitlum Canyons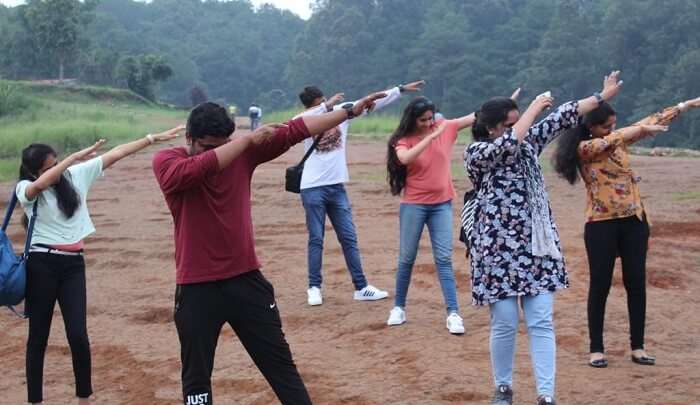 We visited the stunning Laitlum Canyons early in the morning, which is the best time to witness the beauty of this massive canyon which resembles the Arizona's Grand Canyon a lot. Draped with slowly drifting cotton-clouds, it's a very serene and soothing abode where you can sit and relax amidst the pleasing Meghalaya weather in June, which is actually one of the best activities to do in Meghalaya. We spent what seemed like hours at this surreal place and just didn't want to leave!
Our Accommodation In Meghalaya
We had stayed at the Best Holiday Inn in Shillong on all the four days of our holiday in Meghalaya in June. From food, services, to hospitality everything about this hotel was good, and we had a comfortable stay here. No wonder it's one of the best places to stay in Meghalaya.
Food In Meghalaya
There are plenty of great vegetarian as well as non-vegetarian restaurants in Meghalaya. In fact, all non-vegetarian restaurants here also serve vegetarian food. You'll totally love the cuisine of this state if you're into North-Eastern food, but it could be a let down for those who cannot survive without spicy food. If you're on the lookout for the best places to eat in Meghalaya before you take your trip, you can simply search for it on Google and you'll get plenty of affordable and authentic dining options here.
Our Tranquil Friends Trip To Meghalaya In May 2021 Gave Us Countless Memories
Our Shopping Experience In Meghalaya
We did not indulge in much shopping during our vacation in Meghalaya even though we did pass by plenty of markets in Meghalaya no matter which city or village we visited. It was only when we visited Elephant Falls that we found a charming market selling local handicrafts at reasonable rates. We bought various handicraft items and refrigerator magnets as souvenirs here.
Some Meghalaya Travel Tips For A Hassle-Free Holiday
Vegetarian food is readily available all across the state.
You are most likely to not find spicy food in Meghalaya, so be prepared for that if you love spicy food.
When you're visiting the waterfalls in Meghalaya, make sure you carry an extra pair of clothes since you will be treading in water one way or another.
Opt for a guided tour of Meghalaya so that you are able to visit all top tourist attractions at economical rates.
Do not bargain stubbornly at the shopping sites in Meghalaya. Do keep in mind that these items have been made by local artisans and may be their only means of livelihood.
Don't forget to carry an umbrella or raincoat with you since it will be drizzling in Meghalaya in June. Also, carry at least one jacket separately.
Our Experience With TravelTriangle
We had a very smooth trip without any inconvenience. We cannot thank Siang Explorer and TravelTriangle enough for making our trip a hassle-free and memorable experience!
10 Best Hotels And Resorts In Shillong That Will Entice You To Explore Meghalaya!
Didn't this inspire you just call in your best pals and book your own escapade to Meghalaya? Well then, what's the hold-up? Whether you visit Meghalaya in June or any other month, it is going to be utterly splendid in every season. So, get in touch with TravelTriangle' travel experts to cook you up an action-packed itinerary for Meghalaya in the best price possible!
Common Queries We Had While Planning Our Holiday
What is Meghalaya famous for?
Meghalaya is famous for its pristine natural resources like subtropical forests, unique biodiversity, waterfalls, rivers, canyons, and much more. It is also famous for its high rainfall density. It shares its border with Bangladesh in the south which has given it a vivid culture, heritage, and history.
Which is the most beautiful place in Meghalaya?
The Mawlynnong Village, Laitlum Canyon, Double Decker Living Root Bridge, Ialong Park, Balpakram National Park, Don Bosco Centre for Indigeneous Culture, and the Umiam Lake are some of the most beautiful and famous places to visit in Meghalaya.
What is the famous food of Meghalaya?
Rice is the staple food of Meghalaya and it is prepared and consumed here in various different forms and varieties. Rice is usually accompanied with curry dishes here. One of the most famous rice and curry dishes in Meghalaya is the Pumaloi which is an absolute favorite of the locals and travelers who visit Meghalaya and try this delicious culinary delight.
How can I go to Meghalaya from Delhi?
There is no direct flight to Shillong from New Delhi, so you will need to fly to Guwahati instead and take a bus or taxi from there. You can also rent a car here. There is also no direct train between these two cities, so you will need to take a train from New Delhi to Guwahati and then the Rjpb Ntsk Exp from Guwahati to Jagiroad. From Jagiroad, you can easily get to Shillong via a bus or taxi in economical rates. You will not find a single direct bus from New Delhi to Shillong. So, if you are in the mood for an adventure and wish to cover the entire distance by road, we suggest you hire a vehicle and drive there yourself, taking frequent breaks on the way.
How can I go from Guwahati to Shillong?
Shillong is just a 3-hour drive from Guwahati. You can simply hire a Tata Indica car or take a state-run bus from Guwahati to Shillong in dirt cheap rates. Or you can also take the 55602-numbered train from Panikhaiti in Guwahati to reach Shillong.