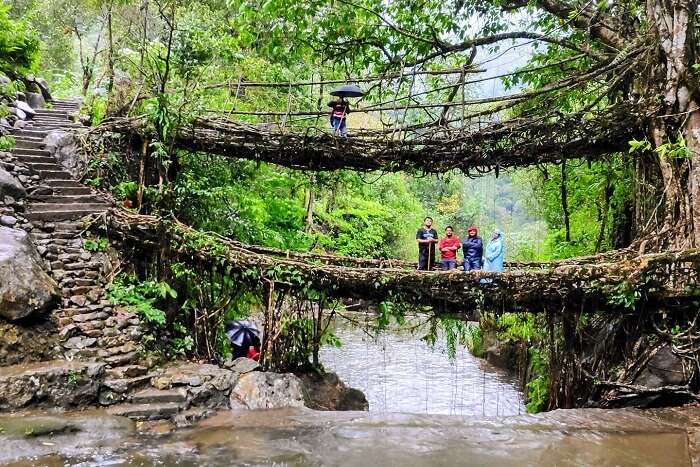 "The Abode Of Clouds"– Nothing better can describe Meghalaya more than its own meaning. Captivating tourists from far and wide, Meghalaya is a magical land where clouds tend to settle on the surface, making one feel into a wonderland. Not only clouds, but green & dense meadows, scintillating waterfalls, pristine lakes & rivers, fascinating caves, and petite villages that show true colors of the state also add a unique charm to this place. For travelers who are nature lovers, it's indeed a treat to the senses to spend some days here. Like many, Kallol also wanted to witness the grace and beauty that Meghalaya is adorned with. While taking the best services from TravelTriangle, Kallol and his friends could enjoy what Meghalaya offers.
Being a travel enthusiast, I love to visit places and soak in the beauty of nature and God knows I am infatuated to mountains, hills, and valleys like no other. So, whenever I get time in between work I keep visiting new places. In the north-eastern part, I have visited Darjeeling, Latpanchar, Goechala in Sikkim. This time I was interested in Meghalaya as I had heard and read a lot about the beautiful place. I planned to visit Meghalaya in May with my crazy gang of friends. We wanted to experience the best of this place and we knew that a package from TravelTriangle would give us exactly what we're looking for. And as expected, TravelTriangle stood up to all our expectations.
Details Of Our Fantastic Meghalaya Trip In May
Given below are some of the details of our trip to Meghalaya In May.
Trip Type: Friends Trip
Cost: INR 38400
Duration: 5 Days 4 Nights
Inclusions: Breakfast, parking and toll charges, driver's allowance, GST & taxes, accommodation
Exclusions: Lunch, dinner, personal expenses, insurance, entrance fees, guide
A Peek Into Our 5 Days Trip Itinerary For Meghalaya In May
Day 1: Hotel Check-in & Explore City
Day 2: Exploring Mawlynnong Village, Living Root Bridge, and Umngot River
Day 3: Visiting Mawkdok Valley, Nohsngithiang, Mawsmai Cave, Eco Park
Day 4: Enjoying Double Decker Root Bridge trek
Day 5: Exploring nearby areas & departure
Meghalaya Weather In May
We visited Meghalaya in May which was just the starting of the monsoon. Meghalaya weather in May was quite chilly and it was raining a little bit which made our trip all the more exciting. With the lovely breeze, lush greenery, and flowers blooming everywhere, we were able to see the best of Meghalaya. And we just loved to see the clouds passing by as we went through the snaky roads on the hills. Also, Meghalaya best time to visit is between October and June when the weather is extremely pleasant and all the attractions are open for tourists.
9 Meghalaya Tourist Attractions That Swayed Us Completely
We are glad that we choose to visit Meghalaya in May as there was so much to do in that lovely weather. The 5 days of our trip let us visit the best spots that we will cherish forever.
1. Umiam Lake & Wards Lake

Our fantastic journey staff off greatly as we visited two lakes namely Umiam Lake and Wards Lake. Both the lakes are extremely beautiful. Umiam lake is surrounded by green hills and the area nearby is well well maintained. We especially loved the amazing greenery clad in peaceful surroundings. We also took a boat ride to spend some relaxing time amidst the peaceful waters of the lake. Wards Lake which is also a treat to the eyes is adorned with a beautiful wooden bridge on it. We could also find a nice cafeteria inside where refreshments & beverages were available. Honestly, we found it to be a perfect combination of lake and botanical garden.
 19 Places To Visit Near Shillong In 2022 For Experiencing Meghalaya's True Beauty!
2. Mawphlang Sacred Forest



Visiting the Mawphlang sacred forest was indeed a unique experience for all of us. Our guide explained how the forest is sacred for the tribals staying here. Inside the forest, we were able to see huge trees & colorful orchids hanging to them. With so many trees, streams, trails, and extreme calmness, the place seemed unreal. For people like us who live in the city, visiting this place is a must!
  16 Scenic Waterfalls in Meghalaya That'll Leave Your Mesmerized In 2022!

3. Mawlynong Village



Considered as Asia's Cleanest village, this place treasures something like we miss in metropolitan cities–Cleanliness! We could see dustbins hanging on the trees, no littering on the roads, and cleanliness everywhere. There were also some attractions that we explored in and around the village. All the time we spent there was immensely relaxing and it was such a soothing experience to take a breath of fresh air. This was definitely one of the best places to visit in Meghalaya in May.
  Ketan's Trip To Assam And Meghalaya: An Adventurous Escapade Into An Untouched Paradise

4. Double Decker Root Bridge Trek


Trekking was what we had been waiting for a long time! We crossed two bridges and needless to stay, the scenic beauty is excellent. The famous double decker root bridge trek was a bit hard, but the beauty around it made all the hard work worthwhile Also, steps are very steep, therefore we recommend future travelers to be careful of it and pack good trekking/walking shoes. In between small shops were also available from where we bought water bottles, lemon water, chips etc. Upon reaching the double decker root bridge, we enjoyed bathing in the pristine water stream. Also, we felt that apart from enjoying lovely views, trekking is one of the reasons why travel to Meghalaya becomes all the more exciting.
  The Ever Growing Living Root Bridges, Meghalaya – A Nature's Marvel In The Northeast
5. Seven Sisters Falls



Meghalaya in May is full of surprises and wherever we went, we were awe-struck by the incredible beauty. Next, we visited seven sisters falls. The bewitching falls offered a great view that we wish to visit the place again in the near future. There was also a park where we enjoyed a cool dip and we all friends a great time with each other. There were ample restaurants to eat sit, and relax while basking in the glory is breathtaking views. Looked like these streams were in full glory in monsoons. Every view at this place was a visual treat! Apart from this, there are also many waterfalls in Meghalaya where one can visit to cool off and enjoy a delightful time.
  Ours Was The Perfect Romantic Trip To Meghalaya For Nature Lovers

6. Mawsmai cave


Nested in the middle of a forest, Mawsmi cave was our next stop. We went to the cave through the forest. Even though it was a cave, there was sufficient space to go inside. We were completely mesmerized watching the Drips of water that continued to drop from stones. Interestingly, the light arrangement was done in the cave so that tourists will not have any issues walking around the cave. There were also many shops and resting areas near the cave. All in all, we had the ultimate fun while visiting this particular place.
 An Epic Adventure Trip To Meghalaya With Friends

7. Lady Hydri Park



Our last stop for the Meghalaya tour in May was Lady Hydri Park which was well-maintained and also offered various entertainment options. Just after entering the place, we could feel the freshness as the place was all about fun and happiness. We also found a mini zoo there housing animals & birds like monkey, mountain deer, beers, owls, etc. If one is traveling with this, then this is actually the place to be.
10 Best Hotels And Resorts In Shillong That Will Entice You To Explore Meghalaya!
Shopping In Meghalaya
We were searching to buy any authentic products from Meghalaya, but unfortunately, we did not find any as we came to know that there was no production unit in Meghalaya. But, buying local berries was actually fun as we got to taste some of the best berries. There were many different types of fruits too which we had never tasted before in any other part of the country. Other places where we would recommend fellow travelers to go are Bara Bazaar and Police Bazaar. These markets are flooded with handicrafts, organic produce and products, shawls, Scottish clothes, and many more.
Hotels In Meghalaya
Out agent suggested many options regarding where to stay in Meghalaya, and we could choose the best within our budget. At Shillong, we stayed in Lily guest house and Umang guest house. At both the hotels, the staff was quite friendly and the rooms were spotlessly clean. At Cherrapunji we stayed in Cherish Lodge which was motel style hotel just beside the road and under a hill. At Mawlynong we stayed at a homestay of a person named Sukher. It was a beautiful location at the edge of a slope. Down we can hear the water of river gushing by, greenery all around from the balcony. All in all, we found out that these are some of the best places to stay in Meghalaya.
Some Handy Travel Tips For Meghalaya Trip
It is better to pre plan everything before the trip to avoid any hassles
Book vehicles beforehand to save time and avoid any confusion
Please refrain from doing any kinds of pollution and keep the park pollution-free
Don't litter in order to keep the cleanliness maintained
Visit Meghalaya in May to see the best of it
Keep some woolens as the nights are colder and you will need to get something to warm up
What To Pack For A 5-Day Trip
Sports shoes
Umbrella/raincoat
Warm clothes
Medical kit
Instant snacks
Sports gear
Towels
Torch
Our Experience With TravelTriangle
We are extremely happy with the services provided by TravelTriangle. Everything was perfectly synchronized and we actually didn't have to worry about anything. I chalked out the whole itinerary, everything we have planned before only by talking with the agent from the travel agency. So everything went as planned, we are very happy with the way the trip went. Moreover, the best part was that our trip went amazing within the budget we decided.
Queries You Might Have On Your Trip
Q1. What is the famous dish of Meghalaya?
Ans. The most popular dish in Meghalaya is Jadoh. This delicacy which is quite famous among Khasi community in Meghalaya is made with red rice and pork meat. Also, the rice is sometimes prepared with fish or chicken.
Q2. Is Ola available in Shillong?
Ans. No, ola and uber cab facility is not available in Shillong. However, you can book an outstation uber cab but it is a costly affair. Local taxis and buses are available at your service here.
Q3. Which is the most beautiful place in Meghalaya?
Ans. Meghalaya is replete with beautiful sites. To witness the best of Meghalaya, you must visit Double Decker Living Root Bridge, Laitlum Canyon, Don Bosco Centre, Balpakram National Park, and Umiam Lake.
Q4. Is it safe to visit Meghalaya as a tourist?
Ans. Yes, Meghalaya is touted as one of the safest as compared to any other state in India. Especially for female travelers, this place is immensely safe.
Q5. What is Meghalaya famous for?
Ans. Meghalaya is widely renowned for its beautiful orchids, exotic vegetables & fruits, and medicinal plants. Moreover, this destination receives heaviest rainfall in the whole nation.
Q6. Is December good time to visit Shillong?
Ans. You can plan a trip to Shillong in December. You can plan visiting this place during the summer season as well, between April and May. Shillong is amazing during winters, summers, as well as spring.
  Discovering Unseen Places On A Family Trip To Meghalaya
Adorned with picturesque views, Meghalaya is a place that would make one fall in love with nature all the more. Kallol with his visited Meghalaya in May and got spellbound by the beauty of this lovely destination. If you also wish to spend some time in the lap of nature, then plan a trip to Meghalaya and get it tailored with the help of TravelTriangle team.