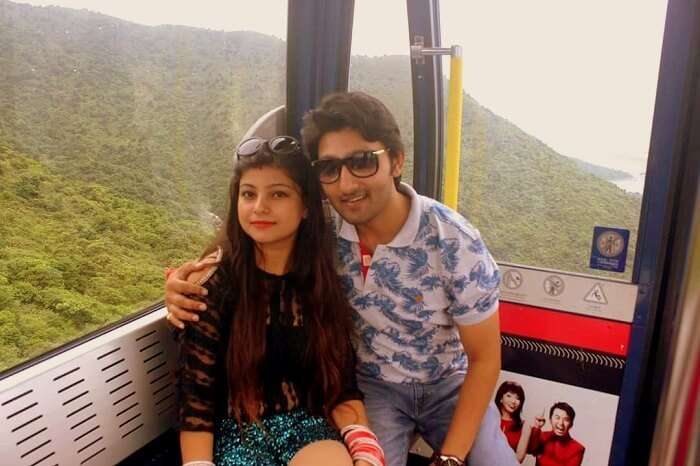 Mitul shares his blissful honeymoon experience in Hong Kong and Macau. He gives a detailed account of all the beautiful place he visited, the memories that he made with his partner and what he takes back home from their wonderful journey. Mitul chose a 6-Night/7-Day Honeymoon package via Travel Triangle and it included their flights, accommodation, transfers and sightseeing – all at a cost of INR 147000.

Having visited Hong Kong once before, I already had an idea about what to expect from Hong Kong as a tourist destination. I wanted to share this experience with my wife and make our honeymoon, a vacation we would cherish forever. A destination which was within our budget and enticing, Hong Kong seemed the perfect fit for us.

I found out about Travel Triangle through an internet search. Their website gave me a variety of options for a trip to Hong Kong and Macau along with the flexibility to customize the packages according to our needs. I was contacted by a travel representative from Travel Triangle who recognized my package requirements, provided me with quotes from multiple agents and then eventually connected me to Mr. Piyush from Amritsar who gave us the best deal on a Honeymoon package to Hong Kong and Macau.
---
Hong Kong & Macau Holiday Packages On TravelTriangle
Visit Hong Kong and explore disney land, ocean park, wet land park, victoria's peak and Lantau Island. Further, explore Macau tower, the Venetian resort, Senedo square and more in Macau.
---
Day 1: Landing in Hong Kong

We boarded our flight from New Delhi and arrived in Hong Kong in approximately 5 hours. Once we arrived in Hong Kong City, we were transferred to our Hotel. We got a very warm welcome at our hotel as we checked in around noon. At 3pm, we left the hotel as it was time for our City Tour.

Our City Tour started with a two-way tram ride to the top of the Victoria Peak, from where one get a panoramic view of the entire city. Afterwards, we paid a visit to the Madam Tussauds Wax Museum. It was really nice to see many famous Indian personalities represented in the Museum. We concluded our City Tour with a visit to the Aberdeen Fishing Village and Jewelry market.
We ended our day with some Indian food for dinner at a restaurant and then returning to the Hotel for the night.
Suggested Read: Here Is Why A Trip To Hong Kong And Macau Is A Must In Your Travel Bucket List!
Day 2: Enjoying Disneyland

After having a sumptuous breakfast at the Hotel, a cab was ready to take us, along with another couple, to Disneyland. Initially, we were advised not to visit Disneyland as it sometimes gets a reputation of being a tourist spot for children. However, on the contrary, we spent a very nice day at Disneyland.
The heavens opened up and there was persistent rainfall during the day. Due to the heavy rain, we might have missed a few rides, But we made sure that we had fun where we could. A boat ride in the rain added a romantic element to our day in Disneyland which we both will always remember. Despite being drenched from head to toe, we still went on to all the available rides and attractions.

My favorite part of Disneyland was the Theatre show of the Festival of Lion King. After finishing our Disneyland tour, we went to the Jewellery market in Hong Kong again because my wife simply loves to shop. Our day concluded with Indian food and then going back to the Hotel for the night.
Day 3: Seeking Peace and Zen in Lantau Island

On the 3rd morning following our breakfast, we were ready to leave for the Lantau Islands. We were taken to the Lantau Island via a cable car ride which lasted approximately 45 minutes. As we crossed around 6 to 7 mountains, the cable car often swayed as the wind increased giving the passengers a slightly frightening but adventurous experience.
Lantau Island is predominantly Buddhist. Undoubtedly, it was the best day our trip as it provided us an opportunity to look at the finer details of life by worshipping and appreciating the God within us. We were moved and inspired by the peaceful and harmonious community at Lantau.
Suggested Read: 35 Top-Rated Things To Do In Hong Kong In 2022

The temperature is pleasant in Lantau as there is often a cloud cover that protects the Island from the heat. As night settled in, we went back to our hotel exhausted with the 3 hectic days of travel and the craving of a good night's sleep.
Day 4: Leisure Day

The leisure day came at perfect time for us. We needed some time to slow down and rejuvenate from the continuous traveling and exploring. As we had the day completely to ourselves, my wife and I decided to take it easy and in the afternoon travel to Ripples Bay. A 90-minute Bus ride and we reached the Ripples Bay Beach.
It was a good opportunity for us to sit back, relax and get some tan on the beach. The beach was decent and the crowd was good due to the bright and sunny conditions in Hong Kong that day. Around 5pm, we left the beach for our hotel and called it a day.
Suggested Read: Nightlife In Hong Kong: 10 Must Visit Places
Day 5: Experiencing Royalty in Macau

Post an early morning breakfast, we checked out of the Hotel to leave for Macau. A ferry ride from Hong Kong that lasted 1.5 hours took us to Macau. We reached our designated Hotel in Macau, The Holiday Inn, completely overwhelmed and amazed.
We were so engrossed in the grandeur of the Hotel that it took us 2 hours to explore and check into our hotel after our arrival. We were fascinated to see that all Hotels in Macau are interconnected with a subway like path for tourists to explore and discover the various Hotels in Macau.
There is not much to do in terms of activities in Macau. But what Macau lacks in activities, it more than makes up in luxurious casinos and fancy hotels.After having a luxurious dinner at the hotel, we decided to relax in the pool, for what remained of our day, on the 4th floor.
Suggested Read: 15 Exhilarating Experiences In Macau You Just Can't Miss
Day 6: Macau City Tour

On our final day in Macau, we went for a City Tour. In the tour, we saw various temples and Ruins of the St. Paul's cathedral. The City tour gave us a glimpse of the lifestyle in Macau. After the winding up of our Tour, we tried some local cuisine like seafood and chicken which was delicious.
I very soon realised the stark difference between Hong Kong and Macau for tourists. Macau is ideal for people who want a luxurious vacation and enjoy their stay in hotels and resorts. Whereas, for adventure seekers and people who want to experience the culture, they should spend more time in Hong Kong.
Suggested Read: 45 Most Delightful Tourist Places In Hong Kong On Your Trip In 2022
Day 7: Heading Home with Lovely Memories

The day of our departure was here. For us, it felt like it came too soon as we thoroughly enjoyed our every day in Hong Kong and certainly made some unforgettable memories which we will cherish forever.
We were transferred from Macau via ferry back to Hong Kong, from where we directly went to the Airport and took our flight back to New Delhi.

Hong Kong and Macau completely solidified the bond and the love that I and my wife share with each other. I couldn't have asked for a better time and place to go to with my wife on our Honeymoon. As Hong Kong welcomed us with open arms, we took in the wonderful and vibrant culture which gave us a fresh perspective towards life.
Suggested Read: This Is Why Hong Kong Is A Perfect Destination For Families
Highlights:
Lantau Island is a very serene and beautiful place which exceeded our expectations
Rain during the Day we visited Disneyland gave a magical romantic touch to our vacation
We were blown away by the grandeur and the might of Macau as it took us 2 hours to merely observe and admire our Hotel.
Tips for Travelers:
Don't take readymade Indian food if you are a vegetarian. Hong Kong has plenty of Indian restaurants.
People are very friendly and language is not an issue.
Further Read: 10 Reasons To Visit Hong Kong In 2022, The Sophisticated Fusion Of East And West
Filled with soaring skyscrapers, numerous noodle stands, world-class restaurants & bars, and a fast-paced vibe, Hong Kong is indeed a hub for travelers who are seeking fun and entertainment. When it comes to food, culture, and architecture, it shows a perfect fusion of both Western and Eastern sides. Book your trip to Hong Kong and Macau now!
---
Looking To Book An International Holiday?
Book memorable holidays on TravelTriangle with 650+ verified travel agents for 65+ domestic and international destinations.
---