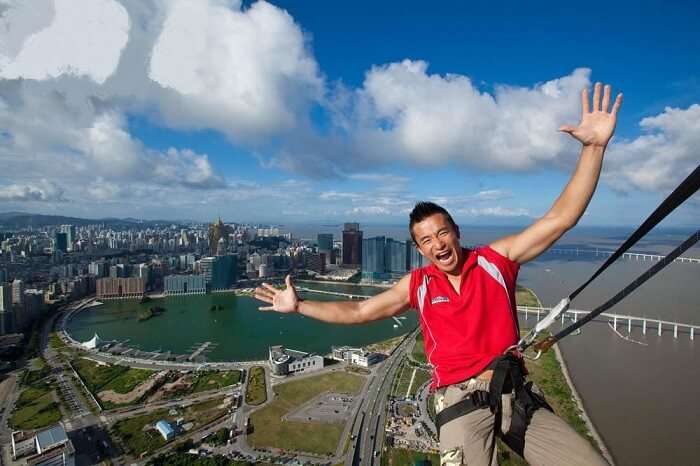 Macau is a lively city full of most energetic and exciting experiences. Its food, culture, people, architecture and places attract tremendous awe and wonder. Often underrated as a small island, the peninsula offers luxury, accommodation, and entertainment. And experiences in Macau go far beyond normal and good; they are mindblowing.
There are simply too many interesting things to do in Macau. But the most exhilarating experiences must not be missed. What you love to do is totally your call, but it's our job to tell you about the most amazing experiences you can have in Macau. And thus we bring you a list of 15!
1. Be at the top of Macau Tower and hang in there for your life!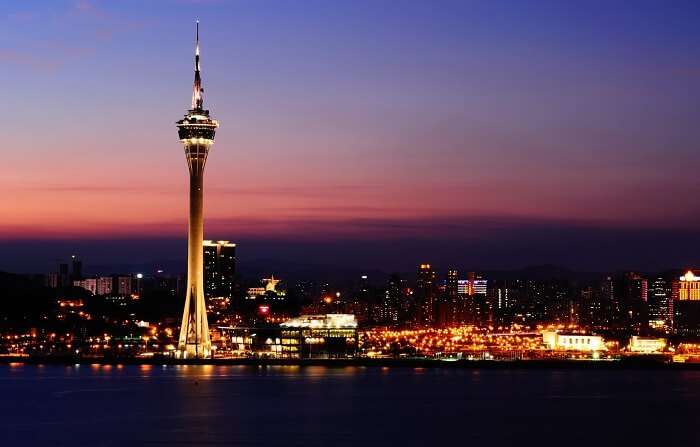 Image Source
The best thing to do in Macau is to climb the Macau Tower. It is the most exhilarating experience in Macau, and is quite popular with the tourists. No matter how short the trip is, make sure you don't come back without doing this. It may feel nauseous at the top, but do it.
The striking 338 meter tower boasts of an observation deck, cinema, revolving deck, and an adventure zone. The tower's thrilling walk, right on the edge of the observation deck, is truly a once-in-a-lifetime experience.
Macau Tower is the world's second highest bungee jumping base. Yeah, the head-first free fall from 233 meter is mind blowing to say the least.
Must Read: See The Best Of Macau Nightlife At These Buzzing Clubs And Casinos
2. Go casino hopping and let the chips fall!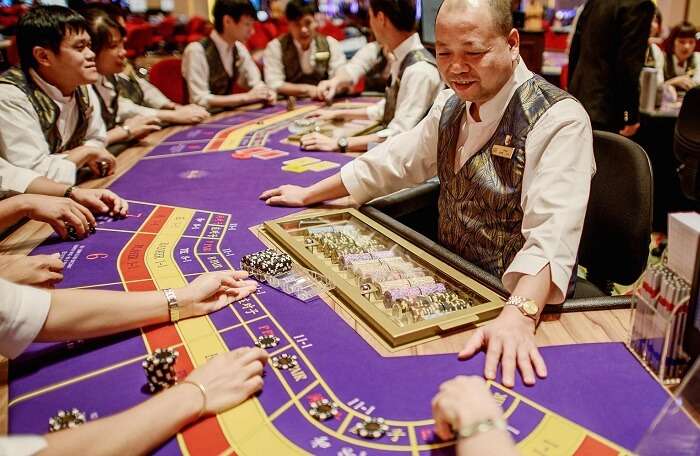 Image Source
Known as Vegas of the Far East, Macau is one hell of a destination to gamble. The dazzling dancers, blinking neon signs, cries of joy, flamboyant DJs, and a super cheerful crowd. Don't miss this amazing experience in Macau for anything.
Best casinos in Macau include The Venetian Macao, City of Dreams, Galaxy, MGM Macau, Wynn Macau, Sands Cotai Central, Casino Lisboa, and City of Dreams
Did you know, the biggest casino of the world – The Venetian Macao – is in Macau, not Vegas?
Suggested Read: Nightlife In Hong Kong: 10 Must Visit Places
3. Food Hunting – Eat, drink and be merry!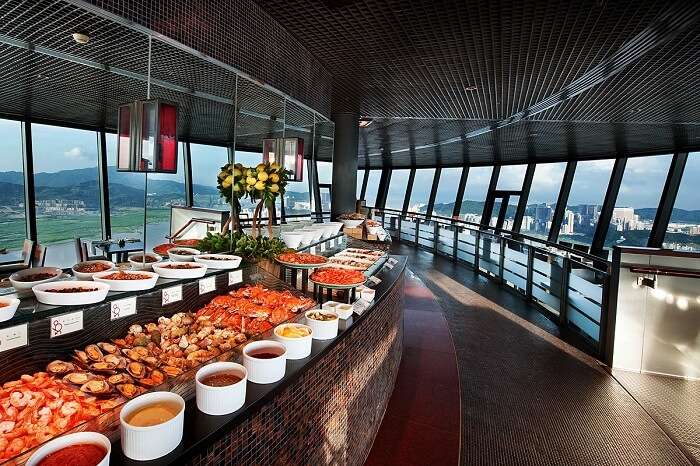 Image Source
From Portuguese egg tarts to Pork Chop buns, from Durian ice-cream to almond cookies, from Crab Congee to dim sums – set out to hunt your food of the day. The food in Macau is going to be true to exotic Asian flavors, which means it's slightly familiar and slightly not. If you love seafood, dining and feasting is going to be one of most cherished experiences in Macau.
Finest restaurants in Macau are Seng Cheong Restaurant, Koi Kei Bakery, and Tai Lei Loi Kei in Taipa Village; Wong Chi Kei and Margaret's Cafe e Nata in Senado Square Lord Stow's Bakery and Café at Venetian Macao; Yum Cha at Sands Cotai Central in Mainland Macau; and 360 Degree café in Macau Tower.
4. Revel in the old world charm of Taipa Village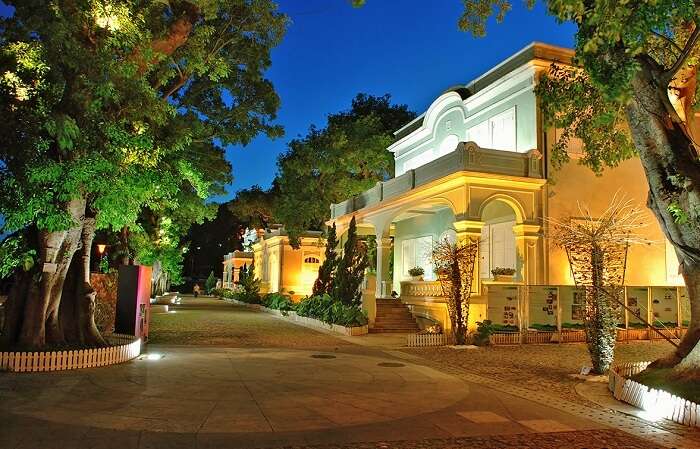 Image Source
If you spot narrow cobbled streets, cute town houses with white picket fence, rustic enclaves, sprawling Chinese shops, quaint eateries, and Portuguese-styled buildings, you known you are in Taipa Village. Experiencing the village, its vibes, food and culture is absolutely unmissable! If you are lured by the old world charm, please make it a point to visit Taipa.
Getting to Taipa Village is easy. Either take a cab from the hotel or take a walk of 15 minutes from Galaxy Hotel.
Suggested Read: Beyond Thailand: 10 Alternate Travel Destinations in Asia This Summer In 2022
5. Admire the fascinating Portuguese architecture of Senado Square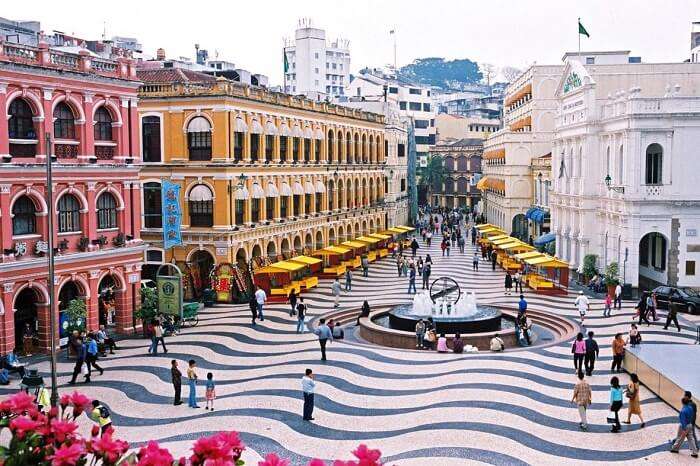 Image Source
This is where it gets real fun! Senado Square is a beautiful town square paved with Portuguese murals and mosaic. The graceful towering fountain in the middle adds a fairytale-ish twist to it. Once the civic square of Macau, it has now become a popular tourist place where the air sizzles with liveliness and cheer. Very strategically located in the middle of all historical sites and modern day amenities, Senado Square is a must visit in Macau.
Visit the historical museums and eateries like Wong Chi Kei to get the best of both world.
6. Play in the unique black sand of Hac Sa beach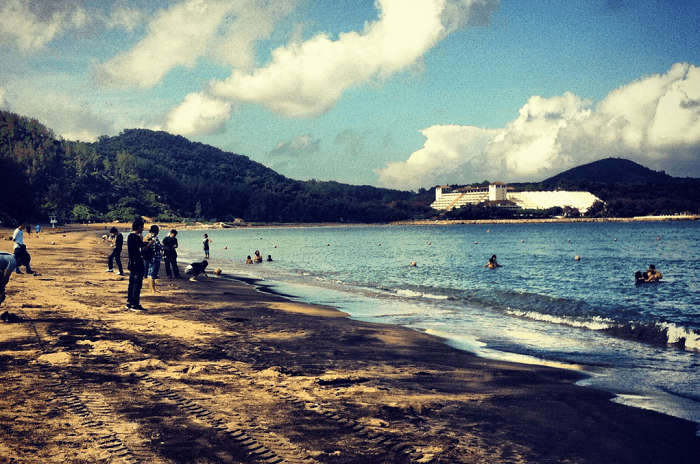 Image Source
Macau's largest natural beach, Hac Sa has black sand due to various minerals washed ashore from seabed. The picturesque beauty of the beach has earned it a well-deserved title of being amongst the top 10 unique beaches in the world and is truly among the most mind blowing experiences in Macau. The kilometer long beach gets more picture-perfect with its stark contrast of black sand against the azure sky and turquoise water.
Did you know, soil erosion has led to gradual chipping of black sand which has now been replaced with yellow sand. We suggest, visit the anomaly of black sand beach and experience the unusual before it's too late.
7. Visit Kun Iam Statue – the bronze statue of Goddess of Mercy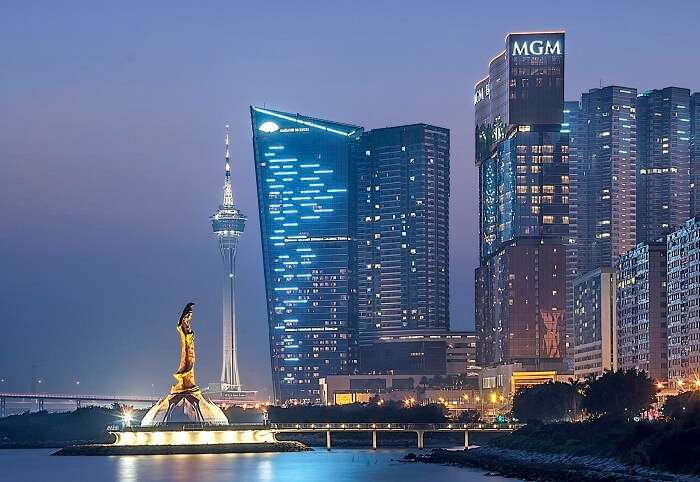 Image Source
One of the major tourist attractions in Macau, Kun Iam Statue stands proud and tall. Built on top of a structure in shape of a lotus, the statue signifies the protective hand of Goddess Mercy on Macau. The phenomenal structure has been a favorite picture-spot amongst many people. In fact, it is considered good-luck to click a picture against the backdrop of exquisite Goddess of Mercy.
Best time to visit Kun Iam Statue is Morning and early noon, when you have access to the Souvenir center and Kun Iam Ecumenical Center. However, if you want to revel in the beauty of statue without rubbing shoulders with other over enthusiastic tourists, visit after the sunset, preferably after 6 pm.
Must Read: Shopping In Hong Kong: 5 Chic Hubs You Must Visit
8. Witness the colorful celebrations at Chinese Temples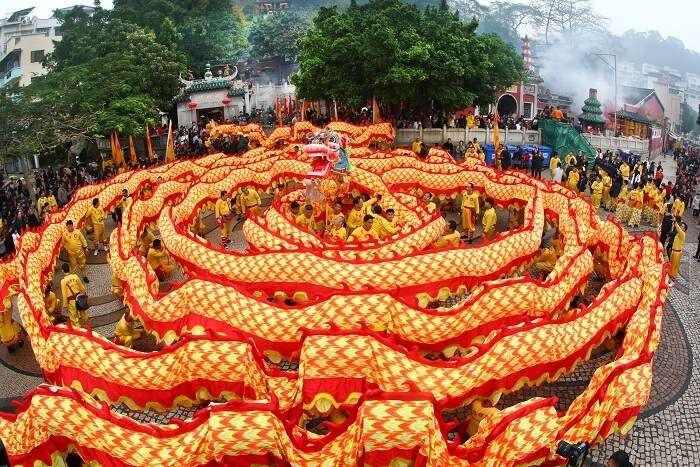 Image Source
No vacation to Macau is complete without a dash of color and frivolity! Take in the ethereally beauty of Chinese temples, their remarkable architecture and striking wall-art, depicting various fables and legends of the heritage. Witness their colorful festivities and celebrations; it will be a colorful temple visit, and an awesome experience.
Don't miss visiting the famed Ah Ma Temple and the remarkable Na Tcha Temple. The beauties will leave you awestruck.
9. Hop on to the bridges of Macau – Spectacular they are!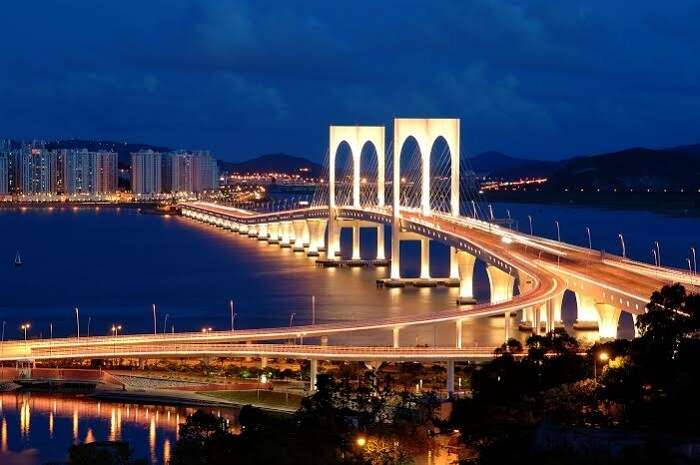 Image Source
If you are thinking what's so special about the bridges of Macau, we tell you. The majestic lighting and pleasant breeze on these bridges, especially post dusk, are just perfect for a romantic walk. Stroll along the fabled gangplank or click a few selfies beside the shimmering overpasses. Among the most romantic experiences in Macau, memories of the stroll will surely be for the keeps.
Notable bridges in Macau are Sai Van Bridge, Macau-Taipa Bridge, and Bridge of Friendship.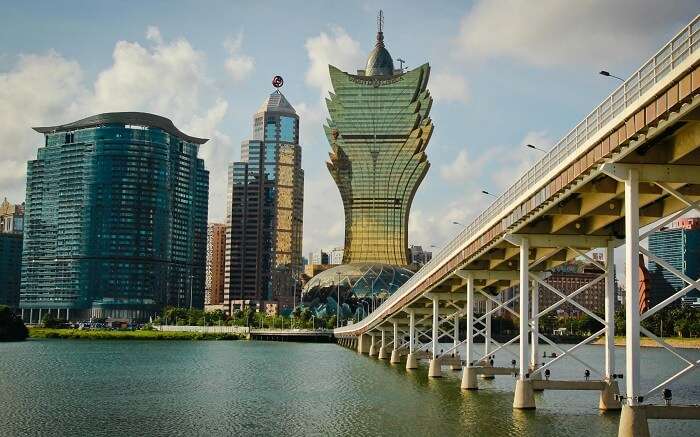 10. Explore the treasures of Macau's famous museums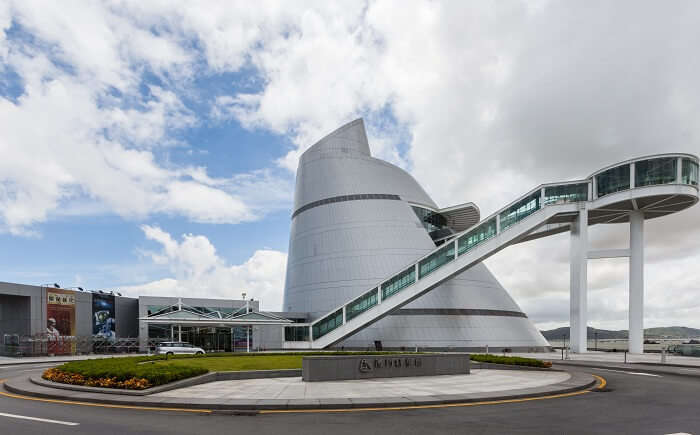 Image Source
While some museums can be excruciatingly painful to non-geek people, museums in Macau are a whole different story. Not just overloaded with historical anecdotes and priceless artifacts, the museums also have interactive displays and buttons and a host of other exhibits to make it interesting for all. The most notable one is The Macao Museum. Aside from its displays, it connects to Mount Fortress which is a delight to look out from. The sweeping views of the island are worth the extra stairs you need to take to reach the Fortress from the museum.
Must-visit museums in Macau include The Macau Museum, Macau Science Museum, Grand Prix Museum, the Wine Museum, and the Macau Maritime Museum.
11. Cross the border and take a trip to Zhuhai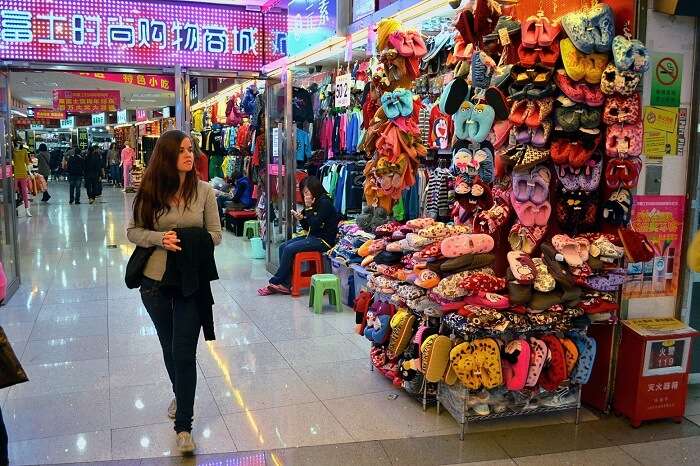 Image Source
If you call yourself a shopaholic, a trip to Zhuhai is well worth. A day trip of two's won't charge you extra for visa and other formalities, aside from the traveling cost. Considered to be a cheap shopping hub, the neighboring city of Zhuhai sells everything you can think of – mobiles, apparels, car parts, electronics, ingredients for seafood, footwear, and small knick-knacks.
Do savour the exotic seafood such as scallops, fishes and crabs, and relish the freshness of the fresh catches.
Bargain as hard as you can. They may not understand your language, but the shopkeepers will understand everything if you talk money.
Suggested Read: 45 Most Delightful Tourist Places In Hong Kong On Your Trip In 2022
12. Climb the Escada Do Papel, not just for religion but for your health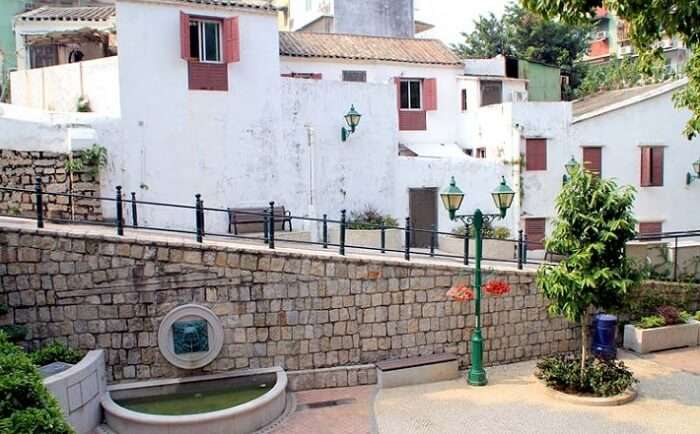 Image Source
Take the steps of Escada Do Papel to revel in the gorgeous sights of the city. Get walking to enjoy the lovely breeze, which the city offers despite being a base to world-renowned skyscrapers. The view from the top and listening to the religious chants from the hutments is certain to give a very energizing twist to the day. The refreshing breeze on the top is worth all the effort you put in to climb the steps.
Don't take the climb in heels or strappy sandals. Get into sports shoes and a comfortable attire for this unique expedition.
13. Ride the Gondola – Create your own Venice, far away from Venice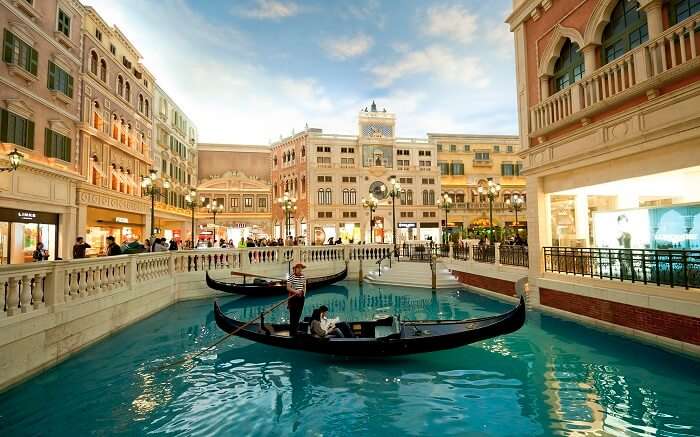 Image Source
A Gondola ride with your personal musician at your beck is a total delight for romantic souls in the city. The best part is you can experience it without shelling out big bucks to travel to Italy. Hop on your gondola in Venetian Macao. If the gambles can't attract you to the casino then definitely a romantic experience of this magnitude surely can. This is the most romantic and an absolutely unforgettable experience you can have in Macau.
Ticket for the Gondola ride is Macau Dollar 128 per adult and Macau Dollar 512 for a private gondola.
14. Take a walk through the gardens and parks in Macau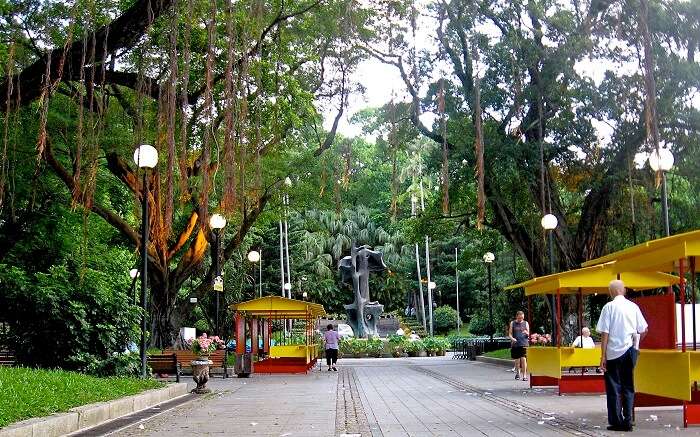 Image Source
Stroll through the gardens and witness the fascinating contrasts of lush greenery, colorful pop of flowers, and warm people. No one can guide you better about Macau than the local. Strike a conversation to find out about the best places nearby to to eat, go shopping, places to give a miss, and interesting places to visit instead. Only a true Macau local can tell you all of this and share secrets of the island. A refreshing jog through the park is an icing on the cake.
Must visit gardens in Macau are Triangular Da Areia Preta Garden and Luís de Camoes Garden are enchanting to even the direst of people.
15. Relish a Portuguese Egg Tart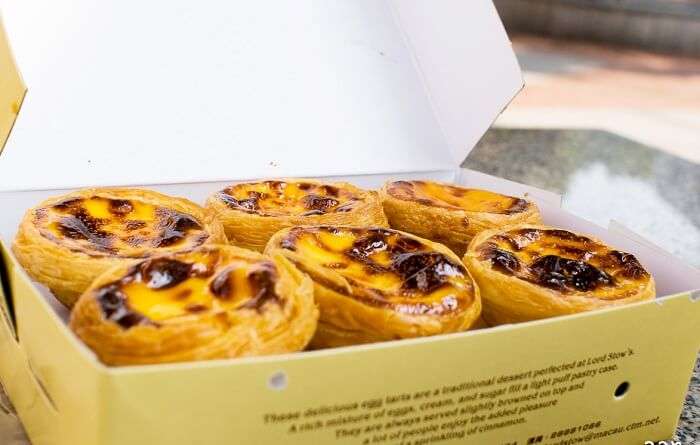 Image Source
A Portuguese territory in late 1800s, Macau has strong influences of their culture and cuisine. However, the best thing which the Portugal has given to Macau is the world famous Portuguese Egg Tart. The creamy, crispy and salty delight is a true marvel in its own right. Pop into the bakeries and claim your undying love to these warm gooey goodness.
The best places to eat an Egg Tart are Margaret's Café E Nata and Lord Stow's Bakery. Try them and let us know which one steals the show for you. It has been a long-standing debate about which one makes the best iconic tarts.
So, all set? By the way, which one of these experiences tops your must do list for Macau?
Further Read: Here Is Why A Trip To Hong Kong And Macau Is A Must In Your Travel Bucket List!
People Also Read:
Hong Kong Itinerary For 7 Days Experiences In Thailand Family Trip To Hong Kong
---
Looking To Book An International Holiday?
Book memorable holidays on TravelTriangle with 650+ verified travel agents for 65+ domestic and international destinations.
---