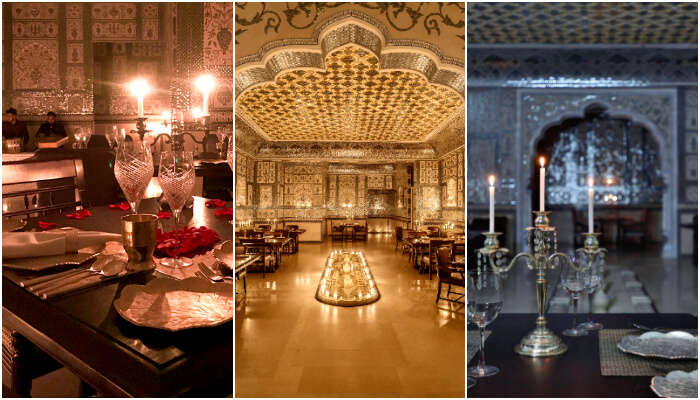 King Man Singh built Sheesh Mahal for his queen so she could sleep under the stars. Mohan Mahal at JW Marriott Jaipur Resort & Spa is an outcome of this inspiration. Here the guests get to dine under the stars. Adorned with lakhs of mirror pieces, this grand dining hall will make you miss a heartbeat the moment you step in!
Their excellence in food and hospitality has won them a nomination in the Top 52 Restaurants and Bars by Marriott Bonvoy, a curated F&B list showcasing the best and one-of-a-kind dining experiences at venues across the Asia Pacific region. Come, and experience this beautiful journey into the glorious past and rich culture of Rajasthan.
About JW Marriott Jaipur Resort & Spa

JW Marriott Jaipur Resort & Spa is a beautiful resort located in the Kukas town of Rajasthan. This beautiful property has about 200 villas categorized as Pool Villa, Courtyard Villa and Terrace Villa. There are 2 in-house restaurants and a bar to take guests on a gastronomic tour. Jharokha, the bar offers a wide variety of drinks, along with a wine buffet. Sukh Mahal, one of the two restaurants, is an all-day multi-cuisine venue. An attraction of this place is its live-counters where you can watch your food being prepared. It has a seating capacity of 200 people including the outdoor seating areas – Alfresco and Peacock Courtyard.
The second and most incredible in-house restaurant at JW Marriott Jaipur Resort & Spa is Mohan Mahal. This venue is one of the major highlights of the property. Let us take you on a virtual journey of this architectural marvel!
Must Read: 53 Tourist Places In Jaipur To Visit In 2022 For An Experience Like Never Before!
About Mohan Mahal

Mohan Mahal by JW Marriott Jaipur Resort & Spa is an incredible in-house restaurant offering. This traditional thali-restaurant takes you back to the glorious era of Rajasthan. Inspired by the historical wonder, Sheesh Mahal, the interiors of this restaurant is studded with 3,30,000 mirrors that glitter in light.
The walls and ceiling of Mohan Mahal display the traditional Rajasthani art of intricate glass mosaic called – Tikri. The floral detailing is breathtaking and when it glitters in the light of candles, the sight is simply magical! These flower patterns are also highlighted with subtle colors. To keep the tradition intact, the hall is illuminated only with real wax-candles, 100 at a time. The concave mirrors ornating the walls have a very long reflection.
Mahan Mahal has a seating capacity for 34 people at a time. The heavy-wooden furniture compliments the theme of the restaurant. Each table-top is decorated with a rustic candle stand for a true candle-lit dinner experience. The venue is perfect for a romantic dinner, family get-together, or a close-family wedding dinner
Enjoy folk and Bollywood live-music played by artists on two wonderful classical instruments – Santoor and Tabla. The music adds to the traditional aura of this alluring venue. And the mild aroma of Neroli flowers infused with the air of Mohan Mahal tricks your mind into the glorious past.
Timings: 7pm to 11pm | Open only for dinner
Price: INR 3500 (excluding taxes) for both veg and non-veg thali
Suggested Read: Get The Rajasthani Bohemia On! 17 Amazing Shopping Places In Jaipur To Explore In 2022!
12 Best Dishes Served At Mohan Mahal
Mohan Mahal has a fixed grand-Rajasthani-thali menu. As a guest, all you need to do is decide which selection you would want to go for – vegetarian or non-vegetarian. Each delectable dish will be served to you along with a variety of crafted cocktails. The Head Chef at Mahon Mahal, Chef Rajendra is a person of immense knowledge, experience, and passion for culinary art.
He has traveled to different regions of Rajasthan, exploring their food-culture and picking out the best flavors that he has then put together in one thali. Savor the following dishes served in stunning silver-plated utensils, designed to suit the theme of this restaurant. The below-listed dishes are served with a variety of breads including Khoba Roti, Bina Pani Ki Roti, Sawa Ser Ki Roti and Bejad Ka Tikad.
---
Planning your holiday in Rajasthan but confused about what to do? These Rajasthan travel stories help you find your best trip ever!
---
Non-Vegetarian Dishes

Check out these some of the most delectable dishes from the non-vegetarian menu of Mahan Mahal:
1. Sharabi Maas
Sharabi Maas is one of the most interesting dishes on the non-vegetarian menu of Mohan Mahal. Just like the name hints, Sharabi Mass is a delicious combination of meat and alcohol. Selected pieces of lamb are marinated overnight in dark rum which makes it soft and easy to cook. It is also braised with red chili and yoghurt. After cooking, Sharabi Maas retains a mild taste of rum which enhances the flavor of the dish. The gravy used for the popular Rajasthani dish, Laal Maas is used for preparing this one too. The idea of using rum as an ingredient comes from Udaipur and the surrounding regions where this drink is consumed to beat the chilly winter.
2. Murgh Ki Mokul
Murgh Ki Mokul is among the most flavorsome chicken-dishes on Mohan Mahal's non-vegetarian menu. To prepare the dish, boneless chicken is cooked in yoghurt, with almonds and spices. Yoghurt makes the meat soft and easy to cook. It also makes it dense and creamy, adding a mild sour taste to the dish. The rest of the magic is done by the combination of spices added to Murgh Ki Mokul. Enjoy it with Khoba Roti, a special whole wheat bread cooked on the griddle.
3. Keema Bati
Popular across Rajasthan, Bati is a traditional unleavened bread usually served with Dal and Churma. And Keema Bati is a form Bharwan Bati or stuffed Bati, with a tasty-surprise hidden inside it. This whole wheat dumpling is stuffed with spicy minced lamb making it all the more exciting. A crunchy bite of Keema Bati will flood your mouth with flavors from different regions of this royal state of India.
4. Murgh Bajre Ki Seekh
How far would you go to experiment with your favorite chicken seekh kabab? Come to Jaipur's Mohan Mahal to try Murgh Bajre Ki Seekh and it will be worth the effort. This dish is a scrumptious twist to a regular seekh kabab. It uses minced chicken skewer-roasted in a clay oven. What's different, you may ask? The answer is the whole millet coating on the kabab. It makes it crunchier and tastier. Millets make the kababs healthier too.
5. Pansala Banjara
Pansala Banjara is one of the highlight dishes on the non-vegetarian starters menu of Mahan Mahal. This smokey dish has a wide fanbase. It is prepared by marinating lamb chops with yoghurt which makes the meat soft and juicy. Cashew nuts and spices add wonderful flavors to it. It is then roasted in a clay oven which gives Pansala Banjara its smoked effect.
6. Haddiyon Ka Kas
Haddiyon Ka Kas is another interesting item on the menu. The name of the dish comes from the term 'Haddi' or bones and 'Kas' or concentrated soup. This is soup made of lamb bone and yoghurt. The whole hot spices or garam masala add an irresistible taste to the dish. Haddiyon Ka Kas is a source of high nutrition and instant warmth in the cold nights of Rajasthan.
Suggested Read: Jaipur Literature Festival 2022: Know All About India's Biggest Literary Event Right Here
Vegetarian Dishes

Here are some of the delicious dishes from the vegetarian menu of Mahan Mahal:
7. Jungali Fali Ke Kofte
Jungali Fali Ke Kofte is one of the most appetizing dishes on the vegetarian menu of Mohan Mahal. This Kofta or dumpling is prepared with local desert wild beans, yoghurt, and spices. The wild beanballs are cooked in a special thick-gravy which makes them soft and succulent.
8. Thar Ke Papad
Thar Ke Papad is a crunchy papad-roll with a flavourful filling inside it. The lentil rolls are deep-fried to make it crisp. It is then stuffed with mashed potato and lentil dumplings. This dish has a mixed flavor with a tinge of sweetness and sourness.
9. Rabodi Pyaz Ki Sabzi
Rabodi Pyaz Ki Sabzi is a traditional dish popular within the Marwari community of Rajasthan. Rabodi Ki Sabzi is usually made with sun-dried crisps of buttermilk and corn cooked with yogurt and spices. But here, the traditional taste is enhanced with the addition of pyaz or onions. The dish tastes best with Sawa Ser Ki Roti or Millet flour bread.
10. Moong Aur Pudine Ki Seekh
Vegetarian seekh kebabs taste best with green-mint chutney. And Moong Aur Pudine Ki Seekh is a dish that blends both perfectly in the first stage of cooking. To prepare this dish, lentil and mint is minced and skewer-roasted in tandoor.
11. Dana Methi Aur Kismis Ki Sabzi
Just like its name, Dana Methi Aur Kismis Ki Sabzi, has a lot going on within a single bowl on the thali. It uses fenugreek seeds and raisins that are cooked with onions and spices. This is a classic dish inspired by Ayurveda. This one has a mildly sweeter taste which comes as a relief to the spicy flavor dominating the thali. Sweets are usually served at the end of the meal as desserts. But in several parts of Rajasthan, the tradition is to begin the meal with sweet dishes. And Dana Methi Aur Kismis Ki Sabzi being served on the thali along with other main course dishes reminds us of the same.
12. Malai Mirch
Malai Mirch is among the simplest yet flavourful dishes on the vegetarian menu at Mohan Mahal. It is made by using fresh green chili diced or chopped into medium-sized chunks. It is cooked with local whole spices that are used for preparing pickles. The spiciness of Malai Mirch is balanced by adding cream.
Suggested Read: 15 New Year Parties In Jaipur (2022): Top Venues And Events
Drinks Served At Mohan Mahal

At Mohan Mahal, you will be tasting some of the most mind-blowing crafted cocktails, served in traditional brass glasses. Each of them is prepared with a fusion of unique ingredients mixed with single malt whiskeys, gin or vodka. The drinks are selected and served to compliment the taste of the food, for instance, if the dish is spicy then the drink will be sweet.
1. Kathputli
Kathputli is a tasty pineapple-flavor drink with a hint of cinnamon. It is mixed with the Chivas whiskey and topped with a gingerella. Kathputli a very healthy drink and has a sweet and tangy taste.
2. Dal Bati Churma
Dal Bati Churma is one of the most popular traditional dishes in Rajasthan. But at Mohan Mahal, you enjoy it as a drink and not as a dish. They have experimented with the regular dal bati churma and converted it into a cocktail. It is made by soaking the lentils or dal in water for 24 hours. The same water and lentils are then mixed with a cocktail and served with the traditional Bati and Churma.
3. Pink Elephant Toy
Pink Elephant Toy is another amazing drink served at Mohan Mahal. This is a gin and beetroot based cocktail. This is a very healthy and tasty option on the drinks menu.
4. Dhruv Tara
Dhruv Tara is a dark-rum based cocktail with a mixed taste. Dhruv Tara or the Polar Star, that was used to find directions by the people lost in a desert, is the inspiration behind this drink.
Further Read: 16 Fun-Filled Picnic Spots In Jaipur To Make Your Family Vacation Even More Exciting
As a guest at Mohan Mahal, it is made sure that your gastronomic experience ends on a sweet note. Enjoy a combination of tempting traditional-desserts like Moong Badam Halwa, Alwari Milk Cake, and Mawa Kachori. A dinner-night here will become an unforgettable experience for you. So, plan a trip to Jaipur now and head to Mohan Mahal in JW Marriott Jaipur Resort & Spa.
---
Looking To Book A Holiday Package?
---
People Also Read:
Restaurants In Bikaner Restaurants In Jaisalmer Restaurants In Udaipur