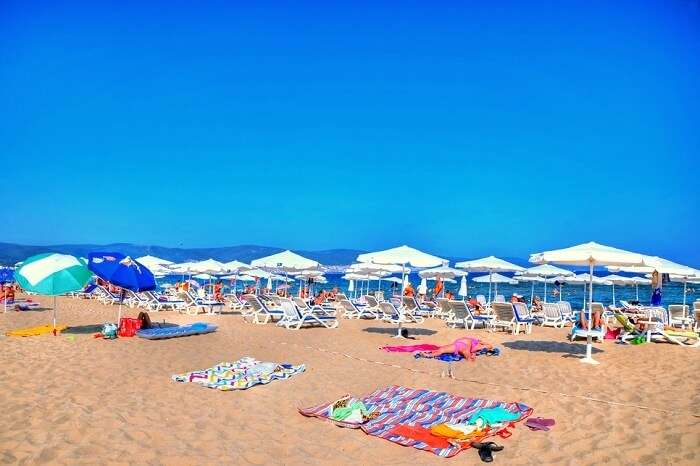 Moldova is officially called the Republic of Moldova. This is a landlocked country in Eastern Europe. It is bordered by Romania on the west, by Ukraine to the north, South, and East. The biggest part of the country actually lies in between the two rivers called the Prut and the Dniester. There are hills, springs, lakes and more to see in Moldova. While all these are present plenty in the landscape, but beaches are scarce as one can expect in this landlocked country. There are many beaches in the country and just in case you don't miss out on them amidst all the hustle-bustle, keep this handy guide and witness their surreal beauty along with other attractions.
2 Best Beaches In Moldova
If you're looking out for a tropical vacation, then these 2 magnificent Moldova beaches will be your perfect getaway.
1. Lacul 'Valea Morilor'

Although Moldova has no access to the sea, it does have a slither of sand on the Chisinau Lake which is present in its capital Chisinau. It's a man-made a beach, but it's a matter of great fun amongst the locals. It is a huge lake where people come to fish and walk around. The beach is attached to the lake as well. The whole area makes for a great picnic spot. If you want to have fun with friends, then there is an amusement park as well.
Must Read: Summer In Lithuania: A Traveler's Guide To Enjoy A Vibrant Summer Vacation At This European Country!
2. Plaja Centrală Ghidighici

This is a public beach which is frequently used by the locals for camping purposes. The water here is cool and the sun shines high during the mornings, creating a beautiful atmosphere which is just perfect for a day out.
Location: Ghidighici
Suggested Read: Winter In Moldova: A Detailed Guide To Explore This Lesser Known Country During Cold
Best Time To Visit

The beach is perfect for visiting the whole year, but coming here during summer is advised as the weather will permit you to have more fun.
Nearby Places To Visit
Take a look at some of the places that are located nearby the two beaches and you can visit for adding more to your trip to Molodva!
1. Valea Morilor Park

Exploring the beach gets even more attractive if you see the beautiful park nearby it. The park is amazing and it is located in the middle of the center. The Valea Morilor Park was locally known as Komsomolsky Lake. The venue is a fascinating place to be in because first and foremost, it was created by Leonid Brezhnev, who was the First Secretary of the Communist Party of Moldova. The lake present in here was dug out manually, just with shovels. The park was renamed in 2006 to Valea Morilor which means The Valley of Mills. The park is beautiful and it is a great spot to come with family and friends to enjoy its refreshing atmosphere.
2. Muzeul Național de Arheologie și Istorie a Moldovei

This is one of the very few museums in the city which offers its visitors a veritable mixture of history. Archeology and art. Visitors here can partake in its events and exhibitions which are inspiring, modern as well as full of amazing subjects. Once Leonardo da Vinci's exhibition was carried out over here as well. You will get to experience the past like no other in here and get to know about the history of the country. Entry here is about 10 lei for adults and it is 5 lei for kids. For children under 7 years, it's free.
Suggested Read: 12 Moldova Restaurants That Will Ensure A Unique Dining Experience
3. Piața Marii Adunări Naționale

This is the destination where most of the events take place in Chisinau. From national wine festivals to holiday markets, this venue hosts it all. Known as the revolutionary square amongst the locals, it also holds the government buildings. If you pass by here on normal or regular days, then it will seem to be a simple Street but it is located on one of the busiest and important streets of Chisinau. You can listen to music festivals which takes place on national holidays and other important cultural days. Just walk over to Cathedral Park to find this Street. Also, whether you visit the beach in winter or not, make sure to come by this place since the Christmas market and Christmas tree is held here.
Suggested Read: 10 Villas In Malta For A Luxurious European Vacation Amid The Beach Scenery
4. Trei Lerarhi Church

It is a normal East Orthodox Church and was once covered up in gold. But that can't be seen now since it has melted away. The church is a very beautiful place to be in and is covered in amazing carvings and sculptures, which contribute towards the calm atmosphere of the place.
5. Roznovanu Palace

Full of stunning architecture and beauty, you will get to witness the history and ancient tales which lies in this venue once you enter here. You can visit the palace upon requesting it. Designed intricately, both the interior as well as the exterior is amazing.
Suggested Read: Tour Du Mont Blanc: A Complete Guide To Trek Through The Magical Beauty Of Europe
6. Philharmonic Hall

Constructed in 1940, here you can enjoy various genres of musical performances which include light music, jazz, folk music and more. There are plenty of shows hosted which are just perfect for you to enjoy. There are balcony seats as well from where you can watch these shows.
Places To Eat
Take a look at some of the places where you can savour the best dishes Moldova offers while you are holidaying there!
1. Creme De La Creme

It is a cafe which serves European coffee, tea, and pastries. This three storeys building is the home of culinary heaven and boasts of the best dessert choices in the city. But you will also get to enjoy lunch in here apart from just having a cup of warm beverage. The venue is set like a Parisian-style hall on the lower floor so when you enter you will get the traditional Provencal feel. Come here to try out the Viennese coffees, French croissants, the steak plates, pasta and its great selection of salads. This is the ideal place to have weekend brunches as well as official family dinners for both business people and families alike.
Suggested Read: 10 Mountains In Europe That Will Put To Test The Adrenaline Junkie In You
2. Popasul Dacilor

This restaurant is set in an old manor house and is actually the location of Chrisinau's gastronomic culinary delights. The venue is the gateway for exploring traditional Moldavian roots, but also to experience cultural diversity with its unique decor. The waitresses over here are dressed up in costumes which date back to another era as they serve local dishes which present diverse tastes as well. The indoor restaurant can seat up to 150 customers, but if you want more air then there are two terraces, which offer picturesque views to enhance the setting. The food here is high quality, which is a standard they have worked hard on maintaining.
3. Vatra Neamului

This place provides the best service in town. The venue is where flavor and culture fuse together to create a harmony unlike anything else. Here you can enjoy Romanian inspired fish, soup and meat dishes. There is also a very extensive wine list, which is perfect for being paired off with each of these dishes. The decor here comprises of wood, which gives it a rustic and yet luxurious atmosphere. This is a first class, an authentic restaurant which offers quiet rooms as well for more intimate dining opportunities on its terraces. The terrace setting is more flamboyant while keeping the personal setting option as well.
Suggested Read: National Parks In Belgium: 6 Places To Explore The Wildlife In The Cockpit Of Europe
4. Restaurant Alelino

This is a great casual but cozy place which serves amazing cocktails. The venue opens up at 9 am and is a great place to have your brunch at as well. The dishes here are beautifully prepared and the ingredients are locally sorted. Its calm decor makes for a really peaceful setting to enjoy a meal in.
5. Restaurant "Orasul Subteran"

This is mainly known for its wide and diverse wine choices, which is equally complemented by the beautiful decor inside. The restaurant itself can get a little cold during winters so wear some warm clothing.
6. Casa Nunții "RGV"

Come here for the amazing coffee and stay for the great cooking, which gets reflected in its dishes. You might have to wait here because the line is long, but the steak is worth it. The food is fresh and there is a terrace as well, which harbors a kids playground to make it all better for people who come with families.
How To Reach
1. Lacul 'Valea Morilor'

Lacul Valea Morilor is located near Buiucani, Sectorul Botanica, and Ckulyanskaya Rogatka. It is also a location which is close to Universitatea Tehnică a Moldovei (UTM) and Parcul Catedralei. You can avail public transport till UTM and then walk to the lake. You can also rent a car for the entire journey.
2. Plaja Centrală Ghibirdici

You can reach Plaja centrală in Ghidighici by two means- one is by a taxi or by a car. It will take you about 20 mins in a taxi and will cost around ₹350-₹450 bucks. By a car, it will take the same time or even a bit less. The distance from Chisinau to this place is around 15 km.
Further Read: 14 Places To Visit In Czechia On Your Europe Backpacking Trip
Moldova is one of the smallest nations of Europe, but it is seen by many as a hidden gem. It's a small nation so attractions aren't many, but whatever there is, is stunning. So, if you're planning your Europe vacation anytime soon, then make sure to keep this place in your bucket list.
---
Looking To Book An International Holiday?
Book memorable holidays on TravelTriangle with 650+ verified travel agents for 65+ domestic and international destinations.
---